Recently, Matt over at Live and Let's Fly reported on United's updated Hawaii economy class catering. That got me thinking – what domestic airline has the best catering to Hawaii? Let's compare and contrast.
United Revamps Hawaii Catering
As reported by Matt, United's new Hawaii (economy class) catering adds a complimentary cold sandwich or cold meal on specific routes. Those routes include:
Denver/Houston to Honolulu/Kahului – cold sandwich
Honolulu/Kahului to Denver/Houston – cold meal
Chicago/Newark/DC to/from Honolulu/Kahului – cold meal
A cold meal will consist of a main course like grilled chicken and vegetables, bread roll, sliced pineapple cubes, and a Kind Bar. Interestingly, West Coast destinations weren't included in United's plans, while Lihue and Kona were also left out thanks to a lack of facilities. In markets not covered in the updated catering policy, buy onboard remains an option.
What Domestic Airline Has the Best Catering to Hawaii?
On the surface, what United is doing sounds great. But, is it really? Let's take a look at what the competition has to offer.
Alaska Airlines
If you're looking for a free meal in economy, Alaska Airlines is going to disappoint. Onboard, your only dining option – unless you're flying first, is to buy. That said, I've always thoroughly enjoyed the various salads and sandwiches we've bought on Alaska. What's more, if you upgrade to Premium Class, alcoholic beverages come complimentary. Pre-pandemic, Alaska also had great complimentary snacks, though those haven't made a return yet.
American Airlines
The world's largest airline (pre-pandemic) doesn't offer much on flights to Hawaii. In fact, all flights to Hawaii except those from Dallas/Fort-Worth serve only drinks and snacks – Biscoff or pretzels. For those traveling between DFW and Hawaii, you'll get a free glass of beer or wine along with a boxed meal comprised of a wrap or sandwich with chips and a packaged cookie or bar.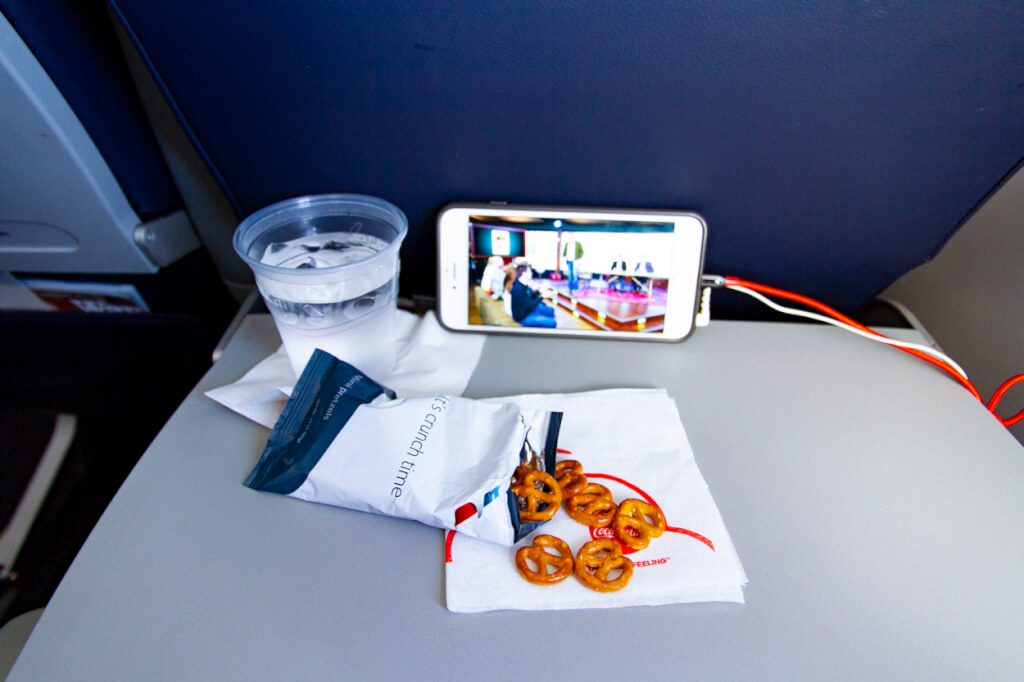 Delta Air Lines
While Delta has yet to restore meal service onboard, pre-pandemic, they did offer complimentary meals between Honolulu and the East Coast in the past. Meals on flights to Hawaii from anywhere else in the US were available for purchase. I must say, though, I really enjoyed my Flight Fuel meal from Salt Lake City to Honolulu. It was a little pricy, but give the quality and size, I was happy with it.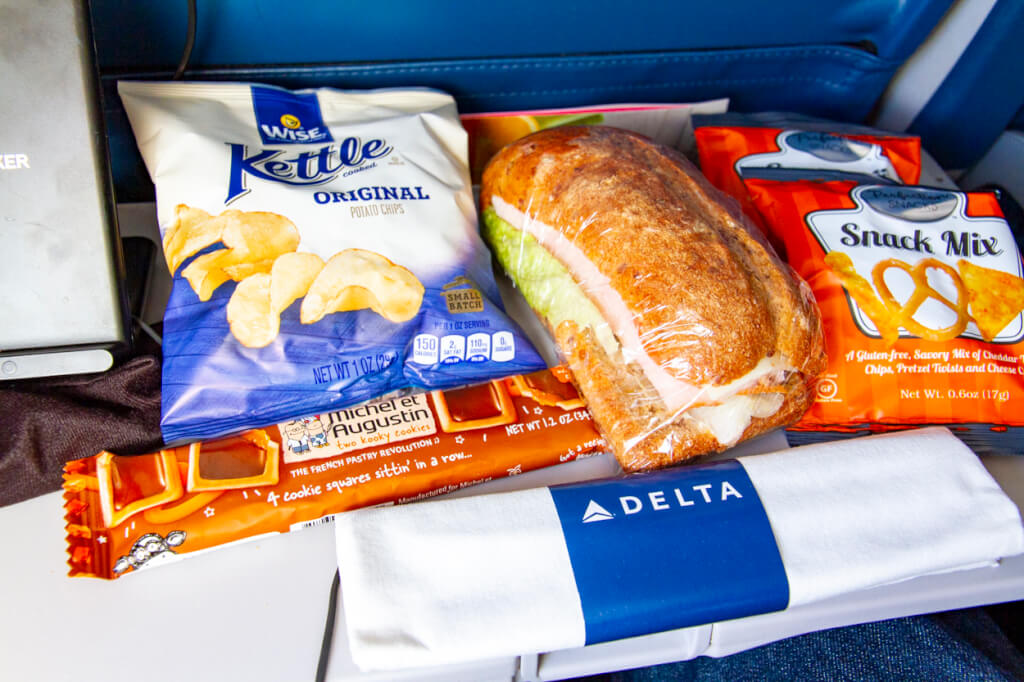 Hawaiian Airlines
Hawaii's hometown carrier is the ONLY airline that still offers complimentary meals in economy. Though, calling it a meal is generous – I'd say it's more a heavy snack. That's because, in economy from the West Coast, you either get a (small) hot sandwich with a bag of chips or with breakfast bites in the morning. If you're flying from Austin or farther, you still get an actual meal. However, the last time I had a full meal on Hawaii, I felt that it was far too small and ended up arriving at my destination famished. It's worth noting as well that Hawaiian doesn't offer its sandwiches on flights departing after 8 pm.
Southwest Airlines
Of all the airlines, Southwest's meal options are the most dismal – that's because they don't offer any. But if you're a true Southwest flan, you know this and plan for it. That said, they do offer snack bags consisting of pretzels, cheese crackers, and cookies on flights to Hawaii. Non-alcoholic beverages are available too. Hell, they even offered pretzels and drinks on inter-island flights, though the drinks were warm.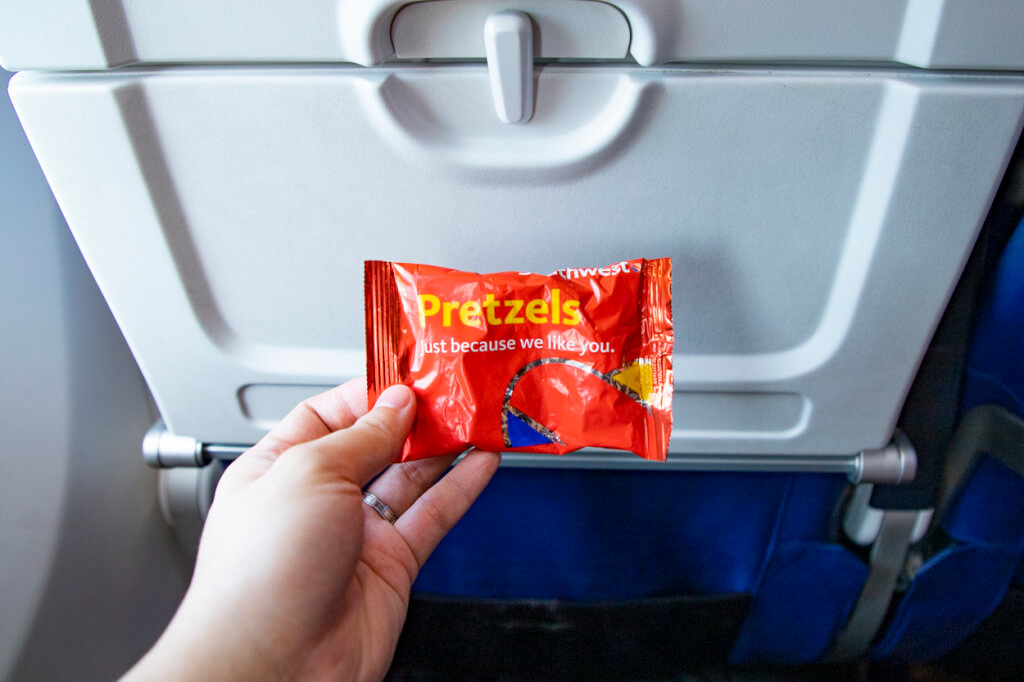 What Domestic Airline Has the Best Catering to Hawaii, Final Thoughts
As you can see, onboard dining really isn't anything to write home about, especially if you're sitting in the back. What's also clear is that, while United's upcoming offerings are better than some of its peers, they still aren't the best. Hawaiian still reigns supreme as far as free food goes. But, when it comes to buy onboard options, Delta and Alaska are the clear winners in my mind. Heck, I'd rather have either of their buy onboard options than what Hawaiian offers. Sorry.
Who do you think serves the best economy class meals to Hawaii paid or complimentary?