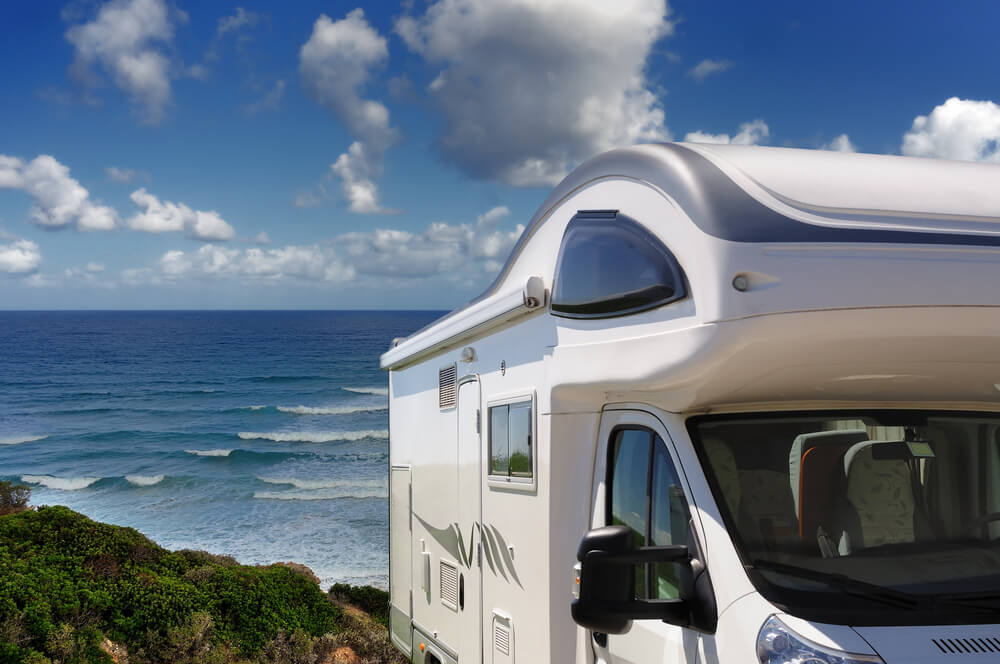 All of our reviews are based on exhaustive research, industry experience and whenever possible, hands-on testing. When you make a purchase using one of our chosen links we'll a small percentage of the proceeds. This supports the site and keeps Jeffsetter running. You can read more here.
RVs and RV accessories get more modern with each passing year, including the way we power our rigs. 50 amp RVs are growing more and more popular with each modern need we have, and they are increasingly necessary for full-timers!
Campsites nowadays often include a 50 amp hookup service as standard. But you may find yourself camping remotely or at an outdated campground only capable of giving you 30 amp service or less.
What can be done when you're looking to utilize all of the amenities found in your new 50 amp fifth wheel?
That's where generators come in! These handy machines can keep your rig running for hours on a single tank of gas so that you don't have to sacrifice any level of comfort.
But what generator best suits your needs? I've laid out my favorites below and there are full reviews of each in this article. You'll also find a complete buyer's guide so you know exactly what you need. Here's the list of my favorite generators:
What Should I Be Looking For in a 50 Amp Generator?
Choosing an RV generator can be a daunting process. Many people question how much power they realistically need, along with size, portability, and fuel efficiency. There's a lot to consider, and the last thing you want is to choose a generator that can't meet your needs!
50 amp rigs require a lot of power, so the wattage of a generator should be your main concern. However, there are a lot of other things to keep an eye out for.
The top things to be looking for when considering a generator to power your 50 amp RV are:
Wattage

Portability/size

Fuel efficiency

Quietness while operating

Budget
Overwhelmed already? Don't worry! RVs are designed with you in mind and are quite easy to figure out once you understand how many amps your rig uses throughout an average day. After you calculate how much power you realistically need from your 50 amp rig, there should be a generator that works for you!
Wattage
So you want to power your entire 50 amp rig with a generator? No problem! RVs are made to boondock, or be separated from shore power for up to weeks at a time. Purchasing a generator is a natural next step after driving your new RV off the lot!
You'll learn in no time how your RV's power works and the amount of electricity you need to make the most of your appliances.
All it takes is a bit of math: all generators will say how many watts they can produce, and likewise, all appliances say how many watts they need to operate. It's up to you to do a few calculations of how many watts your appliances use in total at one time.
Remember, the amount of watts needed upon startup of your appliance is what matters most. Often, the startup amount of watts is higher than the running amount, so make sure to know these numbers when you're calculating how big a generator you need.
Budget a few more watts in case of power fluctuations and other electronics you may have forgotten about. Once you do this, you should have a general idea of how powerful a generator you need!
If using your air conditioner is a high priority while on the road, you must have a generator powerful enough for it. This is often a determining factor for most RV owners looking to purchase a generator.
Your air conditioner needs the most wattage out of all other appliances, including electric heaters or microwaves.
When choosing a generator, make sure you know how many watts your AC unit uses upon start-up. An air conditioner's running wattage is always lower than its start-up wattage. Your generator will need to be able to compensate for the start-up wattage, so that's a good place to begin!
If your 50 amp rig includes two AC units (as many often do) and you hope to power them both at the same time, you're going to need a large generator.
Keep in mind your needs versus your wants. It's a nice idea to want to power your entire rig and all major appliances at the same time, but your budget and the size of the generator capable of powering all of that may deem it unrealistic!
Portability and Size
Nothing is better than the convenience of a portable generator. When searching for the generator that's right for you and your rig, size matters!
Many portable generators are outfitted with wheels and handles, making moving easy, but this is not always a standard feature.
A 50 amp rig will need a large generator if you plan on utilizing its amenities to the fullest. This can mean a heavy and bulky generator, so don't be shocked by the size and weight of some of these units!
Fuel Efficiency
All generators can only hold so much fuel. If you're on the lookout for a generator that doesn't need much refueling or babysitting, you should keep an eye on fuel efficiency.
Gas, diesel, and propane prices are constantly fluctuating. The last thing you need is a generator that guzzles fuel!
Some generators are more fuel-efficient than others, and if you find yourself worried about how much fuel you need to bring with you into the woods, keep fuel efficiency in mind!
You may also consider what fuel type works best for your budget and/or the fuel type's availability. Most generators run on gasoline, but some offer propane options which may suit your needs better.
Quiet Operation
Have you ever been camping and felt annoyed or disturbed by a neighboring camper running their clunky generator all night? I know I have!
The last thing you want is to sacrifice your own comfort, but sometimes a generator can ruin another camper's experience. It's important to consider the needs of others when in a communal spot like a campground.
Having a quiet and low-profile generator can make all the difference on camping trips. You're there to relax and enjoy the natural world that surrounds you; no one wants to hear your generator chugging all night!
Budget
As with everything, budget can be the number one deciding factor when shopping for a generator. However, narrowing down your wattage can be a huge help when it comes to lowering the cost of your generator.
It's always nice to be prepared, but if you don't think you'll ever come close to the maximum amount of watts listed on a generator, perhaps a smaller, less expensive model will suit you best!
The Best Generators for Your 50 Amp RV
Hopefully you're feeling confident about your generator needs and wants! There are so many options out there, but with the right priorities in mind, you'll be able to find your perfect match, no problem.
Are you ready to find a generator that can power your 50 amp RV?
Let's get started!
Heaviest Duty Choice: Pulsar G12KBN Heavy Duty Portable Dual Fuel Generator
Pros
Many outlets, including 50 amp

Electric start

Huge wattage amount

Large fuel capacity

Wheels and fold-down handle included
Cons
Looking for a generator that can do it all? Then you should check out the Pulsar G12KBN Heavy Duty Portable Dual Fuel Generator. This piece of machinery has heavy duty in the name, which means all of your needs can and will be met using this generator!
Claiming to run 12 hours on 8 gallons of gas and potentially even longer on propane, this dual fuel generator is a powerhouse. It can reach 12,000 starting watts and 9,500 running watts using gasoline, and an equally impressive 10,800 starting watts and 8,550 running watts using propane.
The outlets on this generator can't be beat. It includes both a 30 amp and a 50 amp RV-ready outlet, as well as standard 120 V options. You'll have every chance to utilize this generator's abilities, as well as simply plugging in your 50 amp RV once you arrive at camp!
The Pulsar features never-flat wheels as well as a fold-down handle for ease of maneuvering and storage. This little beast's only downfall is its weight: just about 200 pounds! However, don't let that scare you off. This generator has it all, and you may even find it useful for your traditional home in emergencies!
Click here to see the latest price on Amazon.
Budget Choice: DuroMax XP5500EH Dual Fuel Electric Start Portable Generator
Pros
Dual fueling options

Large wattage capacity

Mid-range price

Wheels and handle for easy movement

Electric startup
Cons
Louder than other generators

Not as many plug options

May not power 2 AC units and other appliances

Missing 50 amp plug option
Looking for a generator that can run on both propane and gasoline? Take a look at the DuroMax XP5500EH. With an appealing price tag, electric start, and wheels for ease of transport, this little generator may be exactly what you need for your 50 amp RV.
Claiming to run 9 hours on a full tank of gas (and even longer on propane), this DuroMax generator should be able to handle all of your RV needs. With 5,500 starting watts and 4,500 running watts, you should have no trouble running your 50 amp RV's AC system as well as other appliances!
The option to attach up to 20 gallons of propane may be a winner for you; propane remains a cheap and convenient source of fuel. I already use propane for many appliances in my RV. Using propane for my generator feels like a natural next step!
The noise level of this little generator has been reported to sound like a lawnmower, which may mean a grumpy neighbor or two. But the larger capacity and dual fuel options of the generator may spell perfection for you and your needs!
It does not include a 50 amp plug option, which means you will most likely need a 30 amp adapter. You may also consider your needs given this outlet option; are you expecting to need the maximum amount of power offered by this generator?
If so, you will need to hook up some of your appliances to extension cords and plug in to the standard 120 V plugs. This may be inconvenient for you, so keep this in mind!
You can click here to see the latest price on Amazon.
Perfect Wattage Choice: Champion 100813 9375/7500-Watt Portable Generator
Pros
Cold Start technology

Perfect wattage capacity for 50 amp RVs

Wheels and handle included

50 amp outlet
Cons
Heavy

Louder than most other generators on this list
Hoping to power all of what your 50 amp RV has to offer, but don't want to overwhelm yourself with your generator's needs? Take a look at the Champion 100813 9375/7500-Watt Portable Generator, a Cinderella's slipper option in terms of wattage!
This generator from Champion utilizes an electric start featuring a reliable toggle switch, plus built-in Cold Start Technology for easy starts in cold weather. It has a robust 9,375 starting watts and 7,500 running watts with a 50 amp plug option, which means you are free to plug in your RV and enjoy your time camping!
This generator can run around 8 hours on a tank of fuel, which means you'll not need to worry about refueling in the middle of the night. With its reliability in cold weather, this generator is a no-brainer for those of you snow campers out there!
This generator may be a bit heavy (around 200 pounds) but it includes wheels and a foldable handle so that you can maneuver and store it with ease. A handy digital gauge monitors voltage, frequency, and operating hours, and every outlet has an included rubber cover which means this generator has your safety in mind.
You can see the latest price on Amazon by clicking here.
Best Overall: Durostar DS10000E Portable Generator
Pros
Large wattage capacity

Large fuel capacity

50 amp plug option

Wheels and handle included
Cons
Pricey

Louder than some other options on this list

Heavy
Out of all the heavier duty generators used by RVers and other campers, the Durostar DS10000E Portable Generator ranks highly among the choices on this list. With 10,000 starting watts and 8,000 running watts, this generator is no slouch. It should power everything within your 50 amp RV with little trouble, as well as beyond!
This generator boasts many outlets, including a 50 amp plug in option so that you can simply hook up your rig and relax. It also has a 12 V DC option to charge any external batteries, which means your car and RV batteries can enjoy a rest too! It also includes an 8 gallon fuel tank and surge protection for your most delicate of electronics.
Durostar has always ranked high among generator users, and this unit has been known to stand the test of time. It may weigh over 200 pounds, but it includes wheels and a foldable handle. Your budget may feel a little bit of sticker shock but I'd say this generator is worth every penny.
You can see the latest price on Amazon by clicking here.
Fuel Efficient Choice: Westinghouse iGen4500 Super Quiet Portable Generator
Pros
Quietest generator on this list

Most fuel efficient as well

Compact and lightweight

Lots of outlet options
Cons
Missing 50 amp outlet option

Can't power everything
Looking for something a bit smaller, but a generator that still packs a punch? Westinghouse strikes again with the Westinghouse iGen4500 Generator. This little generator is perfect for those of you looking to power a decent amount of your 50 amp RV, but know you won't need wattage above 4500.
This generator is both the quietest and most fuel efficient on our list! It includes electric start up with a key fob, 4500 starting watts and 3700 running watts, many outlets and meters, and all of it runs for up to 18 hours on only 3.4 gallons of gas!
Believe it or not, this generator weighs less than 100 pounds, which means a more compact and lighter generator for your packing list. This may be a beneficial addition to your RV, and it may be a more feasible option for those of you worried about the weight of these larger generators.
You will not be able to run an AC unit and any other major appliance at the same time, but if you're looking to power your RV for a long weekend on only a bit of fuel, this is the choice for you. Plus it's compact, lighter weight, and features a telescoping handle and wheels! With a 30 amp plug in as the only RV option, you'll need to purchase an adapter, but that's an easy fix for a generator built for the long haul!
Check out today's price on Amazon by clicking here.
Frequently Asked 50 Amp RV Generator Questions
Still have questions? I thought you might. There are a lot of factors to consider when trying to power your 50 amp rig, and here are some questions I hear often when it comes to generator purchases.
How Long Will My Generator Last?
As with all hardware and electronics, your generator's lifespan depends on how often you use it and what capacity you use it at.
Some generators come equipped with a running time or tally that keeps track of how many hours the generator has been used. This is a very useful tool, but it is also possible for you to keep track of on your own should your generator not come equipped with one.
This is only an estimate, of course, and with consistent maintenance, your generator should last for years to come!
What Outlets Do I Need?
Every generator is unique, and so are you! Most generators come standardly equipped with multiple outlets, including some as specific as USB plug in options.
You may be excited about having so many choices, but not every generator is the same. Keep an eye out for what you need, especially since 50 amp plugs are often not standard on generators!
Can I Plug My 50 Amp Rig Into a 30 Amp Outlet?
Does this seem like a strange question to you? Well, it's a more common question than you think!
Many campsites and generators include a 30 amp outlet standard. You can purchase an adapter for your 50 amp power cord, allowing it to plug into any 30 amp outlet.
However, you cut your power nearly in half when you do this. You will be unable to power your rig the full 50 amps, as you only have access to 30 amps of power from a single cord. You can use extension cords and plug them into their 120V counterparts, but this may be an inconvenient task for some of you.
Only some generators come equipped with a 50 amp plug, which means an adapter may be a sound investment for you anyway. This list includes some generators fully equipped for your 50 amp needs, but you may need to alter your expectations to find the best generator for you.
If you aren't planning on utilizing every bit of your 50 amp rig, a 30 amp outlet may be a good choice for you. This is why wattage is the most important calculation you must make!
How Long Will My Generator Run Before Needing Fuel?
This can be a tricky one. Generators have many different tank sizes and fuel efficiencies, and your uses may vary throughout the day.
However, all generator manufacturers should be able to tell you an average amount of time it takes before a generator runs out of fuel.
If you plan on needing your generator all night to power your appliances and other necessary electronics, consider a larger capacity generator, or perhaps one rated for high fuel efficiency.
Conclusion
If you've got a 50 amp RV, you've got amenities to power! Some generators are built just for you and your needs, with 50 amp outlets, high wattage capacity, and fuel efficient engines.
Why sacrifice the perks and comforts of your new rig by purchasing an inferior generator? A generator is always a smart choice when it comes to an RV lifestyle, and these choices are built with your 50 amp needs in mind! There are many options out there that are capable of powering your 50 amp RV. Have you narrowed down your needs and calculated your wattage? Hopefully you've found the right fit for you so you can hit the road with confidence and peace of mind!