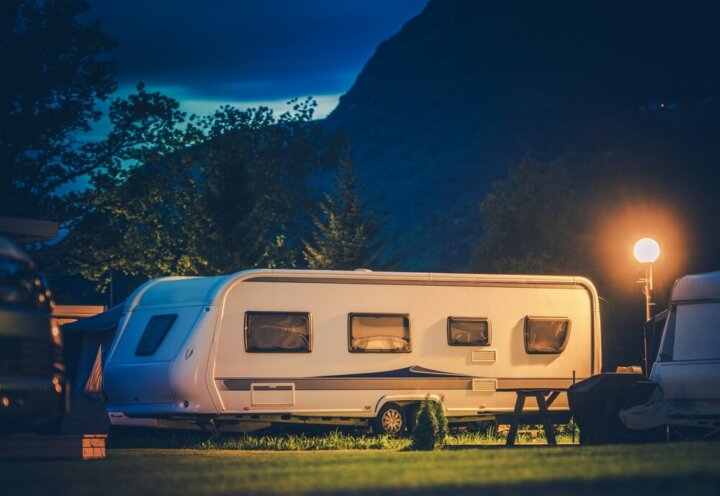 All of our reviews are based on exhaustive research, industry experience and whenever possible, hands-on testing. When you make a purchase using one of our chosen links we'll get a small percentage of the proceeds. This supports the site and keeps Jeffsetter running. You can read more here.
Electricity is key if you want to use the electrical components in your RV, and nothing is worse than running out of power when you're out on the road with the whole family.
If you don't have enough charge on your RV battery, you'll need to find a place to plug into electricity to get powered up again. Luckily, campgrounds offer electrical hook-ups but it can be confusing sometimes to know how much using a campground's electricity will cost you.
So, do campgrounds charge for electricity?
The average price for electricity at a campground is between $10-$20 per day. Campgrounds usually use flat-rate, metered, or blended pricing for their electricity, but these can vary between RV parks. Electric hook-up costs can change depending on factors like location, season, and demand, so checking the campground's policy before arrival is useful.
For some, having minimal access to electricity and being present in the wilderness is thrilling, whereas other RVers may prefer the luxuries modern-day electrical appliances provide.
Either way, electricity for many is a necessity whilst exploring in an RV, and understanding the electric hook-up policies at campgrounds will make things a lot easier when you next need to get charged up.
So, let's see how much campgrounds charge for electricity, whether all campgrounds have electricity in the first place and some tips that might help you keep the electricity costs down!
Do Campgrounds Charge For Electricity?
Whether you prefer heading off-grid when RVing, or enjoy the comfort of being plugged in at an RV park, most campgrounds provide electric hookups.
Often, this electricity comes at a cost with some campgrounds charging a flat fee for electricity usage, while others calculate costs based on a variety of different factors, such as location, season, and demand.
The type of electrical hook-up available can vary from one campground to the next, with smaller campgrounds catering more towards compact campers or tents. These electrical hook-ups can be around 15-30 amps and can cost less than higher amp outputs.
Campgrounds of limited size may only supply enough electricity to power small appliances like phones or laptops, so this is something to consider when choosing an RV park to stay at.
If you have a large RV with lots of power-hungry appliances such as air conditioners, microwaves, or TVs, there is a risk of tripping out the electricity at a campground that only provides these lower amps.
Campgrounds catering to larger RVs usually offer 50 amp electrical hook-ups and will be able to run all your appliances smoothly, so you can relax and indulge in everything electrical your RV has to offer.
Some campgrounds include electricity in the cost of their site rental, but others charge an additional fee per night or measure the electricity used on a meter. This means RVers only pay for the amount of electricity they use, so if you're on a budget, it can be a good idea to try and limit usage if it's measured.
Additionally, campsites with full amenities, including water, black and gray dump, along with electrical hook-up, may cost more than sites with just one or two amenities.
Although the cost of electricity at campgrounds can vary greatly depending on several factors, including location, season, and demand, there are some simple things you can do to help bring your electricity usage down, leading to a cheaper bill when checking out.
Investing in energy-efficient appliances and devices to help you carefully monitor your power consumption throughout your stay can aid in bringing costs down.
How Much Do Campgrounds Charge For Electricity?
While many campsites charge a flat rate for electricity use, others may have a metered system where you pay for the amount of power you consume. This can be a little confusing, especially if you're used to paying a fixed price for electricity at home.
I find it's always easier to call campgrounds ahead of time to ask about specific details such as the electricity pricing structure. This saves on any potential surprise fees when you reach a campground after a long day and are hoping to plug in and get your RV batteries charged up.
Factors such as amp service, kWh usage, and peak season rates can all play a role in determining the price of electricity at a campground, and it's important to remember campgrounds can offer several power options depending on your needs.
Basic campground electricity hook-up may provide an electrical system insufficient for charging your rig, while advanced sites may offer a mighty 50-Amp service.
Understanding how much electricity you need beforehand can help you decide on a suitable campground to head to, and knowing the cost of each hook-up option is important if you're wanting to keep costs low.
When attempting to find out how much campgrounds charge for electricity, it can be helpful to first know the common pricing systems for electricity at campgrounds.
1. Flat-Rate Pricing
One of the most straightforward ways to pay for electricity during your stay is through flat-rate pricing. This means the campground will either include the rate in the total cost of your stay or add a flat-rate electricity fee as an additional charge.
Either way, RVers will pay the same amount of money, regardless of how much electricity is used. Flat-rate electric hook-up pricing is ideal for those who don't use much power or plan on staying only one or two nights at a campground.
2. Metered Pricing
For those looking to stay at a campground long term, or RVers who simply own a rig with high power consumption, metered pricing may be a better option to look into.
Metered pricing works by a meter being installed in the electric hook-up point where your RV will be plugged in. The meter records electricity usage so the campground can monitor the power your RV is using and charge you for the exact amount you use during your stay.
3. Blended Pricing
Campgrounds are notorious for changing prices throughout the year, and blended pricing can make things even more confusing, especially if you're new to RVing!
Blended pricing provides a mixture of flat-rate and metered pricing, allowing RVers to choose their preferred way of paying for electricity usage. If you know roughly how much power consumption your RV draws and the amount you'll need during your stay, blended pricing might be a useful option.
The average price RVers should expect to pay for electricity is $10-$20 per day for the duration of a campground visit. The electricity prices at campgrounds can vary, so it's worth checking the electricity costs before you head to a campground so you know what to expect on arrival.
Do All Campgrounds Have Electricity?
While many campgrounds offer electrical hookups as a convenience to their guests, it's important to know that not all campgrounds offer this service. You may be able to plug in electrical gadgets at one campground, only to journey to the next RV park and find no available power outlets.
Some campgrounds may offer a limited supply of electricity as part of their package, while others will charge you for every watt you consume, so it's important to know the policy for the campground you're heading to.
To help avoid any disappointment when choosing a campground to visit, it can be useful to check what kind of electrical hook-up they provide. Some may provide a 30-50 amp service, others may only have 15-20-amp plugs, and some campgrounds may not even have electricity at all!
It can be a good idea to make a list of everything you plan to plug in before arriving at the campground as once you have an idea of your RV power needs, you can understand the type of electrical service you need.
If the campground you have chosen does not offer electric hook-ups for your RV, don't panic, they often have common areas where you can use the electricity to charge small appliances like phones, laptops, battery packs, or torches.
How To Keep Campground Costs Down?
Enjoying the convenience of electricity whilst away in your RV doesn't have to cost the earth, and planning ahead of time can help keep costs low as you can budget for each campground stay.
While plugging into electricity at a campground may seem like a small fee, these costs can add up quickly, especially if you're on a big trip or find yourself visiting the same campgrounds frequently.
There are a few ways, however, to help bring down the cost of your electrical usage as RVing can still cost a considerable amount of money.
1. Visit During Off-Peak Season
Campgrounds can be particularly busy places, especially in the height of summer, and this is often when prices are higher too. Visiting campgrounds out of season is a surefire way to keep costs lower so you can spend more time exploring and having fun than worrying about your RV vacation budget.
Many campgrounds offer discounts for longer stays, so if you plan on being in one location for an extended amount of time, it may be worth asking about any available deals. This can be particularly useful if you have a travel trailer or truck camper, as you can leave your camper on-site and head off in the supporting vehicle to explore the local area.
For those who are new to RVing or want to learn more about the costs involved in a campground, the video below provides a great insight into various costs to consider before pulling up at an RV park and plugging your rig straight in.
Although campground costs may seem high, it's worth remembering you may not be staying at a campground every day during your RV vacation. You may find some free wild park-ups in your rig, or even boondock from time to time too.
Varying the locations you stay at in your RV can help bring overall costs down and help prevent you from relying on campgrounds each time you head out in your RV too.
2. Keep Mindful Of Electricity Usage
Ensuring electronics such as laptops, TVs, and tablets are turned off when not in use is a great way to keep campground costs down as you won't be using power unnecessarily for charging up devices.
It's easy to fall asleep in your rig on the sofa with the TV on, but this can lead to power being drained when the device isn't even in use.
Appliances such as rechargeable LED lanterns, 12v TVs, and low-powered fans rather than air-con require a minimal amount of power, therefore reducing your electrical needs and campground fees.
This reduction can be particularly helpful for campgrounds that charge RVers by a meter for electrical power as your usage will be considerably lower.
3. Invest In Solar Power
In recent years, solar power has become more and more accessible and portable, which is great news for RVers as it is an eco-friendly energy solution.
Using the sun to harness power not only keeps costs down but also reduces demand on the power grid, potentially helping limit greenhouse gas emissions.
Solar-powered battery packs can keep your small appliances, such as phones, rechargeable torches, or even portable showers charged up and ready to use.
Solar panels can also be a great way to create energy for free once they are mounted to the roof of your RV. The solar panels can be connected directly to an RV by securing them to the roof or placing portable panels in a sunny spot.
Solar panels can help keep your RV batteries and small appliances charged, and depending on your solar capacity, they may even be able to run a small low-energy fridge.
Although some people are hesitant to rely solely on solar energy, the appeal of solar power lies in its ease of use, low maintenance requirements, and reduced electricity costs.
Even if the sun has been hiding for a few days, your power needs have surpassed the energy captured, and you find yourself needing to connect to the grid, you will have had a positive impact on the environment and saved yourself a bit of money on the road.
By capturing the power of the sun, you can charge your batteries, run appliances, and light up your evenings, all with sustainable energy and fewer plug-ins at campgrounds!
The rising popularity of portable solar panels means they can be easily transported and set up, making them an accessible solution that in turn results in lower campground fees too.
Closing Thoughts
Usually, campgrounds do charge for electricity, but the costs involved can vary between RV parks, so it's best to research and find out the specific policies of the campground you're heading to.
Although it's possible to have an RV vacation using minimal electricity, many components throughout RVs need electricity to function, so plugging in at a campground is the answer for many.
Even if you regularly plug into a campground for electricity, it can be wise to take some time to disconnect from electronic devices and get immersed in nature.
Having time away from the screen can have countless benefits such as reducing stress, promoting physical activity, and inspiring creativity.
Before planning your next RV adventure, take the time to consider your energy needs, embrace the opportunity to unplug, and savor the beauty and freedom of the great outdoors.