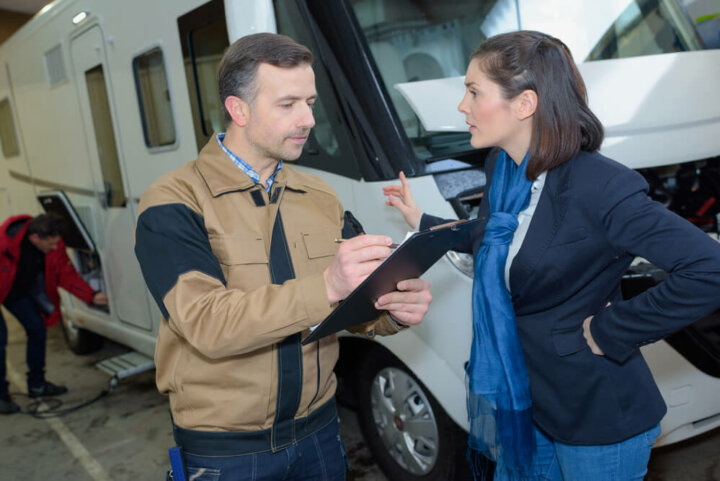 All of our reviews are based on exhaustive research, industry experience, and whenever possible, hands-on testing. When you make a purchase using one of our chosen links we'll get a small percentage of the proceeds. This supports the site and keeps Jeffsetter running. You can read more here.
Whether you want to boondock or simply want to have a backup energy supply while you camp, having a generator and help you extend your camping trips and give you more peace of mind while you travel.
So, if you are shopping for a new RV and want to consider an option from a larger RV brand name, you may be wondering: do Forest River RVs have generators?
Yes, many different types of Forest River RVs have generators, particularly their motorhomes and fifth wheels. Forest River even offers some travel trailers with onboard generators, but you may find that these options are primarily toy haulers and not something that you are looking for.
But which Forest River RVs currently offered by Forest River have onboard generators? And are there options with generator prep so that you can add your own generator to your RV when the time is right? Let's dive in and talk all about Forest River and what they can offer you in terms of generator options now!
If you only want to check out our list of Forest River RVs that offer onboard generators, use our table of contents to navigate to this list now!
Are There Generators Available for Forest River RVs?
Not only does Forest River offer a number of RV options with built-in generators, but they also offer the option to ensure that your RV is prepped for a generator. This means that you can choose to add one at any time rather than have one pre-installed by Forest River.
But why might this be an option that you are interested in? Many RV owners choose to make their own alterations and amenity adjustments on their RVs, typically because they are trying to stick to a budget or want to do the work themselves.
Onboard generators are not always included in an initial RV purchase price, which means that you will likely end up spending more if you want a generator in your Forest River RV. However, this is not always the case, and Forest River may be able to offer you a built-in generator for the same purchase price, depending on the make and model of the RV that you are looking at.
Thankfully, Forest River knows that having additional energy solutions onboard an RV is something that a modern RV owner is looking for. Most Forest River RVs offer you generator prep rather than an entire generator system.
This may be something you are not interested in, particularly if you are seeking an RV that is ready to go with an additional power source that has already been built in. However, if you already have a generator in your home or plan on purchasing one at a lower cost than Forest River can offer, having your RV prepped for a generator is always a good idea.
Why Choose a Forest River RV with a Generator?
As we have briefly mentioned, you may want a Forest River RV with a generator already built in because of its simplicity. Having a generator onboard when you drive your RV off the lot means that you don't have to worry about adding one later.
Forest River chooses particular RV models that are best suited to onboard generators. They don't include generators with every make and model, choosing options that are likely to make the most use of one.
For example, all of the motorhomes offered by Forest River have built-in generators. This is a common practice among many RV manufacturers, particularly because it is much easier to fuel up an onboard generator found on a motorhome, as these generators always take the same fuel type as the motorhome itself.
What About Forest River Fifth Wheels and Travel Trailers?
It isn't just Class A and Class C RVs that Forest River gives built-in generators to. They also offer onboard generators for a number of different fifth wheel and travel trailer models as well.
Given the luxury often associated with a fifth wheel purchase, it is fairly common to find onboard generators built into the initial purchase price of the average fifth wheel. However, Forest River also values its travel trailer models, which is why they also offer built-in generators for select travel trailer options as well.
You might want to choose a Forest River RV with a generator already included in case you are worried about hooking one up on your own. Altering the electrical system or the fuel intake of your RV can be a scary process, and you may want to entrust this to an expert.
However, if you are worried about the potentially padded cost of a built-in RV offered by Forest River, you may want to opt for an option without one. Many RV owners end up saving money when they choose to do repairs or alterations themselves, so this is definitely something to keep in mind!
What Are Generators Good For Onboard an RV?
Generators go hand-in-hand with RV living, particularly if you boondock or frequently camp disconnected from traditional RV utilities. If you find yourself camping away from dedicated RV parks and campgrounds, having a generator may be something that you deem necessary and valuable.
You may also consider an RV with a generator if you live in your RV full time. Generators are good to have in case of any emergency having to do with power outages or power failures. Living full-time in an RV means that you always need access to electricity and power solutions, so an onboard generator feels like a natural solution to this problem.
However, if you only plan on camping at designated RV parks or campgrounds, you may not need a generator. In fact, many campers prefer solar panels as opposed to generators, as solar panels create a silent energy source as opposed to the potential noise caused when a generator is in operation.
The noise that a generator can cause at a traditional campground is something to keep in mind. While modern-day generators do their best to operate at a low frequency, many RVs have generators that cause disturbances in campgrounds, given their noise and unnatural way of operating. Some campgrounds will even ban generators, so definitely keep this in mind if you are considering one!
Types of Generators Found in Forest River RVs
If you choose to purchase a Forest River RV with a generator already built in, you may be wondering what types of generators are found in a Forest River RV partnership. This is especially important if you have a brand in mind or a particular brand that you absolutely don't trust.
Currently, Forest River offers the following types of generators for their RVs. Keep in mind that the generator pre-installed depends on which RV you choose, as well as the fuel type of the motorhome, should you choose to purchase one.
Here are the types of generators currently offered by Forest River:
Yamaha, gas, or diesel

Onan, gas, or diesel

WFCO, transfer switch manufacturer
These generators vary in terms of their models and power capabilities, but Forest River seems to exclusively install Onan and Yamaha generators onboard their rigs. This is something to keep in mind if you are hesitant to purchase either of these brands.
List of Forest River RVs with Onboard Generators
If you shopping for a Forest River RV, you may be wondering which of their options already has a generator onboard. While there are portable generators available at traditional retailers, having a built-in option may be appealing to you.
Having a generator option available for their clients is something that Forest River prioritizes. That's why they have a number of options with onboard generators.
Keep in mind that not all of these options will have generators included in the standard purchase price. You may end up spending a bit more to get what you want, but it's likely going to be worth it!
Here's a list of all of the current Forest River RVs with generator options, including options with generator prep:
Berkshire Class A

Berkshire XL Class A

Berkshire XLT Class A

Cardinal Luxury Fifth Wheel (generator prep only)

Charleston Class A

Cedar Creek Fifth Wheel

Forester Classic Class C

Forester MBS Class C

Forester LE Class C

Forester TS Class C

FR3 Class A

Georgetown 3 Class A

Georgetown 5 Class A

Georgetown 7 Class A

Riverstone Fifth Wheel

Riverstone Reserve Series Fifth Wheel

Sandpiper Luxury Fifth Wheel (generator prep only)

Sandstorm SLR Travel Trailer

Sandstorm SLR Fifth Wheel

Sierra Luxury Fifth Wheel (generator prep only)

Solera Class C

Stealth Travel Trailer

Stealth Fifth Wheel

Sunseeker Classic Class C

Sunseeker MBS Class C

Sunseeker LE Class C

Sunseeker TS Class C

Vengeance Rogue Travel Trailer

Vengeance Rogue Fifth Wheel

Work and Play Travel Trailer

XLR Boost Travel Trailer

XLR Boost Fifth Wheel

XLR Hyperlite Travel Trailer

XLR Nitro Fifth Wheel
As you can no doubt see, Forest River prioritizes generators onboard their RVs, particularly their motorhomes and fifth wheels. Even some of their travel trailer models include onboard generators, which is considered a rarity in the RV world!
Can I Use My Own Generator with a Forest River RV?
Whether you purchase a new RV from Forest River or any other RV brand, you can always use your own generator in your new RV. However, this is often times easier said than done.
One of the main things to consider before deciding whether or not you want to use your own generator in any RV is whether or not your new RV has generator prep. This essentially means that your brand new RV will be fully equipped to have a generator installed, making it much easier on you to simply plug in your generator and hit the road.
If you choose an RV with generator prep, it is likely extremely easy for you to use your own generator. All you will likely have to do is plug it in and make sure it is properly hooked up to the provided transfer switches and fuel lines, depending on the type of RV you purchase.
However, getting generator prep included in your new RV purchase is often expensive and requires a bit more heavy lifting on the part of the RV manufacturer. It all depends on how much you are willing to spend, as well as what your expectations are in terms of how easy it is for you to install your own generator!
Many experienced RV owners will recommend that you purchase an RV prep package through an RV manufacturer, like Forest River. However, most experienced RV owners choose to install their own generator, as this process typically ends up being less expensive if you choose to do it yourself, so long as your RV is prepped for a generator!
Final Thoughts
There is a lot to consider when it comes to any RV purchase, particularly if you want an option from a major brand like Forest River. Not only can Forest River offer you a number of options and RV models that suit your lifestyle, but you can also find options with generators included in the initial purchase price of your new RV.
However, you may have your own vision in mind for an onboard generator, something that Forest River also understands. If you choose to install a generator on your own, Forest River will no doubt be able to help you with generator preparation.
They may even be able to give you some tips on installing your own generator, given the fact that Forest River has been in the RV business world for quite some time! No matter what you choose, there's no denying that Forest River RVs have generators, and many different options to consider.