The Chase Sapphire Reserve is my favorite credit card.  It has excellent bonus categories, but for this month only, there's a special bonus available; cardholders may earn 5x bonus points on Chase Sapphire Reserve transactions made with Chase Pay.
September Chase Pay Bonus
From September 1 to 30, 2018, cardholders can earn an extra 5 points in addition to the usual 1 for Chase Pay transactions with certain merchants.  That's 6 points per dollar for Chase Pay purchases made with Best Buy, Tock, and eBags.  The caveat, however, is that there's a $200 spending cap on this promotion.  That means if you maximize this promotion, you'll only earn 1,200 Ultimate Rewards points.  Sort of.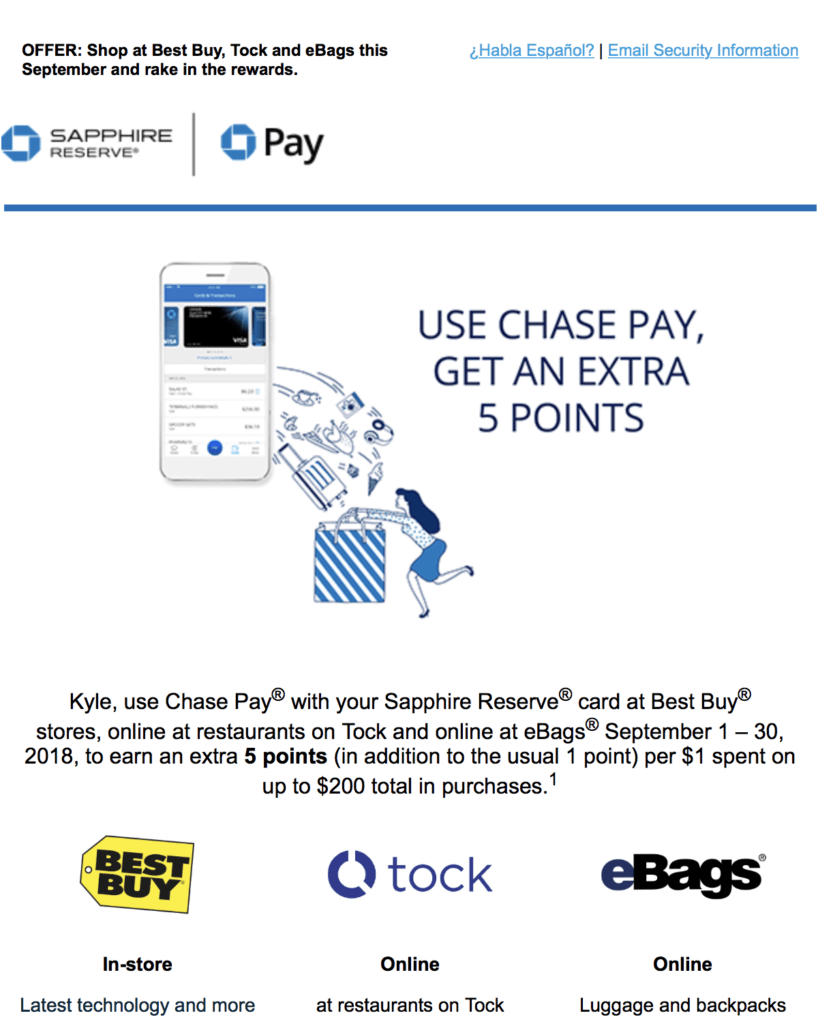 Stacking Bonuses
Best Buy and eBags both participate with the Ultimate Rewards shopping portal.  Purchases from Best Buy earn an additional one point per dollar, while eBags purchases earn an additional seven points per dollar!

That's a total of 13 points per dollar for purchases of up to $200 at eBags this month.  Meaning, if you maximize your purchases with this promotion, you could earn 2,600 Ultimate Rewards points!  What an amazing value!
And believe me, it's not hard to spend $200 at eBags.  I've purchased all of my carry-on bags, one of my camera bags, and my travel umbrellas from them.  Heck, they sale Tumi, which is easily over the $200 limit.
5x Bonus Points on Chase Sapphire Reserve, Final Thoughts
Boy, do I wish I knew about this promotion sooner.  I didn't receive the e-mail from Chase until the 7th, which was really bad timing for me.  As you may recall, I was able to score a table at The French Laundry using the Amex Platinum Concierge.  And, later that same day, I decided to have them book me a table at Atelier Crenn too.  What's the point of all of this?  Both restaurants use Tock to make reservations and require payments in full at the time of booking.  But, Tock transaction usually post as a business service, so they don't earn triple points with the Sapphire Reserve.  That's why I ended up having the Platinum Concierge book Crenn for me too.  Had I known about this promotion, though, I could've booked Crenn myself and earned over 1,500 Ultimate Rewards points instead.  Oh well.  At least I got the reservations I wanted!
And, remember, Chase Ultimate Rewards points transfer to many programs such as United Mileage Plus, World of Hyatt, Marriott Rewards, Singapore Airlines KrisFlyer, and more, at a rate of 1:1.  That means you could a one bedroom suite at the Delano Las Vegas or a standard room at Aria for 25,000 points per night via World of Hyatt.  Though, you could stay at the Hyatt Place Las Vegas for 8,000 points or the MGM Grand for 15,000 points per night instead.