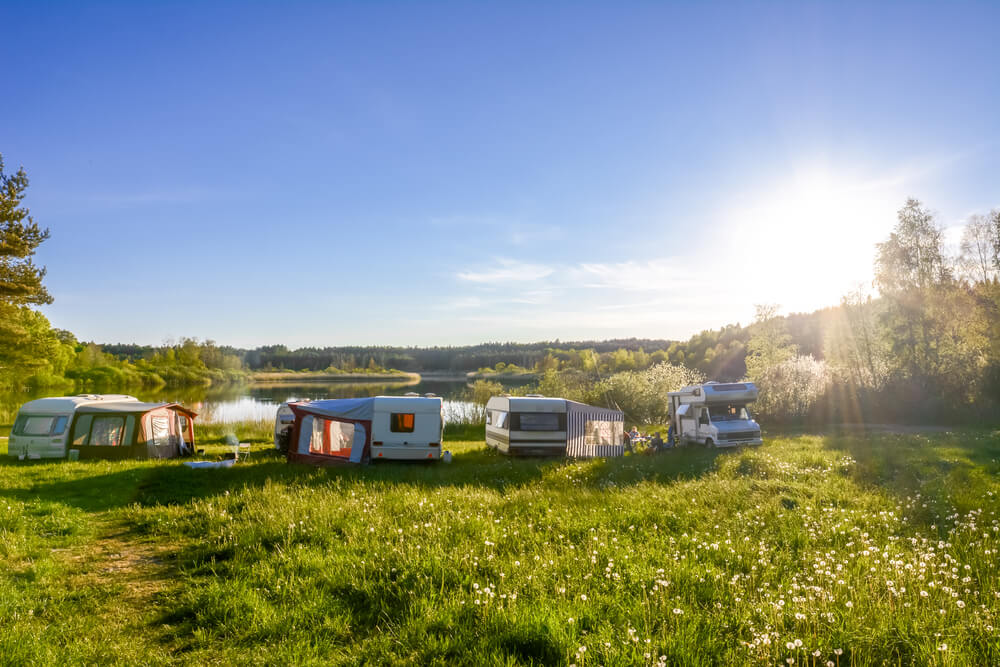 All of our reviews are based on exhaustive research, industry experience and whenever possible, hands-on testing. When you make a purchase using one of our chosen links we'll a small percentage of the proceeds. This supports the site and keeps Jeffsetter running. You can read more here.
If you've spoken to anyone who owns an RV, chances are, you know their least favorite part of owning an RV: emptying their waste tanks.
Not every campground or RV park is lucky enough to have a sewer connection for each and every campsite. You may not even have water or electric hookups, let alone sewer!
So what do you do when you're staying a while in one spot but need to empty your tank every week or so? Moving your rig can be tiresome, time-consuming, and stressful, especially if you have to do it frequently!
One easy solution might be to purchase a portable RV waste tank. What's that, you ask? Let's discuss this little invention and see why it may be a good fit for your next RV excursion!
We've put together a complete buyer's guide and our picks for the 6 best options on the market. You can see our full list here and keep reading to see the individual review for each!
Portable Waste Tank 101
So you've heard about portable waste tanks but aren't quite sure what they're used for and how they could improve your own RV experience. 
Portable waste tanks are exactly as they sound: wheeled versions of your black or gray water tanks. They often come with handles and up to four wheels for more of a wagonlike feel, which means it should make it easier on your body to tow it around.
Though you may need a vehicle involved to take your portable waste tank to the dump station, it should be a much simpler task than dumping your RV's attached tanks.
Owning a portable waste tank means you don't have to break down your entire camp in order to dump your waste water!
It could mean the difference between a relaxing week of camping or a stressful time breaking down and setting up your rig a few times over the course of your vacation.
Nobody wants to spend quality family or relaxation time dumping the RV's gray and black water tanks!
If you are camping without a reservation and need to dump your tanks, you may run the risk of another camper taking your spot if you need to move your whole rig!
A portable waste tank may save you time when it comes to the end of your trip too; most dump stations have long lines if most campers are checking out at the same time, say at the end of a three-day weekend.
If you have a portable waste tank, you could be emptying your tank throughout the weekend as well as not idling with your rig while you wait in line, which means you'll save time and gasoline costs!
Best Brands of Portable RV Waste Tanks
There are only a few brands that manufacture portable RV waste water tanks. If you've owned an RV for any amount of time, the chances are high that you've heard of some of these brands.
Camco
A mainstay in RVs and RV accessories. You'll most likely recognize their Rhino-branded waste hoses and tanks, as well as many other Camco products. Camco has always been affordable, with many products designed with RVers in mind. 
Thetford
Another RVer classic. My 1976 travel trailer has an original Thetford toilet that still works today! Despite the classics holding up, Thetford continues to reinvent and improve their products for more modern RVers. 
Barker
This brand of portable waste tank may be newer to the game than Camco and Thetford. It has many thoughtful portable waste tank designs, but it comes at a higher price tag than some other options on this list.
Tote-N-Stor
The Tote-N-Stor brand of portable waste tank remains thoughtful and convenient, with rubber wheels and a built in compartment to store your hoses. Although the most popular design is two-wheeled, this brand is built to last. 
What Accessories Do I Need?
There are a few things you'll need before you can get your portable waste tank up and running. Most portable waste tanks include these accessories, but you may want to take a close look at the products before deciding.
Handle
Every portable waste tank should include a handle. This is a nonnegotiable accessory, given that you will need to lug your tank some distance and should have a proper handle for it. Some handles aren't adjustable, but others may extend or collapse as need be. 
There are also handles that have a tow bracket built in. If you are planning to tow your waste tank behind your car, this may be a good feature to have.
Wheels
A huge decision you will need to make is the amount of wheels necessary for your portable waste tank needs. All tanks have at least two wheels, but some have up to four wheels and are styled more like wagons. 
This provides an ease of movement and towing for you, but may cost more. Keep an eye out for reviews mentioning the sturdiness of the wheels as well!
Attachment Options
Where you store your portable waste tank when not in use matters. Space is always at a premium in RVs, and you don't exactly want to keep a portable waste tank in the living room of your RV! 
You may keep an eye out for tanks that have easy attachment options to the underside of your rig, or perhaps the roof. Many RVers have ladders attached to their rigs, and this is also a popular place to store your portable tank.
Fresh Water Hoses and Sewer Hoses
There are two accessories you will surely need: a fresh water hose for ease of cleaning, as well as a sewer hose for emptying your new portable tank. You will most likely want to keep these hoses dedicated to your portable waste tank so that they are always with it. 
The last thing you need is to arrive at the dump station without a sewer hose! Make sure you keep these accessories with the portable tank at all times, and maybe keep an eye out for waste tanks with included storage compartments.
What Size and Style of Tank Do I Need?
Portable waste water tanks come in a variety of sizes. They are also styled differently, in terms of amount of wheels and handle style. The tank you need may depend on certain factors.
You may think you need a portable waste water tank that is the exact same size as your RV tank. This isn't a bad idea of course, as it means you can empty your black or gray water tank in one go.
However, how are you planning on getting this tank over to the dump station? By car, towed very slowly behind you? Or are you walking it over?
If you have a 25 gallon waste water tank, there is something key that you should consider: the weight of the tank. Even though the portable waste tanks come equipped with wheels and a handle, a 25 gallon portable tank will weigh over 200 pounds!
Is this a feasible amount of weight for you to carry? If you purchase a portable waste tank with two wheels instead of four, you'll have to consider what it means to carry this version around as well. Four wheeled units will be more expensive, but you will have a much easier time lugging it to the dump station!
You may also want to consider a tank that is either larger or smaller than your attached gray or blank water tank. If you get a portable tank with a larger maximum capacity than your attached tank, you will be able to empty the tank all in one go with no fear of spilling. This can be a huge benefit for some RVers.
However, the larger the tank, the more expensive it becomes. This also means it will be more difficult to move, something which you should consider if you plan to move the tank on your own.
If you choose a tank that is smaller than your attached tank maximum capacity, your options will be more affordable. This also means you will be lugging around much less weight. However, you will need to consider the danger of overfilling your portable tank, and the idea of making more than one trip to the dump station.
There are more things to consider, but this is a good starting point. Figure out realistically how many trips to the dump station you want to make, as well as your ideal budget.
No matter what, there will be a portable waste tank that is right for you!
What Materials Should I Look For?
Just like everything you own, your portable waste tank comes with an expiration date. This of course depends on how often you use it, the maintenance you perform on it, and what materials it is built out of.
There are some materials that may suit your needs more than others. Here are some to keep an eye out for and what they mean.
Polyethylene Waste Tank
Durable and used to performing in cold climates, a polyethylene waste tank should last you for some time! It is more solid than some other materials however, which means tanks made from this plastic may be heavier than others.
Polypropylene Waste Tank
Another top contender for waste tank materials, polypropylene usually boasts a more lightweight design. This plastic is durable throughout all seasons and shouldn't give you any fuss for years to come.
Rubber Wheels
Some waste tanks come with rubber wheels, which means they should be fillable and patchable. This can be useful if you're hoping to use your waste tank often throughout the year. Having rubber wheels may mean more patching and repairs, but may be cheaper in the long run given that you don't have to replace the entire wheel often!
Plastic Wheels
Plastic wheels are common on portable waste tanks. They are cheap and easy to replace, though you may be surprised at how often they need replacing. The chances are slim that you will be able to repair wheels like this; you will most likely end up replacing the whole thing! They are less likely to hold up on gravel roads compared to rubber wheels.
How to Clean Your Portable Waste Tank
Let's say your camping season is over. You know how to winterize your RV, but your new portable waste tank needs the same sort of care. How best should you clean your tank in between uses?
Before you even bring the tank home, you can do yourself a favor while you're camping. Make sure to dump your black water tank first, then your gray water tank. 
If you choose to dump your tanks in this order, you'll have less of a mess to clean up at home! Gray water may not be the most pleasant thing either, but it's better than what's hiding in your blank water tank! By flushing your gray water tank second, the soapy water from your showers and dish sessions will pre-clean your portable tank for you.
Once you've emptied both of your tanks, use the water available at dump stations to spray the portable tank out. Once it looks clean, pack it up in the bed of your truck, under your rig, on your bumper, or on the roof.
Bring your portable waste tank home and clean it for long-term storage! Everyone has their own technique for this, but I'm a fan of a bleach soak. I tend to do one part bleach to 20 parts water. Leave it overnight, then dump the solution in the morning.
Hopefully this eliminates any lingering odors, but you may need to do it another time, just to be safe!
The Best Portable Waste Tanks for Your RV
Hopefully you're feeling confident about your portable waste tank needs and wants! There are so many options out there, but with the right priorities in mind, you'll be able to find your perfect match, no problem. 
Do you know the capacity of your black and gray water tanks? Do you have a plan for how you're going to get your portable tank to the dump station? How about where you're going to keep the tank while you're on the road to your destination?
I'm sure you're ready, so let's get started!
Best Beginner Choice: Tote-N-Stor 25608 Portable Waste Transport
Pros
Large capacity

Rubber wheels

Accessories included

Long lifespan across many climates
Cons
If you're looking for a portable waste tank with all the accessories and a decent capacity, look no further than the Tote-N-Stor 25608. With a 25 gallon capacity, sturdy rubber wheels, and every accessory you might need included in the price, this is a no-brainer of a waste tank!
Despite only having two wheels, the 25 gallon Tote-N-Stor portable waste tank includes a tow bracket, which means you should be able to tow it slowly behind your vehicle, no problem. It also includes a built in accessory box which fits your tow bracket and all other included accessories (15″ garden hose, 3/4″ grey water hook-up hose, garden hose cap, sewer hose adapter, 36″ of 3″ sewer hose). 
You can find the latest price on Amazon by clicking here. 
Best Budget Choice: Barker 31342 Tote Tank
Pros
Budget price

Large capacity

Heavy duty wheels
Cons
Heavy when full

Incomplete care manual
Hoping to spend money on a portable waste tank but not break the bank? The Barker brand 31342 Tote Tank may be just what you're looking for! With a large 30 gallon capacity and reasonable price, it's no wonder Barker brand products are gaining popularity.
This particular model includes two heavy duty wheels, tow bracket and 5′ sewer hose, and blow-molded polyethylene construction. It will be heavy to tow to the dump station without help, but you will most likely only have to make one trip!
Common sense and care will keep this high-capacity Barker working hard for you and your family! 
You can see today's price on Amazon by clicking here.
Best Four Wheel Choice: SmartTote2 LX Portable RV Waste Tote Tank
Pros
Easy to transport

Heavy duty construction

Many accessories and features

Easy to use
Cons
Wheels may need to be replaced
Thetford strikes again with another RV staple: the SmartTote2 LX Portable RV Waste Tote Tank. With a large 27 gallon capacity and four wheels to get you where you need to go, Thetford makes a quality product with you in mind.
This portable waste tank includes a storage box and most all necessary accessories (heavy-duty hose with a universal bayonet fitting, 900 elbow nozzle with handle, and cap). It also includes an extendable handle that can attach to your trailer hitch as well as four heavy duty wheels.
Another fun feature of the SmartTote2 is the Auto Stop level gauge that prevents overfilling but also accelerates the emptying process. You won't have to worry about overfilling this four wheeler! The wheels aren't the most sturdy which means you may need to keep an eye on them as they age.
You can see today's price on Amazon by clicking here.
Largest Capacity Choice: Barker 30844 4-Wheeler Tote Tank
Pros
Largest capacity

Wagon design

Heavy duty wheels and materials

Overfill meter
Cons
Looking to empty your RV's attached tank all in one go? The Barker 30844 4-Wheeler Tote Tank is the largest option on the market, coming in at a whopping 42 gallons! It comes with an overfill meter as well as four wheels, which means you should have no problem filling and transporting this little wagon.
This contender will be heavy from start to finish, weighing 47 pounds empty and over 300 when full. However, with a four wheeled wagon design and easy hookup and dump options, this Barker tank may be your perfect fit. The back wheels are air-filled and rubber, which means they will last for quite some time and hold up well over gravel roads.
So long as you tow this wagon slowly, most consumers report an effective and efficient use of this portable tank. 
You can find the latest price on Amazon by clicking here.
Sturdiest Design Choice: Camco 39006 Rhino Heavy Duty RV Tote Tank
Pros
Large capacity

Smart design

Sturdy materials

Easy to operate
Cons
Heavy when full

May be too tall for some rigs
Looking for a portable waste tank that lasts? Check out the Camco 39006 Rhino Heavy Duty RV Tote Tank. Camco has been there for RVers for decades, usually the top name to pop up if you're looking for RV accessories. The Camco brand tote tanks are no exception!
This portable waste holding tank is constructed of extremely durable blow molded, UV stabilized materials that won't leak or deteriorate in the sun. It comes shipped with everything you need to get started, and features a conscientious design. The inside of the tote tank is smooth so that it doesn't trap odors or debris and sloped toward the drain hole, making it easy to empty completely!
There are only two wheels for this 36 gallon beast, but it's still easy to handle thanks to the large size of the wheels. With its smart design and brand recognition behind it, it's no wonder the Camco 39006 is a top contender!
You can find today's price on Amazon by clicking here.
Best of the Best: Camco 39007 Rhino Heavy Duty Portable Waste Holding Tank with Steerable Wheels
Pros
Large capacity

Smart wagon design

Long lasting materials

Accessories included
Cons
Seeing double? That's because the last portable waste tank we listed was almost the same as this one! The Camco 39007 Rhino Heavy Duty Portable Waste Holding Tank with Steerable Wheels is a number one bestseller across many sites, and there's many reasons why.
Just like the previous Camco we reviewed, this design remains clever and consistent, with heavy duty materials coming standard. This particular version becomes a wagon tow design, with a collapsible handle with two additional wheels attached.
This beast of a waste tank weighs about 50 pounds empty, but don't let that scare you off! The four heavy duty wheels and included tow kit will get you where you need to go, all for an budget-friendly price. Camco has always been there for RVers, and they only continue to deliver! 
You can see the latest price on Amazon by clicking here.
Conclusion
If you're worried about your waste water tanks while you're camping, chances are, you're not having much fun. These portable waste water tanks are designed with you in mind, and hopefully these innovations will make your life that much easier. Just remember to never overfill, and always tow slowly! You'll have a great time camping if you remember these things, guaranteed!