Last updated on July 25th, 2023 at 06:02 am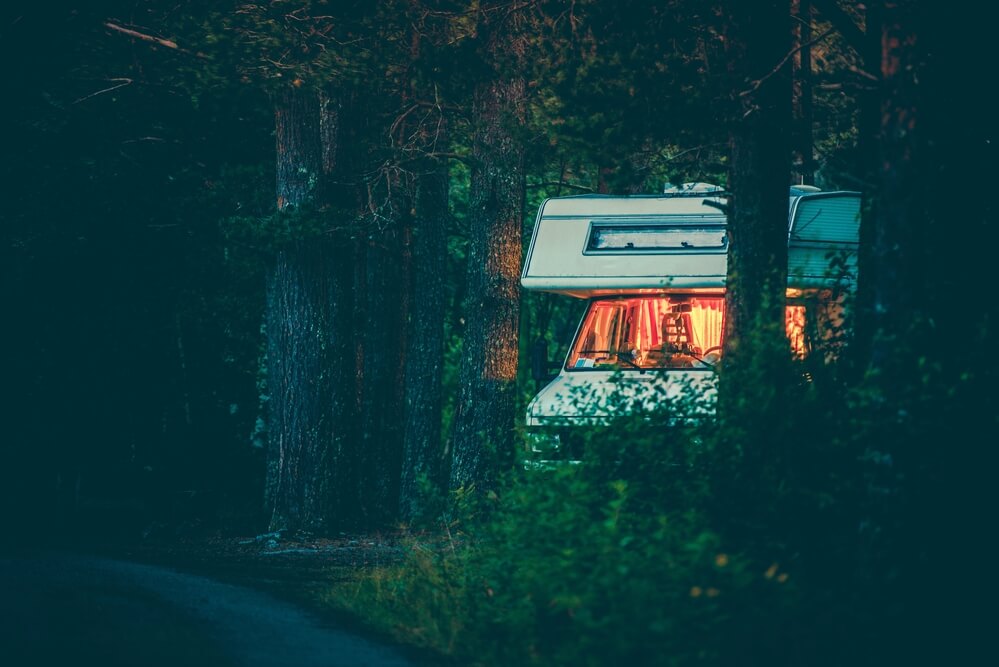 All of our reviews are based on exhaustive research, industry experience and whenever possible, hands-on testing. When you make a purchase using one of our chosen links we'll receive a small percentage of the proceeds. This supports the site and keeps Jeffsetter running. You can read more here.
If you've been wondering what all the fuss is when it comes to boondocking or dry camping, you've come to the right place! What are some of the best options of Class C RVs for boondocking on the market today?
Maybe you aren't even sure what exactly boondocking is, let alone what to look for in a rig to ensure that you have an excellent time dry camping.
Let's take a look at the concept and rules of boondocking, and then I'll give you a helpful buyer's guide for shopping for a Class C RV that was made to dry camp!
What Is Boondocking?
Boondocking is simple enough to understand. It applies to any and all dispersed camping you do for free, on public land. You will not have any RV hookups at these locations, including water, power, and sewer.
Boondocking is referred to as dry camping because of this. If you're planning to boondock with an RV, make sure your water tank is full and your rig's batteries are working. Better yet, plan to completely unplug and enjoy your time camping without any usual amenities!
Boondocking usually involves a more remote travel destination than many campsites can offer. There will often be fewer people, less noise, and more beautiful natural environments to experience.
It is important to mention, whether you're boondocking in an RV or tent, you should plan to leave no trace. It is up to all of us to take care of the natural world, and boondocking is leading us further and further into these environments. Take care to clean up after yourself before you hit the road again!
Why Are Class C RVs Good For Boondocking?
You may not even be sure what exactly a Class C RV is, but that's why I'm here to help you out. You've come to the right place, and a Class C rig is a great rig to look at, both for dry camping and camping in a more traditional setting.
There are so many different varieties of rigs on the market: travel trailers, fifth wheels, Class A, B, and C motorhomes… And all of them have their own pluses and minuses when it comes to boondocking.
Why choose a Class C RV for your off-grid journey?
Versatile
While the name may not make any sense to you right now, a Class C RV is easy enough to understand, and it is known as being a very versatile type of rig, which could make it a perfect fit for boondocking! Class C RVs are in-between-sized motorcoaches, Class A being the largest and Class B being more campervan sized. Class C's have a couple of other great perks to them besides their length and amenities!
Durable
While Class C RVs range in length from 20-40 feet, these motorhomes are often built on a sturdy and maneuverable truck or van chassis. The RV's above the cab bunk ultimately determines the class of this motorhome.
Variety Of Floorplans
Because these rigs have such flexibility and popularity among campers, you will find a wide variety of layouts in Class C's. Many Class C's are built with hookups or RV parks in mind, but some (and the ones you will find on the list for sure) are built for boondocking and other unplugged activities. Some Class C rigs are even built specifically for winter or other activities.
While every RV will take some getting used to, Class Cs offer a lot of high-tech dry camping options. From large water tank capacities to solar power or generator options, Class Cs have a lot to offer.
Suitable For Any RVer
Class C's are very popular options for campers, usually allowing enough space for everyone to feel comfortable without the added stress of towing or driving a bus-like Class A rig around. They are just the right size for the majority of the population, including full-timers, couples, and even families looking to boondock!
But are there drawbacks to boondocking in a Class C? Let's take a look at some of the pros and cons now.
What Are The Pros And Cons Of Class C RVs While Boondocking?
As I've already hinted, there may be some decisive pros and cons for Class C RVs, especially when it comes to maneuvering your Class C to remote boondocking locations! While you may have your heart set on a Class C, you may make a different decision based on some of these pros and cons.
Pro: Class C RVs Have Amazing Dry Camping Technology
Class Cs haven't been left behind when it comes to dry camping technology. RV manufacturers know this style of rig is one of the most popular options on the market today, and boondocking has become one of the most popular styles of camping.
It would follow that Class Cs have been outfitted for dry camping or boondocking with some of the latest and greatest tech, including tech made specifically for going off the grid. Some of these advancements include solar panels, onboard generators, multiple batteries, and larger storage tank capacities.
It is important to note that not all of these options will come standard, so make sure that the rig you are looking to purchase has these options available, and that you order them in addition to your standard, included features.
Con: Class Cs Can Be Pretty Noisy
There's nothing like finding a peaceful and quiet place to boondock. You've managed to find a place to camp that's remote and full of bountiful natural environments, as well as wildlife. It's a beautiful experience!
However, your Class C didn't get the memo that peace and quiet are key to enjoying boondocking.
While Class Cs have grown quieter with more and more technological advances, these rigs are pretty noisy when turning the ignition, and the engine roar could interrupt the peace and quiet of wherever you have chosen to boondock.
While this may not be an issue if you have found a solitary place to boondock, your wildlife neighbors may not appreciate the noise. This is especially true if you plan to run a generator all night long!
Pro: Easy To Drive
If you've got a Class C and an open road, it's nice when the rig is easy to drive. Class Cs are fantastic RVs to maneuver, both on highways and remote roads. Once you adapt to your rig's specific dimensions, you should have little trouble making your way to a more remote destination.
Built on a van or truck chassis depending on the size of your rig, Class Cs move like a car rather than a dangerous trailer. Driving one of these could give you more peace of mind over driving a fifth wheel or travel trailer, both of these types of RVs are prone to sway and other anxiety-inducing things.
Con: May Be Tricky To Maneuver On Some Rural Roads
Class Cs are easier to drive than other RV options, but they aren't exactly built for the roughest roads out there. Some are built with all-wheel drive and more, but these are often expensive rigs, and you're still driving a miniature bus down a dirt road at the end of the day.
Hitting potholes or other large bumps in a rural road could spell disaster for your Class C. While these rigs are built on sturdy chassis options, the chances of something being damaged on your rig while attempting to reach a remote boondocking destination are high.
Pro: These Rigs Usually Have Bathrooms
The worst part of boondocking? Finding a suitable place to go to the bathroom. While many hikers and tent campers have no problem digging a hole far away from any sources of water, this might not be your ideal when it comes time to dry camp.
Thankfully, most all Class Cs have made room for bathrooms, and these bathrooms can be used while boondocking. In some models, you can find absolutely amazing bathrooms so there's a good chance you can find what you're looking for.
Con: You'll Need To Tow Another Vehicle If You Want To Explore
All boondocking locations have the same single perk and drawback: they are free. It's great to boondock because of this, as you won't be paying high prices to camp. However, since these remote locations are free, there are no reservations. Therefore, leaving your site or boondocking location leaves your site open for other boondockers to take it.
Boondocking has become an extremely popular form of camping, and if you are hoping to pick up supplies in town or go see the local sites in your Class C, you may lose your spot to sleep for the night. The good news is that you can tow an additional vehicle and use it for your day trips. However, towing may not be ideal while traversing remote roads or camping locations, so consider this before deciding on a Class C.
What Are Good Brands Oof Class C RVs For Dry Camping?
With countless RVs and RV manufacturers out there today, it can be important to know the top names in the game. These particular RV manufacturers have been in business for a long time, and know the importance of manufacturing RVs able to dry camp efficiently!
Thor
You may not have heard of Thor brand motorhomes yet, but they are popular! Known for being budget-friendly like Winnebago, Thor is proving to be another reliable brand in the RV world. They are great for boondocking, and have countless layouts! They are also a great choice for travel trailers too.
Coachmen
Coachmen is another classic RV brand with some fantastic dry camping perks. They use their space wisely more often than not and are a well-known brand. While their interior design may be simple, they focus more on versatile layouts made for the whole family.
Winnebago
Who hasn't heard of Winnebago in the RV world? Known for their affordability and overall customer service, Winnebago keeps wowing RVers with their innovations, usually for a good price. Their off-grid camper vans are excellent alternatives to Class Cs should you be looking for something smaller.
Forest River
Forest River is well regarded in the RV world and has been for decades. They make a great variety of rigs, from fifth wheels to Class Cs, so definitely keep them on your shortlist! They have many layouts and styles of Class Cs, all with nonstandard boondocking features. And their customer service team is top-notch.
Jayco
Much like Forest River, Jayco has been talked about among RVers for some time. This brand seems to often focus on durability, advertising special, sturdy RV frames. They use a lot of custom woodworking, and they make Class Cs to last a lifetime, especially ones that are used to boondock!
What Should I Consider In A Class C RV When Boondocking?
There's a lot to consider when choosing a Class C made for boondocking. From floor plans that better support battery life, to your budget, here are some of my top considerations when shopping for a dry camping Class C RV.
Floor Plans Built For Dry Camping
While Class C layouts and floor plans aren't reinventing the RV wheel here, your overall floor plan should be a huge consideration for you. There are floor plans that are built for boondocking, especially if you are looking for a smaller Class C.
Your floor plan will affect your bed layouts, bathroom setup, and more. Are you planning on bringing the entire family boondocking? Or are you a couple looking for a rig to travel full-time in? No matter what, your layout will make all the difference.
It may be tough to determine your needs right away, so I always recommend touring many different options if you're able. At the very least, look at a rig's various floor plans on the company's website so that you can see all your possibilities! They even have 360-degree video tours now.
If you are planning to boondock in the winter, choosing a floor plan that best supports your heating system may be beneficial. Choosing a rig that allows you to close off your bedroom or living area could mean less electricity wasted while heating your Class C!
There's a lot to consider in an RV floor plan, so definitely spend the most time on this particular consideration.
Length And Subtlety Of The RV
While all Class C's are built on a truck or van chassis, length is an important consideration for you while you're shopping around for a Class C able to boondock efficiently. If you're planning some remote destinations, you may not want the biggest and best Class C out there!
The main thing for you to consider when it comes to length in Class Cs is the same thing you have to consider for any longer rig: where are you planning on taking it? Are you boondocking with subtlety in mind? A longer rig may not suit you, though it may have ample space.
If you're planning on hitting the road with few plans, I always think it's smart to err on the side of caution when it comes to the length of your rig. The last thing you need is to pull onto a rural road that can't accommodate the length or width of your Class C!
If you're more concerned about having enough interior space, don't worry about the overall length of your rig. Go for what layout suits you best. However, just know you may not fit everywhere, and maneuvering in cities or towns or anywhere rural is always tougher the longer your rig is!
Budget
It goes without saying, but choosing a rig that fits your budget is important. It is easier than you think to go over your budget while you're shopping for a rig, usually due to adding on non-standard features that suit a boondocking lifestyle.
Class C's are a very popular rig these days due to their versatility and ease of driving. However, this has caused a bit of an uptick in the cost of Class C's, and the range is pretty wide depending on what you're looking for. Class C's can cost between $60,000 to upwards of $300,000! There are a lot of factors to consider before making your final purchase, but most Class C owners end up spending an average of $150,000.
To get a rig fully outfitted for long-term dry camping, you may be spending a bit more than this. It of course depends on your needs and wants in an RV, but getting a rig made for fully off-grid boondocking often results in a heftier price tag.
However, I know a lot of boondockers who are completely comfortable with "roughing it"; they don't care about solar or water-efficient shower heads. They just want a quiet place to sleep and a reliable Class C engine!
Secondary Vehicle Towing Capacity
While Class C rigs are great because you don't have to tow them like travel trailers, you may have the desire to pull a regular car with your Class C. Depending on the model, many Class C rigs can tow the average small car, and potentially more!
While it often requires an additional purchase of a specialized hitch, most Class C's can tow your car so that you don't have to worry about driving your rig everywhere while you're dry camping. It's something to consider, especially if you would like to leave your rig at camp and see the sights in a more maneuverable vehicle.
The only thing to keep in mind is how heavy your conventional car is, the potential increase in mileage, and what the towing capacity is on the Class C you're considering. You never want to tow something heavier than your Class C RV's towing capacity, but thankfully these numbers are readily available from your rig's manufacturer.
It would make sense that most RVers are looking to tow with their Class Cs, especially since you may lose your precious boondocking spot if you drive your Class C around! Having an easier-to-drive vehicle is usually preferred, and it allows you to "reserve" your dry camping location.
Off Grid Capabilities
A huge and necessary factor for Class Cs while boondocking is how powerful you'd like your off-grid capabilities to be. Some RVers are content just having a rig with water storage and larger black or gray water tanks, and some battery power.
However, these are not all of the options available to you as a boondocker. Solar capabilities, onboard generators, even larger storage tanks- the options are endless, though most do not come standard.
You may also be hoping to have a Class C with all-wheel drive and a beefier chassis. This is important if you plan to boondock on any dirt or gravel roads, and anywhere that is a bit more rural. The last thing you need is to get stranded in the middle of nowhere!
Fuel Type
While this may not be a factor for you right away, fuel type is a big consideration for many RVers, especially full-timers. Class C RVs are built with either a gas or diesel fuel system, and the two fuel types are hotly debated. While the interiors and features on these two types of rigs don't vary much, the fuel efficiency will.
Diesel Class C's are usually preferred by full-timers because of their long-term fuel efficiency and overall lower cost because of this. Diesel rigs are pricier up front more often than not, but because of this they usually have more luxury features.
Gas rigs are more common, and they'll do the trick, especially if you don't plan on using your RV regularly. The price point is usually more reasonable, but there's no way these gas guzzlers will be cheaper in the long term. Definitely, an important consideration for you to make!
Saving money on gasoline could be a smart decision for any boondocker to make, especially since diesel rigs are more fuel efficient. You don't want to get stranded with an empty tank anywhere! However, diesel rigs are more expensive upfront, so it's definitely an important decision to make.
Size Of Water Tanks
Boondocking or camping without any hookups such as water, electricity, or sewer, may take some getting used to. Many RVs have ample water tank storage, but some may have more than others.
If you anticipate using more water than the average RVer, you should keep an eye out for Class Cs with more tank capacity, both freshwater and gray water. Unless it is freezing outside, you can no doubt survive without electricity; you can't survive without water!
Bringing water jugs along with you to cook and drink from is a good idea if you are boondocking for some time and are worried about how much water your tank has left in it. However, buying a rig with larger capacity tanks in the first place should remedy your need to bring along additional fresh water.
Alternative Rigs Built For Boondocking
Still on the fence about whether or not a Class C RV will suit your boondocking needs? Perhaps you should consider other options instead! Here are my top recommendations for boondocking that are not Class C RVs.
Class Bs
Class C's little brother is undoubtedly the most popular boondocking option on the market today. Class Bs are also known as camper vans, and these compact RVs are built for off-grid living.
Easy to maneuver, outfitted to the max with dry camping capabilities, and hipper than anything, Class Bs are an excellent choice should you be looking for something smaller than a Class C rig. Class Bs may be even more expensive than Class Cs right now due to their popularity, definitely, something to consider.
However, they are made for off-roading and traveling lightly, and some even have onboard bathrooms. These vans are all the rage, and perhaps they will suit your needs better overall.
Teardrop Travel Trailers
If you have a vehicle with a hitch, you may consider a teardrop travel trailer as a Class C alternative, given its tiny footprint and maneuverability. These little guys are fantastic for a single person or a couple to hit the road in, especially ones made for offroading!
However, very few (if any) teardrops have bathrooms in them. They also have their kitchens outside, off the back of the rig. If you are boondocking in great weather, then a teardrop could be right for you.
However, if you're looking for a few more creature comforts and something that can fit the whole family, you should stick with Class C options for your off-grid adventures. However, the price tag on many teardrops just can't be beaten, so definitely keep this in mind while shopping!
Just Hike Or Drive-In With Your Gear!
Okay, I'm sure I won't sway many of you on this one but hear me out. You don't necessarily need an RV to boondock, and many people can't fathom why you would bring an RV out to a beautiful and remote destination.
Many campers prefer to simply hike in with their gear, like their sleeping essentials and cooking tools. Some campers drive their standard vehicle to a remote destination and camp in a tent. These are other boondocking options for you to consider, especially if you just want to get the feel for these remote natural areas.
However, if you know you will need a few more creature comforts, keep Class Cs on your list of boondocking rigs.
The Best Class C RVs For Boondocking
Feeling confident about your needs and wants in a Class C RV? Have you looked over various off-grid technologies or non-standard features? Great! Let's check out some of the best Class C RVs for boondocking and dry camping!
Looking for more time off the grid? The industry-leading features on the Winnebago View take my top spot for best Class C RV for dry camping. Not only are there countless dry camping perks, but I also like having Winnebago's name and reliable customer service behind the purchase of a new rig.
With large holding tanks, standard 200W solar, Group 31 batteries (or available lithium smart batteries), and a 2,000W inverter, I can extend my boondocking escape much further than I ever thought I could. Showcasing boundless freedom combined with upscale comfort, the View is designed to create memories to last a lifetime, all at a relatively affordable price.
With luxurious details and features throughout, the View's industry-leading amenities promise an unparalleled Class C experience. I love that with the new, dependable diesel-powered Sprinter chassis, I'm able to remain in control, even off-grid. Some floor plans even have large, 37-gallon fresh water tank capacities so I know I can shower, wash, and drink water for at least a few days!
The diesel-powered Mercedes-Benz Sprinter chassis includes advanced safety features like active brake assist, lane keeping assist, and the MBUX touchscreen infotainment system with an interactive voice interface, navigation, Wi-Fi hotspot, and more. It's features like these that help put Winnebago in the top running for the most popular RV brands. While it doesn't sleep more than 4, the View has plenty of perks and interior features, although it may not be the best-suited rig for larger families.
Fine touches like the available theater seating and optional entertainment package, plus the innovative LP/Induction cooktop, eye-catching curved cabinets, lighted soft close galley drawers and sprung-cushion dinette and sofa seats transform the interior into an upscale living experience. You don't have to give up anything while traveling off the grid!
I travel on the road with my partner, and although we have found our ideal RV in a travel trailer, this Jayco Melbourne is a great fit for couples. This is a compact and versatile rig, and although it can accommodate sleeping up to four people, I think this model is the perfect size for just two! And you'll never go wrong with the purchase of a sturdy and reliable Jayco RV.
Having a reliable diesel engine isn't where the perks stop. From two twin beds to walk-around master suites, this compact Jayco will have a floor plan to suit any couple. There are dinettes and different bathroom options, including ones with a separate shower and toilet. And the interior is nothing to scoff at; stylish and elegant, it's easy to forget you're dry camping!
Jayco installs stress-tested seatbelts in every designated seating location to ensure maximum safety, which is vital for me and my partner when we're on the road. Plus, Jayco has designed their overhead bunks to hold 750 lbs.- this is 250 lbs. more than any other RV so I know no one will be falling through! In a Jayco overhead bunk, two adults can comfortably rest and relax, or I can safely read a book to my niece and nephew at night when the family comes to visit.
Jayco is a fantastic brand for many reasons: warranty, resale, and advanced handling technologies. JRide, which offers a powerful blend of precise handling and renowned stability, is Jayco's special chassis addition not found on any other Class C. These important additions make trips more comfortable without the need for expensive aftermarket upgrades.
Jayco's warranty is the best in the RV business. The two-year limited warranty is twice as long as the industry standard, keeping you covered for two full camping seasons. Add to that the three-year limited structural warranty and you've got the most complete coverage, the coverage that provides peace of mind.
Plus, these rigs are known to last, having been built with more thought and premium products than other RVs! If you want to explore other options for couples, check out our favorite travel trailers for couples here.
Looking to boondock with a reliable diesel engine and top-notch interior design? Well, the Tiffin Wayfarer might tick the box, even though this is a relatively unknown brand in the RV world. This isn't to say, however, they aren't amazing; if you have the budget for it, the Tiffin Wayfarer is a compact and impressive Class C to boondock in. You'll even be saving in the long run because of the diesel engine!
With only four floor plans to choose from, options are a little limited with the Wayfarer, but it's still possible to find a layout to suit all of your RVing needs. Check out our next selection if you want a lot of floor plans, especially for rigs able to fit the entire family!
Two large batteries and a diesel generator come standard on this rig. It's also pre-wired for solar and has heated tanks as a standard feature. These additions make boondocking a breeze, even if you're new to RVing! It's possible to get an entire solar system added on, as well as a decent amount of storage space for any last-minute extras to come on board. I do think the water tank could be larger as it's only 30 gallons, but it's still possible to boondock for a few days with this rig.
An instant hot water heater is just the beginning of the other great features on this rig. The Wayfarer has 4 available interior decor options, handcrafted rugged wooden cabinetry, and solid countertops in both the kitchen and bathroom. A power awning with speakers and standard hydraulic leveling systems are only two of the many exterior features as well. This is great for an additional area to enjoy with the whole family.
A one-piece, seamless fiberglass roof is installed that gives me peace of mind in the RV structure I look for. What else can Tiffin offer to help get the most out of this rig? A LOT! Many warranties, including a 1-year limited warranty, a 3-year paint delamination limited warranty, a 5-year chassis powertrain limited warranty, a 3-year Mercedes Benz-specific chassis limited warranty, and finally 1 year of roadside services!
It's normal to struggle in finding a floor plan that fits everything you want and need from an RV. Thankfully Forest River has it all covered with their Forester model of Class C motorhome. With four different models- the Classic, LE, MBS, and TS- you will no doubt find a floor plan able to suit your needs perfectly. And, best of all, these rigs make for a great dry camping experience!
The Classic model is built on a Ford chassis and features many convenient slide-outs; the 2441DS has a spacious rear bathroom! The Forester LE is on a Chevy chassis, making it a bit more compact, but with the same fantastic standard features from Forest River. The MBS is built on you guessed it- Mercedes Benz chassis, with the entire left side of the rig, made up of slide-outs. And finally, the TS is built on a Ford Transit chassis, making it the most compact of them all.
Forester Class C motorhomes offer comfortable floor plans with spacious interior living, well-appointed décors, and several slide-out floor plan options. Plus, all Foresters are Certified Green by TRA Certification. With 14 floor plans and 3 chassis platforms, you'll have no problem finding the perfect motorhome to suit your camping style. Some can even come with a generator, both for gas or diesel, which is a must for those of you hoping to camp off the grid.
There's an optional solar power charging system and an automatic generator bypass installation option as well which I would recommend for a true off-grid experience out in the heart of nature. Plus, these rigs all have pretty good-sized water tanks and storage solutions. This isn't the only Forest River rig on this list and for good reason.
Forest River builds reliable and capable Class C RVs, among many other RV options. With the number of floor plans available with the Forester, you'll find something that fits everyone. And you will have peace of mind knowing that boondocking is always a possibility!
Named the 2021 Class C Motorhome of the Year by RV News, the Coachmen Prism is a wonderful Class C rig to check out, especially for boondocking. Built on a classic Mercedes Sprinter Van chassis, this rig is ready to hit the road with Lane Assist technology. What else makes this rig great? Let's read on, and know there's a reliable diesel engine ready for any and all adventures!
The Prism is a luxurious, easy-to-drive, multi-use touring vehicle that provides unique styling and amenities. From the interior's solid surface countertops, soft touch ceiling, residential flooring, and versatile interior storage, to the exterior's industry-leading warehouse storage space, LED running lights, tinted windows, and aerodynamic, stylish full fiberglass cap, Prism is ideal for short or long trips, especially dry camping.
With a full-sized fridge, intimate dinette, and conventional oven, this rig is perfect for both recreational purposes and full-time living. It has many large windows with convenient day-to-night shades, as well as solar prep giving the option to stay wherever, whenever which is the whole point of RVing for me! Plus this rig has a load of other options, such as an outdoor entertainment system and auto-leveling jacks and stabilizers so getting level is no longer a stress.
There's a difficult choice to make between the Prism Select or the Prism Elite, allowing me to choose how luxurious I want the interior and features to be. While the Select should have everything needed for RVing, Coachmen doesn't leave anyone hanging when it comes to the Elite. Featuring an on-demand hot water system, wifi, and a low-profile A/C unit, I know there is everything I need between the two models!
It is important to note this rig doesn't have the largest freshwater tank capacity, so for long boondocking trips, I think it's a good idea to bring a smaller portable water tank. However, if you don't plan to boondock for more than a couple of nights without access to water, the four versatile floor plans on this rugged rig should be enough to entice you! Plus, you know that this rig is budget friendly as well, making it an affordable way to boondock!
Looking for an easy-to-drive and compact Class C to hit the road in? Check out the Sunseeker LE from Forest River, a reliable and well-known name in the RV game. Tasteful design, combined with a unique combination of style, value, and preferred amenities make travel in the Sunseeker comfortable and loads of fun.
Sunseeker's unique split-level design provides maximum headroom in the living area, while still offering pass-through storage on every floor plan. Plus, all Sunseekers are "Certified Green" by TRA Certification. This particular model offers two different chassis options: one is on a Chevy, and another is on a larger Ford chassis so each RVer can opt for the exact rig they want from the ground up.
While there are perks to every individual chassis and floor plan option, all of these Class Cs come with a 12-month warranty as well as a chassis warranty from Forest River. Solar is an option on all of these models which is a must in my eyes for staying powered up when boondocking, there are also digital antennas for staying connected and entertained. Some can even come with a generator, both for gas or diesel, which appeals to me as I know I can stay warm and cook up a feast even off the grid.
This rig also has further off-grid systems and capacities, such as a large 44-gallon fresh water tank, as well as an onboard super quiet generator. I love this Class C for the quiet, conscientious boondocker; it doesn't take up too much space, and most of its systems are built with peace and quiet in mind!
While it may take time to sort through all 10 of the Sunseeker's floor plans, I think it's brilliant of Forest River to offer so many options. Some floor plans are more compact than others, so definitely make sure you don't end up with something too large. Now all that's left to do is narrow down all these great choices, but no matter what, you'll be set to boondock whenever, wherever!
Winnebago is back on our list with a sturdy, compact, and unstoppable Class C. The Winnebago Ekko is far more than meets the eye and is a Class B/Class C hybrid, for lack of a better term. They've reinvented the RV wheel yet again, and this Class C can take you anywhere.
Combining the efficiency of a camper van and the capacity of a Class C coach, the Ekko takes the phrase 'big things in small packages' to a whole new level. From the massive heated pass-through gear garage – large enough to store bicycles, inflatable kayaks, and other outdoor gear – to the large living, sleeping, and cooking space, the Ekko is one of my favorite rugged adventure vehicles available on the market.
The 3.5L EcoBoost V6 delivers 310 horsepower and 400 lb.-ft. of torque, while the 31-gallon fuel tank greatly extends the Ekko's range. Standard safety features include Adaptive Cruise Control, Lane-Keeping System, Pre-Collision Braking, Driver Alert, and more, plus the Winnebago-added Blind Spot Monitoring system. The enhanced safety features of the Ekko are fantastic and reassure me that my partner and I are safe when exploring on the road.
I love that I'm able to camp almost anywhere! Three solar panels pump out 455 watts, a second alternator is dedicated to charging the batteries while driving, and the standard lithium-ion batteries provide further energy independence. For me, there's nothing quite like the feeling of relying on the sun's rays to stay charged up! The 50-gallon freshwater tank plus proportionate waste tanks make extended stays possible.
With all tanks and water lines inside the coach above the floor, extensive all-season insulation in the roof, walls, and floor, dual-pane acrylic windows, and multiple insulated exterior compartments, the camping season doesn't have to end when the temperature drops. Although I'd still recommend winterizing for maximum cold protection. The Ekko has also been Gold Certified for cold weather capability by Truma, a world leader in RV heating and cooling.
A full galley equipped with energy-efficient appliances, a Flex Bed system with an innovative new WinnSleep system, and a dry/wet bath with pivoting wall that separates the shower area, will make owners feel right at home anywhere.
There's no need to sweat when the family swings by for a visit either, as the dinette seating has three-point seat belts and child seat tether anchors, not to mention the added sleeping capacity – and penthouse views – of the optional pop-top. This rig is a gem for boondockers!
8. Best For Boondocking With The Whole Family: Thor Quantum
Boasting that this Class C is best for the entire family, the Thor Quantum does indeed tick a lot of my boxes. While it'll take a few add-ons, this Class C is perfect for boondocking, as it has large capacity tanks, an onboard generator, as well as solar panel and battery options. But what makes this rig perfect for a family looking to get off the grid? Let's check it out.
Unique Quantum floor plans ensure finding the right fit for your family. The versatility and living amenities make this Class C motorhome suitable for full-time living or weekend travel. Bunk beds and washer and dryer prep are perfect for families and are available on select floor plans. Thor Quantums are homes-on-wheels with seating and sleeping options, a fully-equipped kitchen, and a bathroom providing a full RV experience!
I love that the Quantum is functional and space-efficient, whilst also having a chic interior design as aesthetics are important to me too! Decorative glass inserts in the kitchen's cabinets and vinyl flooring give these Class C campers a residential feel, and with three modern color schemes, I'm able to feel at home even in the middle of nowhere!
RVing although can be cheaper than renting, still has a cost, and a great way I like to save money on the road is by cooking meals at home in my RV. Quantum's kitchen has a gas cooktop, a large stainless steel sink with a pull-down sprayer, and a double-door refrigerator so cooking is easy. Some floor plans come with a flip-up countertop extension, microwave or convection microwave, pop-up outlet, and kitchen pantry for ultimate cheffing! I love that I can keep an eye on our dog through the large kitchen window and be able to get on with dinner!
Even the exterior has features that make the Quantum easy to love. With the MEGA-Storage compartment on select floor plans and the standard rotocast storage compartments, the sky's the limit when it comes to packing. Organizing your Class C motorhome is simple when there's plenty of space for camping necessities.
Quantum also comes prepped for a solar system which since I boondock regularly, is a must! The power controller monitors the batteries to prevent overcharging and damage, so if you're new to off-grid camping you can relax! There's never been a better time than now to live out your dreams and park in a dreamy location in the trees.
9. Best For Off-Grid: Thor Omni
Built on a reliable Ford F-550 or F-600 chassis, depending on the floor plan, the Thor Omni guarantees top off-grid capabilities matched with impeccable performance and maximum comfort. The 4×4 Power Stroke diesel V-8 engine provides a robust system for powering to all the destinations I can think of. The 12,000 lb trailer hitch gives me the peace of mind I know I need when I'm towing on the open road.
This rig has game-changing features for off-grid living, including a standard 100-watt solar charge system, although I'd personally take advantage of the optional additional two 200-watt panels and 30-amp controller so power isn't something I have to worry about, even when I want to use high amp appliances in the kitchen. I like that the solar system is protected from overcharging as I find RV electrics a bit overwhelming, and this lighter responsibility means I enjoy RV trips more.
I love cooking on the road, but sometimes it's nice to enjoy the last few hours of the day outside, cooking up a feast for loved ones. That's why I adore exterior kitchens on RVs, and select models of the Omnia are equipped with an external fridge and sink, along with an LP connection. Everyone can stay sheltered from drizzle or hot summer sun with the powered patio awning with warm LED lighting for when night draws in.
By no means is this RV the cheapest Class C on the market, but in terms of features offered in all five floorplans, the Thor Omni really packs a punch. The SV34 floorplan in particular has unique elements I'm yet to find in many other Class C RVs. The king-size bed with Tilt-A-View inclining bed mechanism means maximum comfort can be achieved for the best night's sleep ever!
There's a roomy bathroom with a spacious corner shower, pantry, dream dinette, and impressive storage throughout, as shown in the tour video above.
This rig is ideal for staying powered whilst taking some time to be present with nature. The opportunity to use all sorts of appliances without being hooked up at the campground is a special one and allows us to truly connect back with our natural roots.
Built on the Freightliner M2 106B chassis, the Dynmax Europa is a rugged Class C RV, ready for boondocking and off-grid adventures. Not only does this rig have a single 200W solar panel and 30 amp controller for staying powered off-grid, but it also comes equipped with an 8kW Onan diesel generator with an auto transfer switch. It's features like these that make the Europa a top option for RVers wanting a Class C rig with the capability of camping anywhere and everywhere.
With a length of 33'5″, this isn't a small Class C RV, and maybe it won't be suitable for those not wanting to drive large rigs down the highway. However, for comfortable boondocking for families or couples, and even those bringing furry friends along, the Europa offers it all. Throughout the rig is premium vinyl flooring that's easy to clean and wears well, recessed ceiling lights, a booth dinette, roller shades, hardwood cabinetry, and more luxurious features bringing this rig to life.
It's hard to ignore the steep markup of this rig, but one look at the elegant interior and under the hood and it's clear to see why this rig is in a higher price margin. It's no secret I'm a big fan of cooking, and there's nothing like a residential refrigerator, gas range, microwave oven, and sleek gooseneck faucet that makes me want to cook up a feast! All of these elements can be supported by the solar panel, however, I would advise keeping an eye on power usage during cloudy, grey days, just in case!
This rig is quite a stunner in terms of aesthetics, and to top it off, there are color packages to personalize the rig to individual tastes. The buffed paint finish is matched with an armless modern patio awning, aluminum-wrapped slideout toppers, power entry steps, and a full entertainment system.
The ability to make the most of the exterior space of the Europa is a great one, and means there are no limitations even when the weather turns drizzly or the sun gets a bit too intense! I personally love the lighted acrylic entry grab handle that allows for ease of entry and exit even when daylight becomes limited. It seems Dynamax has thought about it all with the Europa, and in turn, they've created a rugged Class C ideal for taking on wild adventures on the road.
Conclusion
Boondocking with an RV may seem like a daunting task at first, especially if you haven't ever camped off the grid before. However, with this helpful buyer's guide and list of some of the best Class C RVs for dry camping, you should feel confident and capable of taking your rig anywhere!