Our HNL-SEA flight pulled into the North Satellite terminal at Seattle-Tacoma International Airport slightly ahead of schedule.  It was already dark outside and (surprise, surprise) rainy.  We had thought about going into downtown Seattle for a little while since we had a 5 hour layover in SEA.  But we decided against since we didn't want to have to rush and have to clear security again.  So, instead, we simply headed to the Alaska Air N Terminal Lounge to relax a bit.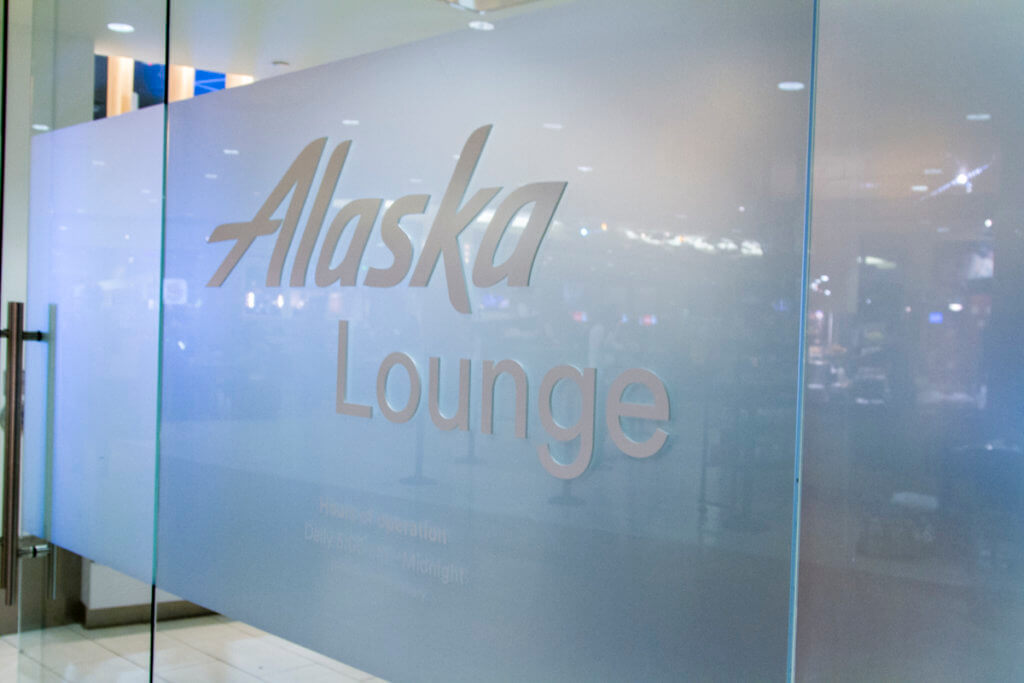 Alaska Lounge access is available via membership only, much like most other airline lounges.  Day passes are available for $50 a person, of you can access the lounge via Priority Pass membership.  Priority Pass is available as a standalone membership or through a number of credit cards.  I used my Chase Sapphire Reserve Visa Infinite card's Priority Pass membership to get the wife and I into the the lounge.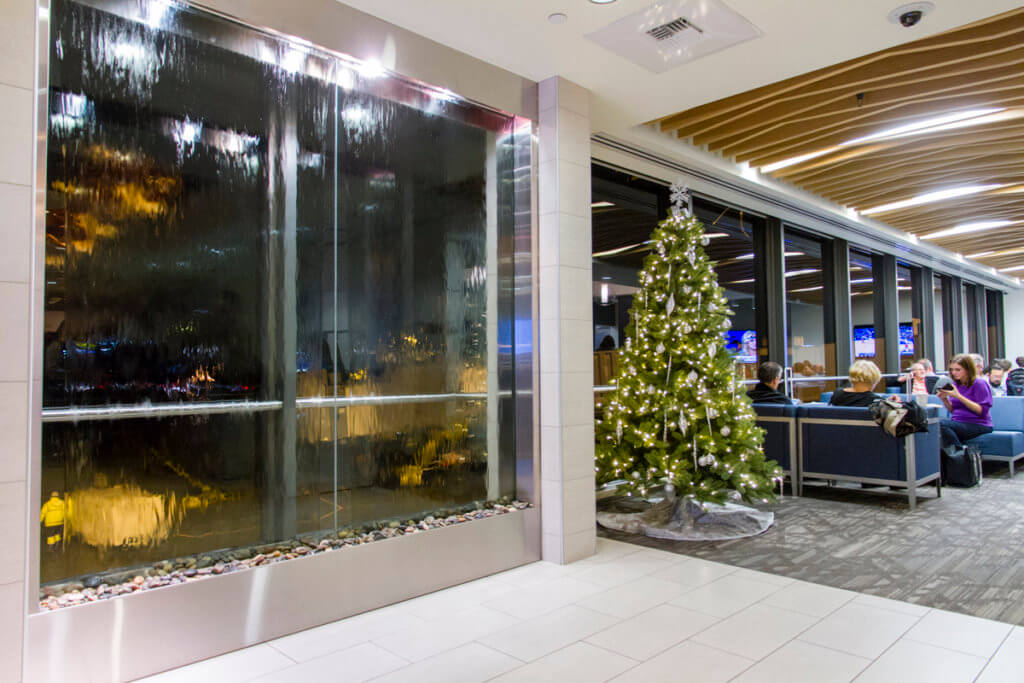 To access the lounge, I simply had to present my Priority Pass membership card and sign the receipt.  The lounge is unable to take the digital version of the card, nor are they able to inform you how many guests you may bring in.  That actually seemed to be a big problem, as many tried to enter the lounge not having their card and/or knowing how many guests they could bring in.  In fact, a large number of the guests in the lounge seemed to be priority pass members.  They eventually stopped admitting people into the lounge because of crowding issues.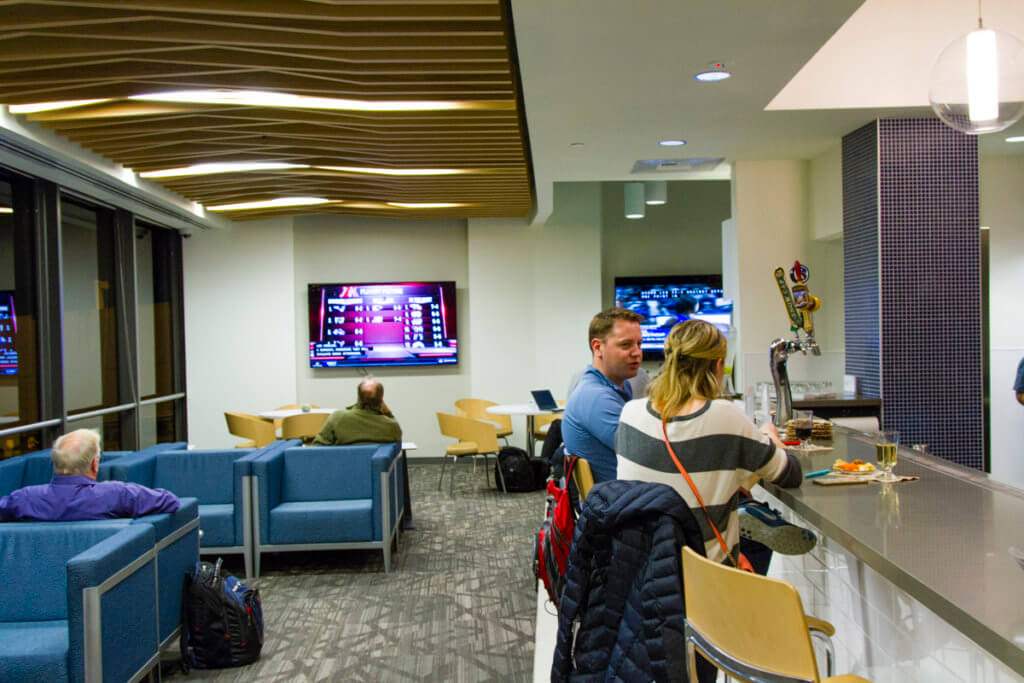 Crowding aside, the Alaska Lounge in the North Satellite Terminal is a nice, serene space.  It's a tad on the small side, but has a nice amount of seating.  Throughout the lounge, there were communal tables, round tables, the bar, some lounge seating, and a long bench.  Complimentary wifi is provided throughout, but there are no restroom facilities in the lounge itself.  On the plus side, aside from wifi, lounge guests are offered complimentary:
Softdrinks
Starbucks drinks
Wine & Beer
Soup
Snacks (salsa + chips, crudités, cookies, fresh fruit)
Pancakes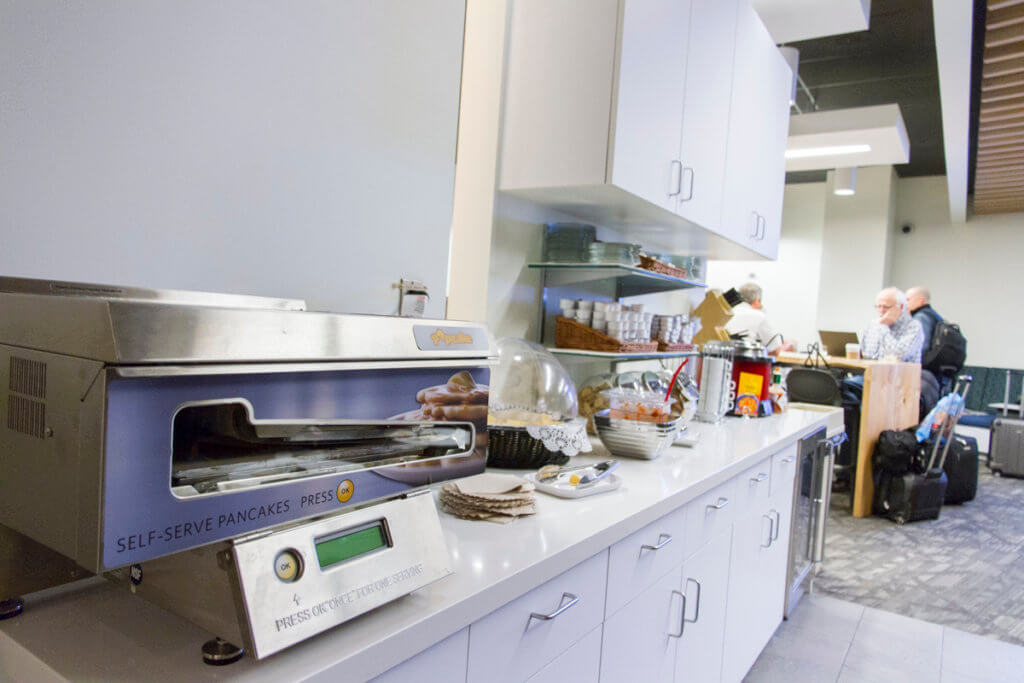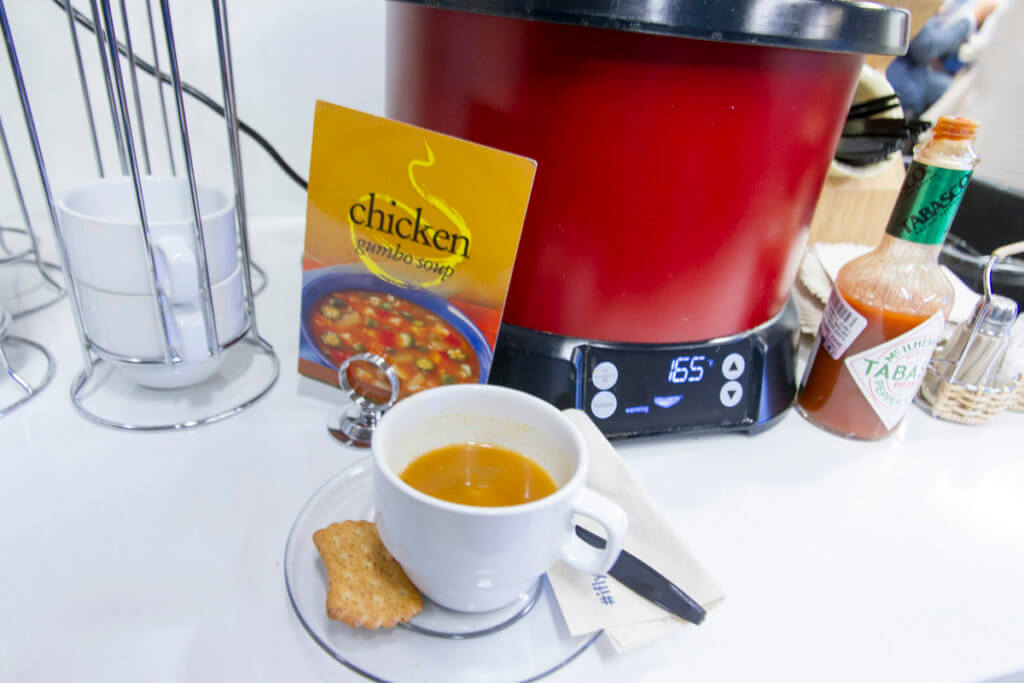 Food items are not available for purchase, though premium cocktails are.  Overall the lounge's food & beverage offerings are much better than most other domestic airline lounges, but still can't compete with foreign carriers.
After enjoying a few snacks and loading more movies and shows to our devices, we headed out of the lounge.  The complimentary snacks are nice, but we wanted something more substantial.  We ended up having some terminal food, though N Terminal doesn't have the nice variety of the Central Concourse… So no Ivar's!  And before we knew it, it was time to head over to our gate for boarding.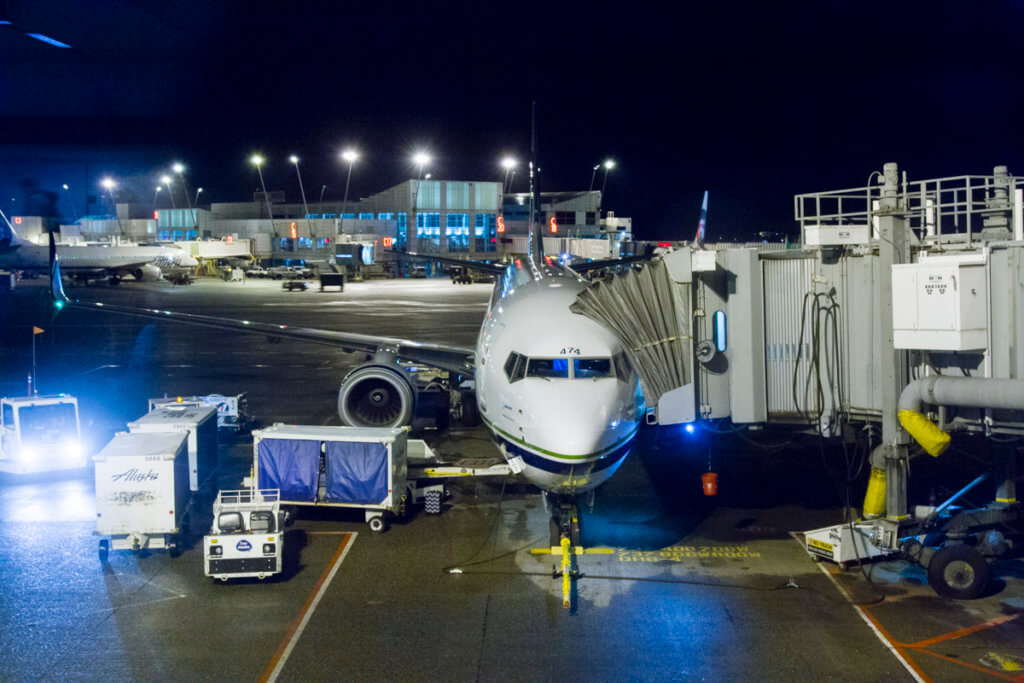 Like our first flight, our flight to New York was nearly sold out.  So from early on, the gate staff were asking for volunteers to gate-check their carryon bags for free.  We held out, but eventually did.
Our flight, Alaska Air 18, was supposed to begin boarding at 9:00 p.m., but at that time our aircraft hadn't yet arrived at the gate.  No announcement was made until a few minutes later, when we were informed that boarding would now begin at 9:22 p.m. for our 9:30 departure.  The departure time was subsequently pushed back to 10:02 p.m.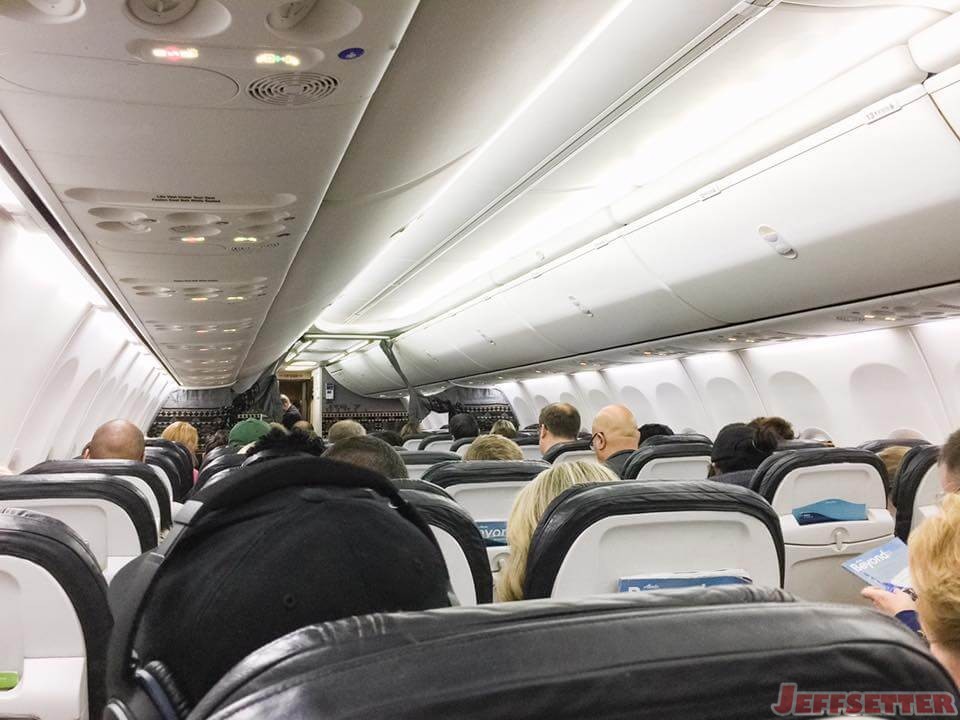 When we eventually did board, our aircraft ended up being a 737-800 with the 787-style overhead bins.  Unfortunately, the flight crew insisted passengers stow their bags wheels out, laid flat down.  If bags were stowed in the bins on their sides, like they're supposed to be, there would probably would have been enough room for everyones bags.  Why this isn't done, I'm not sure.
At 9:59 p.m., we began our pushback, and after a quick taxi to the runway, we began our takeoff roll at 10:06 p.m.  Our flight time was quoted at about 6 hours.  After we reached 10,000ft, the captain turned off the fasten-seatbelt signs and the flight crew sprung into action.  As with our previous flight, they began with tablet rentals, then drinks, and food for purchase.  I opted out of all, plugged in my phone, and tried to get to sleep.  The cabin lights were dimmed throughout.
Our originally scheduled arrival time was just after 5:00 a.m.  However, thanks to our delayed departure time, we ended up landing at around 5:57 a.m.  After a 10 minute taxi, we arrived at our gate on the far side of American Air's terminal.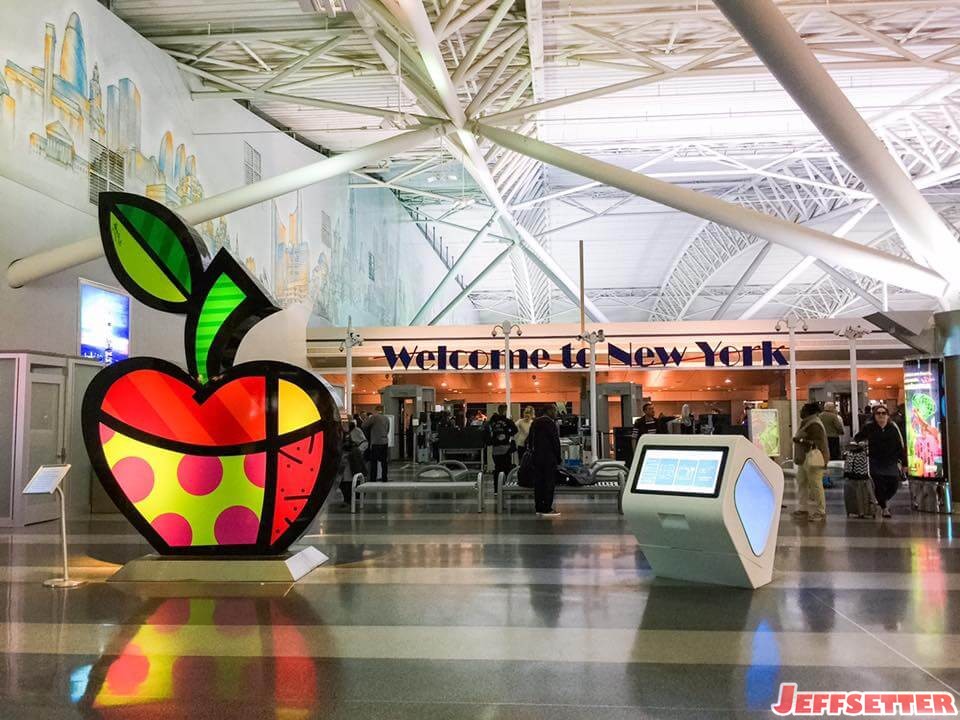 After a brisk walk through the terminal, we got to the baggage claim with our bags already circulating around.  We quickly collected our bags, and headed outside.  I was going to hail an Uber and take advantage of their special with Amex, offering a complimentary ride up to $65 from the airport to the city, but the nearest one would take 20 minutes to arrive.  I said screw it and just jumped into a Yellow Cab.  The fare from JFK to Manhattan is flat ($52) plus surcharges and tolls.  Altogether I paid around $55 for our ride, and took us over an hour (morning rush hour traffic).
A Big Apple Holiday Adventure
Alaska Air N Terminal Lounge + SEA-JFK