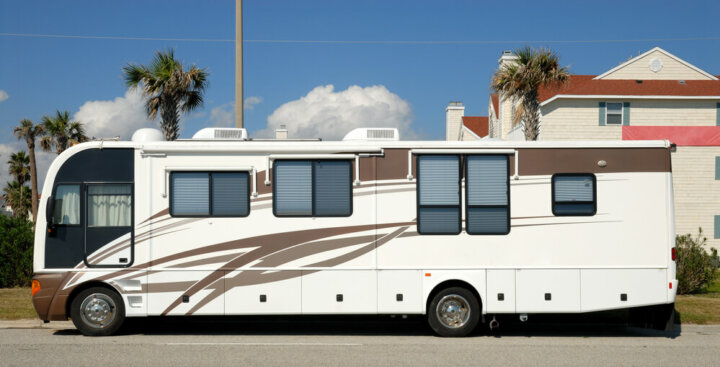 All of our reviews are based on exhaustive research, industry experience, and whenever possible, hands-on testing. When you make a purchase using one of our chosen links we'll get a small percentage of the proceeds. This supports the site and keeps Jeffsetter running. You can read more here.
Whether you need enough space for the whole family or simply want the room to spread out, you may be searching for some of the most unique 3-bedroom RVs available on the market currently. But what exactly defines a 3-bedroom RV, and what should you consider before you shop for and eventually purchase one?
In this article, we will give you a list of some of the most unique RVs that have 3 bedrooms or sleeping spaces for your consideration. But before that, we will go over what exactly defines a 3-bedroom RV and what you should expect out of purchasing one.
Finally, we will even give you a list of considerations or things to think about before you purchase an RV of any type, especially one that has 3 bedrooms. Let's get started and take a look at what it means to shop for and own an RV with 3 bedrooms!
Only interested in checking out our comprehensive list of some of the most unique 3-bedroom RVs available on the market currently? Use our table of contents to navigate to this list now!
Can You Have an RV with 3 Bedrooms?
To begin with, you are unlikely to find an RV with 3 designated bedrooms that aren't utilized as other living areas. However, finding an RV with two designated bedrooms is easy, with the primary living and dining area serving as your third bedroom. Before you start shopping, it's important to remain realistic about your expectations and how RVs are built.
Even the largest RVs, such as fifth wheels or Class A motorhomes, don't have 3 designated bedrooms. This is simply because there isn't enough space for three separate rooms that don't serve any other purpose besides sleeping. Most RVs can sleep large groups of people for a reason, with convertible furniture located in common areas of the rig.
This isn't to say that you can't sleep large groups on board your RV, but it's important to be realistic about your expectations. There is simply not enough room on board the average RV for three bedrooms, each with its own queen size bed. However, using bunk beds, Murphy beds, and a variety of other tricks, some RVs can sleep up to a dozen people!
You will likely even be able to find an RV with multiple bathrooms alongside a two-bedroom layout. But just know that a "3-bedroom RV" is likely to consist of two designated bedrooms and a third sleeping arrangement located in the main living and dining space!
What to Consider in an RV with 3 Bedrooms
There are a number of things to consider in an RV with 3 bedrooms. Whether you're concerned about your budget, the overall maintenance of your RV, or something else, here are some of the top things for you to consider before shopping.
Type of RV
Before you start shopping for a three-bedroom RV, you should determine the type of RV you are hoping to purchase. You likely won't be able to find a class B motorhome or a compact travel trailer with 3 bedrooms, but there are plenty of larger travel trailer options as well as fifth wheel RVs to choose from. Plus, you can even find 3 bedrooms on board Class C RVs and Class A motorhomes.
Choosing the type of RV that works best for your lifestyle is a great place to start. Many people are hesitant to purchase a Class A RV due to their large size and difficulty while driving on the road. However, travel trailers and fifth wheels need specialized hitches and tow vehicles that can adequately move RVs of this size.
A Class C RV may be the best of all worlds, giving you enough space as well as a more compact profile to keep you safe on the road. However, Class C RVs are fairly expensive and popular nowadays, with the best layouts often sold out or unavailable. In addition, Class C RVs are only so large, so you may even be seeking something bigger than what they can offer you.
When it comes to budget, travel trailers and fifth wheels will be less expensive compared to motorhomes. However, the more bells and whistles you add, the more expensive the option will be. It all depends on what you are hoping for and what you think you can safely handle as a new RV owner!
Length and Weight
If you are looking for an RV with 3 bedrooms, you're not exactly shopping for a compact or small RV. However, you still need to keep the overall length and weight of your rig in mind, especially if you are shopping for a travel trailer or fifth wheel.
All vehicles are designed with a towing capacity in mind, and you should never go above this set number or amount. RV weights and measures are readily available through the website of whatever manufacturer you are considering as well as written on the physical RV itself.
Whether you are shopping for a motorhome or a towable rig, you should know the overall length and weight that you can safely handle. Even Class A motorhomes have a set cargo carrying capacity as well as their lengths actively listed so that you can determine just how big of an RV you can handle!
Even if you are confident in your ability to tow or drive a large RV, you should still keep in mind what you plan on doing with it and where you plan on camping. Most state and national parks do not have space for an RV that is over 35 feet long, with some national parks limiting RV activity to 20 feet or less. However, be sure to check on the specific locations that you plan on visiting to make sure.
While all RVs are different and your specific measurements may vary, most 3-bedroom RVs will likely be over 30 to 35 feet long. Some options may be over forty feet long, especially if you are shopping for a luxury fifth wheel. No matter what you choose, keeping in mind the size and weight of your RV is a good idea!
Layout and Floor Plan
Naturally, the layout and floor plan that you choose for your 3-bedroom RV are incredibly important to you. You may want a designated master suite or a bunkhouse option for the kiddos or other guests in your life. Additionally, you may want something that maximizes space in common areas and living rooms so that you can enjoy these areas with the whole family.
There are countless RV layouts and floor plans, especially if you are opting for a travel trailer or fifth wheel. You may find yourself overwhelmed by the number of choices and options, which is why it is so important to make a list of must-haves as well as layout preferences.
For example, having an outdoor kitchen so that you can cook meals without disturbing anyone is a good idea. You may also be seeking a layout with multiple seating areas as well as sleeping areas. Maybe you want a spacious bathroom or even multiple bathrooms for all of your guests.
Regardless of what you are looking for, there's an RV out there for you. It just may take some time to find it, as well as narrow down all of the things you are truly seeking rather than what you are just hoping for!
Number of Slide-Outs
Shopping for a 3-bedroom RV means that you are looking at larger rigs overall. This may mean that you are looking at options with multiple slide-outs and expandable rooms so that you can maximize your living space once you are parked.
Having a vague idea of the number of slide-outs you want before you shop is a good idea, primarily so you can determine how much maintenance you want to put into your RV overall. Slide-outs are important for larger RVs, but they require more maintenance and care compared to other RV components.
For example, you will need to lubricate your slide-outs frequently as well as make sure they are properly set up and put away when not in use. A larger RV may have up to three or four separate slide-out areas, so it's definitely something to consider if you are worried about the amount of maintenance needed to take care of your slide-outs.
However, having slide-outs means that you have more interior living space once you are at camp. Most slide-outs are located inside the primary bedroom, living area, and all along either side of your RV. While it will depend on the specific make and model you end up purchasing, slide-outs are certainly one way to help you feel like you have more interior space!
Luxurious Amenities
Depending on what you're looking for and how often you plan on using your RV, deciding on what luxurious amenities you want before you start shopping is a good idea. This is because most RVs are categorized as either standard or luxurious by RV manufacturers, so it's a good idea to determine which version you want before you fall in love with anything.
While luxurious amenities will come at a higher cost compared to standard RV features, you may have a few in mind that you consider must-haves. Some of those might include a secondary air conditioner, upgraded kitchen appliances, fine furnishings or accents, or perhaps high-tech additions and monitoring systems that intrigue you.
No matter what you are looking for, there's an RV that suits you. This even includes adding features to your RV either after you purchase it or through the RV manufacturer before it is delivered to you. There are countless options and amenities to choose from, but being realistic about your budget and how often you plan on using your luxurious RV is always a good idea.
Boondocking Amenities
Similar to your luxurious features and amenities, deciding whether or not you want an RV that is built for boondocking is important. Boondocking is also known as dry camping or camping off-grid, and some RVs are better built for this than others. However, what might some popular boondocking amenities be?
Some of the most popular boondocking amenities include solar panels, additional batteries, larger freshwater and grey water holding tanks, and upgraded chassis or tire options. You may want something that allows you to boondock year-round, so your RV will likely have upgraded insulation and heated holding tanks.
Keep in mind that the larger the RV, the less likely you will be able to boondock. This is because larger RVs are much more difficult to maneuver to off-grid locations, and boondocking amenities are designed to be used in a limited capacity, depending on the number of guests you are traveling with.
Maintenance and Repairs
Any RV will come with a certain amount of maintenance and repairs, depending on the size, age, and overall use of the RV. However, being aware of this is a good idea, especially if you are brand new to the RV world and everything that it includes.
Doing your research and picking an RV brand that is reliable as well as durable is a good place to start. Any brand-new RV purchased directly from the manufacturer will also have warranty options and other helpful resources for you to choose from or consider.
However, keep in mind that you will have to do some repairs and maintenance to your RV as it ages. Depending on how often you use it, the initial purchase price of your RV may be a bit high, especially if you consider all of the maintenance that you will need to do.
It's a good idea to learn how to winterize your RV before you purchase one, as well as any other standard maintenance practices that you should be aware of!
Budget
A final consideration that you should already have in mind is the amount of money that you can spend on an RV. Knowing what your budget is, whether it be monthly or a lump sum, is a good idea, especially if you are shopping for an RV with three bedrooms.
Depending on the type of RV that you purchase, you may end up spending anywhere from $20k to well over $300k. Motorhomes and drivable RVs will be much more expensive than towable RV options, though there are some luxury fifth wheels that are quite pricey overall.
Regardless of what you choose, it's important to keep in mind that the listed price of most RVs will not be the amount that you end up paying after you add on additional amenities and much more. Staying realistic about your budget is a good idea, especially if you are concerned about what amenities you truly need versus what you don't actually need.
10 3-Bedroom RVs for Your Consideration
Ready to check out our comprehensive list of some of the most unique 3-bedroom RVs available on the market today? Here is that list, categorized with a few helpful keywords to help you get started!
Multiple floor plans means multiple options
Modern and contemporary interior design
Four-season ready with plenty of space for everyone
High price tag compared to travel trailer options
Built well and full of amenities at a fair price, the Keystone Avalanche is our overall 3-bedroom RV winner given everything it has to offer for multiple price points. Starting at $88k, this isn't necessarily a fifth wheel for every budget. However, its 3-bedroom floor plans and fantastic interior features make it one to check out!
While there are 10 available floor plans for the Keystone Avalanche, not all of them are technically three bedrooms. Most options offer two distinct sleeping areas with the potential for a third, but the proper 3 bedroom floor plans are a bit more obvious once you take a look at all of your options on Keystone's website.
The largest floor plan available for the Keystone Avalanche is nearly 43 feet, making it more difficult to maneuver than the average RV. However, if you need to sleep 7 or more people, there are plenty of options found within the floor plans available for this fifth wheel.
Most Keystone RVs offer you a wider body as well as plenty of ceiling heights, which is perfect for tall campers. Besides the extra standing room, you also get lofted sleeping areas within the Avalanche, giving you even more sleeping arrangements than you may have initially expected.
When it comes to the interior design of this RV, the Avalanche maintains contemporary and modern cabinets, flooring, and upholstery. Everything is easy to clean and maintain, with clean lines and plenty of living space dedicated to the kitchen in particular.
The Avalanche is also built for four-season camping, with heated underbelly options and extra insulation, included standard. While it may be a bit too large to take to your favorite boondocking destination, some basic solar panels and house batteries are also included in the standard purchase price. Just keep in mind that this large fifth wheel may be more difficult to maneuver than you first expected!
Multiple floor plans with 3 bedrooms
Interior design is clean and contemporary
Plenty of places to sleep everyone, including bunk beds
Could have more features included in the standard purchase price
If you are still looking for a towable rig but don't want a fifth wheel, then the Coachmen Apex Ultra-Lite travel trailer may be a great option for you. Starting at a lower price than the Keystone Avalanche, the Apex Ultra-Lite brings you plenty of floor plans to choose from and loads of features. Let's check it out in detail now.
There are a few different widths to the Apex, with an 8-foot wide frame having the majority of the 3-bedroom layouts available for this particular travel trailer. Despite the largest floor plans being close to 40 feet long, the Apex maintains its lightweight frame and an easy-to-tow, aerodynamic profile.
While all available layouts only have a single bathroom on board, there are multiple options that give you private and designated sleeping areas. Most 3-bedroom floor plans for the Apex include a rear bunkhouse and a front queen-size master suite. Using convertible dinettes and sofas in the living room, you can sleep additional people in the third bedroom.
There aren't very many interior design options to choose from, but the furnishings feature easy-to-clean flooring and upholstery throughout. You have lighter wood cabinets and darker accent colors throughout as well, giving this RV a modern and clean appearance. It isn't anything special, but it's easy to care for!
In terms of your available features, the Apex has a basic solar system included standard as well as Azdel construction. This helps keep the rig light and easy to drive, even the floor plans that go over 35 feet long. Plus, there are electric fireplaces and upgraded entertainment centers on some floor plans as well!
The main drawback with this rig is the fact that it could offer more features for its price points. If you are expecting all the bells and whistles, you may want to consider another option. However, if you only need an RV for a few camping trips this season, the Apex is a great choice!
Beautiful and residential interior design helps you feel at home
Plenty of 3-bedroom floor plans to choose from
Special touches such as fireplaces and spacious kitchens
High price point and a very large RV to consider storing
While you can get the Forest River Salem Hemisphere available as a travel trailer or fifth wheel, the fifth wheel floor plans have the best layouts when it comes to 3-bedroom RVs. Largely considered a luxury fifth wheel, the Salem Hemisphere has a lot to offer the average family as well as the full-timing couple. Let's check it out in detail now.
There are eight available floor plans for the fifth wheel option of the Salem Hemisphere, five of which offer three distinct bedrooms. There are lofted options as well as bunkhouse options, giving you plenty to choose from in terms of your layout and floor plan choices. Most of the floor plans also have plenty of slide-outs, giving you extra interior living space.
While more slide-outs may mean more maintenance and repairs in the long run, the square footage available on this particular fifth wheel is ample. Even with a sleeping arrangement in the main living area, some floor plans still have space for a kitchen island and multiple sofas within the living room.
The interior design is charming and modern, with special touches that Forest River is well known for. You also have large entertainment centers, electric fireplaces, and proper residential kitchens available on just about every floor plan. This will no doubt help you feel a bit more at home while you are on the road, especially for extended amounts of time.
Speaking of this fifth wheel feeling like a home, it's also a great option for those of you looking for something to live in full-time. There is some amount of solar available as well as washer and dryer preparation. Plus, the primary bedroom offers you plenty of wardrobe storage and room for all of your belongings.
However, this is still a luxury fifth wheel and the initial purchase price reflects this. While the standard cost of this RV includes just about everything you will need, it's still a pretty hefty sum. Definitely keep in mind how often you plan on using your RV, especially because storing an RV of this size can be difficult!
Spacious floor plans with multiple bathrooms
Convenient features in a luxurious package
Reliable and powerful diesel engine means you can go anywhere
Air brakes and large size means you need a commercial license
The Forest River Berkshire XLT is our top choice for a 3-bedroom Class A motorhome option. While it is considered a luxury Class A RV, there are plenty of homey and residential touches throughout. Plus, two out of the three available floor plans offer you two bathrooms, which is perfect for traveling with a large group. Let's check it out!
With a Cummins diesel engine and a specially built chassis with easy maintenance access, the Berkshire isn't necessarily a great starter rig. That being said, it will be a reliable option for just about anyone, even if you don't understand all of the ins and outs of owning a diesel motorhome!
However, you should know that the Berkshire XLT has air brakes and therefore require special licensing in order to drive it. You will need a commercial license to drive an RV of this size, so keep this in mind as you shop. You may want to consider a smaller option, especially if you don't need to tow a residential car behind your Class A motorhome.
With faux marble tiles throughout as well as detailed wood accents, this particular motor home is gorgeous both inside and out. You have multiple bathrooms on board as well, depending on the floor plan you choose. They are conveniently located near the master suite or the bunk beds, respectively.
Speaking of floor plans, The Berkshire XLT has fewer options than other RVs, but they are specially built and formulated with feedback from customers in mind. Forest River is an RV company worth reading about, and they always have customer feedback in mind when building anything new.
Even though the initial purchase price of this RV is high, it truly has everything you need inside of it. Not only is it gorgeous but functional as well, with spacious kitchens and sleeping areas. However, your budget may not be able to handle an RV of this caliber, so make sure you crunch your numbers before falling in love!
Spacious floor plans with multiple sleeping arrangements
Luxurious touches such as fireplaces and large kitchens
Plenty of exterior and interior storage
Very expensive and very large to drive
You might be able to squeeze 4 bedrooms out of the Thor Inception, a Class C motorhome that can technically be classified as a Super C. This large diesel RV can go wherever you want and carry whatever you want, but it does start at a fairly high price. Let's take a look at it in more detail to see if it is right for you.
Starting at $349k, this isn't an RV for every budget. However, the Inception is truly a home on Wheels, offering you luxury and plenty of amenities on a powerful chassis and frame. You have a Cummins diesel engine to get you where you need to go as well as a towing capacity of at least five thousand pounds. This is enough to bring along the average residential vehicle.
The main drawback to the Inception is the fact that there are only three available floor plans. Only one of these three can technically be labeled as a 3-bedroom RV, though you can sleep 4-5 people in the other layouts with the over-cab sleeping area available on most Class C RVs.
The interior design is bright and functional, with every available area of storage and storage solutions. In fact, the exterior of the Inception has passed through storage compartments located in every corner, giving you plenty of space for your kayaks and bicycles. The storage only continues indoors, with wardrobes and designated pantry cupboards where needed.
Depending on the floor plan you choose, you may end up with multiple slide-outs or a very large slide-out located in the kitchen. These can help expand your interior living space and keep everyone comfortable, especially with the largest floor plan that sleeps up to 6 individuals.
At the end of the day, the Inception is a great Class C option for you to consider if you are looking for a 3-bedroom RV. However, it may simply be too large and too expensive for the average family, especially if you don't plan on living in it full-time!
Plenty of floor plans perfect for families
Lots of storage located inside and out
Clear separation between sleeping areas for more privacy
High price point for a travel trailer
If you were looking for a more budget-friendly option that also offers you 3-bedrooms, you should check out the Jayco White Hawk. Starting at $52k, this travel trailer still isn't among the most affordable RV options in the world. However, it is truly functional and luxurious, with room for the whole family. Let's check it out!
When it comes to the available floor plans for the White Hawk, there are multiple choices that have three distinct sleeping areas. There are rear bunkhouse options as well as master suites, with some floor plans offering two separate bathroom areas. This is incredibly convenient, especially for floor plans that sleep close to 10 individuals.
One of the most spacious layouts is nearly 39 feet long, with a large rear bunkhouse suite. This area includes multiple bunk beds for the kiddos as well as sofas and an entertainment center, all located behind a closed door. Plus, there's even a bathroom in this layout as well, giving you plenty of separation from the rest of the family if you need it!
Besides the contemporary and clean interior design, this travel trailer is a great choice for those of you seeking something lightweight. Even the largest floor plan is barely over 8,000 lbs, giving you plenty of choices for midsize tow vehicles as well as heavy-duty ones.
Jayco has built this RV for four seasons and there are floor plans to suit just about any family. You can also add solar to this one for an additional price, with four-season handling all included as mandatory features. What's the catch with this particular travel trailer? It may be outside your price point, especially if you don't plan on using it season after season.
Multiple floor plans with 3 bedrooms
Large and in charge fifth wheel leaves space for the whole family
Luxurious interior with room to spread out
Huge size may be too much for the average camper
Speaking of floor plans that are perfect for families, you may be interested in checking out the Coachmen Chaparral. This fifth wheel is spacious and ideal for a number of groups of people, particularly families and individuals comfortable sleeping in bunk beds. Let's take a closer look at this fifth wheel and all that it has to offer now.
Well-built and appointed, this fifth wheel has been the flagship fifth wheel for the Coachmen brand for at least a decade. It's easy to see why, given the spacious layouts, ample features, and attention to detail, particularly where it matters most to campers and large groups.
Of the eight available floor plans, at least five offer three distinct bedrooms on board. Multiple options also give you plenty of bathrooms, and there are even options that have two distinct en-suite bathrooms depending on the bedroom you are sleeping in. There are lofted sleeping areas as well as convertible sofas in the living room, as the Chapparal is very large and capable of sleeping a number of guests.
Speaking of large, the Chaparral ranges in length from 34 feet to nearly 43 feet, making it extremely large and difficult to drive. However, the exterior shape of this RV is still fairly aerodynamic and won't be too devastating to your gas mileage!
Overall, the Chaparral offers some of the most unique floor plans that have three bedrooms as well as plenty of room in its common areas. You have multiple bathrooms and storage located inside and out, but the size of this RV may be too daunting for some of you to apprehend!
Exterior and interior storage is easy to access and abundant
Dedicated bedrooms for the whole family
Upscale interior and special touches throughout
High price point, especially with such few layouts
Most people worry about the storage available to them if they are new to RVing and bringing along camping gear. You won't have to worry about storage solutions on the Winnebago Voyage, a relatively new travel trailer offered by the Winnebago company. Starting at $64k, the Voyage is upscale without being too stuffy, and it also has multiple floor plans. Let's check it out!
RV News awarded the Voyage its award for the best travel trailer of the year, and it's easy to see why. With 6 floor plans ranging from 27 feet to 38 feet, the Voyage has options for everyone. However, there are only two floor plans that technically qualify as 3-bedroom RVs, so keep this in mind.
Even with smaller floor plans overall, The Voyage offers its customers plenty of storage, both inside and out. There are dedicated pass-through storage compartments that you can access around the entirety of the RV, and dedicated pantry storage in the kitchen. Plus, the secondary bedrooms have built-in storage and plenty of storage solutions, particularly for devices and tablets.
While there are plenty of amenities included in the standard purchase price, the overall look and feel of this RV is a bit boring, especially for the cost. However, this rig is aerodynamic and has plenty to offer, especially if you are worried about bringing everything along with you.
Some of the most unique floor plans available in this fifth wheel
Luxurious amenities and special touches help you feel at home
Well built and heavy-duty design
Extremely heavy and expensive for some people
With elaborate floor plans and plenty of interior living space, the Jayco North Point is a fantastic option for full-timers as well as families. While this fifth wheel starts over $100k, it still has plenty to offer, especially when you consider all of the luxurious amenities and unique floor plans available to you. Let's take a closer look at it now!
There are seven available floor plans for the North Point, ranging in length from 36 to 44 feet. This means that this fifth wheel isn't for everyone, given its overwhelming size and square footage. It's also heavy, with the most lightweight floor plans still over 10,000 lb. However, if you have the tow vehicle to handle this particular RV, it's worth the price.
With lofted sleeping areas and multiple bunk bed layouts, you can sleep nearly a dozen people inside this RV. Even with so many guests, you likely won't feel too crowded on board this fifth wheel, with plenty of spaces to retreat to and multiple slide-outs to help expand your interior square footage.
For people considering living full-time in this fifth wheel, it's a great choice. It is full of residential amenities and luxurious touches to help you feel like you are living in a more permanent location rather than inside an RV. Plus, you have washer and dryer prep as well as plenty of amenities in the locations that matter, such as the bathroom and kitchen.
All in all, the North Point is a fantastic option for those of you seeking something that suits full-time living or large groups. Some of the most unique floor plans are associated with the North Point so it's worth checking out, so long as you have the budget for it!
Countless features and custom interior design
Plenty of floor plans to choose from, including multiple 3-bedroom layouts
Luxurious and residential, no matter which floor plan
Prohibitively expensive, especially if you don't live in it full-time
Speaking of heavy duty and expensive, the Newmar Dutch Star starts at $551k, making it the priciest option on this list. It's a Class A motorhome that is likely bigger than you know what to do with, but it's certainly a statement RV if you need something upscale! Let's take a closer look at everything this beauty has to offer.
With 12 available floor plans, the Dutch Star offers you plenty of options in varying lengths and designs. You can get these floor plans ranging in length from 37 feet to 43 feet, making this Class A larger-than-average and probably not a great choice if you would like to visit our beautiful national or state parks.
However, the design and luxurious touches inside this RV are simply jaw-dropping and worth a look. You have all the amenities you could possibly need, and there are multiple floor plans that offer three distinct bedrooms. No expense was spared to create this beautiful Class A motorhome, which is likely why the purchase price is so high!
If you have the budget to afford one, I highly suggest taking a look at all of the RVs offered by Newmar. While they only offer motorhomes at a high price, they are truly top-of-the-line and luxurious, giving you everything you need and even some of what you don't need! However, it's not a secret that these motorhomes aren't built for every budget.
Final Thoughts
Finding a 3-bedroom RV is easier than you think, but narrowing it down is where it gets difficult! Depending on your budget and size requirements, you'll no doubt have fun shopping for an RV that suits the whole family.
Happy shopping and happy camping, once your brand new 3-bedroom RV arrives at home!