Last updated on June 23rd, 2023 at 11:38 am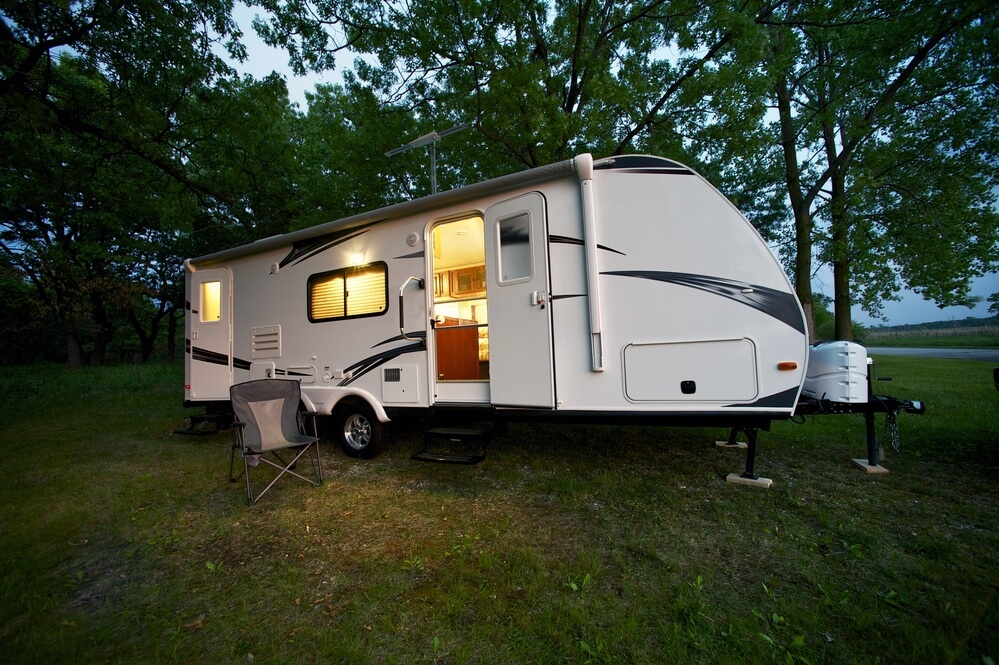 All of our reviews are based on exhaustive research, industry experience, and whenever possible, hands-on testing. When you make a purchase using one of our chosen links we'll receive a small percentage of the proceeds. This supports the site and keeps Jeffsetter running. You can read more here.
You want to see the world but are planning on seeing it alone. Camping doesn't always need to involve the entire family. In fact, you may find traveling solo to be liberating, especially solo camping!
But sometimes camping can feel overwhelming when it's just you setting up everything. Some tents are difficult to even put together on your own if you've decided to bring a travel trailer along on your adventure!
So, what's the most ideal travel trailer for you and your journey? The range of options can be overbearing, but we're here to help. Let's learn about travel trailers together, and why they might be the best fit for your single self!
Safety When Going Solo
No matter who you are and what experience level you have, your safety is paramount, especially when traveling alone. Here are some helpful tips to stay safe while staying solo!
Practice With Your Rig
Every RVer, whether single, a couple, or the whole family, knows that practice makes perfect. From towing to packing, having experience with your rig can make or break a vacation. Get to know how your rig tows, the trailer systems, how to hitch up, and also how to unhitch when you get to camp. Lists can be extremely helpful, as our next section discusses!
I also think it's worth learning the basics of your propane, water, and electrical systems. Knowledge can be a major help with anxiety, especially if you don't have another person with you to bounce ideas. Practice towing your rig, camp somewhere local before you set off on a longer journey, and learn whatever you can about your travel trailer such as how to park it on a sloped driveway. You won't regret it!
Make Checklists – And Then Make Another One
Yep, let's talk about lists. Lists may not be your favorite thing in the world, but they can make a world of difference if you're planning a travel trailer trip, especially a solo one. It's hard to remember every little thing, especially if it's just you that has to remember it all!
Make a list of everything you need to pack, and check it off as you go. Make a list, in order, of how to hitch up and tow, and another list for unhitching. Make a list of campgrounds you'd like to check out, and another one for travel trailer-friendly gas stations.
You can make as many lists as you want, and as many as you deem necessary. I can't talk enough about the benefits lists can have on a trip, especially if you're going it alone!
Dogs, And Other Safety Supplies
Traveling alone anywhere can be intimidating, especially traveling in a new rig. Keeping basic safety supplies around is always a good idea, no matter how long you plan on camping. Bring first aid, but also consider bringing some of these other supplies.
Some travel trailers come equipped with safety supplies such as motion-detecting lights, elite keypad door locks, and alarm systems. However, these are not always standard features and you may consider purchasing some as they can help increase the overall security of your RV. Your dog may be enough of an alarm in the night to protect you and there are plenty of other benefits to traveling with a pup.
There are tons of hacks and tips from other solo RVers out there, and it's worth looking into should you be worried about your safety and how it relates to other potential travelers. Bears are one thing, but our fellow man is often the most dangerous thing in the woods!
Trust Your Instincts
Much like being prepared through research and knowledge, sometimes your intuition is your best tool! If you pull into a campground or other camping spot for the night and you get a bad feeling, it's always a good idea to consider why your intuition might be anxious.
Traveling alone can be anxiety-inducing at the best of times, and your instincts may be influenced by your overall fear. However, don't ignore these feelings entirely! If you have a bad feeling or don't like the look of a situation, take care of yourself and change your plans. This is always allowed, and never a bad idea, especially if it means you'll get a good night's sleep!
Tell Someone Where You're Headed
In many solo situations, it's always an excellent idea to let someone else know where you're going and alert them when you arrive. It's worth messaging or ringing a trusted friend or family member, and it's useful to also have someone in your life you can use as a potential emergency contact.
If something terrible were to happen to you while traveling alone, not letting another person know your travel plans could prove disastrous. Take the time to let someone else know, especially if you are traveling someplace new by yourself!
Pros And Cons Of Travel Trailers
It's time to take a solo vacation! You decide camping in an RV will be your best bet to have a safe and fun time, and you've chosen a travel trailer as your style of rig. But what about travel trailers makes them a good choice for you traveling solo? What might be the downsides?
Pro: Travel Trailers Can Be Left
The main perk of travel trailers in my book is their ability to be left at camp. If you're on a solo journey, seeing new sights, the last thing you want is to travel in an overly large motorhome or camper. The best part of a travel trailer is the ability to leave it behind! Once you unhitch your RV from your vehicle, you're free as a bird!
Con: A Capable Tow Vehicle Is A Must
No matter what specific type of travel trailer you look at, you need to be prepared for one very important detail: your trailer must be towed. This might not be what you are hoping for, but there are a lot of positives to towable travel trailers versus truck campers or motorhomes. However, towing takes a lot of practice and concentration, especially if you choose to travel alone, so you may consider this a con.
Pro: Trailers Are Often Lightweight
Another perk of travel trailers is their lightweight design. Motorhomes and coaches guzzle diesel fuel or gasoline, a huge drawback if you are only planning a small budget for your upcoming trip. Some travel trailers are so light they can be towed with the smallest of cars, which means you won't have to worry about renting or borrowing someone's large truck to tow your new rig!
Con: Travel Trailers Offer Small Space
Even traveling solo, a travel trailer may feel like fairly tight quarters. If your tow vehicle can only handle the smallest of rigs, you may not find a travel trailer large enough for you, especially if you're traveling with a dog or other pet. No matter how long the trip, travel trailers never feel like they have enough space!
However, there's always the great outdoors if you're looking for some time and space to reflect, and the travel trailer will be there when you are feeling relaxed and ready to turn in for the night!
Types Of Travel Trailers
So, you're feeling confident that a travel trailer is the right move for your solo journey. How exciting! However, what type of travel trailer best suits you, and where you're planning on going?
All travel trailers are towed behind a vehicle using classic ball hitches. But how else do they vary from one another? Let's take a look!
Classic Travel Trailers
The most classic travel trailer you can get may be the right fit for you. And that's because there are so many different fits!
A classic travel trailer is towed behind your vehicle using a ball hitch and ranges in length from 10-35 feet. These classic trailers often have four tires total, and are the most traditional setup when it comes to the interior (bedroom, bathroom, living area, kitchen). Slide-outs are also a popular feature on nearly all newer travel trailers, allowing you more space on a lightweight frame.
Given the range of length, weight, and specifications possible on classic travel trailers, it's recommended you check out all of the necessary weight requirements before purchasing one. Some trailers require a heavy-duty truck for towing, despite their small size. My vintage rig may only be 19 feet long but given its old metal frame, I need a V8 truck to tow it!
A classic travel trailer may give you the space you want, but make sure your vehicle can tow it! You may also consider the durability of travel trailers; if you're planning to offroad or venture anywhere remote and unpaved, some travel trailers may not be made for that sort of trek.
Toy Hauler Trailers
Looking for a home on wheels that will also transport all of your other recreational toys? A toy hauler does exactly what it says in the name, and might be a good choice for you if you have a lot of other fun vehicles! Toy haulers are towable rigs and some of the largest travel trailers out there.
They come with a fold-down ramp often at the back end of the trailer, perfect for wheeling out your ATVs, motorcycles, jet skis, and whatever else you can fit back there! These trailers are designed as a half garage, half living space, with various different layouts affecting the style. The sky's the limit in terms of customizing your toy hauler but at the end of the day, you need a vehicle that can tow it!
Toy haulers are often the heaviest of travel trailers, as they are carrying even more vehicles inside of them, but it's possible to find lighter-weight options. These are the peak of recreational vehicles, allowing you the maximum amount of entertainment possible, but just make sure you can handle the weight!
Toy haulers can be a lot to manage as a single person as well. From towing to unloading, it's a timely and potentially strenuous process if you're alone. But if you're the adventurous type, a toy hauler may be the perfect fit for you.
Teardrop Trailers
Now you've seen the biggest travel trailer options, let's take a look at the smallest: teardrop trailers! These little guys are amazing for those of you hoping to tow with your small car, as most teardrops weigh less than 1,000 pounds to tow! What a great idea, making a camper so little! This also means it will be easy to store at your home. What's the catch?
As I'm sure you might've guessed, these trailers are tiny. So much so that for the most part, teardrop trailers only have enough space for a mattress inside. A kitchen is often built off the back of the trailer, which means your cooking must be done outside. There are rarely ever bathrooms, which could be a deal breaker for some of you new campers out there.
However, teardrops are amazing little trailers and are so easy to tow! Their kitchens are often high-tech and amazing to have while camping. I can't think of a better trailer to bring along on short road trips or wonderful weather outings. These little teardrops are great for a solo trek, and they are often made rugged and boondock ready, which means they can handle whatever journey you have in mind!
Pop-Up Travel Trailers
Unconcerned about the elements and looking for the best of both worlds when it comes to trailer towing? How about a pop-up travel trailer, which brings the best of towing, size, and budget to you?
Pop-up trailers are inconspicuous at first, residing inside a flat, easily towable frame. When you arrive at camp, the canvas sides can pop up to create your camper, much larger than teardrops and lighter weight than toy haulers or classic travel trailers. It is a perfect combo of RV and tent and is recommended primarily for camping where the weather is nice.
Some pop-ups even have more rigid sides to their tents in order to better your experience if camping in a colder climate. Given the extra interior space, some pop-ups include bathrooms and living spaces, and usually always have a kitchen. This may make pop-ups a good fit for you if you're worried about the weight of your rig but don't want to sacrifice space.
How Much Space Do I Actually Need?
This may be the trickiest question you must answer before purchasing a travel trailer: how much space do I need to comfortably enjoy my time in my new travel trailer? Even though it's just you camping in the space, there are some things to consider before making your final decision.
To work out how much space you actually need in your trailer, there are a few things to consider:
Layout
The most important thing lending to your comfortability in a travel trailer is the layout of the space. The options are endless in terms of layouts in classic travel trailers, but you will find yourself much more limited once you look into the layouts of teardrops or pop-ups. Size matters, and you may find that the best way for you to be comfortable is to have a bigger rig, especially if you think the family might come along from time to time.
Length Of Trip
Another thing to consider if you're trying to save space without sacrificing comfort is how long you plan to stay in your trailer. Are you only buying a travel trailer for weekend camping trips? Or are you planning a long cross-country road trip? Or even more insane (like me), are you hoping to live in your travel trailer full-time!? This may affect your ultimate decision on how much space you feel like you need.
Volume Of Belongings
One last thing when it comes to space saving is packing less. No matter how long you plan on staying in your travel trailer, the amount of stuff you bring with you affects how much living space you will have. A trailer's layout can even be negatively affected if you bring too much stuff! Keep your packing light, even when you're hoping to stay prepared.
Many people enjoy the freedom of solo travel, and having a travel trailer is a wonderful option to explore that freedom you crave! Keep in mind that your safety is key, and, even though it may seem nice to have a large rig for your own comfort, only tow a trailer that you can tow alone. You'd be surprised how quickly a large trailer becomes tricky to tow, and if it's just you, how much space do you really need?
9 Best Travel Trailers For A Single Person
You're ready to find your perfect travel trailer match before you set off on your solo journey! Hopefully, you have some idea of what type of travel trailer you're looking for as well as what your tow vehicle can handle. Let's look at some of the best of the best!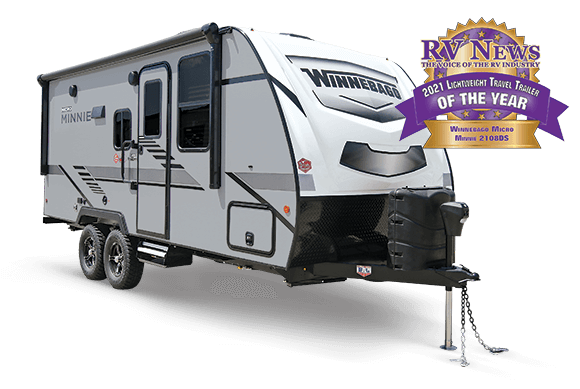 Dubbed the 2021 lightweight trailer of the year, the Micro Minnie is perfect for solo travel. These skinny trailers measure 7 feet across, which means you won't likely need extendable tow mirrors. This would make me feel much more comfortable on the road if my partner wasn't around! Winnebago isn't reinventing the travel trailer wheel, but the Micro Minnie is a comfortable classic, no matter the size, and also boasts an affordable price tag!
If the smallest Micro Minnie floor plan doesn't tick the boxes, there are ten others to choose from, ranging in size from 19 feet to 25 feet. No matter what, these trailers remain lightweight, easy to tow, and comfortable inside! I love that Winnebago has thought about where to place windows for the best cross breezes, as well as keeping the kitchen and living area open. This is essential for me, as I love a cool morning breeze and the ability to effortlessly get rid of cooking smells.
When I'm out in my RV, I like to be outside more than in, so I'd get plenty of use from the standard outdoor features such as patio speakers, a motorized awning, and slick LED lighting at the touch of a button. There's also an abundance of exterior storage, so I have somewhere to pack my adventure gear and portable grill away, without it interfering with the interior space of my rig.
The smallest Micro Minnie's dry weight is just over 3,000 pounds, making it lightweight but it's probably still necessary to own a larger towing vehicle. The price on this trailer can't be beaten and it's definitely the most budget-friendly on this list. If you're hoping to start your travel trailer journey with tradition and budget in mind, the Micro Minnie is perfect for your solo journey!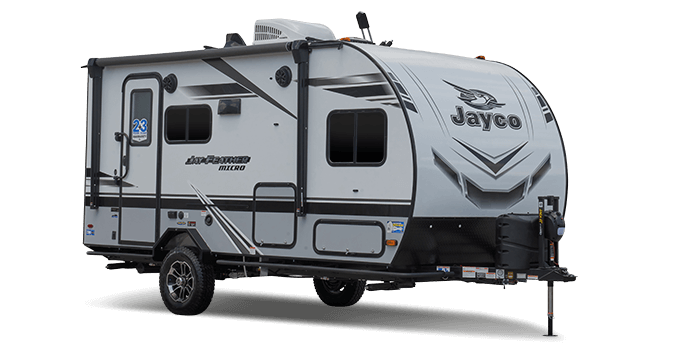 Jayco is a name I know and trust, as they've been in the RV game for quite some time now! If you've done any research into RVs, no doubt you've seen Jayco's name around. The brand-new Jay Feather Micro is Jayco's lightest travel trailer, which is a major perk for solo travelers. Weighing under 4,750 pounds, this camper delivers the essentials, and then some, in a smaller package.
For longer trips, I think it may be wise to look beyond the smallest floor plan of this Jayco. There are 5 lengths and floor plans to choose from, which means there's no need to compromise on size and amenities if creature comforts will make for a better RVing experience.
These Jaycos are built to last, making them a popular RV name. Their Azdel walls make for excellent 3+ season camping, and both their roof truss system and aluminum frame are strong without being heavy. I like knowing I'm RVing in a trailer built to last as it makes me feel safer on the road, and more confident to tackle solo trips!
There are loads of interior and exterior storage and tons of add-on options to transform this trailer from a classic rig to something with a bit more oomph. The Jay Feather Micro ticks an awful lot of boxes, especially for RVers hoping for all the comforts of a travel trailer in a consistently lightweight design. This is solo camping in style!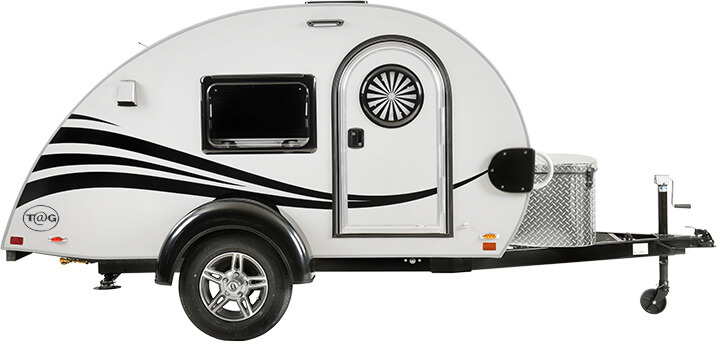 Teardrop personified, the Tag Teardrop by NuCamp is a fantastic little trailer for solo travelers. Lightweight and easy to tow, the Tag has the ability to take camping experiences to a whole new level. I particularly like the ability to enjoy natural scenery as I prepare meals in the well-equipped rear galley, more equipped than some full-size trailer kitchens! You can get an in-depth walkthrough of the Tag Teardrop by watching the tour video of the 2023 Tag below:
While this little guy doesn't have a bathroom, it does boast stargazing windows, a deep sink, a Yeti electric cooler, and a comfy queen bed. An RV without a bathroom doesn't bother me too much, as there are many different portable options on the market, and it does create more internal space for solo travel.
There's also an optional boondocking package for those of you looking to get a bit more rugged. This package has a lot of great features, including an additional roof storage rack and solar, so I won't have to turn to a noisy generator to stay powered up.
This teardrop only comes in two models, one slightly wider than the other, allowing for a slightly bigger bed and additional counter space in the galley. However, with a heater and air conditioner, as well as modern finishings, this teardrop won't ever feel too cramped or old school. And of course, it's lightweight enough for almost any standard vehicle. Too cool!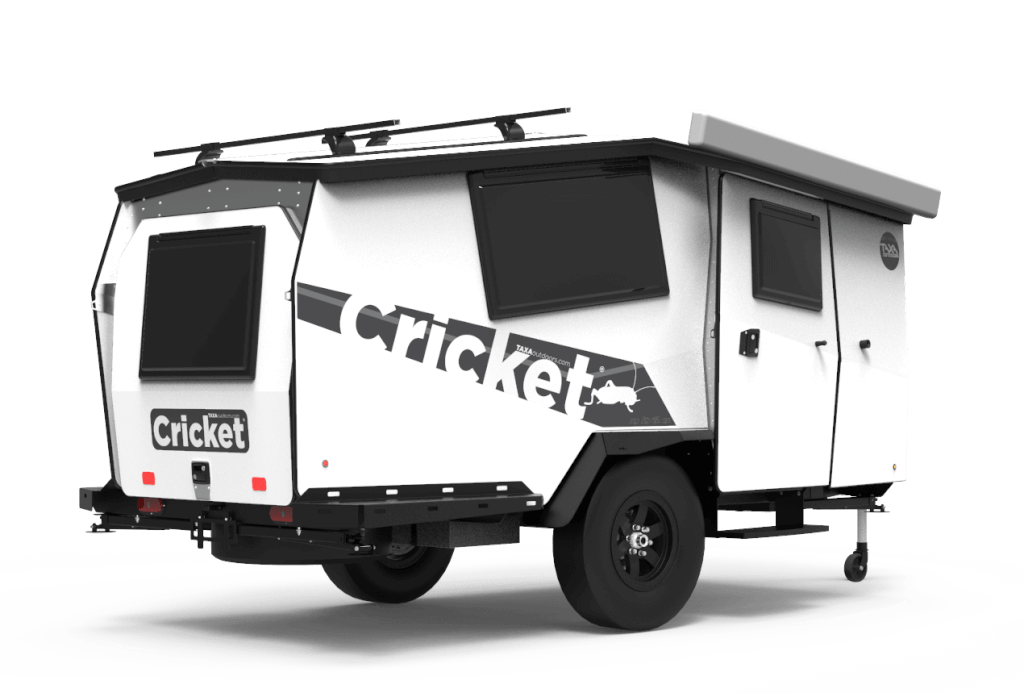 Are you a solo traveler looking for something unique to tow? The Cricket pop-up travel trailer by Taxa Outdoors is made for adventurers, outdoor enthusiasts, and designers. How can it please all of these types of people? Through one-of-a-kind building and design.
First off, this little guy is tiny: it is only 15 feet long and less than 7 feet across and weighs 1,700 pounds dry. Can you believe that!? While there are countless non-standard features, the Cricket comes built out with a full bed, kitchen, and loads of storage for such a small space. It also has an included cafe table, a standard entry door, and a back hatch that opens, allowing even more of the outside in for a truly immersive camping experience.
The roof pops up, as is the way of the pop-up travel trailers, providing an extra 3 feet of headroom and windows! These little guys can also come with a portable toilet, outdoor shower, and awnings to create a cozy outside space that's also functional. Having roof racks on an RV is a game-changer and something that allows me to carry extra gear like a kayak in my RV without overfilling the inside of my rig. The Cricket doesn't come standard with roof racks which is a little frustrating, but at least the option to add them on exists!
What else can be said about the Cricket, besides its eye-catching good looks? It may be at the higher end of the budget and be a bit too unique for the average camper, but for those up for the challenge, this little pop-up might be the perfect fit for solo adventures!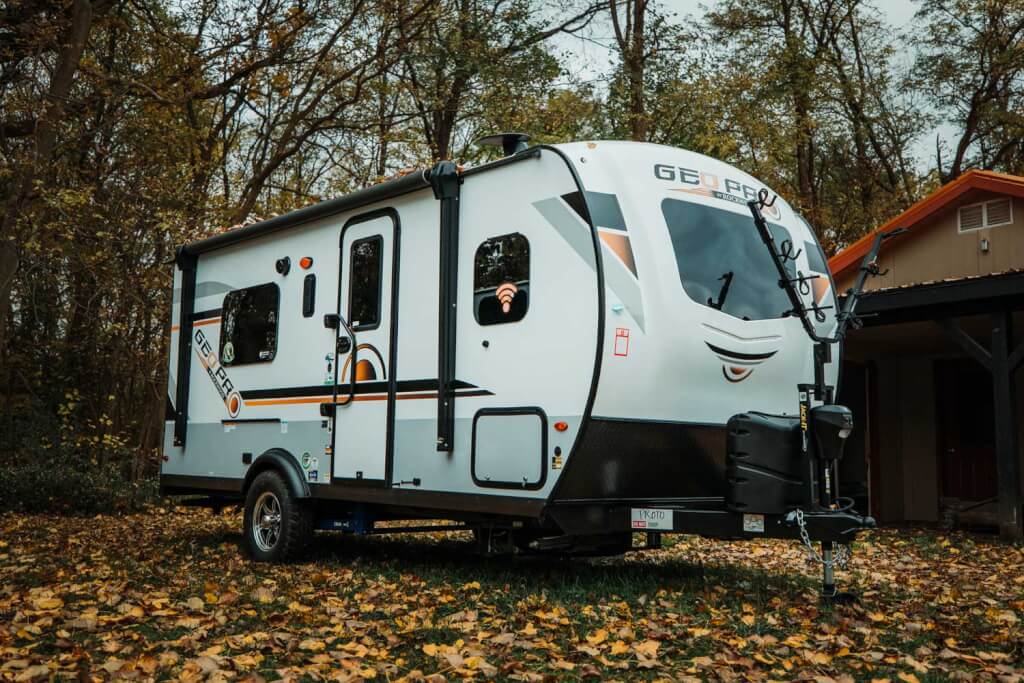 While not all of the Rockwood Geo Pro layouts are toy haulers, I've found that a few of them are! Forest River is another household name when it comes to RV brands, and their Rockwood Geo Pro is a great little find. No longer than 20' and weighing 3400 pounds dry, this toy hauler is great for a solo trip and can be towed by pretty modest vehicles.
The cargo space is approximately 8'6″ long, providing ample room for four-wheelers and other small outdoor items like kayaks, paddleboards, motorcycles, and much more. This toy hauler comes with a 100-watt solar panel and a 1000-watt inverter standard, which are great features, particularly for going off-grid or boondocking in the trailer.
Unlike some of the other options in our list such as the Micro Minnie which boasts 10-floor plan options, this Forest River trailer only has two-floor plans, making options a bit more limited. However, these rugged trailers are built to last, and Forest River typically offers great customer service and warranties for ultimate peace of mind post-purchase.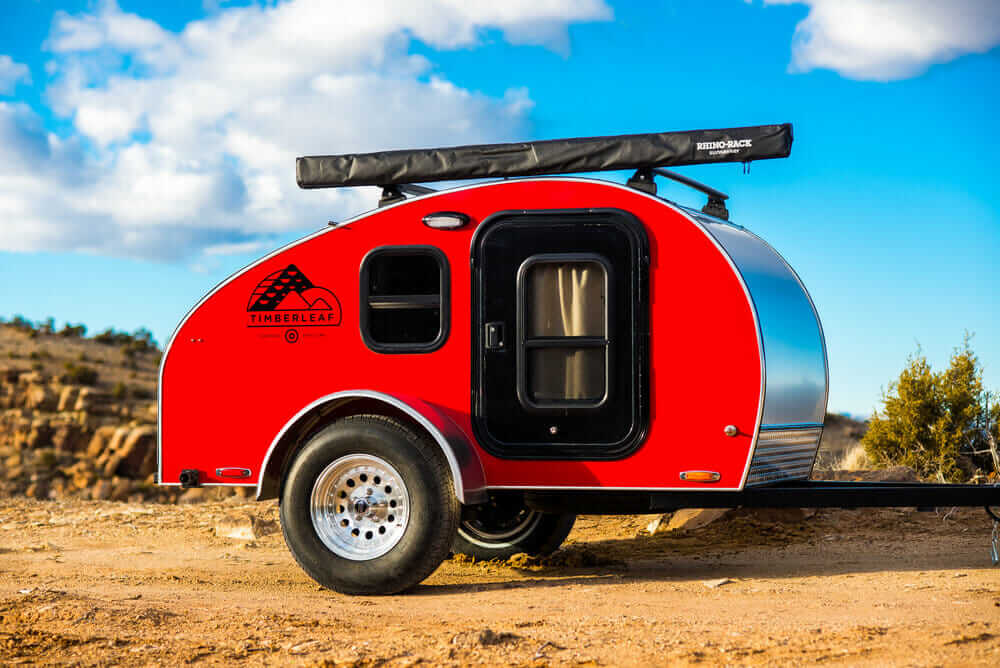 Here's the trailer you've been looking for, you rugged solo adventurers: the Pika by Timberleaf Trailers! These small camping trailers are built for rugged simplicity, and they know their customer base. The Pika offers all of the quality craftsmanship Timberleaf Trailers has become known for, in a lighter and more nimble teardrop package.
Three different models are available, each one based on how much off-roading the rig is expected to experience. The off-road model has a 4" lift, an axle-less suspension, and articulating hitch. It also has added fenders and rock guards, and this is in addition to all the great features that come standard on the Pika.
Starting out at 1,025lbs, the Pika sits on a 54-inch by 96-inch frame and is well suited for travelers who are seeking a lighter, more nimble trailer, or don't feel the need for the bells and whistles of other teardrops. Needless to say, the galley is completely empty and customizable for solo adventures! The sky's the limit with this little guy.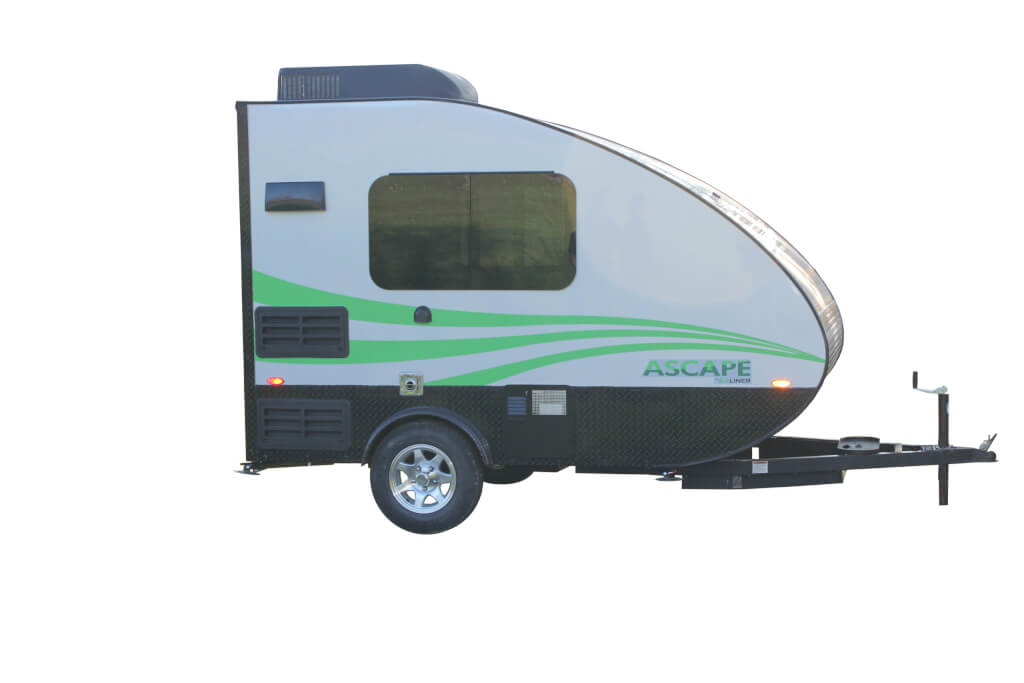 I enjoy owning a travel trailer packed with features but light enough that I don't need a monster-sized tow vehicle to take it on adventures. That's why I've added the Ascape Plus by Aliner, a fun 13' trailer with a lot to offer, with a dry weight of just over 1600 pounds. This means there shouldn't be much hassle with towing – it could even be towed with a regular, family car.
The standard features on this trailer keep going for its size, such as a large solar panel, detachable power cord, refrigerator, furnace, and range with hood. This is great news as I love to cook in my RV, and just because I travel in a trailer, it doesn't mean I want to skimp on any creature comforts like a well-equipped kitchen. This Aliner comes built with a dropped floor to increase the height in the space – something I know I'd use when my taller friends come to visit me at the campground!
While a bathroom isn't wedged in somewhere (though you can get a toilet, just not standard), there's an outdoor shower and a 6-gallon hot water heater. Having a full bathroom in an RV is a must for many, but since there's an outdoor shower and the option to add a toilet, I don't think this is too much of an issue. This lightweight and uniquely shaped trailer may be small, but there's ample room for one, and a whole lot packed into 13 feet!
What if a trailer could be lightweight, small, and built for four seasons? You may have heard of Scamp trailers, or perhaps seen their attractive fiberglass shells on the road. No matter the length you're considering, you have the Scamp guarantee of a beautiful, unique trailer that can stand the test of time (and the elements)!
Scamps come in 13', 16', or 19' models with two or three-floor plans each. The floorplan picture we've used above is from the standard 13′ floorplan, as I think it's a fantastic fit for solo adventurers, and since Scamps are built to order, it's possible to customize them to your heart's desire. I feel reassured by the insulation, both inside and out, as it's top-notch, and will really get tested during scorching summers and cold winters on the road.
Scamps have as many amenities as you might need including air conditioning, bathrooms, full kitchens, and more! If you have any doubt about Scamps and their reliability, they have customer reviews and testimonials dating back to the 70s! These fiberglass beauties are something special, and you'll be the talk of the campground should you choose to take your solo journey in one!
I was first introduced to Happier Camper a while ago, and I've been in awe of these trailers ever since! The HC1 Studio by Happier Camper is an exciting option for solo travel, and particularly great for females. Being a solo female on the road has its ups and downs, but I find nothing more reassuring than knowing I'm in a secure trailer, that I'm able to confidently tow and maneuver wherever I need to.
With a dry weight of 1800 pounds and an overall length of 13'5″, this little trailer can be towed by even the most modest of vehicles. It's no secret these trailers are attractive – I mean, look at that sleek aesthetic! But what impresses me even more, is that the HC1 Studio Camper, much like other trailers by Happier Camper, features innovative Adaptiv components.
This means it's possible to effortlessly rearrange the interior of the trailer from a bed to a dining area, or lounge and relaxation space with easy-to-use tie-downs for security on the move. This trailer is small, yet it still packs a 17-gallon fresh and 17-gallon gray water tank, propane-powered air and water combination heater, and a dry flush toilet which takes away the unpleasant job of dumping and cleaning a black water tank.
With effort-saving features, an attractive aesthetic, a creative interior, and everything I could think a solo female would need on the road, I think the HC1 Studio is a great option to go for.
Conclusion
Traveling alone can be an amazing experience and one you shouldn't shy away from. Choosing a travel trailer as your resting place is a great choice, so there's no need to be afraid to hitch up and hit the road, solo!