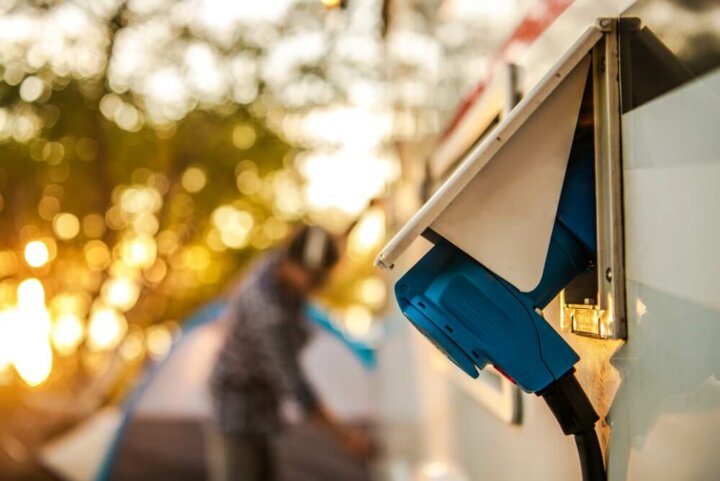 All of our reviews are based on exhaustive research, industry experience and whenever possible, hands-on testing. When you make a purchase using one of our chosen links we'll get a small percentage of the proceeds. This supports the site and keeps Jeffsetter running. You can read more here.
Whether you are new to the RV scene or an old pro, it's always worth refreshing your knowledge on the types of plugs your RV has.
This information is vital to your ability to travel with confidence and be prepared for different scenarios you might come across at campgrounds. Plugging your RV in safely and protecting its electrical system is easy, you just need to arm yourself with the knowledge of how.
There are many different types of plugs your RV might have, so what are they?
Your RV might have a 15/20-amp, a 30-amp, or a 50-amp plug if you are in America, designed for 120 or 240 volts. In Europe, RVs have 16-amp plugs, designed for 220 and 240 volts. Adapters can help you plug in your RV anywhere you go, but remember to always use a surge protector.
There is a lot of information out there about your RV's plug, this article will serve as a good baseline of knowledge for you before you start your travels.
What Is An RV Plug?
An RV plug is probably exactly what you think it is. It's a power cord with a plug on the end that hooks your RV up to a power source. It sounds a little obvious, but there is plenty to know and learn regarding how your RV gets power and distributes it throughout your vehicle.
When you travel to a campground, whether they have full or partial hookups, you should expect to have some kind of power source there. Your RV power cord and plug will plug into the hookup at the campground and will power your outlets as well as charge your RV batteries while you stay there.
An RV plug is going to look different than the plugs you're used to seeing at home. This is because these plugs need to handle higher currents than most standard household appliances.
Your RV plug will typically have a rating of 30 amps or 50 amps. This basically means that your RV can handle up to 30 or 50 amps of electricity before the breaker trips. This is the same kind of thing that can happen to you at home when you have too many things plugged in and running at the same time.
The power cord for your RV will usually be 25 or 50 feet in length.
What Kind Of Plugs Do RVs Use?
There are a few different types of plugs that your RV might have. It's important to be able to tell the differences between them and know what your RV is equipped with.
15/20 amps
15 and 20-amp plugs are going to look very familiar to you. These are the same kinds of plugs you find in your household, and you can even plug them into most normal household outlets.
It's not as common to find an RV or camper with this type of plug, simply because it does not give off very much electricity. This kind of plug is common on items like dryers, air conditioners, and dehumidifiers. The types of things you plug into your house that need a bit more power than your standard blender or printer.
These plugs will usually have three prongs. Two will be flat, and the third is a u-shaped grounding prong.
A 15/20-amp plug will be designed for 120 volts of electricity. Your interior RV outlets will also run on 120 volts of power and will typically take a 15/20-amp plug. We have an article talking about whether your RV outlets are the same as or different from household outlets that you can check here.
30 amp
30-amp plugs are usually found on mid-size and smaller RVs. This makes sense because 30-amps will not power as much space as 50-amps, so it has to be on the smaller end of things.
Like a 15 or 20-amp plug, the 30-amp plug has only three prongs. They are larger than a 15 or 20-amp plug though and tend to have a circular look to them. The flat prongs are at an angle and the grounding prong is a circle instead of a u-shape.
A 30-amp plug will be designed for 120 volts of electricity.
50 amp
50-amp plugs will be standard on all larger-sized RVs. They offer the most power, so they are capable of powering a larger space.
These plugs can be confused with 30-amp plugs if you aren't entirely sure what to look for. A 50-amp plug has the same circular shape as a 30-amp plug, but it has four prongs instead of three. There are three flat prongs on the bottom and one round one on the top.
A 50 amp plug will be designed for 240 volts of electricity.
IEC 16309 16 Amp
If you ever find yourself traveling outside of the United States and in Europe, you'll notice they have entirely different plugs than we have. The RV plugs you'd come across in Europe are typically rated for 16-amps and have between 3 and 5 round prongs depending on the voltage the plug can take.
These plugs vary between 220 voltage and 240 voltage.
Are All RV Plugs the Same?
Just based on our previous section, you've probably been able to guess that all RV plugs are not the same. They will differ in voltage and amperage and as a responsible RV owner, you'll want to be able to tell them apart.
This can come in handy if you ever end up at a campground that is set up for 30-amps but your RV runs off 50-amps. Having an adapter at the ready can help you avoid a potential disaster in that situation.
Even if you have an adapter, you need to make sure that you understand you can only use up to 30-amps in the situation described. Be careful not to run too much on the power source or you might trip your breaker.
Essentially, you should be able to tell the differences between the most common types of RV plugs so that you can always be prepared and so that you can understand how your RV runs.
One thing to note is that you should never plug your RV into a clothes dryer outlet. This might sound funny if you aren't familiar with what a dryer outlet looks like, but they are incredibly similar to a 30-amp plug. They have the same opening for the tilted flat prongs and a third spot that can be easily mistaken for a round or u-shaped grounding prong.
Dryer outlets are wired differently and designed to supply 240 volts, and not the 120 volts your RV is equipped to handle. Plugging your RV into a dryer outlet can destroy your RV's electrical system and can potentially start a fire, so it's definitely not worth doing!
Do I Need A Surge Protector for My RV?
You should most definitely have a surge protector for your RV. That is the only way to know that your RV is going to be safe in the case of a power surge at a campground. It can protect your RV from faulty power sources, power surges, and even lightning.
The surge protector plugs into the campground's pedestal and then your RV plugs into the protector (or any adapters and then the surge protector).
There is no way to know for sure that the campgrounds pedestal is safe to plug directly into. The surge protector will protect your RV's entire electrical system in the case of a power surge due to poorly maintained pedestals. A pedestal can have faulty wiring, not offer enough voltage or have frequent power surges, including lightning. All of these things can cause serious damage to your RV's electrical system.
The surge protector will typically have lights or indicators that will go off if something is wrong with the campground's pedestal.
Can I Use Adapters To Power My RV?
Using an adapter is a perfectly safe method to power your RV if there isn't a plug that matches yours exactly at a campground.
Adapters are often called dogbone adapters because they bear a passing resemblance to a dog bone. They have a thin middle portion and a plug on either end. There are also puck adapters that are much smaller but don't offer as many options as a dogbone adapter.
Earlier, we mentioned that you might end up at a campground that only has a 30-amp hookup, but your RV has a 50-amp plug. An adapter can be used in this scenario, you would need a 50-amp female to 30-amp male adapter. If you need to plug your 30-amp RV into a 15/20-amp outlet either at your home or at a campground, you can use a 30-amp female to 15-amp male adapter.
Adapting to a lower power supply is safe to do, but it's important to remember that you can only run so much at once when plugged into these lower capacity outlets. If you try running too much at once, you'll trip the breaker. This can usually be fixed easily, but it's always inconvenient.
It's rare that you might have to adapt up, for example, plug your 30-amp RV into a campground that only has a 50-amp connection. There are dogbone adapters out there that will do this as well.
You don't need to own every single adapter for every possible scenario. No one wants to carry that many cords with them. You really only need to carry the ones that you would be most likely to need for your RV.
If you have a 30-amp RV, I would recommend having a step-down adapter from 30-amp to 15-amp. It's unlikely that you'll need to use a 30-amp to 50-amp adapter, but if you do come across that, then you could ask the RV campground's office and see if they happen to have one handy.
If you have a 50-amp RV then you should carry a 50-amp to 30-amp adapter and a 30-amp to 15-amp adapter. The 30-amp to 15-amp adapter can be connected to the 50-amp to 30-amp adapter to create a 50-amp to 15-amp connection.
The video below is a great resource for you if you're new to RVing and need some more information on adapters and cords for your RV. The video might also help you visualize what I've described above.
Can I Use Extension Cords On My RV?
You can use extension cords on your RVs power cord, but you need to make sure that it is properly rated for the current that you need. You cannot use a standard extension cord for your RV. Do not pull out the extension cord that you use for your Christmas lights every year and think you can use it on your RV.
Your RV has a high amperage and the extension cord needs to be able to handle that as well as be safe to be used outdoors.
If you need a cord that is going a longer distance, don't forget that it's going to be drawing more current and so it should be larger. A long, thin and flimsy cord will likely overheat in this situation.
Buy quality and buy for the correct amperage that you need for your RV.
Conclusion
RV plugs and outlets are a little different than what you might find in your house, and it's important to be able to identify and recognize the type of plug your RV has. The plug your RV has will determine how much power it can draw and how many things you can have running at once.
Knowing the amperage and type of plug your RV has will help you figure out if you can plug it into a campgrounds pedestal or if you need an adapter. Regardless, you should always use a surge protector when plugging your RV into shore power.