In mid-August, Mrs. Island Miler and I visited Koalani and Rocky one last time. Having spent more time there this time, we got hungry and decided to have an impromptu beachside brunch at Hau Tree. It's too bad we couldn't see the seals from where we were seated.
Regular readers will note that I visited Hau Tree for dinner during my Royal Hawaiian stay. Despite a couple of technical issues, we very much enjoyed our dining experience and looked forward to giving their morning service a shot. Since the Hau Tree is inside the Kaimana Beach Hotel, which sits right on Kaimana Beach, it made perfect sense to dine with them after visiting Koalani and Rocky on Kaimana Beach.
Beachside Brunch at Hau Tree
It's worth noting that we had no plans to have brunch that morning. However, while we were watching Koalani frolic along the beach, we noticed the restaurant was fairly empty and decided to chance walking in. Luckily, there were a few tables open when we did, and we were sat immediately. Despite our luck, I highly recommend making reservations in advance. To make reservations, visit the restaurant's Tock page – do NOT call the restaurant for reservations.
Further, it's worth noting that – at least during our visit – tables down on the beachside lanai were for reservations only. Walk-ins were accommodated on the upper level next to the bar. Both areas offer lovely open-air dining, though the lower portion of the restaurant has much better views.
Brunch at Hau Tree – Menu
The brunch menu at the Hau Tree tends to change often, so you may or may not see what we had during your visit. Currently, the menu consists of a small selection of starters and salads, sizeable egg and sandwich sections, a few sides, and a few sweets. Naturally, there's also a page of drinks primarily comprised of rose and cocktails, though non-alcoholic cocktails, juices, coffees, and teas are all available too. It's worth noting that, while brunch is available every day, the Cruffin is only available on weekends.
What We Ate
While hungry, we weren't terribly so. As a result, Mrs. Island Miler and I ended up ordering a single starter, two entrees, one sweet selection, and two drinks during our brunch at Hau Tree. While Mrs. Island Miler went with an iced coffee, I got the booze-free Queen's Cooler ($11) – calamansi, yuzu, soda, and lavender. Knowing I was going to order something heavy, it was nice having a tart, refreshing drink cut through all the richness.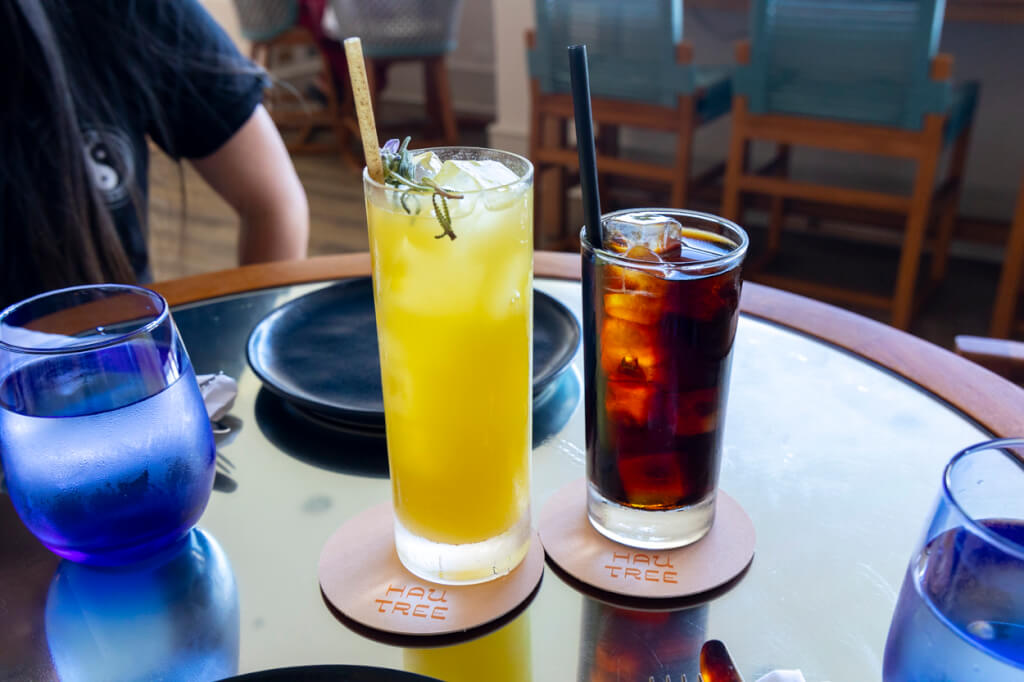 To start, we went with the Ahi Tataki ($24), which combines seared ahi atop deep-fried wonton pi along with a pineapple relish. The ahi, crusted in shichimi, was cooked a bit too well for my liking and the overall dish felt a little dry. I think the idea here was good, but the execution was a little off. It needs an aioli or gastrique or something to help tie everything together. While similar in principle, these got nothing on the Hideout's Poke Tacos.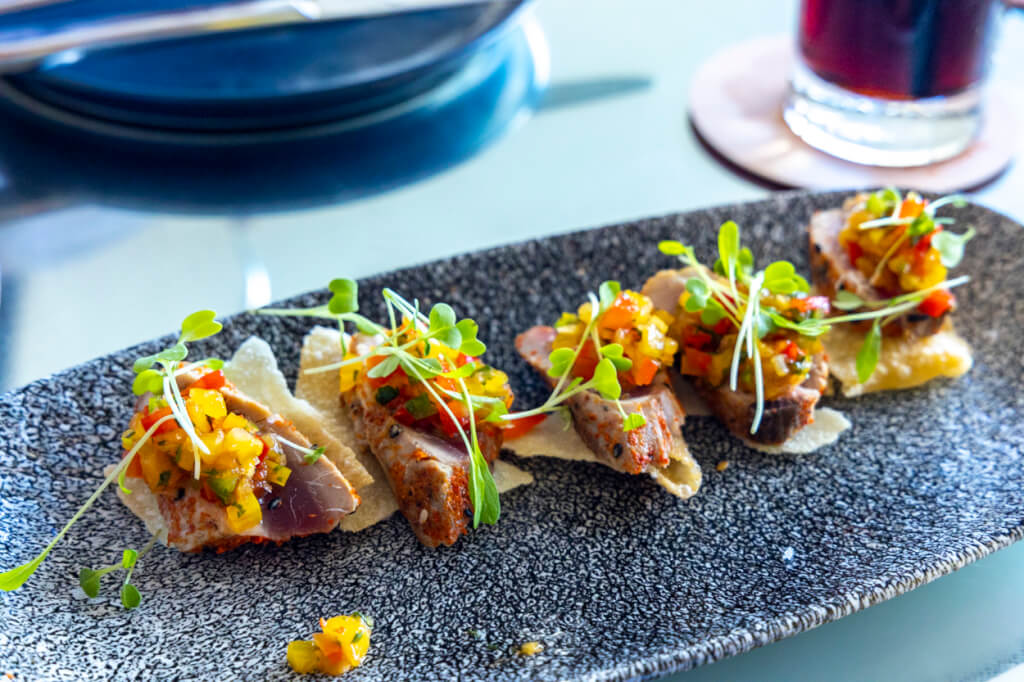 For her main, Mrs. Island Miler went with the Avocado Toast ($20 + $3 for egg). Here, you get a THICK, toasted slice of Breadshop bread topped with tomato jam, smashed avocado, tomato relish, and an optional soft-boiled egg. I didn't try the toast myself, but Mrs. Island Miler said it was ok. While she enjoyed it, she likely wouldn't order it again, as it wasn't anything special for its $23 price tag. She did like the garlicky tomato relish, though.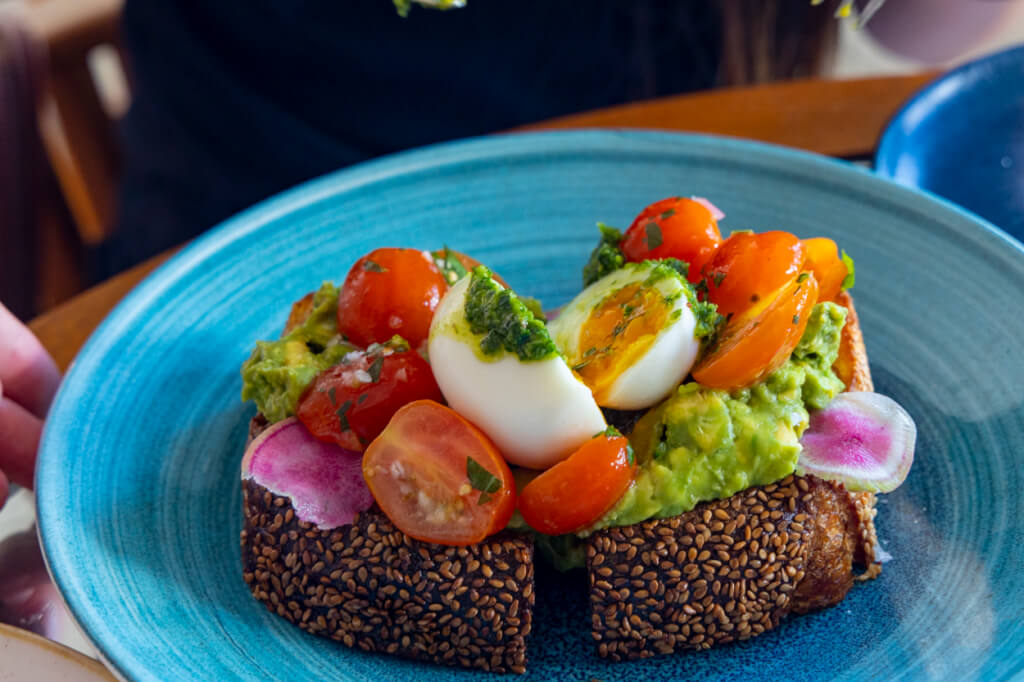 For my main, I went with the Crab Cake Benedict ($35). These turned out much better than the Avocado Toast, in my opinion, as the plump crab cakes came atop crispy English muffins, which were themselves topped with perfectly poached eggs, hollandaise, and a sprinkling of Old Bay. Crispy crushed potatoes slathered in garlicky salsa verde arrived pipping hot and complimented the benedict nicely. I will say that while I appreciated the fact that the crab cake had little filler, I wish they used better quality jumbo lump meat. Also, there were at least three large shell fragments in my cakes.
To end our brunch at Hau Tree, Mrs. Island Miler and I split the Cruffin ($8). The menu reads flaky puff pastry, cinnamon sugar, vanilla, and mascarpone cheese. With a description like that and a name that evokes a croissant, I expected a flaky, airy pastry coated in cinnamon sugar and stuffed with mascarpone.
They were close, but not quite. The pastry itself is fairly dense and was the primary weakness of this dish. That said, the sweetness level was nicely restrained, while the cinnamon sugar played well with the decadent mascarpone and vanilla. I'd order this again, though I wish they'd get the texture lighter and flakier on the pastry.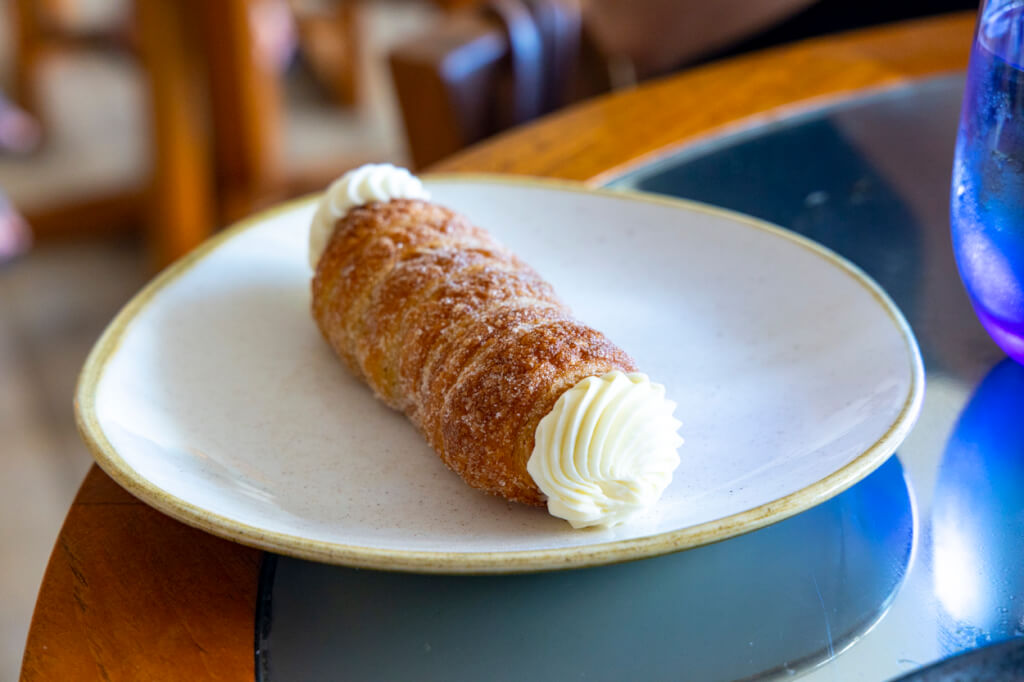 Brunch at Hau Tree, Final Thoughts
I think its safe to say that we enjoyed our brunch at Hau Tree. The waitstaff was friendly and attentive, while our order arrived QUICK. Sure, we didn't love everything, but there are other menu items to try, and, overall, this is one of the better options around. That said, especially during the summer, I suggest coming earlier in the morning while the lanai area is still shaded by the hotel. If not, it can be a bit of a scorcher down there!