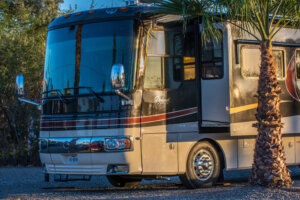 All of our reviews are based on exhaustive research, industry experience and whenever possible, hands-on testing. When you make a purchase using one of our chosen links we'll get a small percentage of the proceeds. This supports the site and keeps Jeffsetter running. You can read more here.
You've been camping at the same site for a while, but it's time to pack up and start moving. You've done everything to get your RV situated to get on the road except for retracting the slide-outs. It feels like such a hassle, and you're not going far, do you really need to put in the effort to retract them before driving?
You should always retract your RV slide-outs before driving, moving, or towing your RV. Your RV will likely be too wide to legally drive on the roads with the slide-outs extended, it also makes you more susceptible to getting into an accident and can cause serious damage to your RV and slide-outs.
Are there ever situations where it's okay to move your RV with the slides out? We explore common scenarios and why it can be a bad idea to leave your slide-outs open in most cases when you're moving your RV.
Can You Drive An RV With The Slides Out?
Slide-outs are commonly featured on RVs. They are a great way to increase the floor plan of your RV, making it roomier and more comfortable for you and your family to enjoy. Slide-outs can also add a bit of hassle to your day. Whether you are leaving to go to a new campground or just moving your campsite by a few feet, the slides have to be retracted.
You cannot drive an RV with the slides out under any circumstances. Regardless of the type of RV, the type of slide-outs, or how far you need to go, most manufacturers will clearly spell out in your owner's manual that you should retract your slide-outs before driving your RV.
Logistically, your RV will likely be too wide to safely fit in a single lane with the slide-outs open. It can be dangerous to others on the road, cause accidents and damage to your RV.
Can You Level An RV With The Slides Out?
You should not level your RV with the slides out.
Leveling your RV with the slides out can cause alignment issues because the weight distribution can shift. The alignment issues can cause strain on the mechanics and slide mechanisms. You'll definitely want to keep your slide-outs retracted before trying to level your RV.
There is one type of RV with slide-outs where it is recommended to put the slides out before you level. This recommendation is only for RVs that use the air suspension system to level the coach and not jacks. The air suspension system does not put a lot of stress on the slides and can even require re-leveling if you level them before you put out the slides
If you are unsure how to level your RV, we explain how to in this article. It's an important piece of maintenance that every RV owner should understand how to do.
Can You Move An RV With The Slides Out?
It might be tempting to move your RV with the slides out when you just need to go a short distance. Maybe you just need to move over a little to get into a better position to level out or maybe you are just moving your parking spot. It would be really easy to convince yourself to leave the slide-outs where they are and just move, it saves time and effort, and really, how bad can it be?
It can cause a lot of damage to drive your RV with the slides out, whether it's for a few feet or for miles. Under no circumstances should you drive with your slides out.
Your RV was probably an investment and it's important to take care of your investments. Even moving just a few feet with your slides out can cause unnecessary damage to your RV. It's usually going to be worth that added time to retract them before moving.
Can You Tow A Travel Trailer With The Slides Out?
You've probably guessed what I'm going to say here already, but no it's not recommended to tow your travel trailer with the slides out.
The slides will make the RV too wide for the roads which can cause distractions and accidents, making collision with another vehicle more likely. It is also likely illegal to tow your RV with the slides out because of its width. The maximum legal width is eight and a half feet, slideouts can add another two or three feet to that width, making it much larger than the legal maximum.
Aside from it being illegal, it can also be dangerous and cause costly damage to your RV.
What Happens If You Drive RV With Slides Out?
I've been pretty clear that you should not drive, move or tow your RV with the slides out, but why exactly is it discouraged and even illegal in some instances?
Legal Maximum Width
As I stated above, it can make your RV wider than the legal maximum width allowed on the roads. The added width will also make your mirrors useless, increasing your chances of getting into an accident.
That width regulation is put into place for a reason. It's dangerous to take up more than just your lane on the highway or on any road. If you're on a two-lane road, all it would take to cause an accident is going around a corner too quickly and slamming into another vehicle. On the highway, there's a lot going on already, and adding your too-wide RV can add to that mess and chaos.
Poor Aerodynamics
Cars, trucks, and RVs, if it's on the road, it's been designed with aerodynamics in mind. Vehicles are designed to be balanced and decrease wind resistance to make them travel easier, more smoothly, and have better gas mileage.
Your RV or travel trailer is already going to decrease your efficiency and fuel economy. If you drive with your slide-outs open, you will make your gas mileage even worse which will affect how many times you need to stop to refuel making your trip take longer and cost more.
Accident Prone
Your RV is not designed to drive with the slides out. It will not be balanced and will increase your danger of swaying and even rolling over.
It takes more effort to steer an RV with the slideouts open, and if you're not experienced it can cause a lot of trouble. There are fewer RV accidents on the roads than car accidents, but they still do happen. It's important to keep yourself from being added to that statistic by practicing and understanding safe driving operations for your RV.
Damage To Slides
Beyond getting into an accident, you can cause a lot of damage to your RV and to your slide-outs if you leave them open while driving.
Slide-outs are not designed or built with movement in mind. They are not meant to be driven while open, so even a short distance can cause damage. The slideout rails can bed easily and can cost hundreds of dollars a piece.
In a major accident, you could lose your slide-outs entirely. This can cost thousands to repair or replace.
Structural Damage To Your RV
If too much pressure and tension are exerted on your RV slide-out rails, then they can get bent. You can also struggle with an alignment issue that can lead to disastrous damage. Alignment issues are a common enough occurrence even if you are not hauling or moving your RV with the slides out, so you'll want to decrease your chances and keep the slides retraced when moving or towing your RV.
If you have a slide-out topper it's likely to pull off and create a lot of damage to the side of your RV, which in some cases can end up being irreversible.
Permanent Leaks
Leaks can occur when slide-outs are left open, that's true whether you are moving your RV with them open or not.
Leaks are typically the result of old and worn-out seals. Seals should be replaced every two years to avoid them breaking down completely. Weather is a major factor in how quickly your seals will break down and keeping your slide-outs retracted while driving will keep them protected during inclement weather.
When open, slide-outs are accessible to electrical systems. The slide-out motor or fuse is exposed and too much tension on them can cause it to fail. If the motor fails, your slide-out can become stuck or immovable.
Interior Damage
Your slide-outs add extra square footage to your RV when extended. Usually, this means more room to move around, a bigger kitchen, better walkways, etc. When retracted, it might make some of these spaces unusable or not as easily accessible. This might be frustrating from a passenger's perspective, but it can actually help prevent interior damage from occurring.
With the slides retraced, some cabinets and even the fridge may be unable to be opened depending on your layout. This can prevent them from opening while driving which can cause projectiles by allowing items to fly out and around the RV. At the very least it prevents a mess, but it can also prevent a dangerous situation from occurring due to projectiles and distractions.
Can I Open My Slide Outs At A Rest Stop?
If you are at a rest stop and planning to be there for a while, it is legal to open your RV slide-outs. It's legal, but I recommend doing it with caution.
Rest stops don't always have the most space to maneuver and the parking lanes can be narrow. Other trucks in the lot can easily hit your slide-outs while trying to maneuver into or out of a spot.
You also want to be mindful of where you are and how many people are around if you open your slide-outs at a rest stop. If it's particularly busy or your slide-outs will inhibit others' abilities to park or get in and out of the lot with ease, then I wouldn't open them.
Don't forget, you can't drive with them open, so you will have to retract them before getting back onto the road. If it's not worth the hassle for you to have to open and then close them again, keep them closed!
What Should I Do If My Slide Outs Are Broken?
Slide outs can break and get stuck in the open position, and that puts you in a difficult position. We have already established that it's a bad idea to drive with your slide outs open, but what if you need to move and they are broken?
You will want to double check if your slide-outs are actually broken or just in the locked position. It might sound silly, but it's always worth doing that double check. There is a decent number of things to keep track of then breaking down your RV and campsite to get back on the road, so it's easy to miss something like that and get caught up in worry that your slide-outs are broken.
If it isn't in the locked position and it's just not moving, you can try to gently push on the slide-out and see if that will help it move, but don't force it because that can end up causing damage.
If you can't make it work, then you may need to call a repair person to come out to your location and make the repair. This can get expensive, but it can also get you on the road.
It's also possible to manually retract your slide-outs. If you have enough confidence in your capabilities then you can attempt to do this yourself. It may take a bit of time and result in some grease stains, but it's probably worth the money you'll save by not calling a repair person.
The video below helps explain how to manually retract your slide-outs.
Conclusion
You should never drive, move or tow your RV or travel trailer with the slide-outs extended. It is dangerous to yourself and others on the road as well as likely to cause damage to your RV and slide-outs.
Even if it seems like it shouldn't be a big deal to move your RV a small distance with the slide-outs extended, it can cause serious harm and is not recommended. It can be a hassle to have to extend and retract them often, and before buying an RV with slide-outs you should consider if the work is worth the extra square footage to you or not.