Last updated on July 3rd, 2023 at 01:02 pm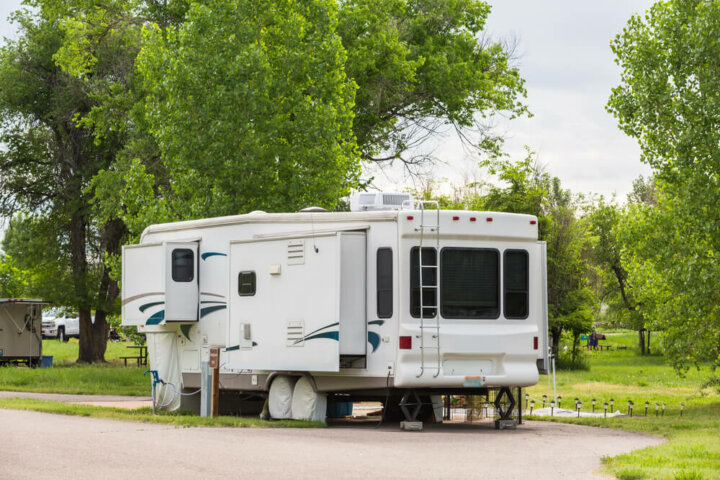 All of our reviews are based on exhaustive research, industry experience and whenever possible, hands-on testing. When you make a purchase using one of our chosen links we'll get a small percentage of the proceeds. This supports the site and keeps Jeffsetter running. You can read more here.
A leaky slide-out can be an annoying issue to deal with in your RV, especially if you're out on the road. It can also be a difficult problem to diagnose because leaks in your RV can be due to a multitude of reasons.
But if you've identified the culprit and it's one or more than one slide-out then you might be wondering why is your slide-out leaking in the first place!
Your RV slide-out is most likely leaking due to general wear and tear, but your Rv might also not be level. Slide-outs that aren't properly installed or are defective could leak, or the weep holes might be blocked. To fix it, you'll need to replace the seals and coat the slide-out with sealant and conditioner.
This article will explain why your slide-out is leaking, how to identify where the leak is coming from as well as how to perform the correct repair and maintenance to stop the leaking and keep them from occurring again.
Why Is My RV Slide-Out Leaking?
There's more than one reason why your RV slide-out is leaking. It's essential to figure out why your RV slide-outs are leaking so that you can properly fix the problem and perform the correct maintenance on the slide-outs.
Reason 1: Wear & Tear
Wear and tear is the most common reason for your RV slide-outs to be leaking. It's normal that after you've had your RV for a long time, parts are going to wear out and need to be replaced. This is something you should note if you are the owner of a used RV as well, the older the RV, the more wear and tear there is.
Worn seals are the most common culprit for a leaky slide-out. The seals keep water, moisture, and the elements out, but because they are always exposed to such a harsh environment, they will start to deteriorate. No matter how well you take care of them, they will start to wear out eventually.
If you are experiencing leaks when your slide-out is closed, then a cracked or worn seal is the most likely reason.
Reason 2: Your RV Is Not Level
This is a reason that can be easily overlooked or forgotten when you are trying to figure out the cause of your leaky slide-out.
Leveling your RV is important because an unlevel RV can cause stress on its frame and slide-outs. There are other consequences of not leveling your RV, and we deep dive into that in this article on the reasons to level your RV. The stress on the frame and slide-outs in your RV can cause the seals to be less than effective, especially in heavy rains.
Reason 3: Manufacturing Defects
It's also possible that your RV slide-outs were not properly installed. If you've newly purchased your RV and are experiencing leaks in your slide-out, then it is possible that there are issues regarding how the slide-outs were installed.
They could have been poorly installed or even missed some weather seals in the slide-outs that are causing the leaks. It's also possible that your slide-out is defective. This is a rare issue though it does happen from time to time.
If you suspect that it might be a factory defect or incorrect installation, then I would get in touch with a professional dealership (maybe the one you purchased it from) to inspect and repair the damages. A DIY approach is usually fine, but it can void warranties, which you don't want to do in this case.
Reason 4: Blocked Weep Holes
These holes are supposed to be used to lock and unlock the slide-outs. They aren't present on all slide-outs, but they are a small part and can be overlooked because of this. If they get blocked and are not properly maintained, then they can result in leaky slide-outs.
Reason 5: RV Gutter & Roof Leaks
Your RV roof drain can get blocked up with dirt and debris, mud, leaves, and other natural elements. This blockage can lead to an excess of water with nowhere to go. That water will try to find a place to go and can leak through any gaps or spaces in the slides of your RV.
Additionally, the accumulation of dirt and debris on your RV roof can also accumulate on the top of your slide-outs which can make retracting them difficult. Leaving debris on top of your slide-out can result in that debris getting inside your RV.
How To Find Your RV Slide-Out Leaks
If you are experiencing a leak in your RV but you aren't sure what the culprit is, you have to do a thorough inspection. Finding water in or near the slide-out region of your RV doesn't necessarily mean that you've found where the leak is or its cause.
The most important thing to remember is that you might find water in one place, but the leak can be in another. For example, water pooling at the door or bottom corner of your slide-out can mean that the leak is anywhere at the top of the slide.
While inspecting, think about it logically and remember that water will always flow from top to bottom. Also, keep in mind that there can be more than one leak occurring at the same time.
Before starting your inspection, make sure to clean up the area. That will give you a better vantage point for finding and noting damage. When doing a visual inspection, take your time when looking at the seals. Try to find any cracks or breakage in the material. You should also look for rust, warping of materials, and/or discoloration.
If you can't visually see where a leak is occurring. After cleaning up the water, you can either wait for it to rain or use a garden hose to find where the water is coming from.
This video below will give you some tips on how to diagnose a problem with your slide-outs.
Where Are Leaks Likely To Occur?
There are three places where your leak is most likely to occur. When looking for the leak, take extra care when inspecting these places.
Slide Seals
As I mentioned before, old and worn seals are the most likely cause for your slide-outs to be leaking. They are exposed to harsh elements that will make them deteriorate faster than you might expect. The more that your slide-out is used, the more wear the seals will experience.
When cracks are visible, then the seals will likely need to be replaced. They will only get worse and widen over time, allowing more water inside your RV. Water leaking inside your RV can lead to mold which can pose some serious health risks.
Windows
RV windows will be weather sealed, but that can deteriorate over time as well.
You should check these seals regularly and replace them when necessary. Typically, you should expect to replace the window seals every two years.
Slide Screws
Though small, slide screws can end up letting moisture in.
What usually happens is that water is getting in around the screw itself and through the screw hole. This can be fixed with caulking to keep water from coming inside.
Slide-Outs Leaking When Open
There can be many causes to why your Rv slide-outs are leaking when open and in use. It can also be a pain to have to deal with when you are camping or on the road. I always recommend a thorough inspection before taking your RV out on the road to avoid as many headaches as possible, but unfortunately, no matter how well or often you do inspections and maintain your RV, you can still run into problems on the road.
This is where the seals are the most likely culprit. But it's also possible that it's due to not having a level RV.
The weather seals are there to keep you dry inside of your slide-out when it's in use, so when it rains and there is leaking, it's probably the seals that are having trouble.
If the seals are all in good condition then make sure your RV is level. I mentioned earlier how having your RV un-level can result in a multitude of problems, including causing a leak in your slide-outs.
There is also always the possibility of a crack or damage to the roof of your slide-out.
Slide-Outs Leaking When Closed
If your RV slide-out is leaking when it's closed, then it's usually an indication that there is a pooling of water on top of it. This will typically happen after a storm or being near a body of water.
A piece of debris can get stuck along with the water and it can poke a hole in the seal or get caught underneath it, leaving enough space for the water to drain through and into your RV. This looks like water running quickly from the seam of the slide-out and into the inside of your RV.
The reason for this kind of leak is likely due to a lack of proper storage during the off-season. That's why we recommend proper winterization, proper storage preferably with the slides in, and that you cover your RV.
If you've had your RV slide-out closed for a while and are just now noticing a leak, then it's possible that the leak is not a result of the slide-outs, but is due to the body and mechanics of the RV itself. This will present as a wet spot or possibly mold on the sealing that is dripping onto the floor below.
How To Fix & Maintain Your Slide-Outs
In the majority of cases, fixing a leaky slide-out is a relatively easy fix. It can be a common problem, so knowing how to troubleshoot it and fix it yourself, is a great way to save money and give you peace of mind when it does happen.
1. Replace Old Seals
Your slide-out seals should be replaced every two years. You can replace them yourself with relative ease.
Make sure you purchase the correct type and size of seal for the correct fit. You'll want to remove the old seal and completely dry out the internal area before installing the new one. Once it's dry, you can install the new seal.
I recommend testing it by putting your slide-out in the open position and then closing it again. If the seal is fitted incorrectly, it will move out of position with this test.
2. Seal Screws
If you've determined that the seal screws are the cause of the leak, then they are likely rusted and need to be replaced.
You can and should add a protective, weatherproof coating to the screw and around it to keep further damage from occurring to and around the seal screws.
3. Use Conditioner & Sealant
If you don't use a conditioner and sealant when you replace your seals and seal screws, then you might as well not replace them.
That's a little harsh, but it's true that your seals and seal screws are going to be only as good as their conditioner and their sealant. You will find yourself having to replace them a lot more often without this additional step.
You should use conditioner every 60 days to keep the seal from cracking and use a sealant on the screws to keep them safe from water damage regularly. This will help weatherproof them and keep them better maintained over time.
There are spray sealants on the market which make the job easy, mess-free, and quick.
4. Inspect Regularly
Inspect, inspect, inspect.
It may sound a bit boring, but to make sure that your RV is functioning properly, it needs to be well-maintained and regularly inspected for issues and damage.
Your RV is your home on wheels, and you want to make as many trips as possible with as few headaches as possible. Proper preparation and care can keep a lot of these headaches at bay while you're traveling.
5. Use A Slide Topper Awning
A slide topper awning is a great bit of added protection for your slide-out.
It's inevitable that mud, leaves, dirt, and debris will end up on the roof of your camper slide-outs. The buildup can cause leaks and other issues. Adding an awning will add an extra level of protection to the roof. Don't think that adding the awning means you don't have to clean the roof off though! Always maintain and clean your slide-outs.
6. Keep Your RV Level
I know that this has been mentioned a few times in this article already, and that's because it's so important to the overall maintenance of your RV. It also might not be your first thought when your RV is leaky, it probably wouldn't be mine!
Keeping your RV as level as possible will put less pressure on the frame and slide-outs allowing them to maintain their shape over time.
Conclusion
In general, there can be a few different reasons why your slide-outs are leaking, but it's most likely due to a worn-out seal.
Replacing slide-out seals should be an expected part of regular RV maintenance and is an easy enough fix to do yourself. Always add a sealant and regularly condition your seals to keep them in the best shape possible.
If there is another reason for your leaky slide-outs, then do an inspection to figure out where the leak is coming from and perform the correct maintenance. Don't forget that where the water is, isn't always where the leak is!