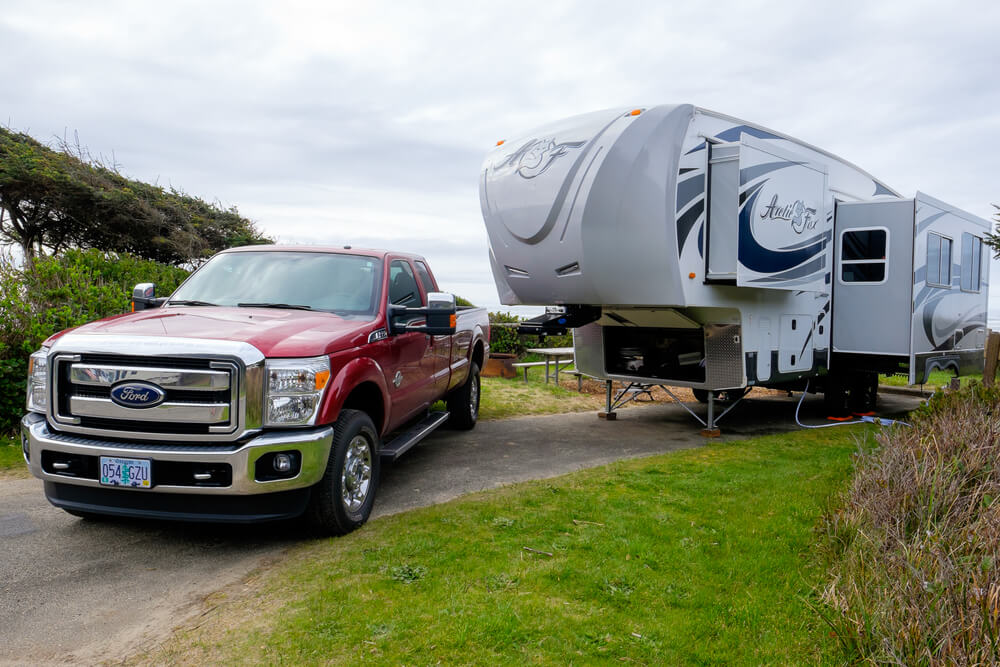 All of our reviews are based on exhaustive research, industry experience and whenever possible, hands-on testing. When you make a purchase using one of our chosen links we'll donate a small percentage of the proceeds. This supports the site and keeps Jeffsetter running. You can read more here.
The world of RV travel provides a ton of different and equally as exciting options. One of them, are travel trailers. Maybe you don't want to deal with the size of a fifth wheeler, but like the idea of towing your camper. In that case, travel trailers are the right fit for you! In choosing one, however, you must be aware of the mechanics surrounding towing trailers. One of the most important aspects of this are the weight distribution bars.
These are essential is ensuring safety on the road while towing. As the name suggests, they serve to control the weight behind your towing vehicle to make sure the trailer remains stable. When attaching your trailer to the vehicle you wish to tow it with, these bars need to be tightened properly.
But how tight should weight distribution bars be?
How tight a weight distribution bar should be will depend on your specific towing vehicle/trailer combination. You want to have it be just right, not too loose to where the trailer sways while towing it; and not too tight to where you lose mobility.
But first, let's discuss what exactly a weight distribution bar is.
What Is A Weight Distribution Bar?
Weight distribution bars are made to handle the sometimes complicated physics of towing a trailer. When doing so, you need to be aware of the weight limits of your towing vehicle and remain underneath that. Additionally, it is important to balance the weight of the trailer by making sure its not carrying a large load in the front and none in the back or vice versa. It also helps with keeping your trailer as level and stable as possible.
Lastly, all the hitching and coupling used to tow the trailer should be up to par, strong, and durable to ensure it stays attached while towing no matter the conditions. Once all of this has been accounted for, then the weight distribution bars come into play.
They are a part of the coupling used in towing. Their role is to support stability and safety after everything else has been handled. A last resort of sorts, which makes them very important. They accomplish this by evenly distributing weight along the vehicles and hitch coupling. This not only keeps everything stable, but it prevents that one sided frontal lean you may sometimes see in trailers on the road.
How Do Weight Distribution Bars Work?
The weight distribution bars use spring bars that sit in-between the towing vehicle and the trailer. Depending on how tight they are, the more tension they will be able to put on the trailer frame. This naturally slightly lifts the back of the trailer, opposing the natural downward pressure put on the trailer by all the weight in the front. If it is too loose, it won't be able to offset the pressure in the front. If it is too tight, it won't give much leeway towards movement in the front, leaving the trailer stiff.
Despite this, the weight distribution bars serve to prevent a ton of problems for both your vehicle and trailer. Without it, there would be nothing stopping your trailer from bearing down onto the back of your vehicle. This overtime would put massive stress on various parts of the vehicle including the breaks, axels and even steering. That lack of control could lead to a dangerous accident, wether towing a trailer or not. It is absolutely necessary to take the time to see how tight your trailer needs its weight distribution bars to be, rather than avoiding the somewhat tedious process of doing so.
Let's explore what signs to look out for that'll let you know when to tighten your weight distribution bars.
When To Tighten Weight Distribution Bars
There are a few things to look out for to let you know that you should tighten your weight distribution bars.
The first is if you know you will be driving at higher than normal speeds. This will increase the risk of swaying and make your trailer more susceptible to wind. Tightening your weight distribution bars in advance will help combat any issues that may arise. Next is if you know the route you are taking will have uneven roads, little to no pavement, or is slippery. All of these can also contribute to a major lack of stability for your trailer.
Another thing to look out for if you have had your trailer for a while is, has it been over a year since you last adjusted your weight distribution bars? This is important as over time, they may loosen on their own. Especially if you are an avid traveller and have had many trips with your trailer over the past year. Depending on how often you go off-roading or encounter rough weather conditions, you may want to readjust your weight distribution bars more often.
Generally, a good rule of thumb to follow is that after every 1000 miles you should take a look at your weight distribution bars. Not just to tighten them again, but to also make sure they are clean in good shape and have not sustained any damage. Remember, the weight distribution bars are crucial to the integrity of your trailer. Ensuring they are in good shape is a huge part in keeping you and your trailer safe on the road.
Something that may also indicate that it's time to check out your weight distribution bars is if there are any strange noises coming from the hitching. For example, when turning your vehicle you hear squeaking noises, this is a sign that parts of the hitch may be worn down, including the weight distribution bars.
This normally comes before the problem is severe enough to result in a loss of stability on the road. So be sure to take advantage of this warning signal if it presents itself.
Closing Thoughts
When looking to tow a trailer, be aware of the weight your vehicle and trailer are carrying. This will help you know how tight to have your weight distribution bars. Remember, the best thing to do is to get a feel for it yourself when driving and figure out what works best for you and your comfort. The bars are there to ensure your safety when driving, not to make your trailer super stiff. So even if a looser than normal weight distribution feels better for you to drive, then that is safer for you. Let that be what you use when towing your trailer. The most important thing is that if when towing your trailer it begins to feel strange, you should tighten your weight distribution bars accordingly.