Last updated on October 30th, 2023 at 06:36 am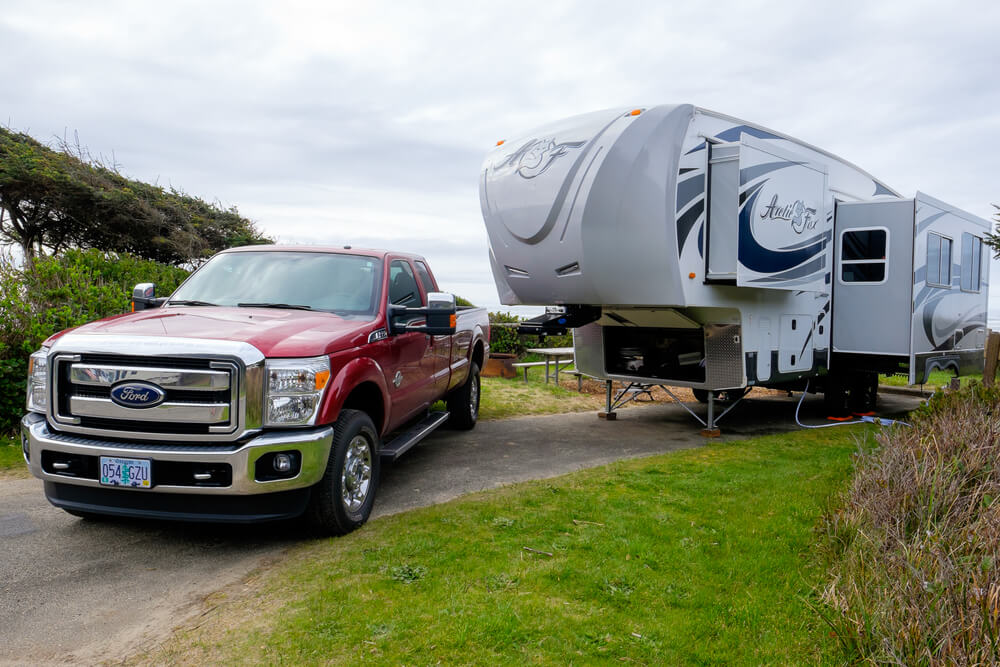 All of our reviews are based on exhaustive research, industry experience and whenever possible, hands-on testing. When you make a purchase using one of our chosen links we'll receive a small percentage of the proceeds. This supports the site and keeps Jeffsetter running. You can read more here.
The world of RV travel provides lots of different and equally exciting options, one of them being travel trailers. Maybe the idea of a hefty-sized fifth-wheeler doesn't appeal to you, but what about towing your camper with the family car? Travel trailers are fantastic versatile rigs, but opting for a camping trailer means being aware of their mechanics, especially the weight distribution bars.
So, how tight should weight distribution bars be?
The tightness of a weight distribution bar will depend on your specific towing vehicle and travel trailer. The weight distribution bar tightness needs to be spot-on. It can't be too loose or the trailer will sway during towing, and if it's too tight, the trailer will be difficult to move around.
Travel trailer weight distribution bars are essential for keeping safe and secure on the road during towing. As the name suggests, these bars serve to control the weight behind your towing vehicle, ensuring the trailer remains stable. When attaching your trailer to the tow vehicle, these bars need to be tightened properly, but not overtightened!
What Is A Weight Distribution Bar?
Weight distribution bars are made to handle the often challenging physics of towing a trailer. When doing so, being aware of your towing vehicle weight limit is essential, as an overloaded trailer is a dangerous one. Additionally, balancing the weight of the trailer by making sure it's not carrying a large load in the front or back is vital for avoiding an unstable trailer prone to swaying or rocking.
In addition to this, all the hitching and coupling used to tow a travel trailer should be strong, durable, and up to the job, ensuring everything stays attached while towing no matter the conditions. Once all of this has been accounted for, the weight distribution bars come into play. They are a part of the coupling used in towing.
The role of weight distribution bars is to support stability and safety after everything else has been handled. I guess they are a last resort of sorts, making them very important!
These bars keep everything in shape by evenly distributing weight along the vehicle and hitch coupling. Not only does this keep everything stable, but it also prevents the one-sided frontal lean you may sometimes see in trailers on the road.
How Do Weight Distribution Bars Work?
Weight distribution bars use spring bars that sit in between the towing vehicle and trailer. Depending on how tight they are, the more tension they will be able to put on the trailer frame. This naturally lifts the back of the trailer slightly, opposing the natural downward pressure put on the trailer by the significant weight in the front, as shown in the video below:
Weight distribution bars that are too loose won't be able to offset the pressure in the front. However, if the bar is too tight, it won't give much leeway toward movement in the front, leaving the trailer stiff.
Despite this, the weight distribution bars serve to prevent a cascade of problems for both your vehicle and travel trailer. Without one of these bars, nothing would be stopping your trailer from bearing down onto the back of your vehicle!
Over time, this puts tremendous stress on various parts of the vehicle including the brakes, axles, and even the steering. This lack of control can lead to a dangerous accident, whether towing a trailer or not. Taking the time to see how tight your trailer needs its weight distribution bars to be is crucial for ultimate safety on the road for you and the whole family.
When To Tighten Weight Distribution Bars
Keeping your weight distribution bars tightened appropriately is a gateway to successful and safe towing. It can be a bit tricky knowing when to tighten the bars, but luckily, there are a few indicators of when it's worth taking a close look at your bars.
Driving At Higher Speeds
Driving at higher than normal speeds will increase the risk of swaying and make your trailer more susceptible to wind. Tightening the weight distribution bars in advance will help combat any issues that may arise from higher speeds, but remember, you need to keep a steady speed when towing to keep things safe.
Driving On Uneven Roads
Not all roads are created equal, so if you know the route you're taking includes uneven roads, little to no pavement, or is slippery, tightening your distribution bar is a good idea. Each of these issues can contribute to a significant lack of stability for your trailer, so taking suitable precautions is wise.
If The Bar Hasn't Been Tightened Recently
Has it been over a year since you last adjusted your weight distribution bars? Over time, weight distribution bars may loosen on their own, especially if you're an avid traveler and have taken many trips with your trailer over the past year.
Depending on how often you go off-roading or encounter rough weather conditions, readjusting your weight distribution bars more often can help keep things more stable and secure.
After Driving 1,000 Miles
Generally, a good rule of thumb to follow is to take a look at your weight distribution bars after every 1,000 miles. This isn't just to tighten them again, but also to make sure they are clean, in good shape, and haven't sustained any damage.
Remember, weight distribution bars are crucial to the integrity of your trailer, so making sure they are in proper condition is a huge part of trailer towing safety.
Strange Sounds Coming From The Hitch
Another indication that it's time to check out your weight distribution bars is strange noises coming from the hitching. For example, if when turning your vehicle you hear squeaking noises, this may be a sign that parts of the hitch may be worn down, including the weight distribution bars.
This normally comes before the problem is severe enough to result in a loss of stability on the road, so be sure to take advantage of this warning signal if it presents itself.
What Does Too Much Tension On Weight Distribution Bars Look Like?
It can take a few attempts to get the weight distribution bar adjusted perfectly, and as I mentioned earlier, it's best to avoid a bar that's both under or over-tightened. Too much tension on a weight distribution bar can lead to problems during towing, putting stress on the brakes and axles. The weight distribution bar has a big job of keeping the trailer steady and stable on the road, but if there's too much tension, the opposite can happen.
The more tension a weight distribution bar is under, the tighter the trailer is held in place which means it is less likely to, in effect, move with you. This means the travel trailer may be too rigid on the road, and other areas will undergo more stress and strain such as the brakes and steering.
How To Set Up Weight Distribution Hitch?
Before jumping straight into setting up a weight distribution hitch, firstly, find yourself some level ground to work on and use your trailer tongue jack! For the trailer to be level, the ground beneath needs to be solid, flat, and not on a big angle like a sloped driveway. This will make things far easier going forward, so take some time to find the ideal spot to set up your weight distribution hitch.
Measure Tow Vehicle And Trailer Trailer Height
To kick off the process, begin by grabbing your cell or notepad, along with a measuring tape. You'll need to measure the distance from the ground to the top of the trailer coupler, the ground to the underside of the rear bumper, and the ground to the front bumper. Note these measurements down, as you'll need to revisit them later on.
Insert Weight Distribution Bar Into Receiver
Fully insert the weight distribution shank into the receiver and secure it in position with a hitch pin. The head assembly can be positioned, and it shouldn't be more than 3″ above the coupler height. If things aren't going smoothly, it's worth checking you purchased the correct bar and don't need more drop or rise.
Set The Hitch Head Angle
Each weight distribution bar may have different instructions, so it's a good idea to read the manual that came with your bar and follow any given guidance for your travel trailer.
For some bars, you may need to turn the head downward and use a couple of washers on the rod to insert it into the lower hole on the head. The head should be vertical once you've rotated it into the mounting position, but if not, use more or less washers to reach the desired angle.
Once you've set the hitch head angle, use a bolt in the upper hole on the hitch head and nuts and washers to tighten the bolts – avoid doing everything up too tightly though, as it's best to do this later in the process when you've confirmed everything is working as it should.
Install Spring Bars And Raise Trailer
It's then time to install the spring bars onto the hitch head, raise the coupler, and back up the tow vehicle to the trailer ball. Having an extra pair of hands during this step can make things a whole lot easier, so grab some friends and get them to help you with the weight distribution bar setup. Once the coupler and trailer ball are connected, use your trusty trailer jack, and lift the coupling point around 3″ above level.
Mount Hookup Brackets
The spring bar chains will act as a useful guide for mounting the hookup brackets. Use them to find the best position for the spring bar hookup brackets on the trailer, and use bolts to secure everything. The chains can then be connected, but make sure to be patient as both sides need to be even before locking the brackets into position.
Adjust Weight Distribution Bar
The trailer jack can be retracted to allow for the weight of the trailer to lay solely on the hitch. Once the jack is no longer in play, repeat the original measurements, which should not be within 1/2″ of the first figures noted down.
If so, you can go ahead and tighten the bolts as your trailer should be good to go! If the numbers aren't quite right, adjust the links on the chain to either increase or decrease tension.
Closing Thoughts
When looking to tow a trailer, be aware of the weight your vehicle and trailer are carrying. This will help you know how tight your weight distribution bars should be. Remember, the best thing to do is to get a feel for things yourself when driving and figure out what works best for you and your specific trailer.
The bars are there to ensure your safety when driving, not to make a trailer super stiff! The most important thing to remember is if towing your trailer begins to feel strange, it's wise to have a look at your trailer and tighten or adjust the weight distribution bars accordingly.