Last updated on September 13th, 2021 at 10:28 am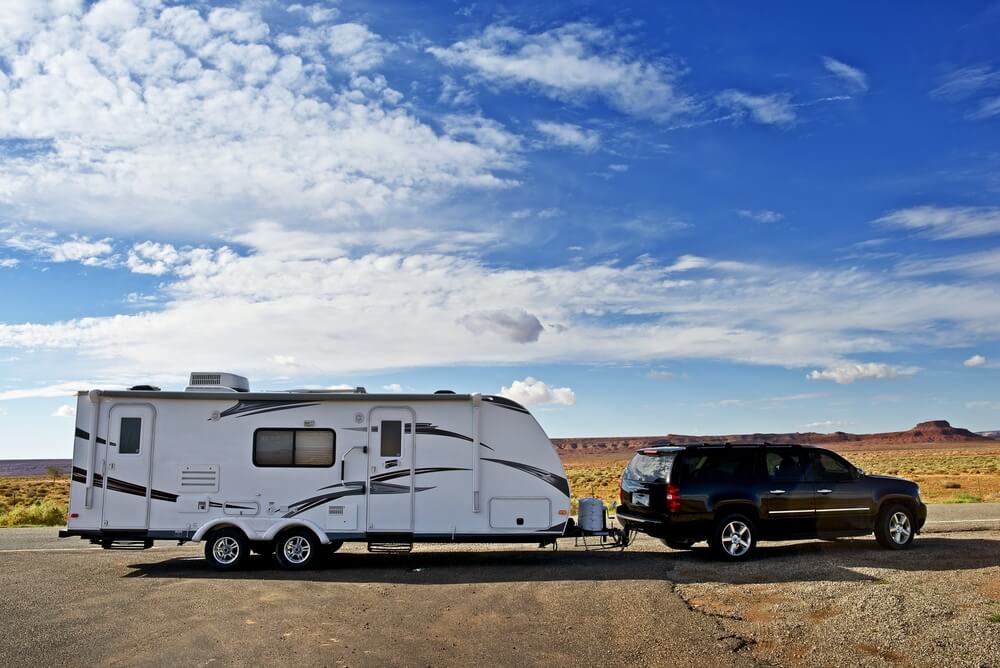 All of our reviews are based on exhaustive research, industry experience, and whenever possible, hands-on testing. When you make a purchase using one of our chosen links we'll a small percentage of the proceeds. This supports the site and keeps Jeffsetter running. You can read more here.
You just bought a new rig and are confident about your vehicle's ability to tow it. Hopefully, you already know your travel trailer's dry weight from the manufacturer, but this gets you thinking: what does my trailer weigh after I've filled it up with personal belongings and supplies?
Whether you're brand new to towing or have owned many travel trailers in your life, knowing the weight of your trailer at various stages of use is important, both for purchasing a hitch and for the life of your vehicle.
The last thing you want to do is purchase a travel trailer your vehicle can't handle! But how can you possibly determine the weight of it, especially if you have no RV dealer nearby? It's important to weigh your trailer before a long trip, but can this be done from the comfort of your own driveway?
The good answer is yes, you can weigh your travel trailer at home using a variety of options! Let's take a look at some of these as well as why knowing your trailer weight is detrimental to owning an RV.
Understanding Your Trailer's Various Weights
If you're new to the RV world, you may be feeling a bit confused about trailer weight. Going to an RV dealership without knowing how much your vehicle can tow can spell disaster if you end up bringing a travel trailer home. If it is too heavy for your vehicle, you may cause irreparable harm!
Thankfully these weights and numbers are fairly easy to understand, and manufacturers always include a starting weight of any travel trailer they make, so that you won't be entirely in the dark about how much your trailer weighs.
Here are some of the terms you should know when it comes to weighing your RV, and what it means for you when it comes to weighing at home!
Gross Vehicle Weight Rating (GVWR)
This is the maximum allowable weight of a fully-loaded trailer, including liquids, passengers, cargo, and the tongue weight of any towed vehicle (most travel trailers can't tow an additional vehicle). This is the weight you will want to know before departing on your first camping trip with your new travel trailer! It is the most a trailer can weigh in total, as determined by the trailer manufacturer.
Gross Combined Weight Rating (GCWR)
GCWR is the maximum weight of your vehicle with a trailer attached, as determined by the vehicle manufacturer. This means the weight of both the tow vehicle and the trailer together. It also includes any cargo or load placed in either vehicle. 
Dry Weight or Unloaded Vehicle Weight (UVW)
UVW means the weight of an RV as built at the factory, by the manufacturer. It does not include the weight of the cargo, freshwater, propane gas, occupants, etc. It is the weight of the trailer with nothing extra in it, and is the weight you should know when shopping for a new travel trailer!
Tongue Weight or Hitch Weight (HW)
Also known as tongue weight, HW is the amount of weight of the trailer that is carried on the hitch. You will need to know this weight when shopping for a proper hitch. Hitches are rated both by their towing capacity and their tongue weight, but we will touch more on this later.
Gross Axle Weight Rating (GAWR)
GAWR is the maximum allowable weight each axle assembly is designed to carry. This is important to know, because it's possible to be under the GVWR and still exceed an axle rating, depending on how you load the RV with your personal cargo.
This is a lot of information to digest, but once you get more familiar with travel trailers and what it all means, the various weights of your trailer will make a lot more sense! You will come to understand why it is necessary to know these weights and the importance of staying within certain ranges depending on your tow vehicle.
Why Weight Matters
When it comes to towing a travel trailer, why might the weight of your rig matter? Besides what has already been discussed, such as wear and tear on your tow vehicle, there are other important factors when it comes to the weight of your travel trailer.
Keeping the weight of your travel trailer down near the lower end of your tow vehicle's towing capacity will ensure a long life for it, especially if you're planning to tow over many mountain passes or other strenuous drives. It's important not to overload your car or truck, and keep the ambient temperature outside in mind when towing, as too hot temperatures can overheat your engine.
The weight inside your trailer matters for the overall health of your axles, frame, and suspension. If you fill your travel trailer with heavy objects, even if your tow vehicle can handle it, it might not be the best idea for the life of your trailer. 
Toy haulers are a good type of travel trailer to look at if you plan on hauling a lot of heavy equipment or additional recreational vehicles. They are built to handle such weight, but even toy haulers have their limits. It's important not to overload your trailer's frame, as it can bend and warp from continued improper weighting. 
Improper weighting inside your rig matters when you tow as well, and each axle has its own preferred amount of weight per axle. So arranging items inside your trailer matters too! If you leave too many things toward the front of your trailer, you may find it more difficult to tow, as well as putting too much weight on one axle instead of both axles.
The most important thing to consider when it comes to weight and your RV is when it's time to tow. The weight of your travel trailer affects what level of hitch you buy as well as how difficult your rig might be to control on the road. A heavier trailer may prove trickier to control on large freeways and other roads, so keep this in mind before you set off on your next adventure!
How Much Do Things Weigh, Anyway?
It's time to hit the road, but you're worried about what your rig will weigh once you fill it up with supplies- and rightly so! When you think about an empty trailer versus a full one, the weight can shift drastically; most RVers budget at least 1,000 pounds going into their trailer, depending on the size of it!
There's no exact measurement for every little thing you're putting into your trailer, unless you choose to track it yourself. This can sound exhausting, and the hope is that you're not putting in too many things so that you'll never be close to your maximum weight. However, here are some helpful numbers and items to keep in mind should you need to know the weight of what you're putting into your RV!
Water: 8.3 pounds per gallon

Propane: 6 pounds per gallon

Food: Listed on the boxes and cans, more often than not. A quick tally should work well for you, but always budget 5-10% more weight, just in case.

Clothes: This is the toughest one to judge, and you can find out specifically from your clothing manufacturer's websites or clothing listings, but this may be too tedious. However, an average suitcase's worth of clothes can weigh 50 pounds, so keep this in mind when calculating your clothes
Don't forget your kitchen appliances and dishes, any tools or toys, and always budget 5-10% more weight than your final calculations. Hopefully you won't ever have a problem of too much stuff!
Weighing Your Travel Trailer At Home
The time has come to weigh your new travel trailer, but you're not ready to hitch up and tow it to a professional weigh station. The good news is, you can weigh your travel trailer at home! I know what you're thinking: do I have to buy yet another RV accessory? My answer for you is: it may save you an awful lot of headache if you choose to.
But the good news is you can weigh your travel trailer with a bathroom scale should you be out of any other options! This is only recommended for smaller travel trailers, but it will work in a pinch if you're willing to set it up correctly. Let's go over the different ways of weighing your RV at home.
Bathroom Scale Technique
Your very own bathroom scale can be used to weigh your travel trailer. Can you believe it!? It may surprise you, but it's possible with some set up involved. Most RVers use a bathroom scale to measure the tongue of their trailer only, which makes up about 10-15% of your travel trailer's weight. This is a necessary number when it comes to determining your hitch as well.
Here's a step by step guide to weighing your trailer's tongue.
1. Ensure your trailer is nice and level
Being level is important when getting an accurate weight. Also chock your wheels during this process for your own safety.
2. Lay a 2×4 on the ground beneath the trailer tongue
Position a reliable board on the ground, directly below the trailer tongue. The board must be at least 3-1/2 feet long for this trick to work.
3. Place your bathroom scale at one end and a brick at the other
Place the bathroom scale roughly 2 feet in either direction from the trailer tongue, and a block or brick about 1 foot from the trailer tongue the opposite direction of the scale. You'll want to protect the bathroom scale with a small piece of plywood or other material on the top.
4. Center the wood, scale, and brick on two pipes
Insert two horizontal pipes between the 2×4 and scale/brick: one in the center of the bathroom scale and one in the center of the brick.
5. Rest the trailer tongue against a vertical pipe
Lower the trailer jack until the coupler is fully resting on a vertically-positioned pipe.
6. Read the scale and multiple by 3
An average bathroom scale can't measure the entire weight of your trailer tongue. That's why you take your initial reading and multiply it by three! This should be your trailer's tongue weight.
BetterWeigh Mobile Towing
While it's another accessory to buy, most RVers enjoy using a little device called the BetterWeigh Mobile Towing Scale by CURT (which you can see on Amazon). This device can measure the weight of your trailer and tow vehicle as well as specific parts of your trailer, such as the gross weight, cargo, payload, tongue weight, pin weight, and weight distribution. Plus it is controlled via your smartphone so that you can weigh whatever you'd like on the go with little to no hassle!
It is an incredibly easy device to use as well as install. It simply plugs into your vehicle's diagnostic port under the steering wheel and uses Bluetooth to send the information to your phone. Sounds like magic, right? It is in a way but requires a bit of math to calculate your trailer's weight.
From a level surface, accelerate your unhitched vehicle to about 25mph. This handy device receives data about torque and translates that into vehicle weight. Once you have the tow vehicle weight, hook up your trailer and once again accelerate to 25mph. The device will report your combined gross vehicle weight. Subtract the weight of your truck from the combined weight and you have your trailer weight all on its own!
While it's yet another object to buy, it is the simplest and most advanced way of weighing your trailer at home. Again, always budget extra weight, even using this device, as it cannot give you as accurate a reading as, say, a weigh station can. But it will do in a pinch, especially since you can do it from the comfort of your own home! It's still budget-friendly (especially compared to other RV accessories) and you can check out the latest price on Amazon by clicking here. 
Where Else Can I Weigh?
If you aren't ready to weigh your trailer at home, it can be done elsewhere for a fee. Fill up your trailer as if you were camping, then head to the professionals! Some places you can weigh your trailer are:
Truck stops

Locations listed on some RVer websites
Always keep an eye on whether or not a scale is certified at a weigh station, as this will ensure an accurate reading. You may also need to keep in mind what states you are thinking about traveling through, as the rules for travel trailer weighing vary from state to state.
If you're not ready to weigh your travel trailer at home, professional CAT scales are the way to go and are often not terribly expensive. Plus, they get cheaper the more often you weigh, so never hesitate to weigh your travel trailer before you hit the road! 
Conclusion 
Weight matters when it comes to your new travel trailer, and having an accurate number can make or break your next camping trip. Fill up your trailer, use your BetterWeigh device, or head for a CAT scale near you. There's nothing better than the peace of mind that comes from knowing how much your new rig weighs!