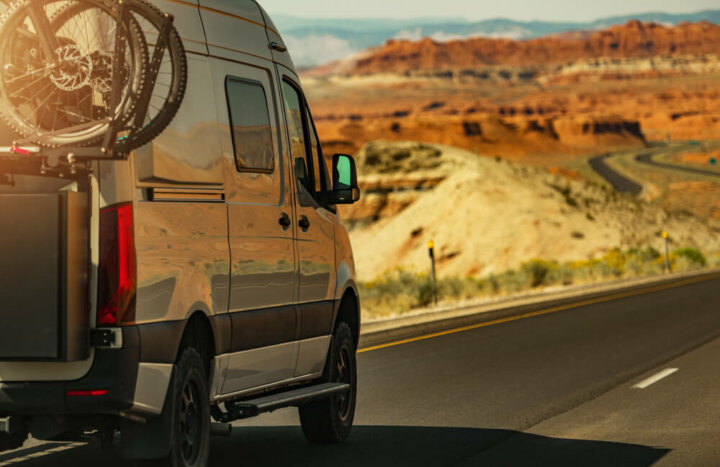 All of our reviews are based on exhaustive research, industry experience and whenever possible, hands-on testing. When you make a purchase using one of our chosen links we'll get a small percentage of the proceeds. This supports the site and keeps Jeffsetter running. You can read more here.
If you are shopping for a new RV, choosing something that is fuel efficient is always a good idea. However, how can you know what to look for in a Class B RV that gets good gas mileage? Whether it's your first time shopping for an RV or are you an old pro there are always things that you should consider before purchasing a Class B RV.
In this article, we will go over all of the things that you should consider in a Class B RV, particularly with gas mileage and fuel efficiency in mind. We will address which fuel type might be best for you, as well as everything you should consider if you are buying a camper van for the first time.
Finally, we will give you a list of some of the best gas mileage Class B RVs on the market today, including ones with gasoline and diesel fuel. Let's get started and go over everything you need to know about some of the best gas mileage Class B RVs now!
Only interested in checking out our list of RVs? Use our table of contents to navigate to the 9 best gas mileage Class B RVs available on the market today!
What to Consider in a Best Gas Mileage Class B RV
There are a number of things to consider before making any type of purchase, especially an RV purchase. If you are shopping for a Class B RV for the first time, there are a number of things to think about. Let's talk about what those might be.
Length and Width
The overall size of your fuel efficient Class B RV matters for a number of reasons. Not only will a smaller RV be more fuel efficient than a larger one, but you also need to think about the size of van you want so that you can bring everything you need to bring with you, and you still have a vehicle that is easy to drive.
Most Class B RVs range in length from 15 to 25 feet, which makes them easy to drive by comparison. Comparing this length to the average Class A RV, you can definitely expect more fuel efficiency and ease of maneuverability overall.
You may also find some campervans are wider than others, which typically means that you have more space to sleep and relax. You may even find some Class B vans with slide outs, but these are typically rare.
Choosing an RV that is more compact than average means that you can go wherever you want, as many parks have length limits for their campsites. You are likely not going to have this problem with a campervan, but it is definitely something to keep in mind as you shop!
Fuel Type
If you are shopping for a fuel efficient RV, you should know the differences between the two types of fuel available for just about every style of Class B RV. For example, all motorhomes come in either gasoline or diesel fuel types, but what are the differences between the two, and which one works better for your lifestyle?
Gasoline fuel is the most common type that you will find in a Class B RV setting, given its relative simplicity and the fact that gasoline fuel is more widely available than diesel fuel. This is something to keep in mind if you plan on camping anywhere remote or otherwise off the beaten path.
Gasoline Class B RVs are also typically cheaper than diesel ones, at least when it comes to upfront costs. Diesel Class B RVs are extremely popular for their fuel efficiency in the long run, but the initial purchase price of diesel rigs is much more expensive overall.
Knowing that diesel fuel is typically more efficient than gasoline fuel, you may be interested in diesel RVs alone. However, make sure to check out some gasoline options, as they are typically more budget-friendly and Class B RVs are fuel efficient regardless of what fuel they use.
Layout and Floor Plan
Choosing a Class B RV with a convenient and usable floor plan is very important, especially if you are buying an RV for the first time. I highly recommend touring your local RV lot or dealership so that you can get a true feel of these RVs, especially when you consider that they are the most compact option on the market currently.
Unfortunately, there aren't as many Class B RV floor plan options compared to other motorhomes or RV styles, just given the amount of interior living room you have. There's only so much that RV manufacturers can do with the square footage found onboard a Class B RV, so don't expect miracles!
However, RV manufacturers have also taken the time to make Class B RVs convenient and efficient, in both their utilities and storage abilities. You might be worried about how much storage is on board a Class B RV, but this is something that most RV manufacturers keep in mind when creating new campervans.
Get familiar with the typical layout on board a Class B RV, so that you can determine whether or not it works well for you. Perhaps you are fine with Class B RV floor plans, if it is just you and a partner traveling together. However, make sure there are enough sleeping arrangements for all of your guests if you plan on having any!
Bathroom Style
RVs are unique in that they typically have two different types of bathrooms, known as wet baths or dry baths. These bathroom styles differ from one another in the fact that wet bathrooms can get entirely wet and have all of the fixtures in one room, while dry bathrooms are more traditionally residential, with separate fixtures and amenities.
For the most part, Class B campervans always have wet bathrooms on board, or even no bathrooms, depending on the manufacturer. This is something to keep in mind as you shop, especially if you weren't expecting to have anything other than a dry bathroom.
Unfortunately, the interior living space onboard a Class B RV is always at a premium, and the bathroom is typically the first to go. Some options give you portable toilets so that you at least have that amenity on board, as well as an outdoor shower option. However, getting a spacious residential style bathroom on board a Class B RV is extremely rare, so keep your expectations realistic!
Luxury Features and Amenities
While Class B RV bathrooms are not always the most luxurious, there are many other ways in which RV manufacturers create luxurious rigs. There are a number of amenities and luxurious features that can be added or included in your RV purchase so that you have something that feels a bit more like home.
Some of the most common amenities and luxury features in Class B RVs include:
Tankless hot water heaters

Theater seating and large living rooms

Electric fireplaces

Wood molding throughout the interior

High quality upholstery and flooring

Stone backsplashes and countertops

Automatic features, such as leveling systems
Keep in mind that any style of luxury RV will cost more than a standard built one, and your budget may not be able to support it. However, most RV manufacturers give you the option to cherry-pick what you want in terms of amenities and add-ons, so you may not end up paying for things you don't end up using.
I highly recommend making a list of your must-haves as well as your wants, in case your budget can support a bit of both. Luxurious amenities and features truly make or break an RV, especially if you are brand new to camping in this way. Plus, most Class B RVs need some special touches, given their compact size.
Ability to Boondock
One of the most common reasons people purchase Class B RVs is so that they can boondock, or camp off-grid. Also known as dry camping, boondocking is your ability to camp without traditional RV hookups, often for multiple days. Class B RVs are built for this given their compact size and maneuverability, allowing you to go wherever your journey might take you.
However, this isn't to say that all Class B RVs have boondocking features included in their initial purchase price. You may need to find an RV model that offers you boondocking abilities, especially if you plan on camping off-grid for up to a week at a time.
These compact and fuel-efficient RVs are ideal for taking off-grid, but you may want to ask your RV manufacturer about certain features, including:
Solar panels

Additional batteries

Onboard generators

All-electric utilities, eliminating the need for propane

Larger holding tanks, including freshwater and wastewater

All-terrain tires and raised chassis options
At the end of the day, you can make your RV exactly what you want, if you have the budget to support this. Many boondocking features do not come standard, and some of these features can cost a pretty penny. However, if you plan on boondocking exclusively or frequently, it is definitely something to add to your list of must-haves!
Towing Capacity
While not many people do this, your Class B RV may have some level of towing capacity so that you can bring along a trailer or other small vehicle. You may be interested in having a Class B RV that can tow a residential car or boat behind it, but you should definitely pay special attention to the capacities on board these rigs.
While this will severely limit how easily you can maneuver your Class B RV on the road, having the option to tow may be appealing to some of you. This is especially true if you plan on camping with a large group of people and need to bring along extra gear or amenities. Most Class B RVs can likely tow a small trailer behind them, so long as it is just for cargo.
However, you may be able to find Class B RVs with storage on the roof or on the back of the vehicle, perfect for kayaks or bicycles. Regardless of what you choose, you should always make sure that you never tow anything too heavy for your tow vehicle, especially if it is your RV!
How Often You Plan on Camping
Something to seriously consider before making an RV purchase is just how often you plan on camping using your RV. Many people purchase an RV and only end up using it a few times a year, often making the initial purchase price overwhelming or not worth it.
Compared to other RVs, Class B campervans are appealing to people who plan on camping both frequently and also rarely, given the fact that you can easily store your class B RV in your own driveway or garage. They aren't too large for the average homeowner to keep on your own property, especially compared to a large fifth wheel that may need to be stored elsewhere during the offseason.
However, if you only plan on using your Class B RV a few times a year, you may not need the overpriced option with all the bells and whistles. If you are planning on living full-time in your Class B RV, a higher initial purchase price may be worth it so that you get all of the amenities you are hoping for.
Average Amount of Guests
You have likely already thought of this if you are considering purchasing one of the smallest RV options on the market currently, but do you know how many people you plan on hosting in your RV on average?
Depending on the floor plan, most class B RVs comfortably sleep two to four people, and occasionally a family of five. However, you shouldn't expect to sleep a large group of people inside of a campervan, and you may not have storage for everyone's things.
There are a number of options that give you accommodations for more than four people, including campervans with attachable tents or tents that can be lofted onto the roof. However, being realistic about how many people you plan on camping with on average is a good idea, as a Class B RV may not be right for you, whether or not it is fuel efficient!
Budget
The final consideration that you need to make before shopping for a Class B RV is how much you can realistically spend on one. The average campervan price tends to be higher than a Class C RV, which is surprising given that they are more compact in every way. However, Class B RVs are extremely popular, likely leading to their increase in price.
To give a rough estimate as to how much Class B RVs cost, they range in price depending on amenities and manufacturer, typically from $80k to well over $400k. While this will depend on a number of things, and you can always find budget-friendly options, you should definitely have a realistic number in mind before you start shopping.
Do you really need the all-terrain or boondocking package if you never plan on camping off-grid? And can your awnings be manual rather than automatic? There are a number of ways in which you can save money, but you may also have a particular vision in mind for your Class B RV and the budget to afford this. It all depends on your individual situation, but it is definitely important to keep money in mind!
9 Best Gas Mileage Class B RVs
Now that you have an idea of the things you need to consider before purchasing a Class B RV, let's take a look at some of the most fuel-efficient options on the market today. Here's our list of the 9 best gas mileage Class B RVs available now!
20 miles per gallon is your average with this gasoline engine
Spacious and contemporary interior
Optional storage solutions gives you more room to bring things
Not diesel, and you may want to add a couple more features
Starting at $165k and earning an average of 20 miles per gallon, it should be fairly obvious why the Zion from Roadtrek is our best overall choice. While there are definitely more budget-friendly options on this list, the Zion is a great choice for those of you seeking something fuel-efficient, contemporary, and packed full of features. Let's check out this RV in detail now!
Just under twenty feet in length, the Zion is perfect for those of you who want to bring everything along with you. It has a fairly open floor plan, giving you space in the center aisle and toward the rear of the rig for any larger gear that you may want to bring along. You can easily store bicycles and kayaks in this location, if you don't want to add an optional roof rack or rear storage rack to your RV purchase.
Inside of the Zion, you'll notice that the interior is modern and contemporary. It is easy to clean and maintain, with plenty of overhead storage throughout. Plus, this RV is packed full of features that are included in the standard purchase price. Some of these features include instant hot water, 330 watts of solar, and a decent sized refrigerator.
You have the option to sleep up to three people inside this campervan, with a foldable and portable bed. The rear of the RV is the dedicated sleeping area, which you can outfit with either two twin beds during the daytime or a sleeper sofa-style mattress. Plus, there's a dedicated wardrobe and a wet bath on board so that you have space for everything you need.
While it is a gasoline powered RV instead of a diesel one, you can get this Class B outfitted with additional storage racks on the outside, alongside upgraded interior design choices. You can truly customize this RV to be whatever you want, and it starts off at a fair price to do this! Definitely check out the Zion if you are looking for something that is extremely fuel efficient.
Up to 18 miles per gallon with a gasoline engine
Dedicated bathroom and spacious kitchen
Plenty of ways to make this rig boondock-ready
Make sure to check on the holding tank capacities.
The Nova from Coachmen RV is just under 21 feet long, making it compact and easy to drive. While it has a gasoline fuel type engine, it gets up to 18 miles per gallon on average, making it incredibly fuel efficient. Let's check out this nimble and well-appointed option now.
There are two floor plans available for the Nova, and the primary difference between them is where the bathroom is located. There is indeed a dedicated wet bath on board, and you can have it at the very back of the rig, or midway, with the bedroom taking up the rear should you choose the other floor plan option.
You can probably sleep up to three people on board, but this campervan is best used with 2 people only. You have plenty of space to relax during the day, with a convertible bed area and decent sized kitchen. You also have pantry and wardrobe storage, as well as ample overhead cabinetry.
It is important to note that there are two very different styles of holding tanks, depending on which floor plan you choose. One option has more capacity in the black water tank, while one option has more capacity in the gray water tank. The freshwater options are the same across all floor plans, make sure you choose the option that works best for you and your needs.
This campervan is ready to boondock, with 220 watts of solar on the roof and the option to add upgraded insulation, more house batteries, an onboard generator, and much more. However, keep in mind that some of these options are not included in the initial purchase price, so be sure to budget accordingly.
Overall, this option is an incredibly fuel-efficient choice for the average camper, something that may appeal to a number of you. While it is a gasoline engine, it is more affordable overall, and it still has a level of style and comfort not offered by some RV manufacturers!
Built for adventure and boondocking
Mercedes-Benz chassis and reliable diesel engine
Plenty of storage, LED lighting, and options to camp year round
Unclear what it is like inside, as well as what the price is
While it still has some time to go before a true mile per gallon rating can be announced, the Tiffin Cahaba is highly anticipated and likely to have a diesel fuel efficiency based on the size of the rig and this brand name in particular. Let's talk in more detail about why the Tiffin Cahaba is one of the best diesel fuel options on this list.
If you are looking for a diesel fuel Class B RV to get you off-grid and boondocking wherever you'd like, the Cahaba is made for you. It has a raised chassis, 4×4 capabilities, rows and rows of rooftop LED lighting, and tank heaters. This means you don't have to camp solely when the weather's good- you can camp year round!
There's plenty of storage inside of the RV, and even more on the outside. There are included roof racks, a roof ladder, and a rear storage rack up so that you can bring all of your gear with you on any adventure you choose. Plus, the Cahaba has a unique all-electric power center, making it silent and quiet while you camp so that you can enjoy nature to its fullest.
However, given the fact that this RV hasn't quite had its debut yet, the gas mileage is unknown and the interior design isn't finalized. This means that you will have to join a waiting list to potentially purchase this RV, something that may not be in your plans at the moment. However, knowing Tiffin as a brand, the interior design will be contemporary and convenient, and you likely won't have to worry about it suiting your own particular style!
15 miles per gallon with a gasoline engine
Multiple floor plan options, all with bathrooms
Options to make this RV boondock ready
Can't sleep more than four people
Starting at $168k, the Swift Li from Jayco offers a number of fantastic storage solutions for families and small groups. You can sleep up to 4 people in this campervan, depending on the floor plan, and it boasts a 15 miles per gallon fuel economy on average. Let's take a closer look!
There are three floor plan options available for the Swift Li, two of which are ideal for couples or small groups. The third floor plan has two separate convertible sleeping areas, allowing you to sleep up to four adults comfortably. This is impressive inside of a campervan, given just how little square footage there is overall.
There is a dedicated wet bath on board any one of these floor plans, giving you everything you need inside of this RV. There's also a spacious kitchen area, with a pull out countertop extension. You have overhead storage compartments outfitted in a light wood grain finish, keeping everything contemporary and open inside.
This Class B RV is also made for boondocking, with solar panels and additional batteries included in the initial purchase price. You also have full control over this RV from the comfort of the driver's cab, as it is outfitted with numerous safety features and the latest technology.
You also get heated holding tanks and the option for an induction cooktop, making it even easier to spend more time off grid and on the road. You can easily camp year-round in this van, and it is easy to bring everyone along inside this option!
However, keep in mind that this van is roughly 20 feet long, and it can't do miracles in terms of how many people you can bring along with you. You may still need to bring a tent or an alternative sleeping area if you have a larger family or group of people you want to bring along. Keep this in mind as you shop, but this option from Jayco is definitely a contender!
Gets 15 miles per gallon, if not more
Compact and easy to drive
Plenty of storage and boondocking solutions
Thor may not be the best brand to buy from
Starting at $113k, the Scope from Thor is one of the best options for a campervan on a budget. You have a gasoline engine, but it gets roughly 15 miles per gallon, making this compact and nimble RV budget-friendly in more ways than one. Let's check it out in detail now!
This Class B RV is just under 18 feet long, making it extremely compact and easy to drive. However, you should note that you likely can't sleep more than three people inside of this option, given just how small it is. Thor does give you the option on this particular model to have a pop-up roof and a lofted sleeping area so you can bring someone else along.
Similarly to many other campervan floor plans, the Scope offers you a bathroom in either option. You can choose between a spacious rear wet bath, or you can opt for the bedroom at the back of the rig. Either way, you have a galley and a bathroom on board, along with overhead storage compartments.
Speaking of storage, you have plenty of wardrobe space near the dedicated bedroom area. Plus, all of the cabinets and flooring options are light, bright, and easy to clean. The Scope has a certain lightness and contemporary feel to it so that you always have a cozy spot to return to at the end of the day.
This rig is also outfitted for boondocking, with solar panels on the roof, an onboard generator, and additional batteries. You have an optional bike rack so that you can bring along even more items, and the holding tanks are heated so that you can camp whenever you please, no matter the weather.
So, what's the catch? Many people question the Thor brand name for its reliability and durability, so this is definitely something to keep in mind. However, this is a great option for those of you who don't plan on using your RV often, as it has everything you need included and under a fair price point.
At least 15 miles per gallon on average
4×4 chassis means that you can go anywhere
Plenty of storage, inside and out
Higher price point may not be feasible
If you are interested in boondocking and like some of the features found on the Thor Scope, you may be interested in checking out the Jayco Terrain in more detail. Starting at $212k, the Terrain is not as budget friendly as the Scope, but it offers you an exclusive Mercedes-Benz chassis and plenty of boondocking features. Let's check it out!
The Terrain only has one floor plan currently, sleeping up to 2 people. Just under 20 feet long, this campervan is compact and full of features, despite this small size. You have a huge sleeping area, with a power lift bed that gives you garage storage beneath it when you are not sleeping. Plus, you have a kitchen with multiple pull out countertop extensions for when you need to cook a larger meal.
Still a relatively new model, the miles per gallon for the diesel powered Jayco Terrain isn't quite clear yet. However, it has an estimated miles per gallon of at least 15, making it a great choice for those of you seeking adventure and camping spots off the beaten path. With a 4×4 chassis, you can easily get where you need to go!
The interior of the Terrain is easy to clean and maintain, with storage in the dedicated white bathroom. You also have overhead roof racks for your kayaks or bicycles, as well as whatever other storage you might need. The exterior of this rig is made for traveling over rough and rugged terrain, so no need to worry about your chassis or tires.
Plus, there are multiple batteries, solar panels, and larger holding tanks than average on this rig. This means you can boondock for more days at a time, especially if you are only traveling with two people. This campervan is designed to get you wherever you want to go, but the higher price point may put it outside of some of your budgets!
Compact with 17 miles per gallon average
Great floor plan and plenty of features included standard
Good for couples to camp year round
High price point may not be ideal
Coming in at 19 feet long and with only one available floor plan, you may be wondering what makes the Airstream Interstate 19 so special. The Airstream brand name is notorious for imparting each one of its RVs with luxury and convenient features, and the Interstate 19 is no exception. Let's check it out in more detail now.
Starting at $200k, it's no secret that this RV has some amount of luxury included in the standard purchase price. It's still less expensive than the Jayco Terrain, likely because of its compactness. This compactness gives you something special, though- an average of 17 miles per gallon!
Airstream tries to impart a number of luxurious features into their RVs, often included under the standard purchase price. Some of those features include a large rear bed, a spacious front-oriented bathroom, the option to make your coach all-electric, and fantastic interior design. In fact, the inside of this RV is full of luxurious touches, with faux leather finishes and high quality countertops.
The features don't end when it comes to an Airstream RV, as you also get on-demand hot water, a backup camera, and heated holding tanks. You also have solar panels, multiple house batteries, and an automatic awning, making setup easy and simple once you get to camp.
This is a fantastic Class B RV to consider, so long as you have the budget for it. At the end of the day, it is just another camper van, and there are plenty of other more affordable options on this list. However, with the great gas mileage and luxurious finishes you do get in this purchase price, it may be worth it for you and your lifestyle!
18 miles per gallon average
Multiple floor plans and customizable options
Made for camping year-round and off-grid living
May not be large enough for you and your family
The Winnebago Travato could fall under a number of different categories on this list, including the best overall option and an option that is fantastic for boondocking. Boasted as one of the most popular camper van models manufactured currently, the Travato gets an average of 18 miles per gallon, ranking it fairly high on our list of choices. Let's take a look at it now!
Starting at $152k, the Travato is a great price for many different budgets and lifestyles. You have four available floor plans to choose from, all at 21 feet long. This van is incredibly easy to maneuver and drive, though it may not have as many 4×4 capabilities as the Jayco Terrain, for example.
While you likely can't sleep more than two people comfortably on board this campervan, it comes equipped with just about everything you might be looking for. You have a lofted bed area with storage underneath, insulated walls and windows, with heated holding tanks, and a small amount of solar panel energy to get you started.
You even have the option to upgrade this RV to an all electric base, including additional house batteries and solar panels. This means that you can go off-grid for as long as you like in the Travato, all at a decent price! There's a lot to love about this compact RV, but it may simply not be large enough for you and your needs.
An estimated 16 miles per gallon
High carrying capacity and plenty of storage
Camp year round and go off-grid in this RV
Extremely high initial purchase price
Starting at $245k, the Winnebago Boldt was too expensive to take our best overall spot. Nearly $100k more than the Roadtrek Zion, this diesel powered rig may be outside of your budget. However, with nearly 2,000 pounds carrying capacity and roughly 16 miles per gallon, this campervan may make you want to splurge. Let's check it out.
One of the main reasons to check out the Boldt is the fact that it has a Mercedes-Benz chassis, complete with a high-tech dashboard. You also have more tech in terms of all of your abilities to monitor your utility systems, including its battery power and tank capacities, all from a convenient control panel.
You have 4 wheel drive on board this RV, as well as the option to camp year-round. There's added insulation in the walls and windows, as well as heated holding tanks underneath. Plus, the all-electric capabilities of this RV means you can go off-grid for even longer as well.
Another perk to this RV is the fact that it has two available floor plans, one of which can sleep up to three people. This means that a small family can easily hit the road in this camper fan and sleep comfortably. However, the high price point on this RV may put it out of your budget, especially when you consider just how many other fantastic options there are on this list!
Final Thoughts
Finding a fuel efficient RV can be harder than you think, but hopefully our list of some of the best gas mileage Class B RVs helped you with this task. No matter what, Class B RVs are compact and easy to drive, making them a great choice for your inner adventurer. Hit the road in a fuel efficient vehicle and enjoy camping in it too!