Last updated on June 5th, 2023 at 11:50 am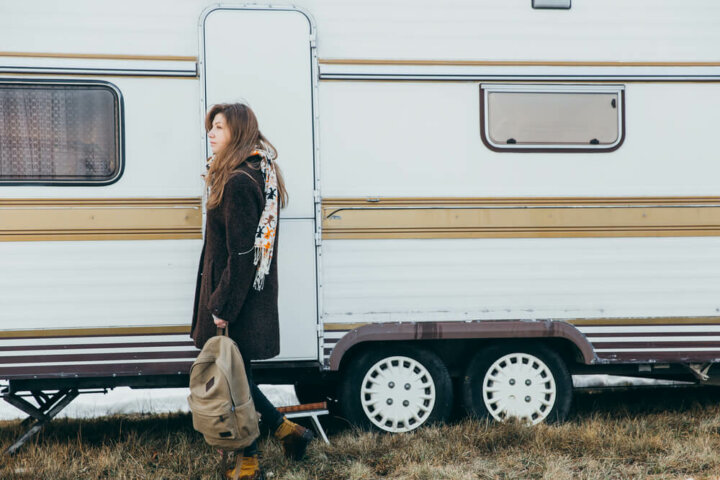 All of our reviews are based on exhaustive research, industry experience, and whenever possible, hands-on testing. When you make a purchase using one of our chosen links we'll get a small percentage of the proceeds. This supports the site and keeps Jeffsetter running. You can read more here.
Speaking as someone who lives full-time in an RV, you may be wondering if I have any potential full-time RV regrets. What should you know before considering a lifestyle like this, and what should you contemplate before making such a big decision? Is full-time RV living truly right for you? And what does full-time RV living entail?
In this article, you will get an insider's look at what it's like to live in an RV full-time, including some things that you may or may not have yet considered about the process. You'll hear it directly from someone who lives full-time in an RV and who has done so for multiple years.
Let's dive in and talk about everything you should know when it comes to living in an RV full-time!
What is it Like to Live in an RV Full-Time?
Before we dive into what it's like to live in an RV full-time, it's important to note that everyone's full-time RV experience is different. When I made the transition from living and working full-time in a bustling city to living in a 19-foot-long travel trailer in the year 1976, it was a big decision and not something I recommend for everyone!
The first thing to note before talking about what it's like to live in an RV is the fact that there are many different types of RVs to live in. I personally made the decision with my partner to live in something compact and small, for multiple reasons. We were both interested in downsizing and living a minimalist lifestyle, and our budget didn't exactly support a brand-new RV purchase.
However, we meet many other people living full-time in RVs that are much much larger than ours, often fifth wheels or Class A RVs being the most common. This is likely because these RVs offer you much more interior living space than a 19-foot-long travel trailer with plenty of vintage charm!
Long story short, whatever RV type you choose truly affects your experience if you choose to live in it full-time. There are many people that live permanently in campervans or Class B RVs, and there are many other full-time travel trailer options that are much larger than something that's only 19 feet long.
So, what is it like to live in an RV full-time? It truly depends on what RV type you choose and the experience you plan on having inside it. For example, my partner and I decided to live full-time in an RV in order to volunteer for our state park system and live in state parks as camp hosts.
Living full-time in an RV, like living full-time in any place, becomes all about what you make of it. But what might some of the pros and cons be for this style of living, and what should you consider before making the leap?
What are Some Pros to Full-Time RV Living?
There's no denying that living full-time in an RV is a special opportunity that not everyone can afford. There's a lot involved in terms of life disruption and uprooting, as well as adjusting your expectations for what it's like to truly live inside of an RV.
Speaking from experience, here are all of the pros that I can think of when it comes to living full-time in an RV.
A wholly unique living experience unlike any other
While there's a somewhat steep learning curve to RV living that differs from traditional residential home living, an RV lifestyle is unique and exciting for a number of reasons. One of the most exciting parts of living in an RV is choosing your new home.
The unique living experiences offered by RV living may not work for everyone, but it certainly excited me and my partner. We enjoyed looking at RV layouts and planned on choosing an option that we could renovate ourselves. Creating a home on wheels inside of a vintage trailer was what excited us most, but this may not be something you are interested in doing.
You don't have to stay in one place
Obviously, one of the main reasons to choose an RV as your permanent home is that you don't have to remain anywhere permanently!
You can take your RV anywhere and journey to your heart's content, whether you choose to own a campervan or a large Class A RV. The opportunity to travel and try out new regions is one of the main benefits of full-time RV living.
Potentially lower bills
While some RVs cost the same as a single-family home, you may find that living in an RV is less expensive than a traditional residential home. RV parks and campgrounds may have some fees and expenses to stay there, but it is likely that these expenses are significantly less than a mortgage or traditional utilities.
You may have a fairly high RV payment if you buy something brand-new, but buying an RV outright typically won't cost you as much as a traditional home.
You're never far from nature
Even if you choose to stay in RV parks rather than state or national parks, you likely won't ever be very far from nature and everything that it has to offer you. You may want to live full-time in an RV to get closer to our beautiful, natural world, and it's truly a perfect lifestyle for those of you who actively enjoy camping.
Close quarters mean closer relationships
Unless you are traveling solo, living full-time in an RV with another person and potentially pets means that you are likely to form a closer relationship.
If living in less than 300 square feet with a partner stresses you out, then this may not be the lifestyle for you. However, my partner and I were able to form extremely close bonds with each other and with our dog from the very beginning of our RV journey, and we work and cooperate in ways that I never thought were possible living in a residential home!
Smaller footprint compared to traditional homes
While it may not feel like an eco-friendly option when you refuel your large Class A motorhome or pickup truck that's towing your fifth wheel, living in an RV creates a much smaller carbon footprint compared to traditional home living.
This is especially true if you choose an RV that is specifically built for boondocking and is equipped with solar power and other eco-friendly utilities.
Flexibility and freedom
Not only can you go anywhere and stay anywhere if you choose to live full-time in an RV, but you also have enough freedom to make your own schedule. Unless you have a traditional job or choose to live full-time in an RV in a set location, you aren't tied down to a residential home or any particular place if you live in an RV.
Some RV owners that live full-time in their rigs choose to park in one particular space and remain there until the road beckons. You can choose any combination of travel and stationary lifestyle that you want, and this is half of the appeal of RV living!
My partner and I volunteer at state parks, but we never stay in one location for more than three months at a time, and that works well for us.
Truly helps put things into perspective
No matter what size of RV you choose, you will likely need to do some level of downsizing and organizing. Living in a way that requires you to truly consider all of your purchases and storage space helps you put life into perspective, or at least it helped me!
I learned about what truly matters to me and what I can't live without versus what I may have wanted when living in a traditional home. RVs are not as large as residential homes and I find this to be a benefit, but I imagine not everyone feels this way!
Full-Time RV Regrets: The Cons
There's truly a lot to love about RV living, but there's also a lot to hate. Now that I have fully glamorized RV living, it's time to check out the cons and discuss some of my full-time RV regrets!
Downsizing is incredibly difficult
While my partner and I were personally excited about downsizing and adopting a minimalist lifestyle, this is likely one of the most difficult parts of RV living. When you consider the number of items and things that exist within the walls of a residential home or apartment versus how much you can fit inside of an RV, the difference is staggering.
No matter how much you currently own, you'll likely need to own less than what you expect in order to live comfortably inside an RV. Plus, RVs typically come with furniture and everything you need to live inside of them already, making your residential furniture essentially useless.
In addition, you may want to bring along recreational items that are perfect for camping adventures, such as kayaks, bicycles, and other large gear. This will take up even more space and leave less room for the essentials, so downsizing accordingly is extremely important!
I will say that a minimalist lifestyle is the only way I plan on living in the future, as the skills I learned from RV living truly and deeply affected me. I have less attachment to things in general and truly appreciate having less, something that may or may not happen to you.
…and you still might not have enough space
While many RVs prioritize storage, especially if you are able to afford a brand-new option, there are even more options that won't give you enough space for everything you want to bring with you. This is especially true if you choose a small RV as I did.
My partner and I significantly downsized all of our belongings, particularly our clothes and kitchen gadgets. As an avid chef, I was the most stressed out about having enough space in our kitchen area, particularly our pantry. Our RV fridge is an average mini fridge size, leaving us enough space for a week's worth of groceries only. Planning our meals is a non-negotiable task!
Organization is key to living comfortably inside of an RV, no matter what size you choose. This is especially true if you choose to live full-time in an RV with a partner or children, as storage is at a premium when everyone has things that they want to bring along with them!
New RVs are very expensive
My partner and I knew from the very beginning that we would never be able to afford a brand-new RV, even though these are far better equipped for full-time living than older models. Keeping in mind the fact that new RVs are very expensive is a good idea if you are interested in full-time RV living.
Depending on the make and model of rig that you choose, as well as the type of RV you are comfortable driving or towing, brand-new RVs cost anywhere from $20k to well over $300k. The most expensive RVs on the market currently are Class A or Class C motorhomes. Travel trailers will be among the least expensive options, but ones designed for full-time living are likely a bit more costly.
You can always do what my partner and I did and convert an older RV or find a used option that is within your budget. There is always RV financing, especially on newer options, but these payments can potentially be as high as a mortgage payment if you buy an RV that's over $100k!
…and any RV depreciates quickly
If you decide that a full-time RV lifestyle isn't right for you, or perhaps you want to upgrade to a better RV, you should know that just about any RV depreciates quickly in cost. Reselling an RV can be difficult as well as disappointing because you will rarely get back what you paid for it. This is especially true of certain brands and RV types, as well as an RV that has seen a lot of use or has a lot of miles on it.
If you want to live full-time in an RV and potentially get some money back when you choose to sell it, your best bet is to remodel an older option. However, as you can see in this incredible video this remodeling process can be complicated and equally costly, so this is definitely something to deeply consider!
Many people decided to purchase RVs during the Covid-19 pandemic, so resale is difficult at best at this moment in time.
RV maintenance can be a costly pain
Not only are RVs expensive from an initial cost perspective, but they need fairly consistent maintenance and even repairs down the line. You're living in a home on wheels, something that is extremely difficult to accomplish and relatively hard on the RV itself. Constantly exposed to the elements, your RV needs annual maintenance, if not more than that.
You can always use your brand-new RV's warranty to cover any repairs or damages, or you may have a reliable mechanic whom you can turn to. As someone with a limited budget, my partner and I did all of our RV repairs ourselves, as many other RV owners are accustomed to doing. However, you may not feel as if you have the skills to accomplish this, and it is still a costly endeavor.
There's also the stress of missing any potential problems with your RV as well as not keeping up with maintenance as a whole. My partner and I ended up with a small leak in our roof right before we were planning on resealing it. Thankfully, not too much water damage occurred, but we learned then that staying on top of RV maintenance is both difficult and necessary.
Weather, weather, weather
I'll be the first to tell you that living in an RV during any season has its drawbacks. Even in the dead of summer, RVs can get extraordinarily hot given the fact that they don't exactly have perfect insulation on board. Winter is equally difficult because of the cold and inclement weather, as RV insulation doesn't exactly mask the sound of heavy rainfall or thunderstorms.
Unless you choose to purchase an RV that has additional insulation and is advertised as 4-season ready, you may find that you are not nearly as comfortable as you expected inside of an RV during any type of weather scenario. The snow is no joke when you live in an RV, as RV water lines can easily freeze and break during long bouts of freezing temperatures!
Privacy can be minimal
Unless you plan on boondocking or off-grid camping for the majority of your time while living in an RV, privacy can be difficult to come by in the average RV park or campground. In addition to strangers and campground neighbors being right on top of you, you also have a lack of privacy inside an RV if you travel with other people.
RVs are built with plenty of windows so that you can enjoy the great outdoors even when you are inside. However, RV parks and campgrounds don't exactly leave very much space in between spots and you may feel as if you are constantly being watched.
One of my main full-time RV regrets has to be the fact that I don't feel like I have any private property anymore!
Travel can get exhausting
No matter what type of RV you choose to live in full-time, there is always going to be a point at which you get exhausted from travel. While driving an RV or towing a travel trailer behind you can be extremely stressful and exhausting on its own, breaking down and setting up camp is often what exhausts full-timers the most.
My partner and I only remain in one location for one to three months at a time, which means we are constantly breaking down our home and living situation in order to move. We love it when we can stay in one state park for three months! A travel trailer has to be weighted and balanced carefully in order to be driven safely, which means that we even have to rearrange and rebalance the interior of our rig before we can leave camp.
The process of enjoying camp versus the process of breaking down camp can be a difficult balance to find. If you start living in an RV full-time and realize that you aren't staying in a location long enough to merit setting up and breaking down all of your belongings, you may want to adjust your schedule. No matter what, moving your entire home and all of your belongings is always a stressful and exhausting time!
Feeling cramped is real
While my partner and I only feel closer and more connected from living in a 19-foot-long travel trailer, the average couple may not feel the same! Living in an RV means that there are very few places to escape, at least if you want to remain indoors. There are many times when my partner and I need personal space, but we are still in the same room as one another out of necessity.
I am also nearly six feet tall, so I always feel a bit too large for my RV. While my head doesn't touch the ceiling, it is difficult for me to stretch out and spread out in certain locations. I constantly feel cramped in my own home, which is why I often go outside instead! This is definitely something to keep in mind, especially if you are a tall camper.
Jobs and routines can be difficult to maintain
As a work-from-home freelance writer, living in an RV works well for me. However, there are still times when we are hosting in a location that does not allow me internet access from my RV. Living full-time in an RV can be extremely difficult in terms of maintaining a job and a routine. If you need internet access or regular phone connections, you need to plan your travels accordingly.
If you know that you need regular internet access for your work, this is an expense for you to consider. Many brand-new RVs come equipped with Wi-Fi, but remote locations will not offer you enough signal to get your job done. Plus, constant travel and road conditions can truly prevent full-time RVers from maintaining a routine.
What to Consider Before Living in an RV Full-Time
Now that you know some of the pros and cons as well as some potential full-time RV regrets, there are still a few more things for you to consider before choosing to live in an RV full-time. But what might some of those considerations be? Let's address them now.
Permanent Address Options
Once my partner and I decided to live in an RV full-time and travel the nation as state park hosts, we realized that we still needed a permanent address. We opted for a mail service that forwards our mail and also counts as a permanent address in the eyes of the government and insurance companies.
If you are selling everything you own, including your residential home and permanent address, finding an alternative is a must. For insurance purposes and a myriad of other things, you still need a permanent address even if you live on the road. Perhaps you have family members or a friend that you can turn to in order to keep a permanent address on file, but you may also opt for a mail service that provides a similar function.
Your RV Budget
If you are unable to pay for your new home upfront, you need to consider what your actual RV budget is. This should be akin to a rental payment or a mortgage payment, and it will likely cost a similar amount depending on the year and condition of the RV that you end up buying.
Living in an RV means that you significantly reduce your monthly payments, but financing a new RV is still often necessary!
RV Insurance
Just like a home or a car, you need insurance for your RV. This is especially true given the fact that your RV will technically be both your home and vehicle all at once!
However, finding adequate RV insurance can be difficult and you should definitely do your research if you plan on living full-time in an RV that you drive actively. Some insurance companies offer full-time RV packages, so keep an eye out for these!
Downsizing and Storage Solutions
We've already discussed that downsizing should be something that is high on your list of priorities. You may also want to invest in some storage solutions and organizational habits to better prepare you for living in an RV full-time.
Speaking from experience, learning how to properly fold clothes and condense other items was key for me in terms of having enough space for all of my belongings.
You may or may not need to reevaluate how you purchase items, especially if you are used to buying from a bulk or big-box store.
Most people who choose to live in an RV full-time do not utilize a storage rental or other storage solution. This is especially true with perishable goods such as food. It's rare to find someone who lives in an RV and is also able to keep lots and lots of food on hand, or it is at least difficult for me!
Annual RV Maintenance and Repairs
RV maintenance is important to keep in mind if you are interested in living in one full-time. Repairs may or may not be necessary depending on the age and manufacturer of your RV, though accidents do indeed happen while on the road. Knowing that you need to set aside some money for RV maintenance and repairs is a good idea.
If you are able to afford a brand-new RV, you will likely have some warranty options and covered expenses for the first couple of years of your ownership. However, warranties are easily voided and you should be sure to take care of your RV in a way that aligns well with all of the rules and contract guidelines associated with your brand-new RV purchase!
Social Options
As someone who is (barely!) under 30, one of the biggest shocks to transitioning to RV living was a complete lack of social life or social options. However, my partner and I chose to host at state parks and campgrounds rather than camping with groups of friends or in locations that might offer us more social interactions.
If you are considering living full-time in an RV, know that it can get lonely from time to time. Given the fact that you don't stay anywhere for very long, it's extremely difficult to make connections and maintain them.
Living a life on the road, it can be difficult to be a social butterfly. On the other hand, you may enjoy making brief and memorable relationships with people at campgrounds and RV parks as you travel!
Personal Space Requirements
Unless you choose to travel solo, personal space is a huge consideration for you to think about when it comes to RV living. Living with a partner in a compact space has been a huge eye-opener for me, and it may make or break an RV experience for you in particular.
Choosing an RV layout that works well for you and your lifestyle as well as whoever else you are living with is key to full-time RV happiness. However, knowing whether or not you are the type of person that requires personal space and alone time is also important to consider before starting a lifestyle such as this.
There's always the great outdoors to explore, but there will come a time when the weather will prevent you from escaping outside of your RV. Finding an option that gives you plenty of space for everyone might be difficult, especially if you live in a compact space all the time!
Safety and Driving
Whether you choose a drivable RV or a towable one, your safety and driving experience are definitely something to consider before purchasing an RV that you plan on living in full-time. Even if you choose to remain parked at a particular RV park or campground for a long amount of time, you should still practice driving your new home to avoid any complications.
When I first began my RV journey, I was the most stressed about learning how to properly drive and park my travel trailer. Now that I have mastered backing my trailer into campgrounds and tight spots, I truly feel empowered and safe on the road. However, driving any RV is dangerous and can turn disastrous very quickly, so make sure you feel as safe as you possibly can while driving!
Campsites, RV Parks, and More
The final consideration that I can leave with you today is how you want to do your full-time RV journey. While having flexibility and freedom are two primary motivators for pursuing this lifestyle, you may want to consider all of the different options involved with RV living, particularly where you want to stay.
Many people who live in an RV full-time choose to rent a spot at an RV park or campground for multiple months, if not annually. However, you may hate the idea of staying anywhere for more than a few nights to a week at a time, preferring the open road and all of the options that can bring you.
For example, my partner and I receive a free place to stay each and every time we travel, but only because we volunteer for state parks across the nation. In exchange for helping around the parks and assisting visitors, we receive a free campsite and utilities for a few months at a time. This was always how we planned to do our personal full-time RV journey, but it may not suit your lifestyle at all.
You may find that traveling throughout the springtime and summertime works well for you while maintaining a single spot through fall and winter helps offset any adverse weather conditions. Alternatively, you may want to book an entire year in advance, planning a road trip and making reservations at RV parks that fit where you are traveling.
There are countless options that may help you make your full-time RV living a reality, but just know that it definitely takes some amount of planning. I find that it's far more difficult to simply hit the road in my RV, given the fact that it can be tricky finding a place to stay– but perhaps I just prefer to be safe than sorry!
Final Thoughts
Now that you've heard it all from an expert, I encourage you to truly sit down and consider whether or not living full-time in an RV is right for you. Full-time RV regrets are real and unavoidable given just how different this lifestyle is compared to traditional residential home lifestyles.
However, it's also a once-in-a-lifetime opportunity that might be exactly what you need right now. Make sure to consider all aspects of RV living before falling in love, but if I can do it with my partner and dog in a vintage travel trailer with less than 175 square feet, you can too!