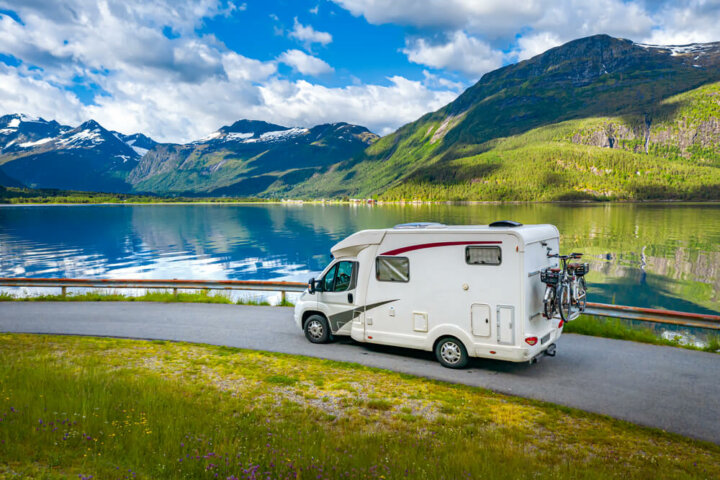 All of our reviews are based on exhaustive research, industry experience and whenever possible, hands-on testing. When you make a purchase using one of our chosen links we'll get a small percentage of the proceeds. This supports the site and keeps Jeffsetter running. You can read more here.
You long for the open road, nothing but miles ahead of you of some of the best landmarks and views this country has to offer you.
You also don't want to go broke doing it. You're practical and understand that traveling is fun, but it can also get expensive pretty quickly.
So, how much does it cost to drive an RV across the country?
There isn't a one size fits all answer to how much it costs to drive an RV across the country because there's no one size fits all route across the country. Expenses will be determined by fuel, campgrounds, food, activities, and maintenance costs, so by creating a plan you can figure out your budget.

We'll help you figure out how much it is going to cost you to take your cross-country trip by teaching you how to budget and some tips and tricks to find hidden expenses so you have money left over.
What Is Considered A Cross-Country Trip?
Cross-country can mean different things to different people. Some might take it literally, and consider it a trip from one end of the country to the other in a straight-as-possible line. Others may be a little looser with their definition and think of going along the Pacific or Atlantic Coasts or hitting the top of Maine and the southernmost tip of Florida.
Regardless of your definition of cross country, you likely have an idea of what places you want to see on your trip and you know where you're starting from. If you take that information, then you can plan a pretty solid cross-country route where you'll get to see some of the most beautiful parts of the country and be able to create a budget for the whole trip.
RVing cross country is definitely something you might need to budget and save up for, but it's also worth the cost to get to see the country in such a unique way that's tailored to your interests.
How Much Does It Cost to Drive an RV Across the Country?
Going on a trip with your RV across the country is quite an adventure! There are plenty of things to be excited about, and a lot of things to consider and plan, and one of them is your budget.
So, let's see what an RV cross-country trip may cost you!
Pick Your Route
Your route is going to be dependent on a lot of factors. Do you want your trip to be a loop so that you end up back at home? Are you relocating to a new place and that's where your trip ends? Are you a nomad who isn't quite sure where your trip is going to end but you know what you'd like to see along the way?
There are set routes that are popular to take across the US. Route 66 is probably the most famous one, taking you from Chicago to Santa Monica. There are plenty of others to look at, and you can always create your own based on what you would like to see.
If you plan on doing a loop, I recommend making sure you take one route out and a completely different one back. For example, if you're going from Boston to Los Angeles then you might want to take a southern route on the way out and a northern one on the way back (or vice versa depending on the season).
I love using the website Roadtrippers to help plan out a route. It's a great resource and even shows campgrounds, food, landmarks, and other stops along the way.
Once you've picked your route, you can start calculating your costs and create a budget for your trip. You need to know your total mileage to calculate your fuel costs and your route will influence the cost of campground, gas prices, and even the cost of food.
Calculating Fuel Costs
Fuel is likely going to be the most costly part of your trip. It's not possible to know exactly, to the penny, how much you'll be spending on fuel, but you can estimate it and budget accordingly.
If you're not sure how big your tank is, we have an article on the average size of an RV gas tank as well as other helpful tips there too.
RV Gas Mileage
The first step to figuring out your fuel costs is to figure out what gas mileage your RV gets. You may know this off the top of your head, or your RV might have a meter that tells you what your gas mileage is at any given time, but you may have to figure it out manually.
To do this, fill your tank up all the way and then record the number on your odometer. Then take a drive, and make sure that you are towing any trailer or vehicle that will be going on your trip with you because that will affect your gas mileage. You'll also want to have your RV stocked up and packed as though you are going on a long trip.
Make sure this drive uses up at least half of your tank of gas. After that you want to make note of what the mileage on your odometer is and then fill up your tank again, taking note of how many gallons you need.
Now it's time for a bit of math.
Subtract the first odometer reading from the second to find out how many miles you traveled. Divide these miles by the number of gallons you used to fill your tank up after your drive. The answer will be what your RV's gas mileage is.
Example:
The first odometer reading was 52,700 miles. The second odometer reading was 52,860. Your trip was 160 miles. The second fill-up of gas was 20 gallons. Divide 160 by 20 and you get 8 miles per gallon.
Gas mileage varies based on the roads you're on, the weight that's inside of your RV, and the conditions you're driving in, but this should be enough to give you a solid idea of what to expect.
Total Fuel Required
Now you need to know how much fuel you need in total, over the course of your trip. Let's say we are going from New Jersey to Key West, which is about 1400 miles. You divide that total number by your gas mileage to figure out how many gallons of gas you will need for your trip.
1400 / 8 = 175 gallons
Gas Prices On Your Route
For those numbers to mean anything to you, you'll have to do a bit of research on gas prices on your route. Gas prices are always changing, so it can be a bit hard to predict what the prices will actually look like once you're on the road, but we're in the business of estimating here.
You can figure out how many miles you are able to travel on a tank of gas and then find gas stations along your route that way. Roadtrippers will allow you to add these as waypoints on your map.
There are also apps out there that you can download to your phone that can help you figure out where the best gas price is nearby.
When you're budgeting, add 50 cents to the current price of gas to give yourself a nice cushion.
Average It Out
After finding all your stops and rounding the current price up by 50 cents, add them all up and divide by the number of stops to get your average price per gallon.
We're going on our 1400-mile road trip. Our tank holds 40 gallons of gas, and you can go 320 miles on one tank of gas. You probably want to stop every 300 miles to be safe. No one wants to end up on the side of the road with no gas in their tank. That means you will be stopping about 5 times.
Stop one is $4.03 rounded up to $4.53
Stop two is $4.20 rounded up to $4.70
Stop three is $3.98 rounded up to $4.48
Stop four is $3.89 rounded up to $4.39
Stop five is $3.76 rounded up to $4.26
Your rounded-up prices added together comes to $22.36. Divide that by 5 and your average price is $4.47 per gallon.
These numbers are not an accurate representation of gas prices along this drive, they are placeholders to demonstrate how to properly do this math.
If this all seems like too much math for you, then you can also search the average cost in the US for a gallon of gas. This won't be as precise but it is an easier and faster way to approximate your fuel costs.
Do The Math
I know, more math, but I promise we're almost done figuring out how much fuel is going to cost you on your trip.
Now you know the three numbers you need in order to get to the approximate cost of fuel on your trip. You have your gas mileage, you know how long your trip is and you know the average cost of fuel on your trip.
So you take your total miles and divide it by your gas mileage to get the number of gallons you need.
1400 / 8 = 320
Now take that number and multiply it by the cost per gallon and that will give you your total cost.
320 x 4.47 = 1430.40
So in our example, the total cost of fuel is going to be $1,430.40.
Camping Fees
Camping fees are likely your second largest expense while cross-country RVing. You'll want to plan where you want to camp ahead of time because these prices can vary wildly. You can find campgrounds that are free and ones that cost over $200 per night, so you'll want to plan accordingly.
There are some camping clubs that might be worth joining to save you some money by giving you discounts on campgrounds across the country. A few to check out are Good Sam, Thousand Trails, and Passport America. They might not work for you depending on the costs to join, the number of campgrounds they have, and how much travel you plan on doing aside from your cross-country trip.
You might also need to balance staying right near landmarks and metropolitan areas with staying just outside of them and making the drive to the landmark or city you want to see to save yourself some money along the way.
Entertainment & Activities
Using your road trip plan, you can figure out the expenses for landmarks you want to visit, theme parks, events, exhibits, and anything else on your way that you just have to see or do.
These expenses can add up quickly, so it's important to get an idea of how much you should budget for them ahead of time.
If you're on a tighter budget you may want to create a hierarchy for the places you'd like to stop. That way you know what your "must see's" are and don't waste extra expenses on places you didn't really care about visiting.
There are also always hidden extra fees and charges for a lot of these places. They may charge extra to park an RV, or you might need to take a shuttle from the parking lot to the park or even you're going to. Calling these places and asking questions is the best way to ensure that you've budgeted appropriately for your trip.
Also, don't forget about little things like souvenirs! You might want to take a piece of your travels back with you.
Food Costs
Hopefully, you already have some idea of how much you spend on food in a given time period. Whether your trip is a week, a month, or longer you'll want to keep in mind food costs.
Some parts of the country will be much more expensive to shop in than others. In New York City you might find yourself spending $5 on a gallon of milk and less than half that amount in Louisville.
You may want to cook all of your food, mostly eat out or have a healthy mix of the two. Maybe there is a Michelin Star restaurant on your route that you just have to try or maybe there's a diner you haven't stopped hearing about.
Budget for those pricier meals by checking their online menus ahead of going. If their menu doesn't have prices, sometimes reviews will give you an idea of what you might end up spending.
Essentially, expect your food budget to stay similar to your normal food budget at home with the exception of some of those more expensive meals.
Keeping It All Organized & On Budget
The hardest part isn't making the budget, it's sticking to it.
I can't force you to only spend the money you've allocated for your trip, but creating a spreadsheet is a great way to keep yourself accountable and on track.
A simple Excel sheet or Google sheet will be instrumental in making your budget. The video below shows you how to create a budget in Excel, but if you don't have the program, you can also use google sheets in virtually the same way. Just customize the categories so that it works for your trip.
If you're not sure about making a sheet from scratch, here's a template that might work for you. You can also do this on paper if you're not as comfortable on the computer.
Maintenance & Emergency Funds
Unexpected expenses always come up. They are inevitable and you should have some idea of how to budget for these on your trip.
If your trip is on the shorter end of things, maintenance and emergency funds might not be too big of a concern. If you're going to be traveling in your RV for months at a time, you should know how to perform standard maintenance on your RV and what that entails.
This video offers some tips for regular RV maintenance that every RV owner should know.
We have tons of articles that can help you with RV maintenance, from where to get an oil change to how to protect your RV from the sun, we try to cover it all.
Make sure to put aside a good chunk for unexpected repairs in addition to your regular maintenance. That way, you won't go over budget if something does come up and if nothing does, you'll be left with a bit of extra cash.
Conclusion
There is no one answer to how much it costs to drive your RV across the country. There is, however, a way to estimate your fuel costs, campground fees, and other expenses. This can help you create a budget and keep organized on your trip across the country.
RVing across the country, no matter what route you choose is the best way to see all that North America has to offer. It offers the comfort of home, without the expense of a hotel, and gets you right in the thick of nature, landmarks, and other fun activities along the way.