Last updated on October 30th, 2023 at 09:38 am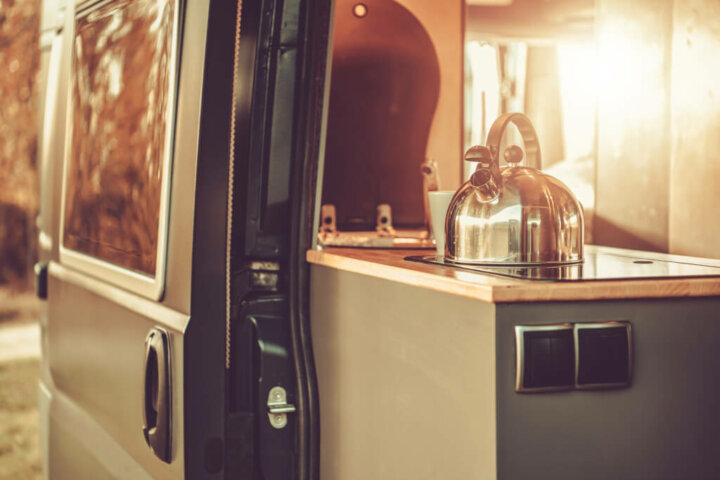 All of our reviews are based on exhaustive research, industry experience and whenever possible, hands-on testing. When you make a purchase using one of our chosen links we'll get a small percentage of the proceeds. This supports the site and keeps Jeffsetter running. You can read more here.
If one of your favorite things to do while camping is cook, you're likely in the market for a Class C RV with an outdoor kitchen. Having an outdoor kitchen in your RV is a handy way to utilize the exterior space of a camper. Before making a final purchase, however, it's wise to consider what RV brands are reliable when it comes to their construction and kitchens.
In this article, we'll explore everything worth knowing about the best Class C RVs with outdoor kitchens. So that you're able to make an informed purchase, we'll also provide you with all the shopping tips and tools you'll need to make, along with revealing some of our top picks for Class C RVs on the market today.
If you're ready to learn more about RVs with outdoor kitchens, let's get started! However, if you're only looking for our list of the best Class C RVs with outdoor kitchens, click here to jump ahead to our top 9 options available.
What Are The Benefits Of An Outdoor Kitchen In A Class C RV?
There are a number of different benefits of purchasing a Class C RV with an outdoor kitchen. If you're on the fence about whether or not an outdoor kitchen is right for you and your camping experience, here's a list of some of the possible benefits.
Additional Time Outside
While having an RV makes it easy to enjoy camping no matter the weather, an outdoor kitchen means the ability to spend even more time in the great outdoors. Most outdoor kitchens have awnings above them too, so you won't get rained on while cooking. A highly common reason many people take to the road in an RV is to get closer to nature, and an outdoor kitchen is a great way of doing this.
Less Smell And Noise Inside
Whether you're camping with a number of people inside your Class C RV or not, having an outdoor kitchen means having the option to cook an early camp breakfast without waking anyone else. You can always go outside to make your coffee and whip up a quick meal, which allows everyone inside a bit of peace and quiet, as well as less odor from cooking.
Easier Cooking For Large Groups
If you're camping with a large group of people, you may realize that your indoor RV kitchen can't handle the task of cooking for so many people. While you can always cook over a campfire, having an outdoor kitchen can give you more options for both meal prep as well as cleaning up! It can also help minimize stress when preparing meals, and people may be more inclined to help out with the meal if you're cooking it in a spacious area outside.
Keeps RV Cooler
There's nothing worse than cooking inside a cramped RV in the summer. By purchasing an RV with an outdoor kitchen, you can avoid adding excess heat to your cool RV by simply cooking outside! Even in the hottest of summer weather, eating nutritious food is still important, and an outdoor kitchen can help make prepping healthy meals easier.
No Washing Up Inside
Sometimes, the biggest perk of an outdoor kitchen on an RV is the fact that you can wash your hands or otherwise wash up without needing to go inside. If you travel with children or animals frequently, you may find having an outdoor sink makes all the difference in the world in terms of keeping the interior of your RV clean!
While these reasons may be enough for you to feel confident in purchasing a Class C RV with an outdoor kitchen, you may also find an outdoor kitchen is a luxury purchase you don't necessarily need to make. Exterior kitchens are a must for some RVers, but not for all.
You may find these secondary stations take up more space than you like, and it also means doubling the number of appliances and plumbing lines to maintain. However, if you love cooking and plan on doing so frequently while you camp, having an outdoor kitchen can make your life considerably easier, as well as inspire you to cook more in nature!
What To Consider In A Class C RV With An Outdoor Kitchen?
If this is your first time shopping for a Class C RV with an outdoor kitchen, you may be wondering what you should consider in a floor plan or particular model. Let's go over some helpful tips and shopping tools for your Class C RV with an outdoor kitchen now!
Layout Or Floor Plan
Whether you're shopping for a Class C RV, a travel trailer, or a large Class A motorhome, choosing an RV with a convenient layout is a must. While you may not know exactly what you're looking for right off the bat, it's important to familiarize yourself with a number of RV floorplans to find one that works best for you and your family.
Besides an outdoor kitchen, it's essential to consider other priorities you have for a Class C RV. Some of these priorities may include the ability to boondock, a large master suite, spacious theatre seating, and more. Plus, there are many features and perks to certain layouts you might not even be aware of!
If you're able, I highly recommend traveling to your local RV dealership to tour or otherwise check out a variety of RV layouts. This provides the opportunity to ask whatever questions you may have and get a true feel for the particular Class C you have your eye on.
Class C Length And Size
While Class C RVs are easier to drive than many other large RV options, it's wise to pay attention to the overall size and length of your desired Class C. This is because the longer the RV, the more difficult it can be to drive. Height is also important, and Class C RVs can get quite tall.
The average Class C RV ranges in length from 20 feet to over 40 feet long, depending on the make and model. While you may find 20-foot Class Cs aren't big enough for your family, a 40-foot-long Class C RV might be too large!
You should also keep in mind that many parks and RV camping destinations have site length limits, and generally, the longer your rig is, the harder it will be to find a space and get parked up. There's a floorplan and Class C RV size for everyone, depending on your needs and comfortability on the road, but you should definitely consider how big you want an RV to be before you begin shopping.
Indoor Kitchen VS Outdoor Kitchen
It's important to remain realistic about the features and appliances found in both your indoor and outdoor kitchen. Since you're shopping for a Class C with an outdoor kitchen, it's obvious that cooking is a high priority! However, you likely won't have everything you want in both kitchen setups.
The indoor kitchens on most Class C RVs have microwaves, stove tops, sinks, and fairly large refrigerators. Outdoor kitchens have either stove tops or griddles, sinks, and a small counter space. You may or may not have a small refrigerator outdoors, along with a microwave, but the chances of having everything you need outside are slim.
It's safe to say the majority of your cooking and prep should happen inside, though some outdoor kitchens are more well-equipped than others. If you want to prioritize cooking outside, focus on RVs with an outdoor kitchen rammed full of features!
How Many People Do You Want To Host?
Similar to your floorplan desires, ensure you find a Class C RV capable of hosting the average number of travelers you plan on bringing along while you camp. All RV listings should be able to indicate how many people can sleep comfortably inside, but this is also an easy question to ask an RV dealership.
If it's just you and your significant other traveling, you likely won't have any issues finding a Class C RV with an outdoor kitchen able to sleep both of you comfortably. However, for traveling with a large group of friends or many other family members, you may need to work a little harder to find something to suits everyone.
Thankfully, Class C RVs are broken up into two different categories: the classic Class C RV and the newly manufactured Super C RVs Super Cs are desirable because they are very large, offering a variety of different sleeping arrangements and living areas to suit large groups. This is something to keep in mind as you shop, as a Super C may suit your lifestyle far better than a classic Class C RV!
Awnings And Outdoor Setup
Let's say you find a Class C RV with an outdoor kitchen, and everything is just about perfect. You go ahead with the purchase and head out on your first vacation, only to find that the practical outdoor set-up is terrible! Prior to a Class C RV with an outdoor kitchen purchase, explore the exterior features, and see whether the outdoor kitchen setup works well for you.
It's a good idea to see if there's an awning above the kitchen too, so it's possible to use it even in inclement weather. You should also make sure the kitchen doesn't interfere with any other RV elements, such as an outdoor entertainment center or exterior shower. Hopefully, the RV manufacturer has already thought about these types of considerations, but it isn't unheard of for a Class C RV to have an ill-fitting layout!
Boondocking Ability
While this may not matter to all campers, there are a number of people who purchase a Class C RV with boondocking in mind. Also known as dry camping, boondocking is the ability to camp without RV hookups or utilities, as everything remains self-contained. There are a number of Class C RVs on the market today with outdoor kitchens that also have fantastic boondocking features as well.
However, you may need to consider your budget if you are hoping for an off-grid Class C RV. Many popular boondocking features such as solar and propane-free options can cost more than the average Class C RV. Depending on the manufacturer, you can typically add these features after the initial purchase price, but you should know that it will cost more overall.
Towing Capabilities
Something many new RVers may not know about Class C RVs is the fact that they can tow cars or boats behind them, depending on their towing capacity. If this is something you're interested in, be sure to check out the relevant numbers and statistics before making a final purchase. Having the option to tow a residential vehicle or other equipment behind a Class C RV can be a huge plus. It gives more freedom to enjoy camping adventures, though it will make your Class C a bit more difficult to drive.
Safety while towing is paramount, and it's wise to keep things level, and avoid towing any more than your RV's towing capacity can handle. Knowing the relevant figures and weights before heading to the dealership will be a huge help in eliminating certain rigs immediately, and focussing on ones that are up to the job.
Budget
Last but not least, having a particular budget in mind before shopping for a Class C RV with an outdoor kitchen is a wise idea. Depending on the size and features available, Class C RVs range in price from under $100k to over $400k for luxury Class C RVs.
Given the fact there are so many options on the market today, you'll likely find a Class C to suit your budget. However, it's essential to remain realistic about the amount you can spend, and how much things cost, including an outdoor kitchen if it isn't a standard feature.
9 Best Class C RVs With Outdoor Kitchens
Feeling confident in all of your needs and wants when it comes to a Class C RV? Let's take a look at our top 9 Class C RVs with outdoor kitchens so that you can find the best option for you and your family now!
Interior Height: 7′
MSRP: $172,950
Exterior Length: 32′ 7″
Exterior Height: 11′ 2″
The Thor Quantum has ended up topping many best Class C RV lists, and for good reason! This adventure wagon boasts 8 creative floorplans, but the Thor Quantum PQ31 is the only layout with an optional outdoor kitchen. This is one of the new floorplans from the brand, and it has Thor's innovative design all over it!
The outdoor kitchen in the Thor Quantum PQ31 is far more than just a simple one-burner stovetop and a section of counter space. Instead, the exterior kitchen rests on an easy-to-use slide-out, which reveals a griddle and 12V cooler. The griddle is made from cast iron, so it's best to avoid using it when the rain is beating down.
Along with the griddle and cooler is an abundance of storage space in the outdoor kitchen cubby hole, ideal for keeping drinks on standby. Continuing to the interior of the Quantum, this Class C RV can sleep 6 people, thanks to the rear walk-around queen bed, jack-knife sofa, and cab-over sleeping bunk. This means everyone has a dedicated sleeping area they can return to whenever needed on vacation.
Built on a Ford Chassis with a gasoline engine, the Quantum is a large and powerful RV. The hitch weight of this Thor is an impressive 8,000lbs, which means there are no issues with towing a car or boat, as long as they fit into the weight capacity. While we're focused on exploring great outdoor kitchen options, the interior kitchen on the Quantum is functional and attractive.
It has plenty of counter space with a large open section between the sink and microwave oven. The kitchen is located opposite the dinette and sofa, making it easy to cook and entertain when guests are visiting. There's a two-burner gas cooktop with a single induction cooktop, a 12v refrigerator, and solid surface countertops throughout.
The Quantum PQ31 has a substantial starting price of just over $172k, making it a large investment, especially for new RVers. This is also the only Quantum floorplan featuring an exterior kitchen option, so there isn't an abundance of choice throughout all of the layout options, including cheaper ones. The outdoor kitchen also isn't a standard feature and will likely incur additional costs, increasing the final purchase price considerably.
Pros:
Ability to sleep up to 6 people
8,000lbs towing capacity
Roof ladder as standard
Cons:
Only 1 floorplan with an outdoor kitchen
Outdoor kitchen isn't a standard feature
Interior Height: 7′
MSRP: $156,668
Exterior Length: 28′ 8″
Exterior Height: 11′ 6″
The Thor Quantum is a large motor, and if it's a little too big for some RVers, the Jayco Redhawk is an awesome, smaller option to consider. Although this Class C RV is available in a variety of layouts, the Jayco Redhawk 26M is the only floorplan with an outdoor kitchen. Jayco has utilized the exterior of the Redhawk by including storage cubbies wherever possible, and the exterior kitchen is a feature you'd nearly miss, it's so well packed away!
There's a refrigerator, storage, power outlet, a light, and a large griddle for cooking up a feast for the entire family. I love the storage compartments on either side of the exterior kitchen as these can be used in a variety of ways, but I'm tempted to use them for extra tinned food or drinks, especially when going off-grid! Not only is the Redhawk compact, but it's also great for full-time living.
At the rear is a spacious dry bathroom, with a shower, toilet, sink, and abundant storage so no comfort or practicality is lost. While the primary bed is a queen Murphy setup, this has the advantage of opening up the floor space during the day, creating the illusion of a big Class C RV. I'm not sure how well I would fare having to set up a bed every day, but for the extra walk-around space during the day, it seems like a no-brainer.
Full-timers may seek a traditional bed, and if so, it's worth exploring other Redhawk floorplans, though the exterior kitchen isn't available across all layouts. Overall, the Jayco Redhawk is a compact, and budget-friendly Class C RV with an outdoor kitchen option that's sure to impress everyone at the campground.
Pros:
Compact length under 30′
Affordable
Large awning over outdoor kitchen
Cons:
The main bed is a Murphy set-up
Only 1 outdoor kitchen layout
Interior Height: 6′ 11″
MSRP: $163,159
Exterior Length: 32′ 11″
Exterior Height: 10′ 11″
Spacious and affordable, the Coachmen Leprechaun is a Class C RV ideal for small families with a few different sleeping options, an abundance of interior space, and an exterior that shines. The Coachmen Leprechaun 319MB is one of only 2 floorplans to feature an outdoor kitchen. At nearly 33 feet long, the Leprechaun has an abundance of sleeping space for the entire family and even pets.
It's hard to find a Class C RV that considers the importance of external features just as much as the interior, but the Leprechaun doesn't disappoint! Instead of simply having a griddle that's stowed away in an outside compartment, the 319MB layout has a full camp kitchen, boasting everything including a table and a mini refrigerator.
The external kitchen is situated alongside the outdoor entertainment system, so I can cook away into the night and enjoy groovy tunes while doing so! Inside this Coachmen Class C is a functional layout, with a convertible u-shaped dinette, a large walk-around queen bed, a sofa, and an over-cab bunk area.
Having such an array of comfortable sleeping areas means the whole family can sleep soundly, and there's no need to interrupt one another, making for a happier camping trip. The bathroom isn't the most spacious that I've seen on a Class C, but it has all the essentials, including a separate toilet and shower, making things more convenient for families.
In terms of storage, this layout has abundant storage throughout, including wardrobes and closets in the master bedroom. This means I feel comfortable bringing everything I need along on the journey, and I can keep my belongings packed away neat and tidy for the duration of the trip.
Pros:
Exterior entertainment system and camp kitchen
Separate toilet and shower
Large over-cab bunk
Cons:
Ladder prep only
Basic interior design
Many options aren't standard
Interior Height: 6′ 8″
MSRP: $207,707
Exterior Length: 23′
Exterior Height: 10′ 6″
The Winnebago EKKO is a favorite RV on many different lists, including our list of some of the best Class C RVs with outdoor kitchens. I've trusted the Winnebago brand for years, and I'm always excited about the additions to their new models, and the 2024 EKKO doesn't let the company down. This compact and easy-to-drive RV includes a number of surprises I struggle to see with different Class C models, including a functional external kitchen.
The EKKO has a captivating, sleek aesthetic, and this is matched well with the exterior features, such as the outdoor kitchen, equipped with a chest-style 12V refrigerator/freezer, a two-burner cooktop, countertop extension, faucet, sink, and LP quick-connect hose. Resting on a 23-foot chassis, the Ekko offers my inner adventurer a number of different features ideal for boondocking and traveling off the beaten path.
The all-wheel-drive system and slightly raised chassis of the EKKO make it a breeze to drive on a number of different road styles and terrains. This is exactly the kind of peace of mind I need when I'm heading down to the lake or into the mountains, as I need a Class C capable of taking me where I want to go. Other convenient boondocking features include solar panels and on-demand hot water, but one of the most surprising perks of this RV is the outdoor kitchen.
I love that the kitchen is stored in a convenient outdoor storage compartment, which is something the EKKO has plenty of. In fact, the Ekko has garage-style storage compartments, allowing me to store kayaks or bicycles toward the back of the rig, without anything encroaching on the internal living space. Plus, I can also store items on the roof if needed, with the support of a built-in roof ladder and roof rack.
This is one of the best compact Class C RVs on our list, but that doesn't mean it's only suited to solo travelers or couples. In fact, it's possible to sleep up to four people inside this Class C. This is largely due to the convertible twin-bedroom setup along with the raised roof bedroom, with the option of a lofted bunk. Not only is this unique, but it also provides a bunch of storage above my head.
With a starting price of over $200k, it's no secret that the Winnebago EKKO is a sizable investment and one that many RVers may not be able to stretch to. The EKKO is bursting with fantastic boondocking features and off-grid ability, but every perk is represented by the hefty price tag.
Pros:
Unique AWD and boondocking rig
Highly functional exterior kitchen with ample storage
Cons:
Over $200k!
Small bathroom
Interior Height: 6′ 11″
MSRP: $147,887
Exterior Length: 32′ 11″
Exterior Height: 10′ 11″
Similar to the Coachmen Leprechaun, the Freelander is another budget-friendly choice for RVers searching for an outdoor kitchen on a Class C RV. The Coachmen Freelander 31MB floorplan works well for a variety of travelers, given the split bathroom, the master suite, and the impressive exterior kitchen.
Starting in the master suite, there are multiple closets and wardrobe solutions for the whole family. Moving toward the living room brings me into the bathroom, with a separate toilet and shower. I enjoy this feature as it means my partner and I can stay out of each other's way during our morning bathroom routines!
In typical Coachmen style, there are a multitude of ways to upgrade and change the Freelander. The living room can be outfitted with theatre seating instead of the standard sofa, and it's possible to add an electric fireplace too. The television is automatic, raising and lowering into kitchen countertops which brings dual-purpose to the space, providing ample countertops and a convenient entertainment center.
The U-shaped dinette provides plenty of seating for everyone indoors, though it's also possible to sit outside and enjoy the outdoor kitchen to the fullest. Just like the Leprechaun, the outdoor kitchen has a separate mini-fridge and all-shape design, giving abundant prep space along with a handy sink and stovetop.
Much like the other Coachmen RV on this list, this Class C RV needs some loving in order to feel like a home. The interior design is quite basic and the overall feel inside this rig is forgettable as there are no unique features to make it truly stand out from the rest. However, priced fairly, the Freelander offers just about everything needed in an RV without breaking the bank!
Pros:
Spacious floor plan that sleeps 6
Plenty of storage, inside and out
Outdoor kitchen with a stovetop, a sink, and a mini fridge
Cons:
Interior design is basic
Solar power isn't standard
Interior Height: 7′
MSRP: $173,198
Exterior Length: 28′ 8″
Exterior Height: 11′ 8″
The Entegra Coach Odyssey is a Class C RV that not only has an outdoor kitchen available on the 25R floorplan but also has a stunning interior design that's unique to just about any RV manufacturer. This RV is luxury and functional all in a 28′ long chassis. Everything from the contemporary tile backsplash in the kitchen and bathroom, the rich wood cabinetry throughout, and the luxury upholstery covering the dinette and sofa shows how Entegra Coach is pushing the bounds of RV interiors.
The layout of the Odyssey is similar to the layout of the Jayco Redhawk, with a large rear bathroom, queen-size bed, and a convenient sofa bed in addition to the cab-over bunk. I like how spacious the Odyssey feels, even with the ability to sleep 6 people. The floorspace is plentiful which means no bumping into one another while moving around inside the RV.
Outside, the kitchen is covered by a large 19-foot awning, and there's an outdoor entertainment center too. While there isn't as much outdoor counter space as there is indoors, the outdoor kitchen has a convenient refrigerator and cooktop area, which means I can make whatever camp meals I want outside as well as in!
Upgrading the electrical system is possible, with the addition of 200W solar panels, with a dual controller and second house battery. Although, for the price, it would be nice for this feature to be standard, having a reliable energy system is a game-changer for keeping powered up off the grid, away from the campground.
Pros:
Unique interior design
Outdoor kitchen area has an awning and entertainment center
Large bathroom and electric fireplace
Cons:
High price point
200W solar setup is extra
Interior Height: 7′
MSRP: $155,511
Exterior Length: 30′ 9″
Exterior Height: 11′ 3″
Purchasing an RV for the first time is an exciting and nerve-wracking time! There's a lot to think about, including what the best Class C RV with an outdoor kitchen that's suitable for beginners might be. Well, the Forest River Forester Classic 2861DS is an awesome starter rig, built by one of the biggest names in the RV world.
Often considered the sweet spot of Class C RVs, the Forester floorplan 2861DS is just under 31′ long, and the layout makes use of every inch of space. In the rear of the camper van is a queen-size bed with wardrobes and additional storage to keep belongings tidy and organized. In the middle of the rig lies a bathroom with a separate toilet and shower for ultimate convenience, before leading into a well-equipped kitchen.
Cooking is a big love of mine, but the disjointed feel of the kitchen in the Forester Classic interrupts the flow of the space. The interior kitchen doesn't lack appliances, but it feels somewhat cramped as features are in entirely different places. It's not the most convenient setup, but I think the outdoor kitchen makes up for this disappointment.
The exterior kitchen has everything I can think of needing in an RV kitchen, and moreover, everything is in one convenient, easy-to-use place. There's a fridge, cooktop, and entertainment center, along with a small, but helpful amount of counter space. In addition to this, an awning covers everything, keeping me dry and protected from the elements while I cook up a healthy dinner for the whole family.
Forest River is a great brand to start any RV journey, and I highly recommend reading our full review of this particular brand to learn more about what it offers. The price point on the Forester is fair, and this RV has just about everything I can think of for a newcomer.
Pros:
Abundant storage throughout
Well-equipped exterior kitchen
Separate toilet and shower
Cons:
Over 30′ long
Interior kitchen feels disjointed
Interior Height: 7′
MSRP: $306,750
Exterior Length: 37′ 8″
Exterior Height: 12′ 7″
Just under 38 feet long, the Magnitude from Thor is a wonderful choice for those seeking a larger rig than a standard Class C RV, with style and luxury at the forefront. The Thor Magnitude RS36 is built on a reliable Ford chassis and has a sleeping capacity for 6 people, though it does have a considerably high asking price of over $300k.
It's important to note the sheer volume of features included in the price tag and the extremely high standard Thor's Super C's are known for. When I first walk into the Magnitude, I can immediately see that the layout is well-appointed and thought-out, with an outdoor kitchen that's particularly lovely, along with a large living space, functional indoor kitchen, and huge master bedroom.
This bedroom has a power lift king bed I walk around, and it faces an entertainment center and wardrobe setup so my partner and I can keep our belongings separate and organized. There's also a robust cab-over bunk and bunk beds, making this rig the ideal solution for large families in need of multiple sleeping areas.
While the interior kitchen is stunning, the outdoor kitchen is excellent too. It has a sink and refrigerator, along with a humble amount of counter space so I'm able to prep food both inside the RV and out. Plus, everything is covered by a convenient awning, allowing me to continue cooking outside even as the seasons change.
The Thor Magnitude is a huge rig, and there's no denying that this may make it harder to drive for some explorers. However, the outdoor kitchen is a huge bonus, and with a 12,000-pound towing capacity, there's no issue bringing a car along on vacation too for another convenient way to adventure around.
Pros:
High-quality finish throughout
12,000lbs tow capacity
Large fresh water capacity of 75 gallons
Cons:
Expensive at over $300k
Compact bathroom
Interior Height: 7′
MSRP: $306,750
Exterior Length: 37′ 8″
Exterior Height: 12′ 7″
The Thor Omnia is pretty much the same as the Magnitude, aside from different aesthetic features such as color schemes. Starting a little over $300k, the Thor Omni is likely not within everyone's budget, however, it's a luxury Super C RV option, with the Thor Omni RS36 boasting a great outdoor kitchen. The Omnia is a fantastic rig for hitting the road full-time as it's a durably built and practical camper van.
Nearly 38 feet long, the Omni offers RVers ample interior living space and 75 cubic feet of exterior storage for keeping the inside clutter-free. The outdoor kitchen is under the power awning and has everything needed to cook delicious meals outdoors in nature. A plumbed-in exterior sink, faucet, and additional refrigerator make any meal possible.
Not only is this RV spacious and convenient, but it also has plenty of closet space and shelving. This particular floorplan of the Omni can have either bunk beds, or the bunk beds can be converted into additional closet space, making it ideal for full-time living.
Another ideal amenity to help with living in an RV full-time is the fact that it's possible to add a washer and dryer in the master bedroom of this RV. Speaking of the master bedroom, the walk-around king bed on board this particular floor plan is ideal for the full-timing couple, particularly seniors.
The bathroom is also spacious, and the kitchen is equipped with plenty of counter space as well as a pantry beside the residential-size refrigerator. While this Super C may be a bit more difficult to drive than other Class C RVs on this list, there's a lot to love about this floorplan. So long as you can afford it, the Omni is a great choice for those hoping to live full-time in an RV!
Pros:
Washer and dryer prep
King-size walk-around bed
Plumbed-in exterior sink
Cons:
High price-point
No separate toilet or shower
Final Thoughts
Finding a Class C RV with an outdoor kitchen can be tricky, but this article has hopefully helped highlight some of the best options available on the market today. With all of your needs and wants in mind, you should have no trouble choosing a Class C RV with a reliable and efficient outdoor kitchen, giving you the freedom to cook in the great outdoors!