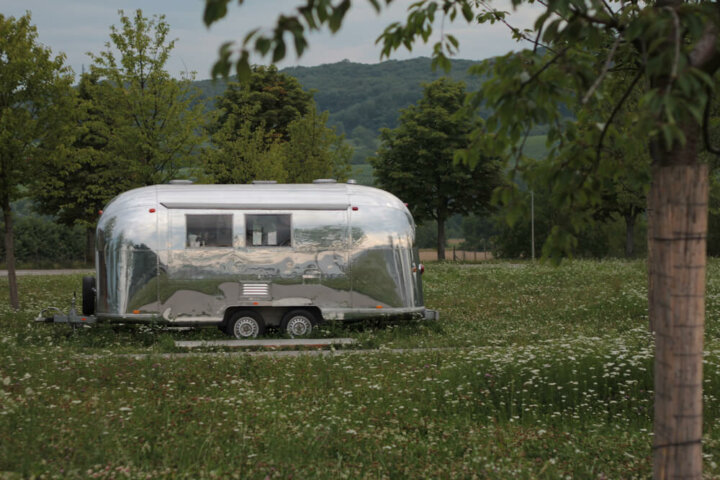 All of our reviews are based on exhaustive research, industry experience, and whenever possible, hands-on testing. When you make a purchase using one of our chosen links we'll get a small percentage of the proceeds. This supports the site and keeps Jeffsetter running. You can read more here.
If you are interested in living in an Airstream full-time, there are a number of things for you to consider before jumping in. Many people who transition into living in an RV full-time have many regrets, but there are just as many benefits by comparison! But what is it like living in an Airstream in particular?
In this article, we will address everything you need to know about living in an Airstream full-time, including some Airstream models that may suit this lifestyle well. We will go over everything you should consider before transitioning into full-time RV living, as well as whether or not you can even live in an Airstream full-time. Let's get started now!
Only interested in checking out our list of Airstreams that are most suitable for full-time living? Use our table contents to navigate to this section of this article now!
Can I Live in an Airstream Full Time?
First things first, nothing is stopping you from living in an Airstream full-time. There are no rules that say that Airstreams are illegal to live in, and there are no reasons for you not to if you are interested in living full-time in any type of RV, period.
Airstreams are some of the most iconic RVs on the market, and they have maintained this status for decades. The very first Airstream was manufactured back in the early 1900s and their silver aluminum exteriors are truly memorable and unique to this day.
When it comes to deciding whether or not an Airstream is right for you to live in full time, there are a few things for you to consider. However, comparing the Airstream brand with any other brand of RV, you'll find that the average Airstream is much more expensive, but also well-built by comparison.
This is typically where RV customers make their decision as to whether or not they want an Airstream. If they have the budget to afford one, many people opt for an Airstream given its iconic brand name, quality build, and resale value. They also come well-equipped with features that are good for the average camper as well as the person hoping to live in their RV full time.
But what else should you consider before living in an Airstream and calling it your permanent home? Let's take a closer look!
What to Consider Before Living in an Airstream
From the layout to the maintenance, what should you consider about Airstreams and full-time living? Here are our top things for you to think about before shopping.
Length and Weight
While you may want to choose an Airstream Class B RV to live in full-time, the majority of Airstream RVs are travel trailers. That's right: if you want to live in an Airstream full-time, your only options are a Class B touring coach or a travel trailer!
This means that you need to choose a tow vehicle that can properly handle the length and weight of your Airstream travel trailer. Thankfully, there are a number of different sizes of these iconic silver bullets, so you likely won't have many problems finding something that suits your lifestyle as well as your weight limits.
Depending on the model that you choose, Airstream travel trailers range in weight from 1500 to close to 8000 pounds. This is a large range, but even the largest Airstream models average less than 8,000 pounds, making them ideal for a variety of tow vehicles. However, knowing roughly the size that you want and need is a good idea before you start shopping!
Budget and Upgrades
The primary reason most people choose a different make and model of a travel trailer is the fact that Airstreams are extremely expensive. The prohibitive cost of these iconic RVs makes the average full-timer opt for something else. However, how much are Airstream travel trailers and what sort of upgrades do they offer?
Depending on the option you choose, Airstream travel trailers range in price from $46k to well over $200k. Plus, this isn't even the price of their touring coaches, which are far more expensive on average compared to travel trailer prices.
To put things into perspective, the average travel trailer built by most other RV manufacturers costs anywhere from $20k to $80k, with some options costing over $100k. However, the largest and most luxurious Airstream travel trailers cost over $200k, depending on the features that you end up choosing.
Speaking of features, the good news is that most Airstreams come fully loaded and don't require very many upgrades or additions. However, if you want your Airstream travel trailer to be well-equipped for boondocking, or perhaps you have specific needs that only an Airstream expert can address, you should anticipate an increase in the initial purchase price!
Layout and Floor Plan
One of the most important things for you to determine before living in any type of RV full-time is the layout and floor plan that works best for your lifestyle. There aren't very many choices when it comes to Airstream layouts, but some models offer more floor plans than others. However, given the shape of these iconic travel trailers, there isn't too much that you can do inside.
Something that's important to note about Airstream travel trailers is the fact that they are not built with slide-outs. Their rounded, aluminum exterior cannot be maintained with slide-outs in mind, so the standard shape is the only shape that you will have, so keep this in mind if you are used to having an RV with slide-outs!
Thankfully, Airstream considers that people want to live full-time in their RVs, both the touring coaches and the travel trailers. There are countless floor plans and layouts that suit full-time living, including options with desks and bunk bed options for the kids.
Maintenance and Repairs
Something to consider about owning an Airstream is the fact that you will need a specific person that is equipped to deal with any maintenance or repairs that you might need. Perhaps that person is yourself, as many of us who live full-time in an RV do all our own repairs and maintenance!
However, given the fact that the average Airstream RV is built out of very specific materials and is a fine-tuned machine, you may want to ensure that your RV is taken care of carefully. Airstream offers all new RV purchases a comprehensive warranty package, but this warranty is likely voided if you get it repaired incorrectly.
This means that your Airstream will likely cost more than the average travel trailer in terms of annual maintenance and repairs. However, Airstreams are also better built than most other RVs, with their seamless exterior and high building standards to begin with. You may not need many maintenance and repair jobs compared to the average RV owner, but this is definitely something to keep in mind!
Storage and Personal Space
Given the fact that Airstream travel trailers do not have slide-outs, you may find that living full-time in one with anyone else may make you long for more personal space. This is definitely something for anyone planning on living full-time in an RV to keep in mind, as personal space is always at a premium. There's always the great outdoors, but sometimes it's nice to stay inside and be alone!
Airstream layouts are set up well, but there's only so much space within them. You may find that your primary living room area is also your dining area, or perhaps your bedroom isn't separated from the rest of your rig. These are all things to consider before you fall in love with a particular model and floor plan.
In addition to interior living space, you may find that the average Airstream doesn't have any storage space, especially if you want to live in your RV full-time. There are very few solutions for an RV that doesn't offer you enough storage, so this is definitely something to keep in mind as you shop.
If you are able, I highly recommend touring Airstream layouts and floor plans in person so that you can get a full scope of how much space there truly is. While Airstream travel trailers are some of the best, top-of-the-line options being manufactured nowadays, that doesn't mean they will work for your full-time lifestyle!
Our Top Airstreams for Full-Time Living
Are you curious what some of the best Airstreams for full-time living might be? Here are some popular options, including some Airstream touring coaches if you are seeking a Class B RV for full-time living!
With multiple lengths and floor plans to choose from, the Airstream International is a great choice if you are just beginning your full-time RV journey. While it starts over $100k, the International is a great choice for those of you seeking something functional, comfortable, and beautiful. Let's check out what features it has to offer you now.
With a weight of around 5,000 pounds, the International is easy to tow by a number of vehicles. This is especially true for the shorter models, as even the 23-foot-long floor plan had a lot to offer the average full-timer. Plus, the interior design of this particular Airstream helps it feel light, bright, and open.
Speaking of interior design, the International strives to keep things modern and contemporary, but without sacrificing comfort. No matter what floor plan you choose, you have innovative and natural color palettes to choose from, alongside durable upholstery and flooring options. There are even some attractive herringbone laminate floors that are truly unique in the RV world.
Depending on the size you choose, storage space may be at a premium, but this is definitely an option to consider as your first RV to live in full-time!
With the most floor plans, particularly floor plans built for families, the Airstream Flying Cloud is arguably the most popular Airstream model on the market today. Starting at $94k, the Flying Cloud offers full-timers an easy-to-clean interior without sacrificing elegance. Let's check out what this rig has to offer now.
You can sleep up to 8 people inside the Flying Cloud, depending on the floor plan. There is a bunk bed layout that is perfect for families that want to live in this rig full-time, offering plenty of communal living space as well. While it may not be as spacious as travel trailer options with multiple slide-outs, it's certainly plenty of room for the average family of four.
Even the smallest Flying Cloud model is perfect for living in full-time, at 23 feet long with a spacious rear bathroom. There is storage throughout all of these rigs, elegantly displayed and set up. Plus, most of the furniture is convertible so that you have additional sleeping space if you need it.
One of the most elaborate areas in the entire rig has to be the kitchen. There's plenty of storage space, which is necessary for the average family. In addition to this, you also have fantastic heating and cooling on board, as well as the option to add solar panels and other boondocking features.
This is a great choice for families that want to live in an Airstream full-time, but just keep in mind that there's only so much space on board an Airstream at any given time!
Starting at $289k, the Airstream Atlas is the most expensive option that Airstream makes, both out of their travel trailers and Class B touring coach models. It's obvious when you see the Atlas why this might be. With a reliable diesel engine, plenty of luxury, and even a slide-out, the Atlas has it all– for a price, of course!
At 24 feet long, you may be wondering how all of your necessary full-time amenities might fit in this rig. It's true that the Alas will be smaller than many other Airstream travel trailer options, but this rig makes up for it with a large living room slide and a murphy bed set-up that keeps things streamlined during the day.
The kitchen on the Atlas is stunning, despite it being fairly compact. And the bathroom can be considered a residential bathroom because of its size and amenities, as well as its luxury finishes. All of the interior design components of this RV are beautiful and built to last, just like all other Airstream models.
Built on a Mercedes-Benz chassis, you can expect high resale value from this RV as well as something that is reliable and easy to drive. However, know that this is Airstream's most expensive RV and you may not have the budget for this particular option!
The Airstream Caravel may not work well for everyone hoping to live in an Airstream full-time, given the compact size of this rig. However, with its clean lines and easy-to-modify interior, you can truly make your Caravel feel like home. Starting at $74k, the Caravel comes in a few different lengths and floor plans, all with beautiful interiors.
Only 16 to 22 feet long, the Caravel may not fit your dream of full-time living in an Airstream travel trailer. However, I live in a 19-foot-long vintage rig myself, and I fully enjoy the minimalist lifestyle that my partner and I share! This may not work well for everyone, but the Caravel certainly sets you up for success.
This particular Airstream is also fantastic for traveling, given its large panoramic windows and lightweight design. Their storage throughout, and some floor plans even offer spacious bathrooms as well as bedrooms. The price on this one is also right if you are just beginning your RV journey, but just make sure that the size of this rig works well for you!
Starting at $165k, the Pottery Barn Special Edition Airstream travel trailer isn't necessarily the most affordable of options. However, Airstream partnered with Pottery Barn to create a rig that is stunning, both inside and out. Let's take a closer look at all that it has to offer now.
One of the first things to mention about this particular travel trailer is the fact that there is only one floor plan and interior design option available. However, Pottery Barn has incorporated textures, high-quality finishes, and special furniture choices throughout the rig, including some outdoor furniture that you can set up once you make camp.
You have everything you need to live comfortably within this rig, particularly if you want to live in it full-time. All of the bedding and furniture are ridiculously gorgeous and comfortable, thanks to Pottery Barn. While the exterior looks like a standard Airstream, the interior is where this rig truly shines!
However, if you don't like the fact that this RV is only 28 feet long, or perhaps you don't like the Pottery Barn finishes, you should likely seek another Airstream model instead!
Final Thoughts
Choosing an Airstream to live in full-time is admirable and exciting. These beautiful RVs are iconic and beloved, boasting numerous features and a fantastic resale price, should you choose to no longer live in one. However, given their elegant appearance and practical features, you may enjoy living full-time in an Airstream for years to come!