Last updated on May 16th, 2023 at 07:11 am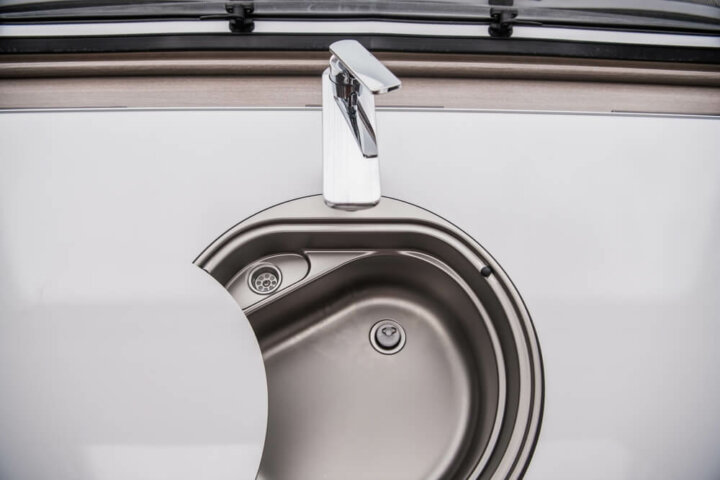 All of our reviews are based on exhaustive research, industry experience, and whenever possible, hands-on testing. When you make a purchase using one of our chosen links we'll get a small percentage of the proceeds. This supports the site and keeps Jeffsetter running. You can read more here.
Living in an RV is very different from living in a traditional home. You may be wondering whether or not you can use Drano in an RV, whether you want to use it in the shower, sink, or toilet. Can an RV handle liquid drain cleaners, or are these harsh chemicals simply too much for the plumbing found within the average RV?
So, can you use Drano in an RV?
While you may think the risk is worth taking, using Drano or any other type of liquid drain cleaner is not recommended inside an RV. The plumbing found on board an RV is much different from the plumbing in a traditional home, and the harsh chemicals found in Drano may harm your RV's plumbing irreparably.
In this article, we will address everything you need to know about using Drano in an RV, including some reasons why you might be tempted to utilize this product.
Additionally, we'll go over what happens in your RV should you choose to use a liquid drain cleaner and will give you some suggestions as to the types of products that can continually harm your rig.
Let's get started!
Can You Use Drano in an RV?
Unfortunately, you can never use Drano in an RV, in any capacity. Not only will you run the risk of damaging the delicate plumbing found within the average travel trailer or motorhome. But you also risk harming other people if you choose to dump your RV holding tanks that have come into contact with Drano.
Many RV dump stations and campgrounds prohibit the use of harsh chemicals such as liquid drain cleaners. This is to better protect other campers as well as the facilities put in place for RV dump systems. These facilities are also not made to handle harsh chemicals such as Drano, especially on a regular basis.
The same can be said for your RV. In general, Drano and any other liquid drain cleaners are considered caustic. Unless you purchase an all-natural drain cleaner, a caustic drain cleaner will clean your drains using a chemical reaction that generates heat. While this heat works well in a metal drain in a traditional residential home, let's think for a moment about what it might do in an RV.
Given the fact that RVs are made to be lightweight, most plumbing and pipes found within the walls of your RV are not capable of handling the heat generated by caustic drain cleaners. My vintage travel trailer has plastic piping and tubing found throughout, which means that any sort of heat would damage it beyond repair!
Let's take a closer look at how Drano might interact with your RV amenities, as well as what you might do to clear your drains without harsh chemicals.
Drano in an RV Sink
Your RV sink is likely to get clogged because of its consistent and regular contact with food and food particles. Many people utilize Drano in their sinks at home, whether it be their kitchen sink or bathroom sink. hair is a huge culprit for a clogged drain, something that Drano can certainly take care of.
However, in an RV setting, Drano can readily eat away at the plumbing in your kitchen or bathroom sink. The bends and twists of the average RV plumbing system also mean that Drano has the chance of getting trapped in a certain section of pipe and slowly breaking it down over time.
Plus, your RV sinks lead to your gray water tank. While all of the water found in this tank is disposable, it is often only disposable in locations that have little to no protection against harsh chemicals.
If you dump a gray water tank that has come in contact with Drano, you risk harming the water sources or any other drainage source where other gray water tanks get dumped.
Drano in an RV Shower
Similar to using Drano in your RV sinks, your RV shower drains into your gray water tank. While trapped hair and other particles in your shower can build up easily, both in a traditional home and in an RV, Drano is not the solution to this problem.
Not only can Drano damage the floors of your RV shower, but your pipes will also likely incur some damage. Plus, RV showers are often located with quick and easy drainage into the RV gray water tank, which could mean that even more Drano ends up in your tank than you expect. RV black and gray water tanks are not equipped to handle chemicals like this!
Drano in an RV Toilet
If you have ever considered using Drano in a toilet, it's important to note that an RV toilet is not an appropriate place for this type of product. RV toilets are often made out of plastic or other materials that could easily corrode or come into harm should Drano be put into them.
In addition to this, black water tanks are full of enzymes and natural resources that help you break down waste. If Drano comes into contact with these natural enzymes, the product will likely destroy these available resources.
Not only does this harm your black water tank in the short run, but it also makes it difficult for your black water tank to break down waste in the long run as well. There are plenty of solutions for unclogging an RV black water tank, but Drano is not one of them!
Can You Use Other Liquid Drain Cleaners in Your RV?
Unfortunately, most liquid drain cleaners are caustic in nature, making them ill-suited for an RV. This isn't to say that there are no drain cleaning solutions for you to try, but Drano and any other liquid drain cleaner full of harsh chemicals should not be used in an RV setting.
Many RV owners turn to natural or home remedies in order to unclog their RV drains. Because, just like in a residential home, clogged drains can and do occur. That's why it's important to know what works in an RV plumbing system and what should be avoided at all costs.
For example, boiling water may help do the trick with stubborn food clogs in your kitchen sink. You can also try vinegar and baking soda, as these two products interact to create movement in a drain.
You can check this video to see how it works!
Many people also find that vaseline, dish soap, and other lubricating agents help a black water tank from getting too much build-up.
No matter what solution you find, it's important that Drano is never one of them. We haven't gone into detail as to what happens when you use Drano in an RV and why it is so harmful. Let's discuss that now.
What Happens When You Use Drano in an RV?
To understand what fully happens in your RV should you pour Drano down a drain, we need to discuss how caustic cleaners work. Liquid drain cleaners use a chemical reaction to create heat that subtly dissolves or otherwise eats away at any obstructions in a drain. This sounds well and good conceptually, but the reality is not so reliable.
In a residential home, Drano can damage pipes if you use it continuously, as buildup can occur in the same place over and over again. This buildup can be difficult for Drano to get through, and the product often remains sitting in the drain longer than necessary. However, the average plumbing in a residential home can handle harsh chemicals such as this, given its metal material.
An RV plumbing system incorporates lightweight materials such as plastics and other fabricated materials. These are often not made to handle harsh chemicals, especially a caustic cleaner like Drano or any other type of liquid drain cleaner. Drano can't discern between a clog and a vitally important rubber gasket in an RV plumbing system.
Not only can Drano severely dry out and crack any rubber in your RV plumbing, but it can even eat away at these materials. The necessary components that keep your sewer valves from leaking are often the first victims after Drano has been used. Plus, your pipes and other RV plumbing components can't withstand the chemicals used in caustic drain cleaners.
At the end of the day, a clogged RV is not a happy RV. But the last thing you need is to cause more damage to your RV's plumbing by using Drano or another liquid drain cleaner. While home remedies don't always do the trick, Drano is notorious for damaging RV plumbing beyond repair!
Final Thoughts
We all know that baking soda and vinegar won't quite do the trick like a caustic drain cleaner, but Drano is an absolute no-go in an RV setting.
Whether you want to protect your RV plumbing or the dump station that can't handle harsh chemicals, keeping Drano out of your RV will ensure a long and healthy lifespan for your rig!