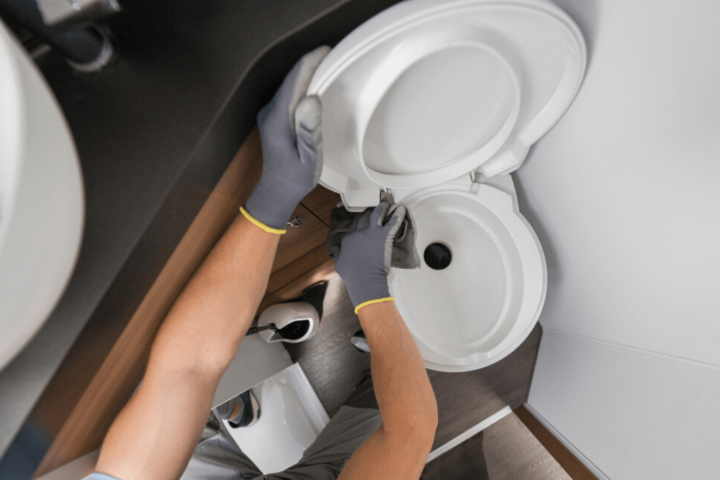 All of our reviews are based on exhaustive research, industry experience and whenever possible, hands-on testing. When you make a purchase using one of our chosen links we'll get a small percentage of the proceeds. This supports the site and keeps Jeffsetter running. You can read more here.
It's not a particularly fun subject to dive into, but important nonetheless, proper RV toilet cleaning is a basic part of the maintenance you need to do in your RV. You might be confused as to why this is a subject we need to dive into, but an RV toilet is not the same as the one you have in your home, so it needs to be approached differently.
So, how do you clean an RV toilet?
Cleaning your RV toilet is a relatively simple task, but you need to stay away from harsh chemicals that can degrade it. Using natural or specially created cleaners for an RV toilet and a soft bristled brush will clean your toilet without causing damage. Proper maintenance can keep away bad odors and bigger problems.
In this article, we will teach you how to clean your RV toilet, how your RV toilet might be different from the one in your house, and give you tips to maintain your RV toilet.
How To Clean An Rv Toilet
Even though your RV toilet has some notable differences from your home toilet, the actual step-by-step process of cleaning it isn't too dissimilar from what you probably do at home.
Step 1: Pour In Your Toilet Bowl Cleaner
No matter what type of cleaner you decide to use, you'll want to thoroughly spray or coat your toilet bowl in it. Don't forget to get it underneath and on the toilet seat as well. This part will usually get extra dirty because water doesn't typically reach it when flushing.
I'll explore what cleaners to use and what to stay away from further down in this article.
Step 2: Let It Sit
Give your cleaner time to marinate. The longer it sits, the easier it will be to scrub and rinse everything away because it gives the cleaner time to start to eat away at the dirt and waste in the bowl.
Most cleaners will have directions on them that tell you how long to leave it before scrubbing and rinsing, but I would recommend a minimum of 5 to 10 minutes. This is always a good time to wipe down your mirrors and clean out your sink or other surfaces in the bathroom.
Step 3: Scrub Away
This is where elbow grease and gloves will come in handy. After letting your cleaner do its job, you'll want to be sure to have gloves on and a scrub brush. Use the brush to get rid of any stubborn waste.
Before scrubbing, take note of the material your RV toilet is made out of. A scrubber brush with hard bristles will likely scratch your RV toilet.
Step 4: Flush & Rinse
Once you've gotten everything scrubbed out of the bowl and off of the seat, you should flush the toilet. I would recommend flushing it a few times to be sure that all the cleaner is gone. If you need to take an extra step to get the cleaner off of the seat then you can use a bucket full of water to rinse it off.
If your RV toilet has a hose attachment to help keep it clean, then you can skip the bucket and the multiple flushes!
Hopefully, none of this seems too unfamiliar to you since the process should be similar to what you do at home. Where the process differs is in the products you should use to clean your RV toilet. A lot of the chemicals you use in your home toilet are too harsh for your RV toilet.
This video will show you the basics of how to use and how to maintain your RV toilet.
What Products Can You Use To Clean Your RV Toilet?
Your RV toilet isn't the same as your home toilet, so it needs different cleaning solutions and methods. A big reason for this is that your toilet flushes into your black water tank and some chemicals can mess with your tank's treatment to manage odor and breakdown materials.
1. Specialty Products
There are plenty of products on the market specifically designed for you to use to clean your RV toilet. The most popular options on the market are Thetford, Unique, and Dometic. These all work well and have different benefits.
The Thetford Aqua Clean is a bleach-free cleaner that can be used on all surfaces. The Unique RV Toilet Cleaner is actually a mix of bacteria and enzymes that will clean your toilet thoroughly. The Dometic Cleaner will also come with a tank treatment to help neutralize odors.
You don't necessarily have to go out and buy new cleaners for your RV toilet though.
2. Products You May Already Have
Some products you might have at home already can be used in your RV toilet. These products need to be used correctly in order to not damage your RV toilet though, especially if you use treatments in your RV's black water tank.
Pine-Sol can be used in your RV toilet. Specifically, when your RV is being stored, you can add a bit of Pine-Sol into the bowl to keep it from smelling.
If your toilet is stained and you need to deep clean it, you can use Clorox. Dilute the Clorox with water before use. Follow the same cleaning method as described above, but only leave it in the bowl for a few minutes before rinsing. Repeat until there is no odor coming from your toilet and the stains are gone. Flush the Clorox from your system and do not let it stand for too long so that no damage occurs.
3. Natural Solutions
Vinegar and water is a classic cleaning solution that is safe to use in many places, including your RV toilet. Use equal parts water to vinegar when using this method. If your RV toilet needs a deeper cleaning, you can leave this solution to sit overnight without being concerned about causing any damage.
It's always surprising how effective the classics can be, but it's a great method if you don't want to use chemicals or purchase cleaners specifically made for RV toilets.
4. Other Items You Should Use
You should never go about cleaning a toilet without wearing gloves. Not only do you want to keep your skin from touching the waste in your toilet, but you also should protect your skin from touching any chemicals or cleaning products you might be using.
Buying a pair of reusable rubber gloves is worthwhile as an RV owner. There are plenty of times they will come in handy and are easy to clean after use.
A silicone or soft bristle toilet brush is a necessity to clean your RV toilet properly. A dollar-store toilet brush probably won't do the trick. You don't want anything that is too abrasive because it can scrape and scratch the finish on your toilet bowl.
What To Avoid When Cleaning Your RV Toilet
As hinted above, there are plenty of things you might want to avoid when cleaning your RV toilet.
Bleach is the biggest thing to avoid using in your RV toilet. The exception is how I described using Clorox above as a deep cleaning method. There are plenty of people out there who would tell you to avoid using it even then.
Harsh chemicals can degrade the components of your RV toilet over time. This includes the pipes, the ball-valve seal, and the black water tank itself. Harsh chemicals can also eat away at the good bacteria in your black water tank that help prevent odors. This is especially true if you use treatments in your black water tank because the harsh chemicals will destroy those treatments which also wastes your money in the long run.
As I mentioned before, you should also avoid using harsh bristles or scouring pads when cleaning your RV toilet. Because they are often plastic, they can get scratched and the finish can be damaged if you are too harsh when scrubbing.
Is Your RV Toilet Different From Your Home Toilet?
RV toilets differ from the toilet in your home in more ways than you might expect. The toilet inside of your house is likely made of porcelain. RV manufacturers are always conscious of the weight inside of the vehicle, it's likely that the toilet in your RV is made out of plastic. This isn't always the case but it is more common than not.
Even if your RV toilet is made of porcelain, there are probably plastic elements you'll need to consider when cleaning. For example, a brush with too harsh bristles might scrape and scratch the plastic.
Your RV toilet does not have a built-in p-trap and won't have a built-in water tank. Instead, your RV toilet uses the water from your RV's water tanks to flush. This will happen when you activate the flush with the pedal.
Like in an airplane bathroom, your RV toilet will have a flap that will open when the flusher is activated and that will drop or suck the waste or water from your toilet. This is called the ball-valve seal. It helps keep a small amount of water in the toilet bowl and it helps keep odors from wafting throughout your RV.
Types of RV Toilets
There isn't just one type of RV toilet, and the type you have might impact how you approach cleaning and maintaining it.
The most common one is connected to your RV water supply and has a pedal that flushes the toilet contents into your RV's black water tank. This is the type I described earlier in this article. It's also the one that this article explains how to clean.
You may have a composting toilet in your RV. These don't need to be hooked up to any plumbing. The waste is dropped into a holding tank below the toilet and the liquids evaporate while the solids become fertilizer. Composting is the act of using waste to create soil or mulch and is an eco-friendly method of disposing of waste.
Some smaller RVs, pop-up campers, or truck campers, might use cassette toilets. These have a built-in tank for fresh water and a cassette for waste that can be dumped directly into the sewer. This type of toilet also does not need to be hooked up to plumbing.
RV toilets come in different shapes, sizes, and types. They are not interchangeable with your home toilet and it's worth doing some research to figure out what will suit your needs best!
Tips to Maintain Your RV Toilet
While RVing is an extremely enjoyable experience, we still have to do certain things that are less exciting, like keeping the toilet clean but also making sure it will keep working properly during our trips, so let's check out some maintenance tips for your RV toilet!
1. Dissolvable Toilet Paper
Using regular toilet paper in your RV toilet can cause clogs and bad odors in your holding tank. There is also a possibility that the toilet paper can cling to the sensor in your holding tank which can cause inaccurate readings.
To avoid this, you can use dissolvable toilet paper that is made especially for RV toilets. You can also go a step further and simply throw your toilet paper away instead of putting it down the toilet.
2. Treat Your Tank
Treating your black water tank is an important step in cleaning and maintaining your RV toilet. These treatments can help neutralize odors and help break down waste and paper products in your tank.
There are a lot of different treatments on the market, and it can get overwhelming knowing which one to pick. In this article, we help break it down for you to make your decision easier!
3. Maintain Your Black Water Tank
Maintaining your black water tank is a big part of being a responsible RV owner. It's an important part of regular maintenance to keep you from dealing with bad odors, and other issues that can arise if you don't regularly dump the black water tank on your RV.
How often you should dump your RV tank is dependent on how many people use it and how much water you use. We explored this more in-depth so make sure to check this article right here.
4. Lubricate Your RV Toilet Seal
No matter how you decide to clean your RV toilet, a must in toilet maintenance is lubricating the seal. Not maintaining the seal can lead to problems like water leaks and bad smells.
The small amount of water that sits on top of the seal is the main barrier between your toilet and the smells in the holding tanks. If the seal is broken or degraded, then that barrier is compromised. You should lubricate the seal around once a year to keep it well-maintained.
5. Turn Off Your Vent Fan
This might sound counterintuitive. Most of us will turn on the vent fan when cleaning or using the toilet. It can dissipate odors and help In an RV bathroom, it's fine to have the vent fan off while cleaning or using the toilet but before you flush, make sure to turn it off.
If you run the fan while you flush, it basically sucks all of those odors and fumes out of your bathroom and into the vents. If you have it off while you flush, those odors and fumes will disappear into the holding tank.
Frequently Asked Questions
Below are some quick tips and answers to questions people often have about what they can and can't use to clean their RV toilet.
Can I Use Lysol Toilet Bowl Cleaner In An RV toilet?
You can use Lysol to clean your RV toilet, but it's important to keep in mind that harsh chemicals can kill the bacteria in your black tank that keep the bad smells at bay. Lysol should be used sparingly and is not what I would recommend as a first option.
Can I Use Vinegar To Clean An RV Toilet?
Vinegar diluted with water is a great natural cleaning solution. It's not too harsh but will get the job done and most people have vinegar lying around in their pantry so it's convenient. It can also help tackle mold and keeps smells at bay.
Can You Use Clorox Toilet Bowl Cleaner In An RV Toilet?
As mentioned earlier, Clorox can be used to clean your RV toilet, but it can be risky because it contains bleach and can be very harsh. I would not recommend using it as an everyday cleaning solution because it will degrade your black tank's good bacteria. Remember to dilute it with water if you do choose to use Clorox.
Can You Put Dawn Dish Soap In An RV Toilet?
Dawn dish soap is okay to use when cleaning your RV toilet. It's a really gentle but effective soap, so it will get the job done. It's a great option and will not degrade the bacteria in your black tank
Can I Use Pine Sol In An RV Toilet?
Pine Sol is not the best option for cleaning your RV toilet. It can be used, but it's not the first option I would recommend reaching for. Where Pine Sol can be useful is when you are storing your RV. Adding a bit of Pine Sol to the bowl when putting it into storage can help keep the toilet from smelling when you're ready to get back to camping.
Can You Use Scrubbing Bubbles In An RV Toilet?
Scrubbing bubbles is typically too harsh to use in your RV toilet and it is not recommended to use as a cleaner. If you want a deep clean, I would recommend skipping out on the scrubbing bubbles and going for Clorox as an intense option instead.
Conclusion
Cleaning your RV toilet isn't too different from cleaning your toilet at home, but there are some extra things to consider. Avoid harsh chemicals and use either water and vinegar or a specially designed product to clean the toilet bowl without causing damage to your RV toilet. You should also use a soft brush so you don't scrape or scratch the bowl.
Understanding the differences between an RV toilet and your home toilet will make it easier to know how to properly maintain and clean your RV toilet. It's also important to know what kind of toilet you have in your RV or you might damage it unknowingly.
Regular maintenance of your RV toilet and the black water tank is important to keep bad odors out of your RV and to keep everything functioning properly.