All of our reviews are based on exhaustive research, industry experience and whenever possible, hands-on testing. When you make a purchase using one of our chosen links we'll a small percentage of the proceeds. This supports the site and keeps Jeffsetter running. You can read more here.
Toy haulers are amazing rigs to consider purchasing if you are an outdoor enthusiast. From ATVs to kayaks, toy haulers are designed to bring the entire family and your gear.
But many toy haulers are large and difficult to tow, which means the average tow vehicle and family shouldn't purchase one without upgrading their truck first. Thankfully, I'm here to tell you about some of the best small and lightweight toy haulers available today!
Before we get to the rigs, let's go over what exactly a toy hauler is, and what you should consider before making your final purchase.
What is a Toy Hauler?
You may be wondering what a toy hauler is, and how it may differ from traditional fifth wheels and travel trailers. While it is most commonly a towable rig, there are some key differences that make a toy hauler a toy hauler.
A toy hauler usually has a rear garage style door with a ramp, capable of opening fully. This allows RVers to store and unload various wheeled vehicles and other recreational items such as canoes and kayaks.
The interior of these rigs is half garage, half living space, with many storable furniture options so that you always have room for all of your toys. Many RVers pack ATVs, golf carts, and mountain bikes inside of their toy haulers.
Having the large garage bay door and ramp on the back of your rig allows for quick and easy loading and unloading. Having a ramp also usually makes toy haulers safer than other trailers in terms of moving your larger recreational vehicles.
But can you get a toy hauler that is small and lightweight enough to be towed by a lesser tow vehicle? And what about the weight limits of your cargo? Let's go over a few more important considerations for these RVs.
What to Look For in a Small and Lightweight Toy Hauler
Are you curious what you should be looking for in a small and lightweight toy hauler? Let's go over some of my top considerations before taking a look at the options.
Overall Weight
Obviously you are shopping for a small and lightweight toy hauler for a reason. The overall weight of your rig should be a top consideration, and thankfully this number is usually readily available from the toy hauler's manufacturer.
If you aren't aware of your tow vehicle's recommended towing capacity, you should figure these facts out before you begin shopping. While it is possible to weigh your new travel trailer at home, you never want to get something too heavy for your tow vehicle!
The overall weight of your trailer while it is empty is one thing. You are buying a toy hauler to no doubt carry heavy accessories, so the weight when your trailer is full should be the main number that you consider.
While there are many travel trailers out there under 4,000 pounds, this number does not usually include cargo. Buying a toy hauler means considering the overall weight of both the trailer and its heavy cargo!
Storage Space for Toys
Your compact toy hauler will still be designed with its own garage space, or storage area for your recreational toys. Knowing how much space you need for all of your outdoor enthusiast gear is important before you get shopping.
There are many different sizes of garages, despite all of the toy haulers on this list being compact. You should measure your ATVs, kayaks, bikes, and whatever else you plan to bring with you so that you have a rough estimate of your preferred garage layout.
Many toy haulers prioritize their interior garage storage, but some layouts may have a more spread out living area. This comes down to your personal preference as well- some RVers may be looking for ample toy space, others may want a more spacious bedroom or kitchen!
Overall Length and Height
The overall length and height of your toy hauler matters, especially if you are searching for a small and lightweight option. Keeping things compact and low to the ground will not only allow you to tow safely, it will be much easier to park too!
While a smaller toy hauler may not feel as spacious as longer rigs, choosing a more compact RV is usually not a bad thing. If you are new to towing in general, choosing a shorter toy hauler could be a blessing in disguise!
Choosing a longer toy hauler may be necessary if you want to bring along the whole family, but keep the weight limits of your tow vehicle in mind. A shorter rig always translates to a lighter rig, so you may need to sacrifice a few feet in order to tow your gear safely.
Layouts and Floor Plans
Choosing a toy hauler with an excellent layout is key. This can be tricky if you don't know what you're looking for or if you are shopping for an RV for the first time. However, you no doubt have a few preferences in mind, and hopefully you know what gear you plan on packing.
Some floor plans prioritize the garage area of the toy hauler- this is why you are buying one of these types of RVs after all! However, that doesn't mean that you don't deserve a nice living area and kitchen when the toys have been unloaded.
Keep in mind your wants and needs, especially if you are planning to bring a large group of people camping with you. A layout with your needs in mind is key to enjoying any camping experience to the fullest.
Bathroom Options
Having an RV with a bathroom is important to many consumers. Choosing a small and lightweight toy hauler with a bathroom is no doubt an important decision to make. But how small and compact can you get a trailer while still having room for a bathroom onboard?
This can be trickier than you think, especially if you are searching for a dry bath with ample storage space. Getting all of your needs into one compact RV is most likely easier said than done.
However, bathrooms are usually a priority in RV layouts, so there will most likely be one onboard. Keep in mind that it will no doubt be smaller than you are used to- RVs are amazing when it comes to their engineering and storage solutions, but they aren't miracle workers!
Pros and Cons of Small and Lightweight Toy Haulers
Still wondering what is so good about small and lightweight toy haulers? Perhaps you have already considered some of the possible cons of these types of rigs. Let's go over some positives and negatives you may not have thought about yet.
Pro: smaller and lighter rig means more tow vehicle options
If you own a tow vehicle with a smaller capacity than most, you are no doubt shopping around for a lightweight rig. Thankfully, there are a good number of small and lightweight toy haulers, perfect for a wide variety of tow vehicles.
The weight of these types of rigs can add up fast, so knowing that the dry weight of your toy hauler is light can be a comfort to many RV owners.
Con: you may not be able to fit everything or everyone
Since toy haulers prioritize bringing gear over people, you may find that it is difficult to find sleeping arrangements for the whole family. The more compact and light your toy hauler is, the less likely you will be able to fit a large group and their cargo.
This can be a deal breaker for many families, hoping to bring their ATVs and kiddos. It is definitely something to consider before you shop for a lightweight toy hauler- you may have to go bigger than you originally expected.
Bringing toys is the entire point of a toy hauler, but the special garage space necessary to fit these vehicles and accessories can leave a lot to be desired in terms of sleeping space. 
Pro: small toy haulers have great floor plans
Given that these small toy haulers prioritize the versatile living areas found in any toy haulers, you will no doubt find that small toy haulers have great floor plans. They are made to have flexible living areas so that you can properly store your gear as well as relax.
Many small and lightweight toy haulers have movable tables and seating arrangements, meaning you will have more flexibility when it comes time to settle down for the night. This is a great perk for many RVers.
Con: may find that the living areas are simple
Given that toy haulers primarily exist for the specialized garage space, you may find the various living areas lacking. Many compact toy hauler trailers have completely collapsible furniture, almost exclusively.
This means that even the master bed could be something that folds up and stores. This can be a perk to some RVers, but a downfall for others. Many RVers are looking for a permanent bedroom or sleeping area, and this doesn't even include the living room.
Most living rooms on toy haulers are also the garage space, so furniture and finishings are often limited. This can make an RV feel even less like home, which could be something that you dislike. 
Pro: the smaller the rig, the easier it is to drive
Going with a smaller toy hauler may seem like a setback in terms of living space, but you will no doubt notice the difference of a smaller rig when it comes time to hit the road. A smaller towable RV is always better than a bigger one, mainly from a safety perspective.
When dealing with a large fifth wheel or travel trailer, you don't have to worry about your overall tongue weight- everything's heavy! But that definitely doesn't equal safety. A smaller rig will always be easier to control, no matter how your weight is distributed.
Con: toy haulers are tricky to weight properly
Speaking of distributing weight, toy haulers can be a bit trickier to weight properly. Most toy hauler cargo holds are toward the back of the trailer, meaning an uneven amount of weight is often placed toward the back rather than on the tongue.
With your trailer's central axis in mind, you may struggle to evenly weight your toy hauler, especially if this is your first time towing anything. Keep your gear in mind when you begin packing, and know that you may have to rearrange to keep your rig safe while driving.
Good Brands of Small and Lightweight Toy Haulers
There are many different RV brands on the market today. How can you know which brands are reliable and good? Let's go over some of the best toy hauler manufacturers out there, especially lightweight rigs.
Forest River
A very well-regarded RV brand, Forest River makes a few compact toy haulers worth mentioning. They are known for their many floor plan options and reliable customer service.
KZ
A division of Thor RVs, KZ has just celebrated its 50th anniversary in the RV manufacturing business. Their toy haulers are innovative, and they offer both lightweight and luxurious toy hauler options.
Jayco
Known for quality hardware, both inside and out, Jayco is one of the best RV brands out there. Their toy haulers are unique and hand-crafted, while still maintaining an affordable budget.
Livin'Lite
Livin'Lite is one of the premiere brands of lightweight toy haulers, given that this is all that they choose to manufacture. Their aluminium frames are ultra light as well as durable, giving you a toy hauler for years to come.
What Toys Fit Best in Small and Lightweight Toy Haulers?
If you are wondering what a toy hauler is best at hauling, you've come to the right place. Toy haulers can bring just about anything, but they are a popular choice if you own any of the following:
ATVs

Motorcycles

Mountain bikes or other bicycles

Kayaks, canoes, or stand up paddleboards

Surfboards

Golf carts

Mopeds or segways
This is only a small list of what you can bring along with you inside of a toy hauler, and even lightweight toy hauler trailers have large weight capacities. The garage areas are designed to be completely open so that you can fit a wide variety of things.
You should always check the weight of your gear before hitting the road, but a toy hauler is one of the best rigs out there for bringing everything along with you! If you love the outdoors and have the toys to prove it, you should consider a toy hauler over many other rigs.
The Best Small and Lightweight Toy Haulers
Feeling confident in your wants and needs for a toy hauler? If you are ready to shop for a small and lightweight toy hauler, let's take a look at some of the best options on the market today.
This XLR Hyperlite toy hauler by Forest River has been awarded the "Travel Trailer Toy Hauler of the Year" from RV News, so you can trust that it gets our best overall spot! Coming in at just under 30 feet with many perks, this rig is perfect for many toy hauler shoppers.
It's all in the name with this versatile, lightweight rig- it is light and maneuverable, with the capacity for all of your gear. Whether you require an enclosed garage, open passageway, or outside deck, Forest River has a model to suit your needs. 
Their toy haulers have structural integrity and construction that exceed the demands of mother nature's landscape, with a nice flair for style and room for your guests to sleep. Plus, their towing capacities can accommodate a variety of applications across the board.
Forest River toy haulers are affordable, ½ ton and ¾ ton towable, lightweight, and their quality laminated products are easy on your tow vehicle, very functional, and offer superior construction. 
Produced in an exclusive toy hauler facility, the Forest River XLR line boasts the longest running legacy of Sport Utility Trailer production. Forest River also provides dedication after the sale, with a service and support team located at the manufacturing facility.
What about the interior of this rig? LED lightning, ducted A/C and heat, Dexter axles, solid wood and raised panel cabinetry, roof with 3/8″ decking, standard fully enclosed underbelly, night shades, 5,000 pound cargo tie downs, two-tone grey exterior, optional party deck, and friction hinge doors are just some of the offerings on a Hyper Lite Toy Hauler.
There are excellent relaxation choices inside with the dual sofas and the two lounge chairs with an end table in between. And for sleeping, the electric queen bunk above the sofas and the queen-size bed in the master suite will both be a delight to find. 
You can snuggle up with a good book and a blanket in front of the electric fireplace. While the overall weight of the rig hovers around 8,000 pounds, this is a great toy hauler for most campers. And all with the Forest River name behind it!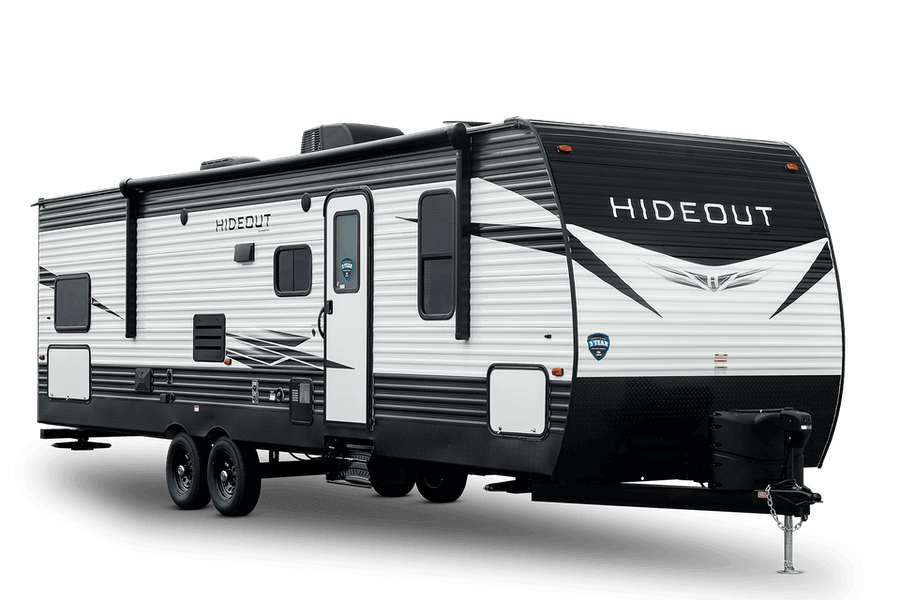 Toy haulers don't have to cost an arm and a leg. This compact beauty from Keystone can haul everything you need, all on a frame ranging from 20-29 feet in length. And the price will be a pleasant surprise to you too!
If bringing along a lot of gear is your idea of camping, a compact toy hauler from Keystone Hideout may be just the ticket. These mighty models feature an 8′ ramp door and a 6.5′ garage with reinforced floor and two tie-downs—perfect for bikes, kayaks, a dirt bike, motorcycle, or ATV.
With a 1500 pound weight capacity for your gear, you won't be hauling everyone's ATV in this rig. However, the compact size and homey features of this travel trailer may beat out many other larger models.
There is a dedicated bedroom with a queen bed in the smallest Hideout model, as well as a dry bath. Both of these features are rare as you look at smaller and smaller travel trailers. Keystone offers two decor options to choose from as well.
You can sleep up to four in the smallest model of this rig with the foldable sofa and removable dining table. While the next floor plan is for a longer and heavier toy hauler, you double your sleeping capacity- while still paying budget RV prices.
Year after year, Keystone RV's experienced team delivers the Built for the Long Haul quality you expect and exclusive innovations you won't find anywhere else. With included 1 and 3 year warranties, you will get to enjoy the budget-friendly Hideout for a long time.
Forest River is doing a lot of good work on their toy hauler lineup, including the addition of the XLR Boost. Weekend camping, motorcycle rallies, ski trips, soccer tournaments, dog shows, canoe or kayak water sports, tailgating, or off the grid side by side fun- you can do it with this rig. 
Forest River's well-equipped XLR Boost and Micro Boost Brand of toy haulers are designed for an "Action Camping" lifestyle. You will find that the "Xtra Built" features of the 102" wide body XLR Boost or the 96" wide XLR Micro Boost will give you a fresh sense of what camping is meant to be. 
This toy hauler will afford you the opportunity to take the toys that you are passionate about on your next camping trip. Not all Travel Trailers and Fifth Wheels can do that but an XLR Boost Toy Hauler can make it happen!
The smallest size of XLR Boost features an electric fireplace, optional captain's chairs, and a walk around queen bed in the master bedroom. With a dedicated bathroom and bedroom, this compact rig has a true master bedroom suite on board.
While the unloaded vehicle weight of this rig is just over 6,000 pounds, that's certainly not a deal breaker when it comes to toy haulers. Plus, the cargo capacity of this 27 foot rig hovers right around 5,000 pounds!
You already know how reliable and functional most Forest River rigs are, and the XLR Boost is no exception. With loads of useful standard features, this rig feels light and bright with numerous windows and a lovely interior design.
Plus this rig has many non-standard features, including a renewable energy solar package and heated tank pads. The large ramp door is weatherproofed and safe for unloading in inclement weather. And there's a reliable and powerful ducted furnace inside too!
There's too many features to love about the XLR Boost, but no matter what, it can carry your ATVs. Even the smallest model has a 5,000 pound carrying capacity, making it a great choice for those of you with large toys.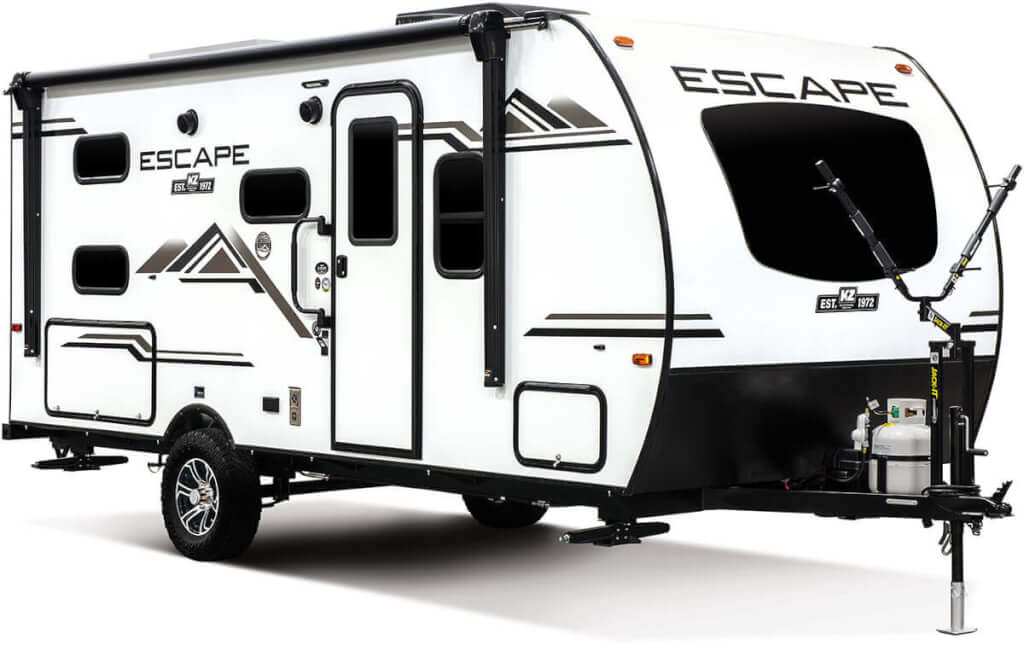 Every once in a while, a new concept revolutionizes the RV industry. The new Escape "HATCH" by KZ is just that type of notion. The idea is simple: take an affordable ultra-lightweight camper and add a large rear door that opens vertically. It's the perfect travel trailer and toy hauler hybrid!
Opening the rear hatch immediately provides easily accessible King Kong storage, unparalleled fresh air, tons of natural light, and a second overhead covering under the rear door. So, for the first time, imagine a roughly 20-foot, 3,000-pound camper that actually has the ability to be easily loaded!
This toy hauler truly offers open air camping. Roll the screen wall down, open the rear hatch, and enjoy the great outdoors! Plus you can load so many things in and out of this hatch: kayaks, bicycles, paddleboards, hunting gear, camping supplies, hiking gear… you name it!
Choose EZ's optional off-grid package and get a 100W roof-mounted solar panel, 1,000W inverter with dedicated 110V outlets, solar controller, portable Bluetooth audio player and flashlight, tongue-mounted bike rack, griddle, and solar on the side. 
The rest of the exterior is also built for adventurers: aluminum wheels with mud tires, extra ground clearance, electronically-controlled heated holding tanks, and a secure double entry step make this rig ready for anything.
When it comes time to hit the hay, transform the rear dinette into a huge sleeping surface or U-dinette. This allows extra space for friends and family once all of your gear is unpacked. There are three fantastic hatch door floor plans to choose from, making this rig an excellent choice for those of you with less heavy gear.
While it isn't quite a toy hauler given its cargo carrying capacity of less than 1,000 pounds, it is a great small scale option for those of you with bulky- but not necessarily heavy- toys. Escape to the great outdoors in this rig!

While this toy hauler is the least compact on this list, it will indeed fit the entire family. Check out the floor plans and available options on the Forest River Wolf Pack– with room for the kiddos and everyone's toys, it's a great and innovative choice for a travel trailer.
The Cherokee Wolf Pack is a toy hauler that converts to a bunkhouse in a matter of minutes. In fact, approximately half of Wolf Pack customers are bunkhouse buyers looking for more sleeping room and versatility in their unit, according to Forest River! 
The Wolf Pack is not always a toy hauler or a bunkhouse. It is whatever you need it to be for the trip you are about to take. If your family likes to take a golf cart, motorcycles, ATV's, bicycles, kayak's, coolers, grills, firewood and all the other camping staples, but doesn't like to take the second vehicle to get it there, look no further than the Wolf Pack.
The 23PACK15 has 15′ of garage space. This toy hauler trailer is ready to roll, with a king bedroom, bath with garden shower, and kitchen with glass cabinet insets and faux rock accents. The garage features Happijack sofas and a dining table that can be easily moved out of the way for hauling.
While this rig comes in over 11,000 pounds dry and 32 feet long, it may be one of the lightest weight options for those of you looking for a rig that can fit the whole family. The garage space is large, and the cargo carrying capacity is almost 4,000 pounds!
With yet another Forest River rig on this list, you must be thinking I'm a bit biased. However, Forest River proves their worth time and time again, and this larger toy hauler is no exception. With fifth wheel and travel trailer floor plans, the Wolf Pack is a versatile choice for any family.
Another Forest River toy hauler!? I would love to diversify, but they make so many unstoppable toy haulers that I couldn't help mentioning them more than once! If you are looking for a compact and lightweight toy hauler for you and your partner, look no further than the Flagstaff E-Pro, especially the smallest floor plan option.
The Flagstaff E-Pro line of trailers are for those campers that have chosen to drive today's more fuel efficient and smaller SUVs. With floor plan weights within these vehicles towing capability, E-Pro is an exciting way to go camping using the vehicle you drive every day.
The E-Pro is now offering more standards and options than anyone in its class. Standard on most models include a AM/FM stereo with Bluetooth and a USB port, a 12Volt TV with a built in DVD Player, a rear ladder, a WIFI Ranger booster with available WIFI connectivity, and more. 
Exterior features include a roof mount solar panel with a 1000 Watt converter, a Shower Miser Water Saver inside, plus many more standard features. Plus with a reliable and weatherproof rear ramp, you'll have no trouble loading your toys. And this trailer weighs 3,500 pounds dry!
Options include a 13,500 BTU AC, a tongue mount bike rack, an off road package that includes a lift kit and 15" Mud Rover radial tires along with many other great features. With almost 1,500 pounds of cargo possible in a 20 foot trailer, the possibilities are endless.
The Flagstaff E-Pro 19FBTH toy hauler has a large 6' 11" cargo length capacity. The ramp door is 60" by 68" and can accommodate many different items. With a full size bed in the front and a dry large bathroom, this toy hauler should meet all your needs, especially the needs of two.
Another unstoppable travel trailer and toy hauler hybrid, the Rockwood Geo Pro from Forest River is a fan favorite. I see it often as a camp host and full-timer, and for good reason. It has so many features in a lightweight toy hauler frame!
Modern, fresh interiors will almost make you forget you are in the great outdoors. Quality craftsmanship and attention to detail have been put into Forest River's Geo Pro travel trailers, all with the customer in mind. The smallest floor plan of this rig is ideal for small tow vehicles too!
The Rockwood Geo Pro seems similar in build to the Flagstaff E-Pro, with even more ample exterior storage and features. The ramp door is 60" by 68" and can accommodate many different items, all with weatherproofing and Forest River's reliable craftsmanship.
With interior and exterior Azdel construction, you have reliable and long-lasting materials on your side for wherever the road takes you. The smallest floor plan of this particular rig can hold up to 1,500 pounds of cargo as well, perfect for a small amount of toys.
Solar comes standard, along with heated holding tanks and wifi prep. There's a single AC unit and a powerful heater inside. While the interior is fairly simple otherwise, this rig is telling you to take your gear and enjoy the great outdoors!
There are even more add on features for you and your gear, including a rear bike rack, roof rack, and ladder. You can rest assured in your adventures with Forest River's warranty behind you.
The Jay Flight Octane is the latest addition to the wildly successful Jay Flight family of trailers. This travel trailer-style toy hauler is lightweight, packed with value, and features stunning new interiors and exteriors for 2022. It's a stunner, both inside and out.
Is your family looking for a trailer to tow with a traditional hitch that makes it easy to bring all your favorite gear and toys? Then the Jay Flight Octane Toy Hauler might be the right RV for you. It is a larger toy hauler- around 32 feet in length. However, keep its many fantastic features in mind!
Some of these features include a flush-mounted 3-burner stovetop with glass cover and oven, high-rise kitchen faucet, A/C ducts in front bedroom, gas-strutted under-bed storage, power queen beds with rear convertible sofa and folding armrests with cup holders.
When it comes time to load your gear, the ramp is a fantastic feature. With a non-skid ramp door, a 3,000 pound ramp capacity, and a 96 inch wide ramp door opening, you'll have no problem loading any and all gear that you choose to bring with you!
High intensity rear ramp lights mean that you can unload any time of day. There's a spring-assist ramp door, garage vent ports, and overhead storage cabinets in the garage for even more storage possibilities. You can bring all of your camping accessories in this rig.
While the weight of this rig tops out at around 7,500 pounds dry, it is a luxurious and competent rig. There are three floor plans to choose from, all with Jayco's well-known structural integrity and backed by their warranty. If your vehicle can tow this rig, it's a great option for the entire family. 
Conclusion
Finding a small and lightweight toy hauler shouldn't be a chore. It is more possible than you may think, and hopefully some of these fantastic options tick all of your boxes. Grab your gear and hit the road!