Last updated on February 21st, 2023 at 12:15 pm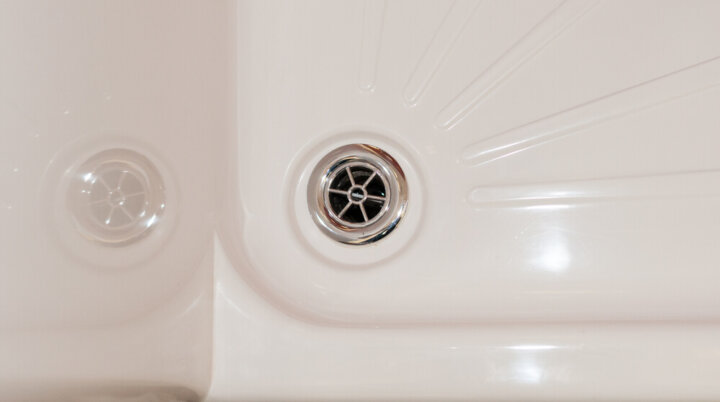 All of our reviews are based on exhaustive research, industry experience and whenever possible, hands-on testing. When you make a purchase using one of our chosen links we'll get a small percentage of the proceeds. This supports the site and keeps Jeffsetter running. You can read more here.
Knowing how to unclog your RV shower drain is useful, as hair and debris can often build up over time and create a clog in your shower plumbing. Having a clogged shower drain is a common problem many RVers have faced on the road, but thankfully there are several different ways to unclog your RV shower drain.
So, how do you unclog an RV shower drain?
Unclogging an RV shower drain can be done in several different ways, depending on the blockage's size. Hot water can be used to flush the clog, but vinegar and baking soda may be needed if it doesn't work. Additionally, cleaning flush valves and using ice are other ways to unclog an RV shower drain.
The realization that your shower drain might be clogged isn't fun for anyone, but as you will discover in our article, it's a problem that can be fixed without too much trouble. Just remember that, if you have a large clog in your shower drain, you might need to repeat the removal process a few times for it to work effectively and remove the clog!
How Do You Unclog an RV Shower Drain?
Unclogging an RV shower drain may seem daunting if it's not something you've done before. It's a pretty easy job to complete though, and even water alone can help solve the problem so you don't need to worry about making a big dent in your bank balance!
1. Hot Water
A simple method of unclogging an RV shower drain is to use hot water. It's best to avoid using boiling water as pouring high-temperature water down into your system can cause damage to pipes and seals. I prefer to boil the kettle and let it cool for a few minutes, before going ahead and pouring it into the drain.
Hot water can be useful to get rid of a blockage in an RV shower drain by helping dissolve the build-up of soap scum and allowing it to flush down through the pipes and into the gray water tank. You might need to repeat this process a few times if you have a substantially large blockage.
2. Vinegar and Baking Soda
A popular method of unclogging an RV shower drain is to use a mixture of white vinegar and baking soda. Not only is this a low-cost method but also avoids putting any harsh chemicals down your drain that could damage the pipes and maybe even the holding tank itself.
Try using around ½ a cup of both baking soda and vinegar and allowing the mix to sit for a minimum of an hour to help it work its way down to the clog. Once you've let the mixture sit in the pipe, pour hot water down the drain to help flush everything out.
3. Clean Flush Valves
Something many RVers may not think about when they realize their RV shower drain is clogged is that the flush valves might be causing the problem. If you've tried other methods of unclogging your RV shower drain but your attempts have failed, checking the flush valves is a good idea.
When a clog has been broken up into a more manageable size but is struggling to make its way down into the gray water tank, the flush valves may need cleaning. Over time, flush valves may become dirty or in some cases, even blocked, so you may need to give them a thorough clean to get the valves working optimally again.
4. Ice
An old-school method to help unclog a blocked shower drain is to use ice. If you have a particularly big blockage, this method may not work, but it's a hassle and chemical-free option, so it's worth a try if you have some ice in your RV freezer.
You'll need to pour some ice down the clogged drain and then take your RV for a quick drive to help create movement. The friction and movement of the RV break up the clog and melt the ice, allowing everything to move smoothly into the gray water tank.
Why Is the Shower Not Draining in My RV?
Heading into your RV after a long day of hiking and being able to take a nice, hot shower is a blissful moment for every RV owner. However, if your feet start slowly becoming submerged in the water and the tub is filling up, it could mean your RV shower drain is clogged.
There are several reasons why the shower in your RV isn't draining, and as soon as you find the culprit, you'll be able to choose the appropriate unclogging method.
1. Full Gray Water Tank
This may sound obvious, but I think we've all not realized how full our gray water tank is and before you know it, it could start leaking and making its way to the inside of your RV. If you're showering and notice the wastewater isn't draining away as quickly as it should be, it's worth finishing your shower as soon as possible and checking if your gray tank is full.
As long as you empty the gray tank quickly, you shouldn't encounter any more problems. Although sensors indicating how full your holding tanks are can be useful, they are renowned as unreliable, so it's useful to know some other ways of telling if your black or gray tanks are nearly full.
2. Clogged Debris
A big reason why your RV shower may not be draining well is because of a clog in the pipe that's preventing water from passing through and reaching the holding tank. To reach the clog and inspect the pipe, you'll have to remove the drain cover. Some covers are fixed in with screws and others just pop out of the opening with a little force.
Once you've taken the drain cover off, it should be easy to see where the clog is and the type of clog you have. Putting on a rubber glove and manually removing the clog is the easiest way to get your shower draining properly. Usually, hair and soap scum are the cause of the blockage, so it can be wise to flush some hot water down the drain after you've removed the clog in case there's a small amount left behind.
3. Blocked Plumbing Vent
RVs usually have an RV plumbing vent on the roof, and believe it or not, if this vent becomes blocked, it can disrupt the air pressure in the black and gray water tanks on your camper. The plumbing vent works by removing any gases or odors from the RV, and if a windy day has blown debris into the vent, it can result in draining issues throughout your RV.
Hearing gurgling sounds when using the shower or sinks in your RV may be an indicator that your plumbing vent is blocked. You'll need to get up onto your RV's roof and manually remove the blockage.
4. Clogged P-Trap
Another common cause of an RV shower not draining properly is a clogged p-trap that prevents wastewater from draining down into the gray tank. The p-trap in a shower is normally just below the drain and can get clogged up with hair, soap scum, and debris over time.
If you find that your p-trap is getting clogged often, it may be useful to purchase a hair catcher or similar to prevent a build-up of hair from getting stuck in the pipe. If you have long hair like me, I find it useful to brush my hair before showering in my RV, as it means less will fall out whilst I'm showering.
The video below is a great example of just how clogged a p-trap can get in your RV shower, along with how to remove, clean, and reinstall the p-trap. Having to get up close and personal with your RV shower drain isn't a fun chore of RV living, but can help your shower clog from getting even worse.
As you can see in the video, the entire process is relatively simple and shouldn't take too long. If you notice the clog is mainly down to a build-up of hair, it may be useful to install a hair catcher over the drain to stop it from going down into the pipe and getting stuck.
5. Shower Drains Into Black Tank
A less common reason for a shower in an RV not draining properly could be down to the shower draining into the black water holding tank and not the gray tank. If your black tank gets full and you don't realize it, the contents of the tank can start backing up through the drain in the shower.
Most RVs have a plumbing system where the wastewater from the shower drains into the gray tank, but older RVs may have a black water plumbing setup which can cause some unpleasant problems.
If you're not sure whether your RV shower drains into the gray or black holding tank, have a read of the owner's manual. It may also be worth cleaning your black water tank now and again to keep it in the best condition and help prevent unwanted smells.
How Do You Prevent the RV Shower Drain From Getting Clogged?
Once you've unclogged your RV shower drain, it's best to prevent it from getting clogged again. Luckily, there are a few ways of avoiding a clogged shower drain, and they are all simple but highly effective.
1. Use a Hair Catcher
Popping a hair catcher in the drain of your shower is an effective way of stopping debris and hair from getting caught in the drain or pipe, creating a clog. Hair catchers need to be maintained too, so every few days, it's worth getting rid of any hair that it has trapped and giving it a good clean.
2. Clean the Shower Regularly
Keeping the shower area clean is a surefire way of helping prevent clogs, as it means debris and hair are less likely to make their way down the drain. The water flushed down the drain from cleaning can also help push down any clogs that may have started forming.
It's important to use cleaning products that are natural or designed specifically for RVs, as some products contain harsh chemicals that could damage the system or weaken pipes and seals.
3. Investigate Slow Drainage Immediately
It's wise to investigate slow drainage as quickly as you can to avoid worsening a clogged drain. When you notice the water in your shower is beginning to slow down, it's worth checking if your gray tank is full. It's worth lifting the drain cover off to see if there's a build-up of debris causing the slow drainage problem.
Draining your gray tank out in the correct place is essential to keeping the environment a safe place for us all to enjoy. Using an RV dump station to empty your gray tank is an ideal option and means waste is emptied in an appropriate place.
Can You Plunge an RV Shower?
Plunging an RV shower is possible but it's important to use the plunger gently to avoid any damage to the pipe. Even if you already have a plunger for your toilet, it's best to purchase a new one specifically for use in the shower. This helps reduce the spread of potentially harmful bacteria from your toilet into your shower space.
A plunger can help suction a clog up to the surface to be removed, and if the plunger method is unsuccessful at removing the clog, a plumber's snake may come in handy. A plumber's snake can work well for drain blockage removal as a wire is inserted into the plumbing and eventually forces the blockage into the holding tank.
It's best to be cautious when using tools such as a plunger or plumber's snake to unclog your shower drain. If these tools are used incorrectly, you could end up damaging the plumbing system for your shower.
Do RV Shower Drains Have a Trap?
RV shower drains have something called a p-trap and these can also be found under sinks and sometimes in toilets too. A p-trap is a bend in the pipe that permanently holds water to help trap gases that often come up from wastewater in the holding tank.
P-traps are important for keeping smells from your gray water tank at bay because we all know how smelly gray water can be! If the p-trap gets clogged, however, it can't do its job and so you may notice some unwanted smells coming up the drain or water not draining as quickly as it should.
Closing Thoughts
Being aware of how to unclog an RV shower drain can prove useful time and time again as clogs are relatively common in RVs. It's also worth knowing how to prevent clogs from happening in the first place so you can avoid the rather stinky job of reaching down your pipe to remove hair, debris, and soap scum from the pipes!
For large clogs that have developed over a substantial amount of time, you may need to repeat an unclogging method a few times, or even try a different method to remove the clog. My biggest piece of advice would be to take it slow, and do the job well so you won't have to repeat it again anytime soon.