Last updated on May 4th, 2023 at 05:06 pm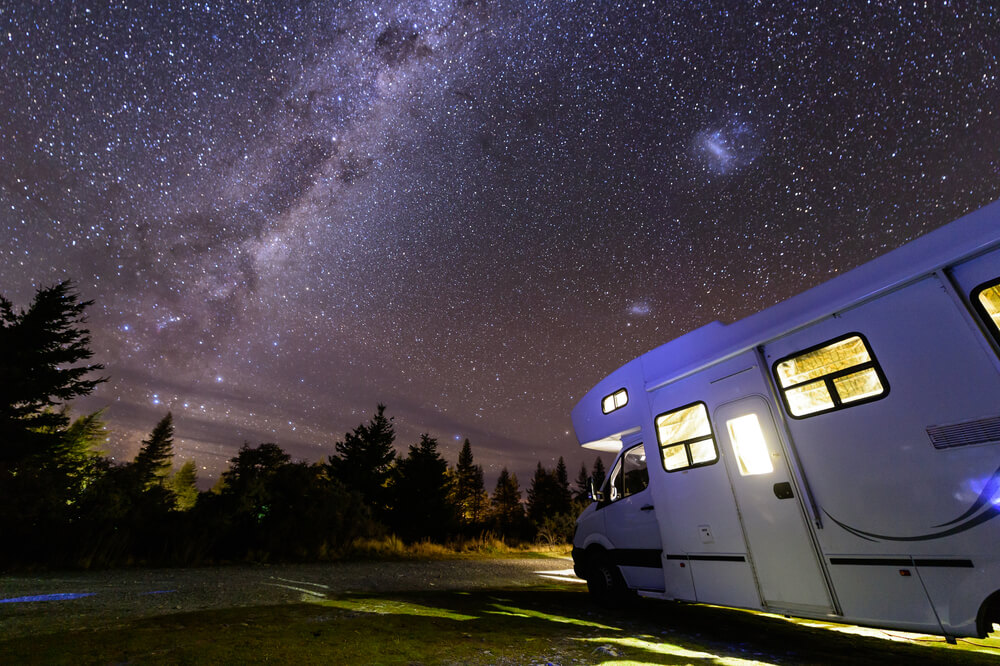 All of our reviews are based on exhaustive research, industry experience, and whenever possible, hands-on testing. When you make a purchase using one of our chosen links we'll a small percentage of the proceeds. This supports the site and keeps Jeffsetter running. You can read more here.
Safety should always be paramount when it comes to your home and family, and should also matter on the road, perhaps even more so! If you're taking the RV out for a spin, it should be a no-brainer to ensure your door locks and keeps you and your family secure, whether you're inside your RV or planning to be away for the day.
RV door locks are a great way to enhance the safety of your RV, keeping you and everything you love protected and secure. RV door locks can vary in price, type, size, and function, so it's worth working out exactly what you want from an RV door lock before going ahead and purchasing one.
Theft and break-ins while traveling are possible as much as (if not more than) home invasions. Knowing your RV has a secure and safe door lock can make a world of difference! Perhaps it's time to upgrade your door lock due to the age of your rig, or maybe you're planning a trip that will require you to park in larger cities or more undesirable areas.
No matter the reason, your safety is key. And having a reliable door lock should be a priority! I've reviewed the best door locks for every RVing situation along with a complete buyer's guide. But if you just want to get straight to the list then you can see it here:
Keeping reading to learn more about why these are my favorite RV locks including a detailed review of each one. The addition or upgrade of a door lock on your RV will bring peace of mind that a break-in is less likely to happen, and if someone does try to get inside, they will likely be unsuccessful as your rig will be harder to break into.
What Are My RV Door Lock Options?
So you're looking for a new RV door lock and are suddenly surprised by how many options there are. Believe it or not, there are just as many, if not more, options available for your RV front door than your own traditional front door!
Whether you're a full-timer or just heading out to camp for the weekend, you deserve a reliable and convenient lock for your door. And you may find yourself preferring one type of lock over the other!
There are a few different types of door lock options, including keyless, deadbolt, and combination. There are also just classic key door locks with doorknobs as well as without, which we will also go over!
Types of RV Door Locks
While all door locks do essentially the same thing, there are still different types that you should consider before making your final decision. Some are more convenient than others, and some locks offer better security too. Even if you're on a tight budget, there will be an RV door lock out there that's perfect for bringing extra security to your rig without a high price tag.
1. Keyless Door Lock
The future of RV door locks is here, and why shouldn't it be? Keyless door locks are all the rage because of their convenience, technological advancement, and security.
These locks come equipped with a battery-operated keypad which means you can choose your own unique code for opening your camper door. This can be convenient for large families that don't have enough keys for everyone, as well as anyone searching for the added safety of a code rather than a lock that can be picked.
These locks always come with a backup key, used to open the lock in case the batteries die and you're unable to replace them right away. They can also come with a fob, just like your car. This means that you can open your door from farther away, at the click of a button!
Keyless door locks are usually easy to install and come with handy features such as beeping (just like your car when it locks!) and lights for the keypad so that you can open the door even when it's dark outside.
2. Deadbolt Door Lock
Looking for added safety and security? An RV door lock that has a deadbolt feature may be a good idea for you! Deadbolts are an amazing addition to any security system, providing a strong, thick metal bar rather than an easy-to-pick lock.
Deadbolt style door locks can come standard on some of these lock varieties, such as keyless or combination. However, some RVers still opt for a traditional doorknob and deadbolt set up as they might find on their traditional front door.
Deadbolts are an easy addition to your home, and are often cheap and easy to install! It's never a bad idea to install a deadbolt, especially if you plan to camp or travel to larger cities where theft is more likely, or are hauling especially valuable gear.
3. Combination Door Lock
Keyless door locks have a combination as their primary form of locking and unlocking, but the keypad is digital and requires batteries. If you're looking for the convenience of a combo lock over keys, but don't want to bother with batteries, you may consider a combination door lock.
These locks are streamlined and convenient, but you don't have to worry about the keypad running out of juice! Having a manual combination eliminates the option of a key fob, but it still remains safe and effective.
4. Classic Door Knobs or Motorhome Locks
It must've been safer to camp in the 70s given that my 1976 travel trailer is equipped with the most standard and cheap doorknobs I've ever seen! It's about time for this full-timer to upgrade, but that doesn't mean a classic doorknob won't work for you. It is easy to operate and very no-fuss, something that many families may be looking for!
Motorhome locks are easy to operate as well. They are flat to your trailer or RV door, which means you won't have to worry about a doorknob getting in the way inside or outside of your rig. They have keys, just like a traditional doorknob, and a handle.
You may consider an alternative to these as the handles are often made from plastic and are prone to breaking. However, a traditional metal doorknob may prove too bulky and easy to pick.
What to Consider When Purchasing an RV Door Lock?
There are many factors to consider to find the door lock that best suits your needs. You may already have some ideas in mind. Here are the top things to think about before purchasing your new RV door lock:
Lock material

Lock design and color

Budget

Lock style
Keeping these things in mind when shopping will help you prioritize your needs. Chances are, you'll narrow down the options and find a product that works great for you and your rig!
Lock Material
Just like most RV accessories, it is smart to prioritize what your RV door lock is made out of. Some materials are sturdier than others, and you may find yourself frustrated with certain products that don't prioritize quality materials.
Your RV door lock may experience the brunt of the elements for much of the year, which means wear and tear are likely outcomes. Metal door locks may be more appealing to you than plastic ones, or perhaps a lock with fewer moving parts.
No matter what, make sure to read product reviews that mention durability. You may find a winner when you consider long-lasting materials over design or convenience!
Lock Design and Color
Your rig design matters! I've known many RVers to match and design everything inside their rig and even match everything on the outside, including awnings and door locks. Why should your door lock be any different?
Even though you may not have the option for every color to be on every door lock, there should be one out there that fits your current design. Whether it be more masculine or rugged, sophisticated or streamlined, the way your new door lock looks matters!
There are some low-profile door locks that may even prevent theft. Having a subtle but sturdy-looking lock may be something to keep in mind for you and your family's safety!
Budget
Sometimes the best and most high-tech products are outside of our budget. This is something to keep in mind when shopping for an RV door lock, but thankfully there are so many products out there that you should be able to find your perfect match!
Keyless door locks may be all the rage for rigs and campers, but you may find them to be outside of your budget. Don't worry! Safety should be your first priority when it comes to a door lock, not all the bells and whistles. There are safe and affordable options out there, and on this list too!
Lock Style
This is the number one consideration for you when it comes down to purchasing your new RV door lock. We've gone over the styles of door locks briefly, and the products themselves will have even more specifications!
Keeping in mind your style needs should be your number one priority. Are you hoping for a flat, keyless entry? Or is a traditional doorknob feeling right for you? The options are endless, so try to think of what style best fits your current rig and the needs of you and your fellow travelers!
Can You Put Keyless Entry On An RV?
It's possible to put a keyless entry on an RV, and doing so can reduce the stress of lost keys or key fobs when you're out and about on the road. One of the huge benefits of installing keyless locks on your rig is that you can still gain access to your RV even if a key is lost, as there's typically a keypad, with a programmable pin should the situation occur where a fob gets accidentally lost.
Solely relying on a standard lock and key for your rig can be frustrating, especially if the key breaks in the lock or gets misplaced and you have to break into your own rig to gain access! Having a few different ways to unlock your RV means there's a fallback option if an accident happens or something goes wrong.
8 Best Door Locks for Your RV
With so many different RV door locks available, varying in style, price, and type, it can be a whirlwind knowing which one is right for you. Our list of the best door locks for your RV will guide you through different types of RV door locks, along with reviews of specific models we think are worth considering if you're looking to enhance the security of your rig.
Top Rated Keyless Choice: LATCH-IT RV Keyless Entry Door Lock
I can't deny the LATCH-IT RV Keyless Entry Door Lock is a well-built piece of equipment, constructed from metal which I'd trust more to help protect my rig than a fragile, plastic lock! With mostly 5-star reviews, this universal keyless door lock is a top contender for a sturdy piece of kit that's easy to install and offers great security, two of the things I look for with any RV upgrade.
LATCH-IT prides itself on being a United States-based company with fantastic customer service which stands out to me as nothing is worse than reaching out to customer service and being met with someone who isn't willing to help or offer solutions. The lifetime warranty gives me great peace of mind, and with the addition of a 24/7 phone line for customer service support, I feel reassured knowing help is just a call away.
A standout feature is the heavy-duty nature of the lock itself, and with an all-metal construction, it'll be hard to break into my rig! I like that the installation is quick and simple, and as this lock comes with everything I need to install it, including batteries, it's a good place to start. After living on the road for a few years, I've learned that any additions to my rig need to be as weatherproof as possible.
This lock is built with the road in mind, as it's dust, wind, and water-resistant, essential for RVers like me who experience their fair share of poor weather! I also find it useful that every key made for the lock is unique, so there's no chance of another RVer having the same key as me and being able to get inside my rig!
This LATCH-It lock includes two fobs and a backlit keypad, a feature I particularly enjoy as it means I won't have any trouble entering the code, even if I return to my rig at nighttime. The fobs work from up to 80 feet away, but mechanical keys also come with the lock, a big bonus as it means I can still get into my rig even if the batteries are dead.
All in all, I think it's hard to beat this keyless RV lock, and given its all-metal construction, it's one of the sturdiest locks available on the market, and it comes complete with a deadbolt too for added security! However, it's worth mentioning to operate the deadbolt, the button needs to be held down for a few seconds. I find this a bit inconvenient when I am in and out of my rig all day, as I have to lock and unlock the RV multiple times.
Overall, however, this lock really packs a punch, and you'll never feel neglected with LATCH-IT's customer service, something I find reassuring as I like to know I have access to help and support if something were to ever malfunction or go wrong.
You can see the latest price on Amazon by clicking here.
Best Deadbolt Choice: Kohree RV Travel Trailer Entry Door Lock
It's worth taking a look at the Kohree RV Travel Trailer Entry Door Lock if you're looking for a traditional paddle door lock for your travel trailer or toy hauler. I like the old-school aesthetic for my rig, so this is a great lock option for me, and since it's available in a variety of colors, I can match it to my rig perfectly. As I travel with a partner, having only one key is a nightmare, but this Kohree lock has two sets of keys, making things a whole lot easier!
With a sturdy metal construction, this lock is made for long-term outdoor use, exactly what I want for locks on my rig. It has up to five specific outdoor-rated coatings, and has been rated for durability should someone try to break in. An RV door lock able to handle harsh weather means RVers won't be dealing with the lock seizing – something I know I wouldn't want to be dealing with when it's icy inside and I want to return to the warmth of my rig.
The built-in deadbolt fully secures an RV door, making it very difficult for thieves to gain entry, so you can sleep soundly, knowing you and your expensive RV are protected. I often worry the installation of additional features for my rig might be tricky, but the installation process for this Kohree lock is easy as shown in the video below and comes with the necessary hardware: the lock handle, strike plates, and all sizes of screws.
It's worth being certain this lock will fit your RV, as many reviewers mention struggling to fit the lock to their specific rigs, despite the product claiming it would fit. Double-check measurements and how the lock operates and you should have a better chance of it fitting!
This deadbolt is sturdy, reliable for years to come, and subtle, lending a streamlined look to the outside of your trailer. If you're looking for simplicity and safety, this may be the lock for you!
You can see today's price on Amazon by clicking here.
Best Unique Keyless Choice: WATERWICH RV Door Lock With IC Card
For those looking for a more technical RV door lock with advanced features and a keypad, it's worth considering the WATERWICH RV Door Lock. Unlike traditional locks that I often gravitate to, this lock includes an IC card entry, which means your RV's door will open with the touch of a plastic card! If you're like me and get anxious when using new technology – try not to panic!
This lock is easy to use, as I just have to pass the card over the designated area on my RV's door lock and it will open. Not having to worry about memorizing a code makes life a lot easier, especially if you're like me and often have 100 things running through your mind! I find the backup options of manual key entry and 65-foot fob entry extremely useful, however, as it means not all is lost if the card gets misplaced.
With so many options for keys, the whole family can get into the rig, taking away the worry of anyone forgetting entry codes and interrupting the fun. I like that this lock also features durable alloy construction inside as well as a powerful deadbolt, providing ultimate security for your truck camper, RV, or travel trailer, however, this does come with a significant price tag.
While it isn't the most budget-friendly on our list, this little lock was made with security at the forefront, something crucial in my eyes when it comes to adding locks to my rig. I'm passionate about keeping my RV looking good, and this lock fits the bill as it has a subtle and streamlined design. It doesn't have a light-up keypad which I find advantageous as it won't attract the attention of potential thieves, but other RVers may prefer a lit keypad to make entry to their rig easier in the dark.
You can see the latest price on Amazon by clicking here.
Mechanical Keyless Choice: Jounjip Mechanical Keyless Combination Latch Door Lock
I live in a trailer from the 70s. I love how simple everything is to repair and maintain, and there's also very little expensive technology to worry about going wrong in my rig! That's why I had to include the Jounjip Mechanical Keyless Combination Latch Door Lock on this list of products. This keyless door latch requires no battery or key, just the code I have in my head!
As I often spend time living out in the wilderness, I have limited access to batteries and other technology, so having a reliable lock on my door that requires only a simple code appeals to me greatly. This mechanical keyless lock only unlocks after receiving a code and turning the doorknob in one direction.
I find this is a unique and useful feature as it will not unlock the other way, meaning thieves are often confused and discouraged by this lock. It also has an auto-lock feature, so that your door automatically locks behind you, something I find very useful when I've got my hands full and can't close and lock the door behind me.
It's possible this feature could be frustrating for some if you are used to simply walking in and out of your RV freely, but it is a fantastic safety addition, and I would advise locking your doors anyway when you leave your rig! This lock may not fit every RV in the world, but I find the unique and mechanical way of securing my rig a reliable and effective one.
You can see the latest price on Amazon by clicking here.
Best On a Budget Choice: Valterra L32CS000 Knob/Lever Lockset
Just like the last door lock on this list, the Valterra L32CS000 Knob/Lever Lockset is a mechanical lock only. It will look quite familiar to your traditional home lock, as it has a knob for the outside and a flatter, more streamlined knob inside. This is the lock I use for my trailer, and it works great!
It's simple, but budget-friendly, two things I look for when adding components to my rig, as it means I don't have to worry about things being too complicated or expensive. I like that it features a stainless steel finish, a panic-proof inside knob, a solid steel interior, a 5-pin tumbler, and a solid brass key cylinder, as you really get a whole lot of features for such an affordable price.
I find using this lock enjoyable as it's easy to operate, with very few installation issues, something hugely important for me, as I don't have time to spend endless hours fitting door locks! Before purchasing this lock, however, I would advise making sure it fits your RV. If you have a screen door, it might get in the way, but with just a Phillips screwdriver, it's easy to fit this stable lock.
When choosing upgrades or additions for my rig, I try and find options that will last me long into the future, and although I haven't experienced any issues with this lock so far, some RVers have reported experiencing rot and damage from water getting in behind the lock. To help combat this, I think it's worth using some sealant or similar to make the area watertight, as the lock won't be much use if your RV starts leaking and gets riddled with rot or mold!
You can click here to check out the latest price on Amazon.
Best Motorhome Choice: AP Products 013-531 Bauer MotorHome Door Lock
Fitting new components to an RV can be daunting, and if you are looking to upgrade your RV locks, it's worth taking a look at the AP Products 013-531 Bauer Motor Home Door Lock. Easy installation is a must for me, and as this lock is simple to fit to an RV, and uses four readily available AA batteries, it's a win-win. I love that the buttons on the keypad are large and also light up when the unit senses I'm approaching as it saves fumbling around in the dark when it's cold and rainy!
AP Products boasts that this latch uses an intelligent Keyless Entry System which knows the position of the deadbolt and indicates low battery strength, as well as providing audible feedback to successful locking and unlocking functions. All this technology makes life easier as RVers no longer have to guess when to change the batteries – something I often forget about! It's sturdy and reliable made from zinc, as well as a quick swap for old RV locks.
While it doesn't have all the bells and whistles as other keyless entry pads, such as fob or card entry, I find AP Products is a reliable brand in the RV community with convenient customer service, ideal for when issues inevitably arise. It's worth mentioning this door lock is on the pricier side than other keyless RV locks, but with two sets of keys and a powerful deadbolt, it's an option worth giving some thought to for motorhome owners.
You can see the latest price on Amazon by clicking here.
Best For Families: MKING RV Keyless Entry Door Lock
Only a few days ago, I shut the door on my RV, but left the keys inside and had to climb through the vent to get back in! The MKING RV Keyless Entry Door Lock takes away this stress as it has both code and key entry, so even if I make the same mistake again, I know I'm covered by the passcode option; PHEW!
RV locks for me should be sturdy and durable as they will have to withstand tough weather conditions, especially if you're traveling in your rig full-time. That's why I love the tough construction of this lock. It's made from zinc and alloy steel whilst also designed to withstand lows of -22℉ and highs of 140℉, so it's ideal for year-round RV life.
My partner and I are forever asking each other who has the key to our rig, and often this can be stressful if neither of us has any idea! This MKING lock, however, can be connected with more than one remote key at the same time, allowing multiple individuals to have a key to access the rig. This is great if there is more than one person in the RV such as families, as it means everyone can have access to the rig as and when they need to, and not worry about entering a code.
When adding new features to my rig, I always like to draw designs and measure everything so I know exactly what will work and what won't! This may be too thorough for some, but I find it's the best way to make sure new components fit before buying as it saves time and effort in the long run. RV door locks are not different in my eyes, and with some RVers reporting issues with this lock not fitting their rig, it's well worth taking a bit of time to measure and double-check that this lock will fit before purchasing.
You can see the latest price on Amazon by clicking here.
Best Versatility: RVLock RVLv4.0 Keyless Entry Handle with Integrated Keypad
Safety and security will always be at the top of my priority list, and that's why I've added the RVLock RVLv4.0 Keyless Entry Handle to this list. I was broken into a few years ago on vacation in my camper, and the feeling that someone had been through my belongings and taken sentimental items was awful. That's why it's essential in my eyes, to have a lock on your rig you can trust, and as this RVLock has a limited lifetime warranty, I feel good knowing I have the company's support to fall back on if needed.
This lock impressively can be programmed with up to 10 key fobs! You'd have to be traveling with a lot of friends or family to reach that number, but having the option there is always useful, as you never know who might want to join in on the RVing fun. This lock is also compact, measuring 3.75 x 2.75, x 1.5 inches, and versatile, as it's suitable for use on a range of RV types, from 5th wheels and travel trailers, to even bigger rigs.
I like the use of metal in the construction as it gives me a piece of mind that potential thieves won't be able to bust it open and break into my rig easily. Clearly built with longevity in mind, this keyless entry door lock is tough against thieves and the weather, but still comfortable for us RVers to use. The ergonomic handle is a particular draw for me, as I am in and out of my rig all day, so I use the door handle a lot!
The quick lock feature is beneficial for times when I'm in a rush, as all I need to do is press the button to activate the deadlock. Some RVers have mentioned after regular use, the lock can take a bit longer to react to the pressing of the buttons, so this is something to consider.
You can see the latest price on Amazon by clicking here.
Conclusion
Buying a new lock for your RV may feel like a no-brainer, but it can be an overwhelming process. If you're looking to upgrade from your old faulty doorknob, you may find yourself excited by new keyless options on the market. Or perhaps you're hoping to continue with the simplicity of a deadbolt and latch.
Whatever lock you're hoping for, there's something out there for you, and it's worth making your rig as safe as it can be to avoid any RV regrets! Take your measurements carefully, decide on a code for your keypad, and don't forget to store your keys somewhere safe! Your rig will remain locked tight until you return from an enjoyable day in the great outdoors.