As is always the case, we were short on time in Carmel, so we only had a day to drive up and down the coast. But, I made the most of exploring Big Sur, making sure we hit up the specific sites that were on my bucket list, though we didn't see anything beyond that.
After enjoying our first breakfast at the Hyatt Carmel Highlands' Pacific Edge restaurant, we headed back to our room to grab my photography gear and headed out. Our first stop while exploring Big Sur would be an iconic bridge.
Bixby Creek Bridge
The first stop as we were exploring Big Sur was the closest to our hotel – the iconic Bixby Creek Bridge. This popular stop has very limited parking, with a small spot featuring space for, perhaps, half a dozen cars. That said, at your own risk, you could park along the other side of the street as well. Either way, once you find parking, you need to head into the dirt area to scope out a vantage point.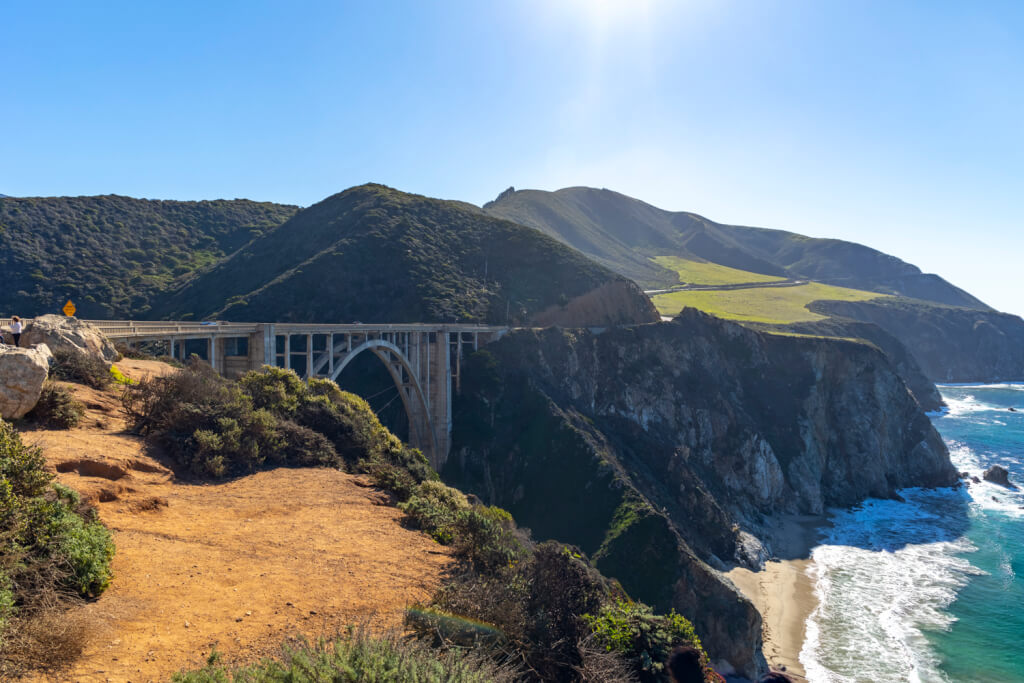 You could go down to a slightly lower lookout, but I'm afraid of heights, so that was a no-go. But I don't think the view would've been appreciably better, as the difference in elevation and angle wasn't all that different.
Of course, there's more than just the bridge to see in the area. The coast in this area is stunning! Just look at the sea cliffs!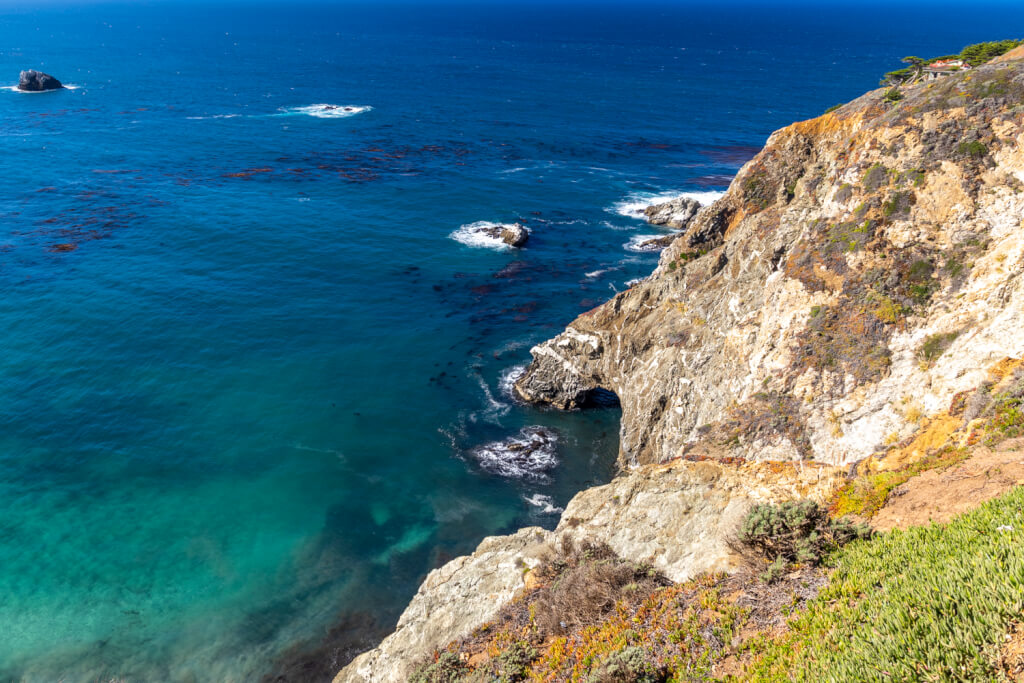 Julia Pfeiffer Burns State Park
Our next stop while exploring Big Sur was 24 miles from Bixby Bridge – Julia Pfeiffer Burns State Park. Why did I want to dry this park? For the stunning McWay Falls, which is a waterfall that empties straight onto a pristine beach. The only thing is that it'd take nearly an hour to get here from the bridge, though that was partially due to roadwork occurring in the area.
Once we got there, we had to turn off the road and drive up a narrow road until we hit a guard shack. Since this is a California State Park, a $10 per-vehicle entry fee is required. As I said in m posts about Hawaii's fees, I don't mind paying these, as it helps with upkeep and is my fair share. Indeed, the roads and parking lot here were in great shape, while the bathroom was actually nice!
Now, to get to the coast, you need to follow a third-mile trail. The trail follows McWay Creek, which feeds the falls itself.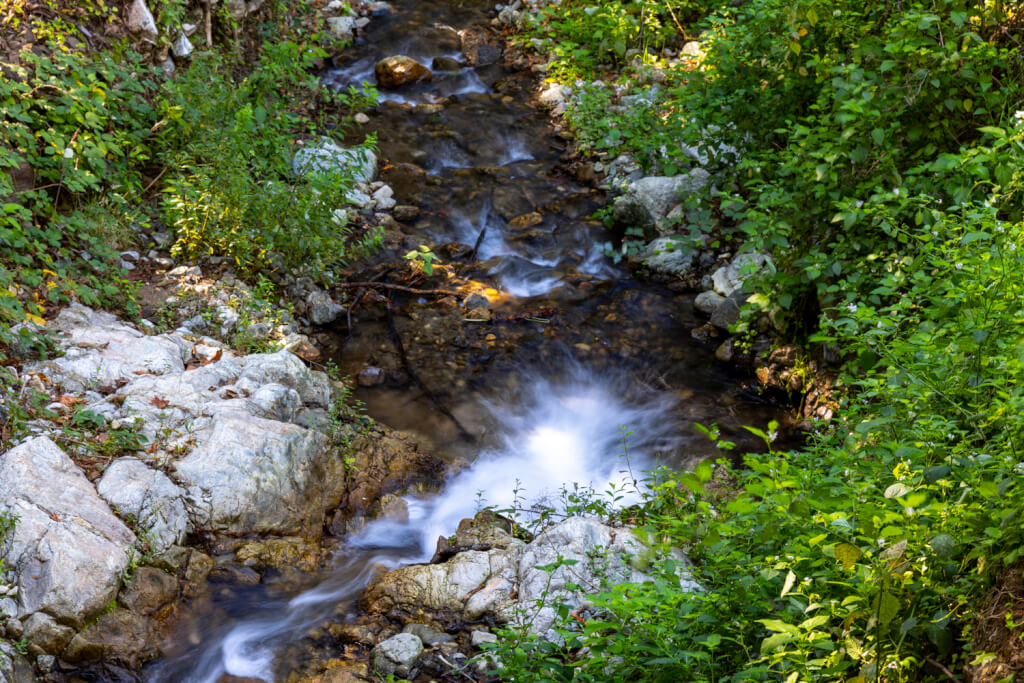 Eventually, you enter a tunnel to pass under the highway and continue on until you hit a gate leading to the closed segment of the trail. Initially, you aren't going to be able to see the falls at all, though you can see most of the bay and beach.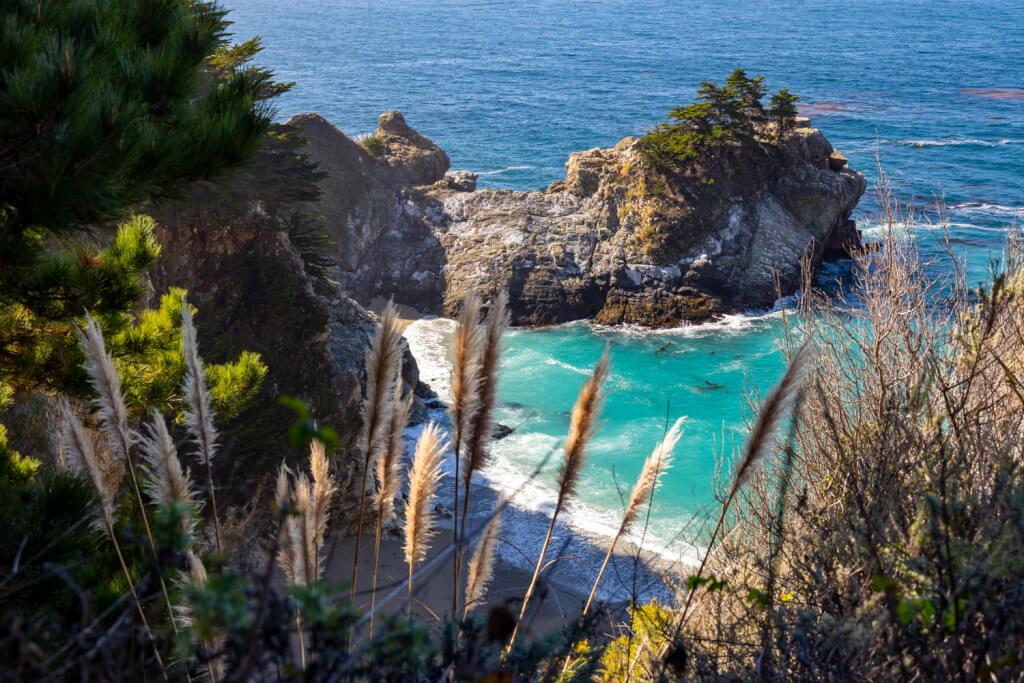 However, once you reach the current end of the trail, you'll be treated to a gorgeous view of the falls. Unfortunately, the angle of the sun made photographing this stunning sight difficult. What's more, the area with the best view is very small, and there are a lot of people. So, please, wait your turn, and try not to take too long when it is your turn.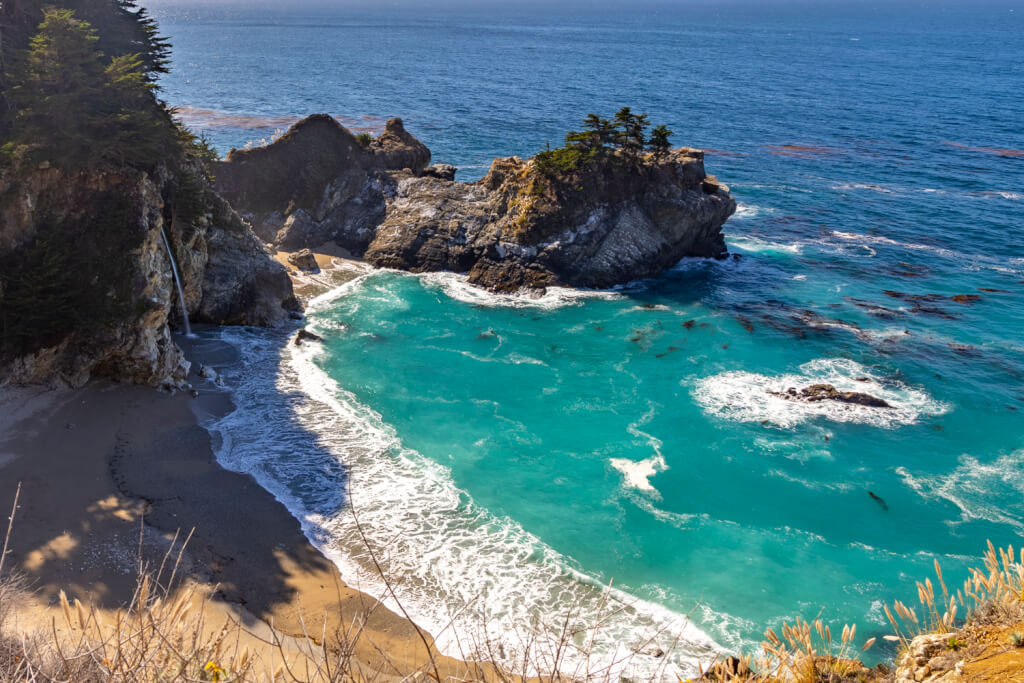 From here, we decided to head back up the coast. While there was more to see further down, the amount of time it'd take to get there, plus the time it'd take to get back up to Carmel, I didn't think it'd be worth going further. We did, however, stop at this gorgeous vista point on the way back up. Just look at this! Hawaii is gorgeous, but this place is just something else!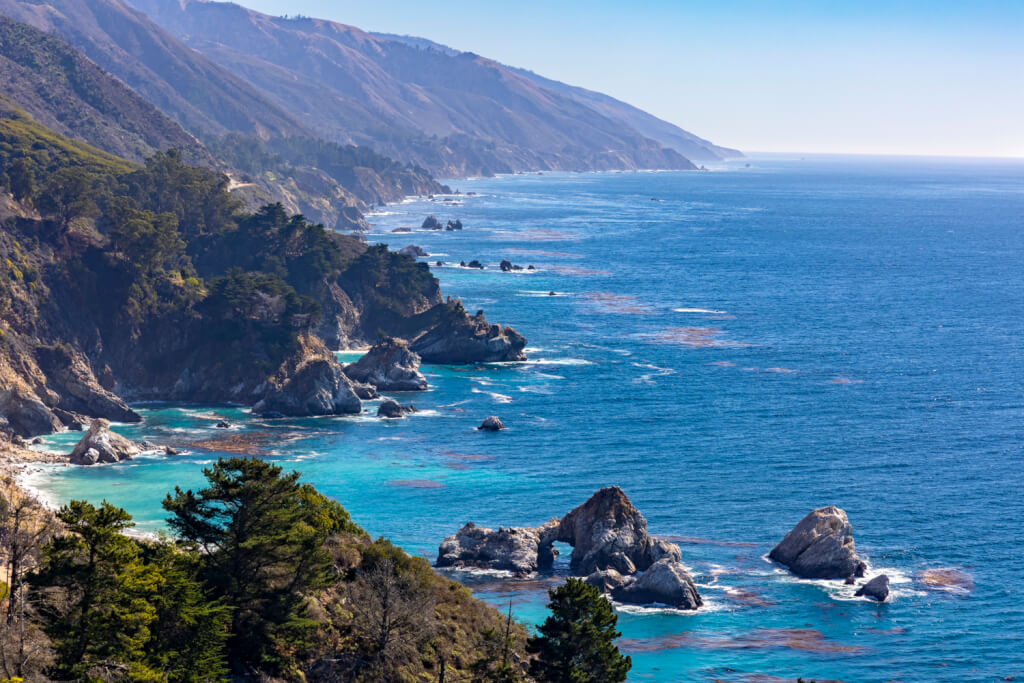 After getting back from exploring Big Sur, we decided to do some exploring around Carmel by the Sea, and headed over to Pacific Grove for a bit, too. But as the sun began to drop towards the horizon, we decided to head back down the coast.
Revisiting Bixby Bridge
Since this was November, the sun began setting really early. To take advantage of the beautiful golden hour light, we headed back down to Bixby Bridge. Apparently, everyone else had the same idea, as it was much more crowded this time around. Thankfully, I was able to find parking and headed back to about the same area I was at earlier that day. Just look how much better the different lighting made the area look!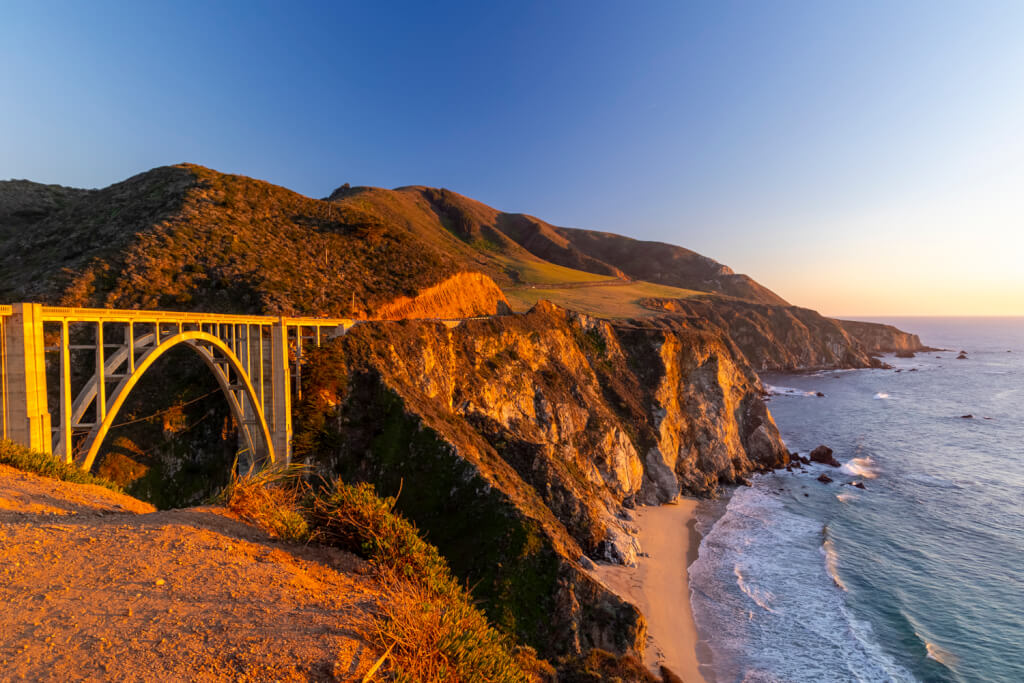 However, to try to avoid the crowds, some of which were incredibly rude, we walked further away. That was probably the best decision we made during this second visit, as the angle was – to me – so much better!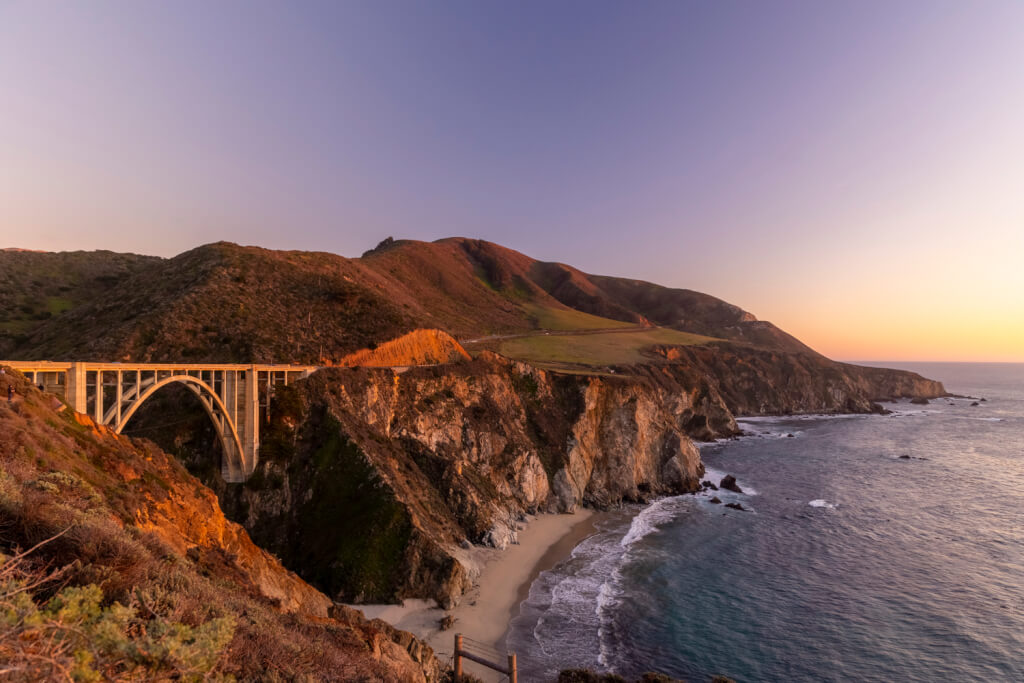 I did also have my drone with me and took it out on a quick flight while we were here, though I'm not sure it was worth it. I think my ground-level photos came out better, but you all can let me know if you think otherwise.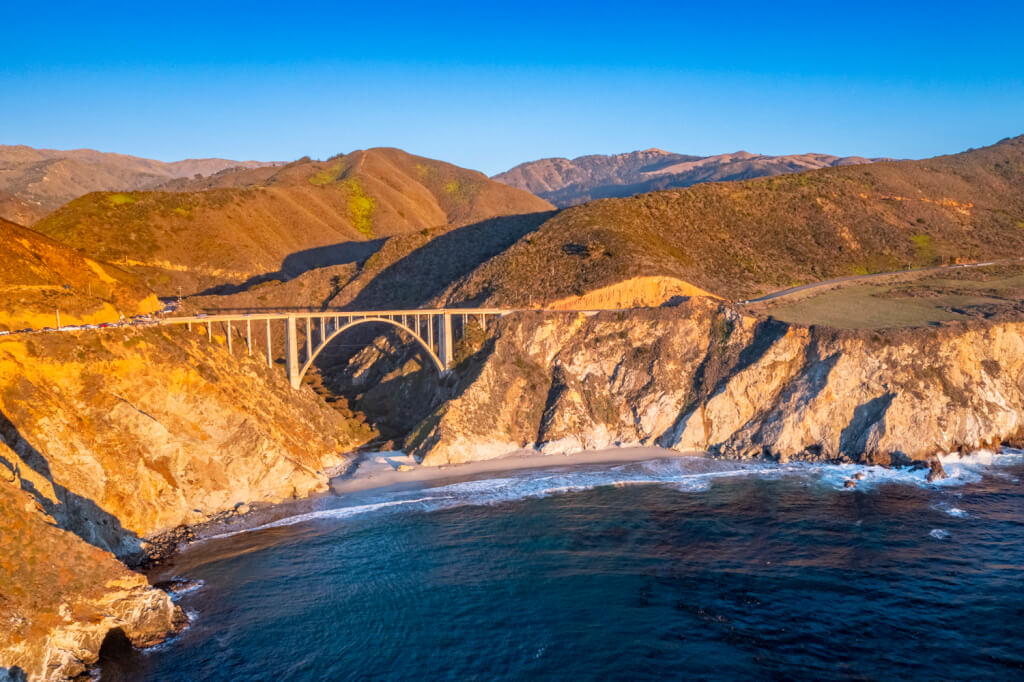 Exploring Big Sur, Final Thoughts
Honestly, selfishly, exploring Big Sur, and visiting these two sites in particular, have long been bucket list items for me. And while this visit was very brief, I'm still glad we made it. California's Central Coast is stunningly beautiful and like nowhere else I've ever visited. That said, it's best to try to come here during off-peak times to avoid the crowds. It's also best to check road conditions before heading out, as the highway often gets shut down due to rockslides and whatnot. We lucked out in that regard.
Another point worth mentioning about the area, however, is connectivity. Once we got a minute or two past our hotel, we had ZERO cellphone service. We did briefly get one reception bar in the area around Pfieffer Big Sur State Park but, otherwise, were wholly cut off out here. We have Verizon Wireless, in case you're wondering. So, yeah. It might be worth downloading offline maps when coming out here because you won't be able to load Google or Apple Maps otherwise!
Living It Up in California