While I don't typically like eating at hotel restaurants, we ended up eating breakfast at Pacific's Edge twice during our three-night stay at the Hyatt Carmel Highlands. While expensive, Iʻd say that the restaurant wasnʻt bad. Mostly.
I am not going to lie; I was being a little lazy as far as breakfast goes during our time in Carmel. I didn't really want to have to drive into Carmel-by-the-Sea every day for breakfast, and other options were few and far between. So it made sense to dine on-property, at least for our first meal of the day.
Location
Naturally, the restaurant is in the Hyatt Carmel Highlands. Specifically, you can find Pacificʻs Edge in the hotelʻs main building, past the front desk. That meant that getting to breakfast was a five to ten-minute walk for us each morning, which was nice in the crisp morning air.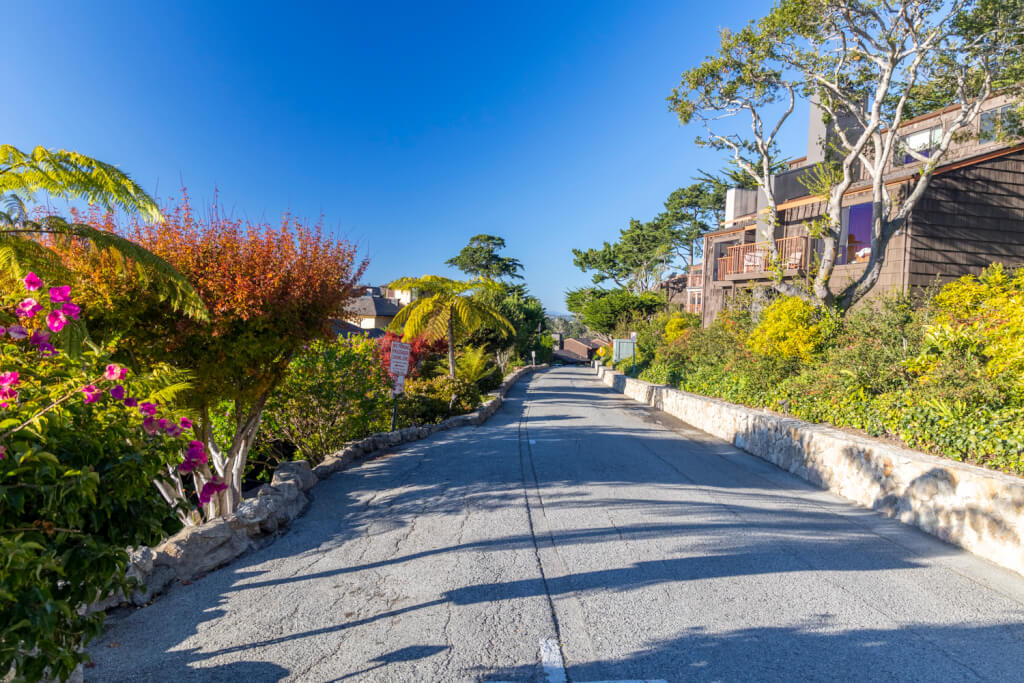 Ambiance & Service
Before we get any further, it is worth noting that, so long as the weather is nice, Breakfast at Pacific's Edge can be enjoyed inside or on the outdoor terrace. Not being used to the colder weather, we decided to dine indoors during both of our visits. No matter which way you go, though, know that youʻll enjoy spectacular views.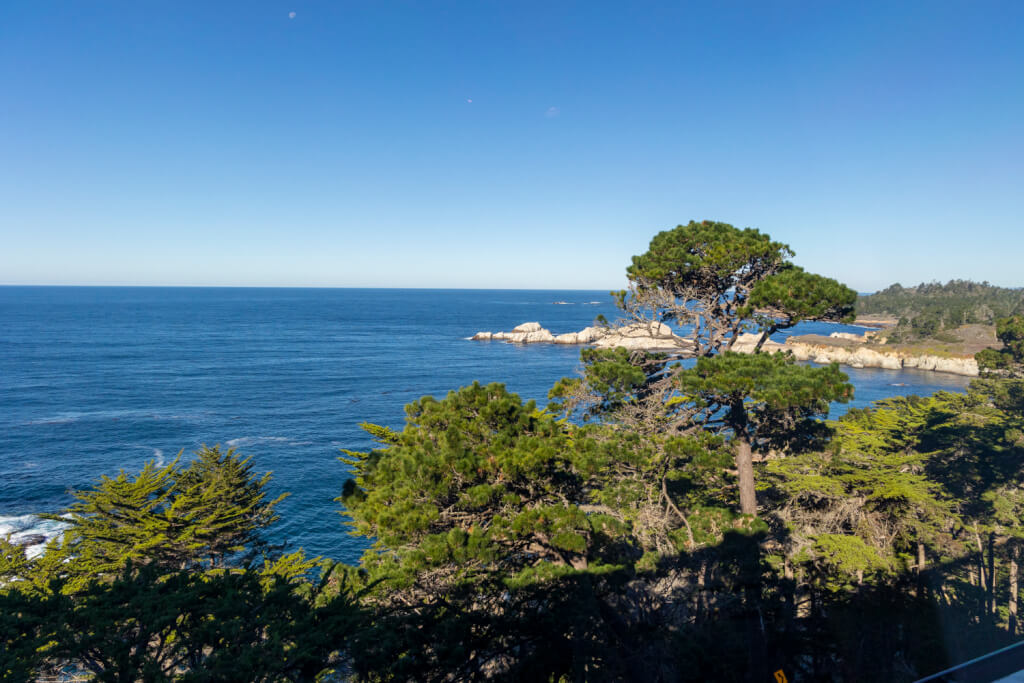 Views aside, Iʻd say that Breakfast at Pacific's Edge is a casual affair. The restaurant has a cozy feel to it, while also being awash in glorious sunlight. Of course, that may have partly been a function of us constantly being sat on the lower level. But Iʻm not complaining!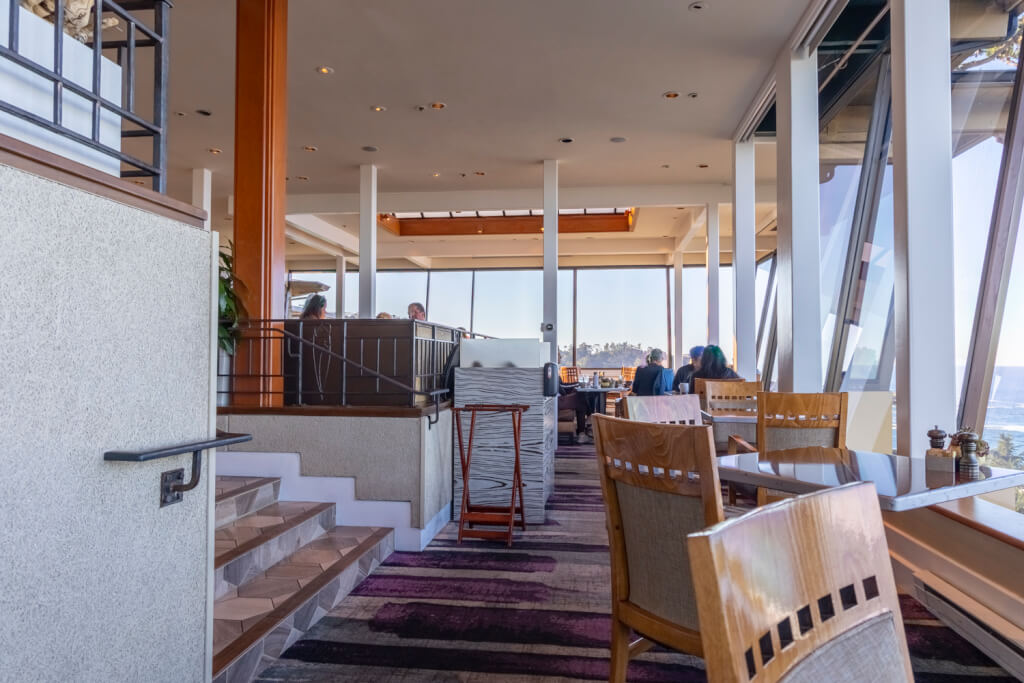 As far as service goes, it was consistently excellent during breakfast at Pacificʻs Edge.
Breakfast at Pacificʻs Edge Menu
If I have one complaint about Breakfast at Pacific's Edge is that the menu is small. During our visit, and even today, you have a choice of a yogurt parfait, an egg and meat plate, oatmeal, a sandwich, a bagel, a benedict, an omelet, pancakes, avocado toast, and several sides. Interestingly, the drink menu is larger than the food one, with a large selection of both no-proof and alcoholic beverages.
What We Ordered
On our first morning at the Hyatt Carmel Highlands, we ordered three items for breakfast – a yogurt parfait, the bagel & lox, and the avocado toast with Dungeness crab.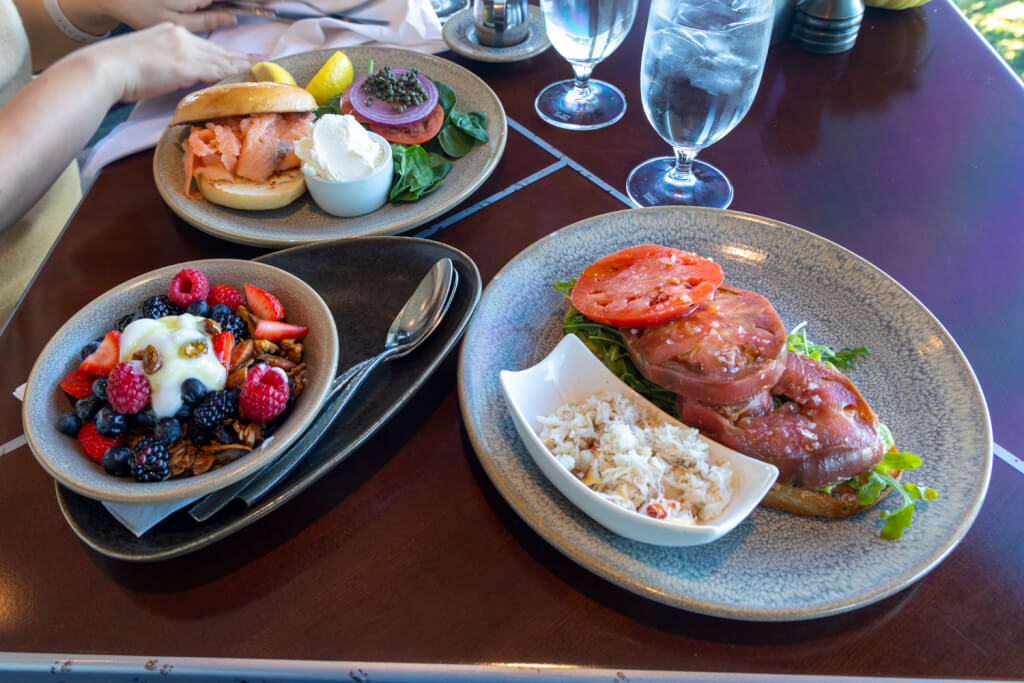 The Lox & Salmon is fairly basic, consisting of a plain bagel, a side of cream cheese, raw spinach, a slice of heirloom tomato, red onion, capers, and two lemon wedges.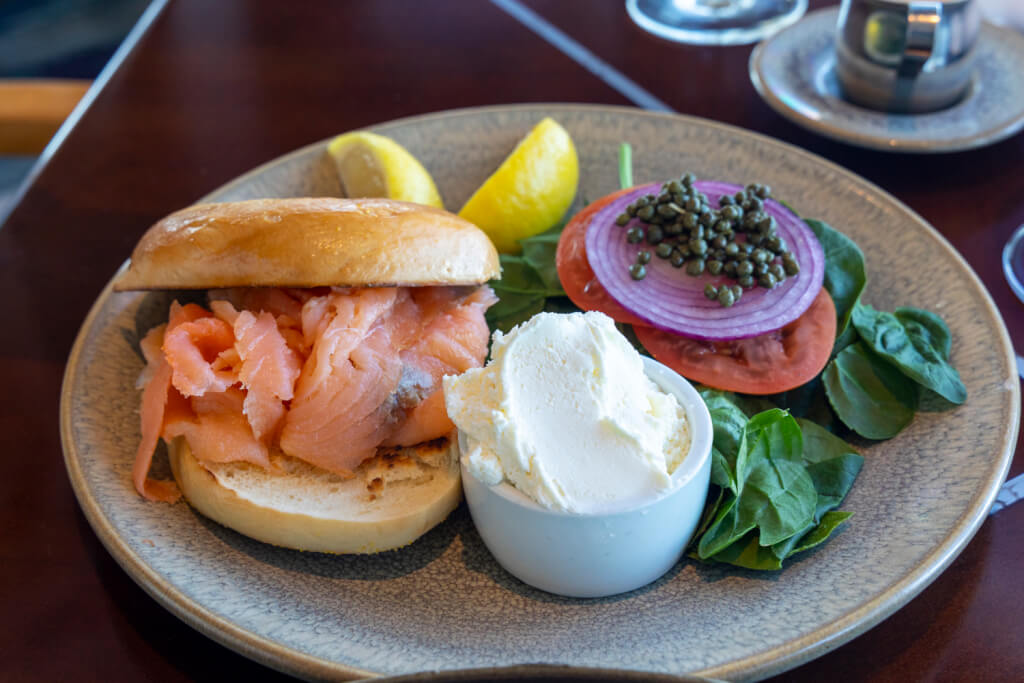 The Avocado toast featured a thick slice of toasted sourdough bread, a layer of crushed avocado, a bed of arugula, and three MEATY slices of heirloom tomatoes topped with a drizzle of olive oil and flake sea salt. The Dungeness crab came on the side. While it doesnʻt look like much, the toast itself was super tasty and satiating. The mild tartness of the toast, the creamy avocado, the spicy arugula, and the meaty umami of the tomatoes were a match made in heaven. Too bad, then, that the crab was bland, a little fishy, and sad.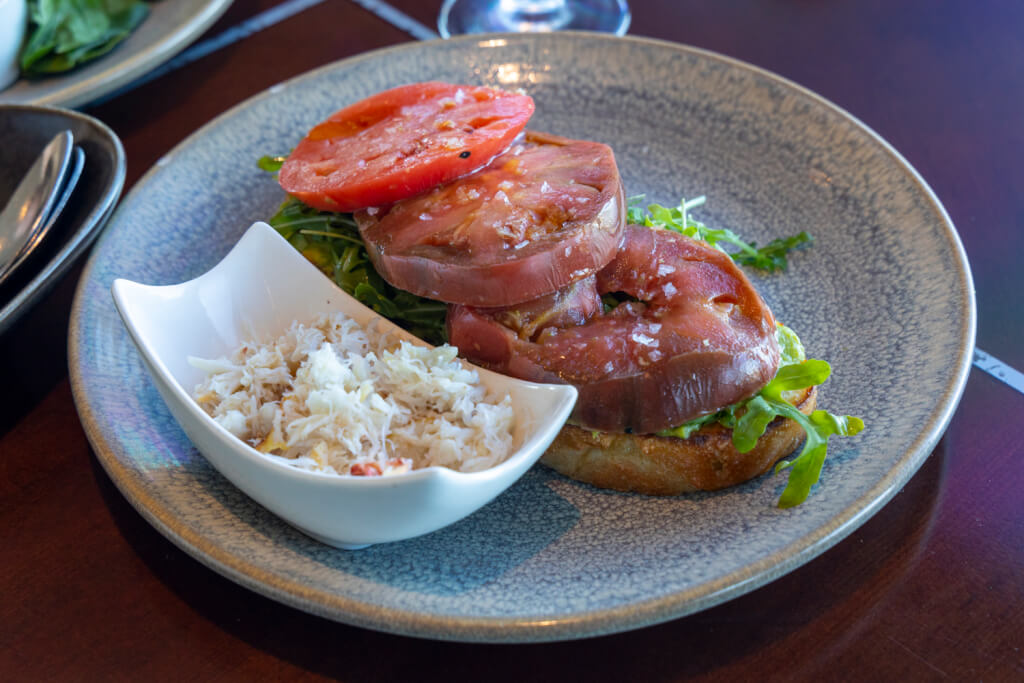 The yogurt parfait consists of seasonal berries, pistachio granola, Strauss Farms vanilla yogurt, and a drizzle of Carmel Valley Honey. In principle, this parfait sounds awesome. Unfortunately, the combination of sweetened yogurt with honey made the dish FAR too sweet.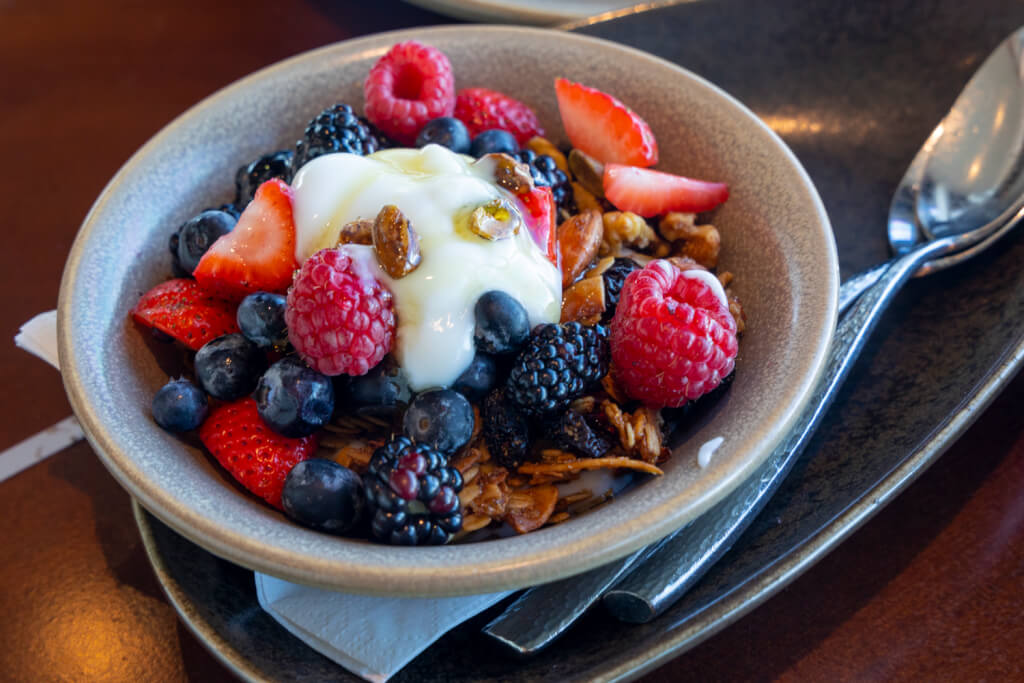 Our second Breakfast at Pacific's Edge looked similar to our first, thanks to my own choices. This time around, we went with the side fruit & berry plate, the breakfast sandwich, and avocado toast with bacon.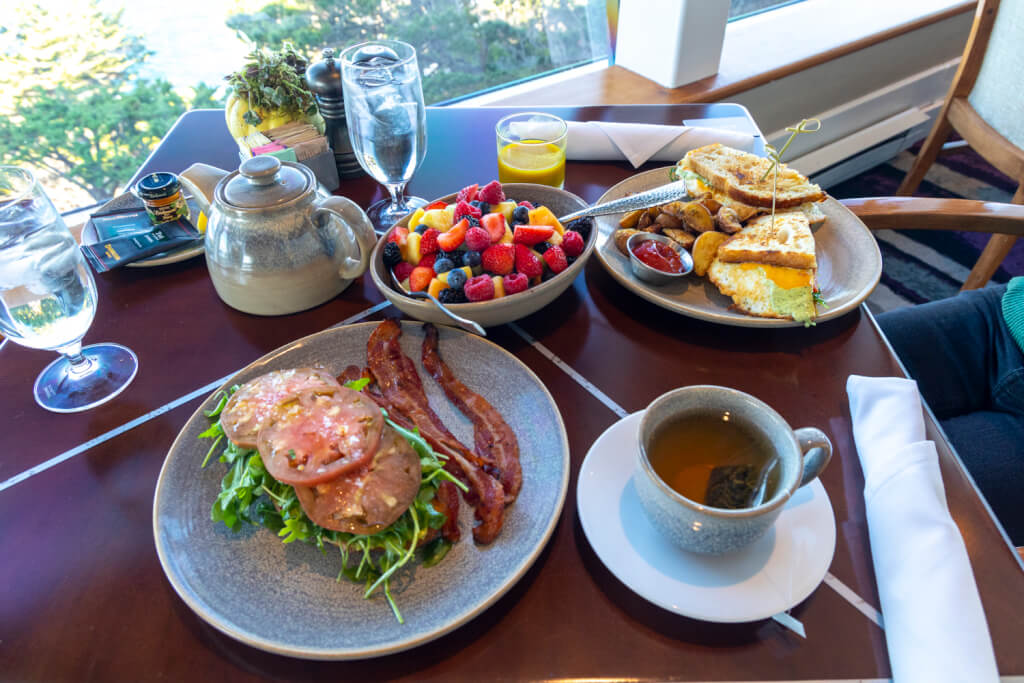 Can I just say that this is the biggest side fruit plate I've ever seen? Itʻs HUGE and justified the $15 price tag. That said, it was pretty basic, and much of the fruit was pretty sour.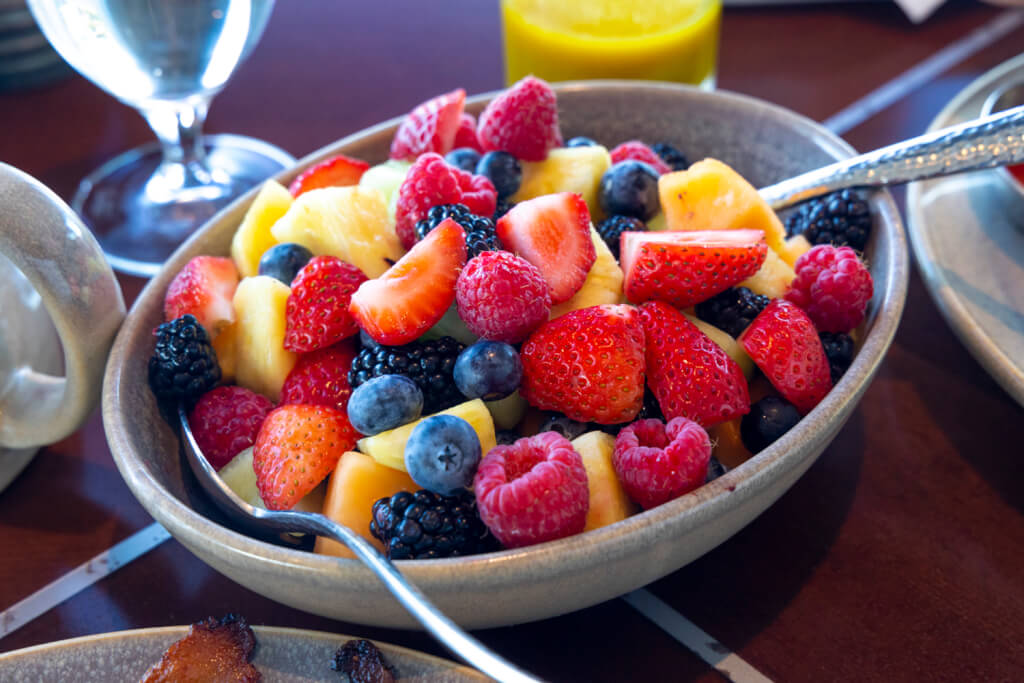 The Breakfast Sandwich, on the other hand, was far more successful. Just look at how HUGE this thing is! Between two layers of toasted sourdough was herb aioli, bacon, a sunny side egg, cheddar, avocado, arugula, and tomato, with a side of roasted potatoes. I tried a bit of the sandwich, and it was divine! It is so well-balanced and tasty. If and when we come back to the Hyatt Carmel Highlands, this is the breakfast dish to order.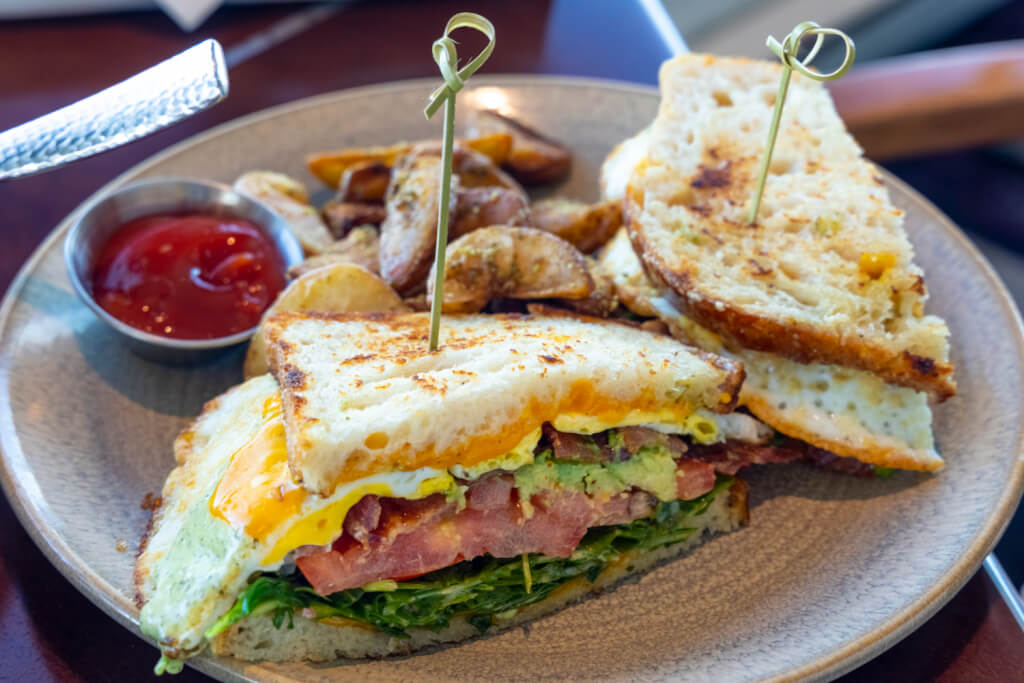 Me? I went with the Avocado Toast again but got bacon instead of crab. It was the same as our previous visit, which is good, while the bacon was nice and crispy. No complaints here.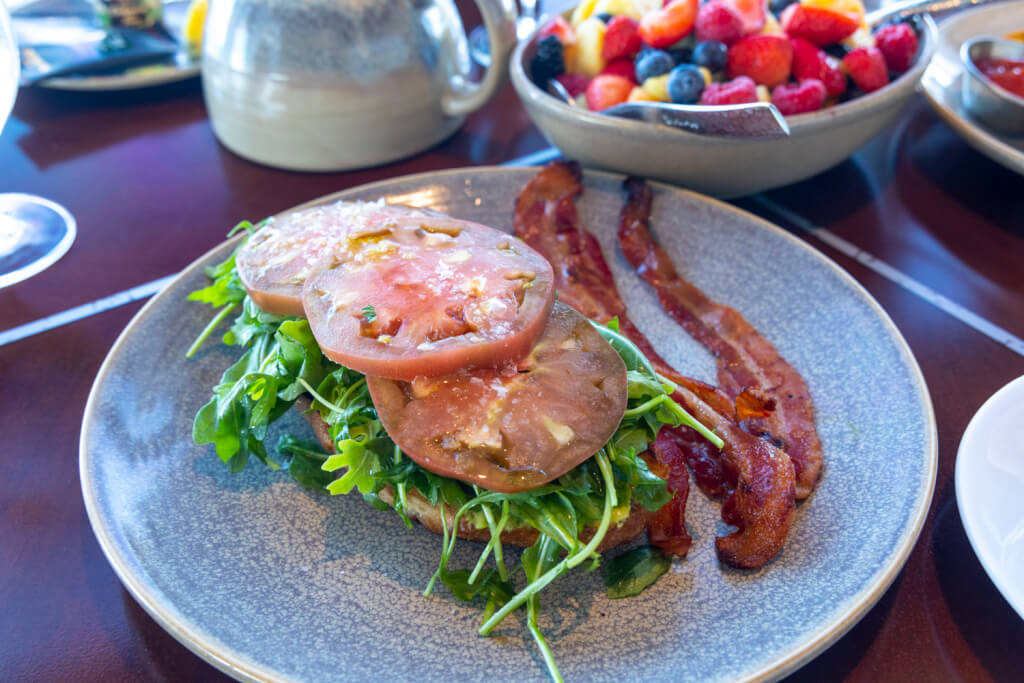 Breakfast at Pacific's Edge, Final Thoughts
Overall, I was pleasantly surprised by the Breakfast at Pacific's Edge. The food, service, and ambiance were all good. That said, prices were right where you expect them to be – HIGH. The only charges we got during our whole stay there for breakfast, and the total came out to $200.09, including tax and tip. For two breakfasts. Yup. But, it is what it is. I think the convenience and quality were worth it. Next time, though, I think Iʻll make it a point to head into Carmel for breakfast.
Living It Up in California
Breakfast at Pacific's Edge