Hailed as one of the most anticipated restaurant openings of 2022, I was so excited to find out that Chez Noir Carmel would open not long before. Better yet, I was able to secure a reservation on our first night in Carmel. Unfortunately, my experience with them was a complete letdown.
Founded by Chef Jonny Black and his wife, Monique, Chez Noir built an incredible amount of attention before opening, thanks i part to their pop ups, along with Chef Black's pedigree. He worked or staged in incredible kitchens around the world, including Per Se, Noma, Quince, and most recently, Atelier Crenn as their Executive Chef. In fact, he was the executive chef at Crenn during my visit! So, naturally, I was excited to see what he could do on his own.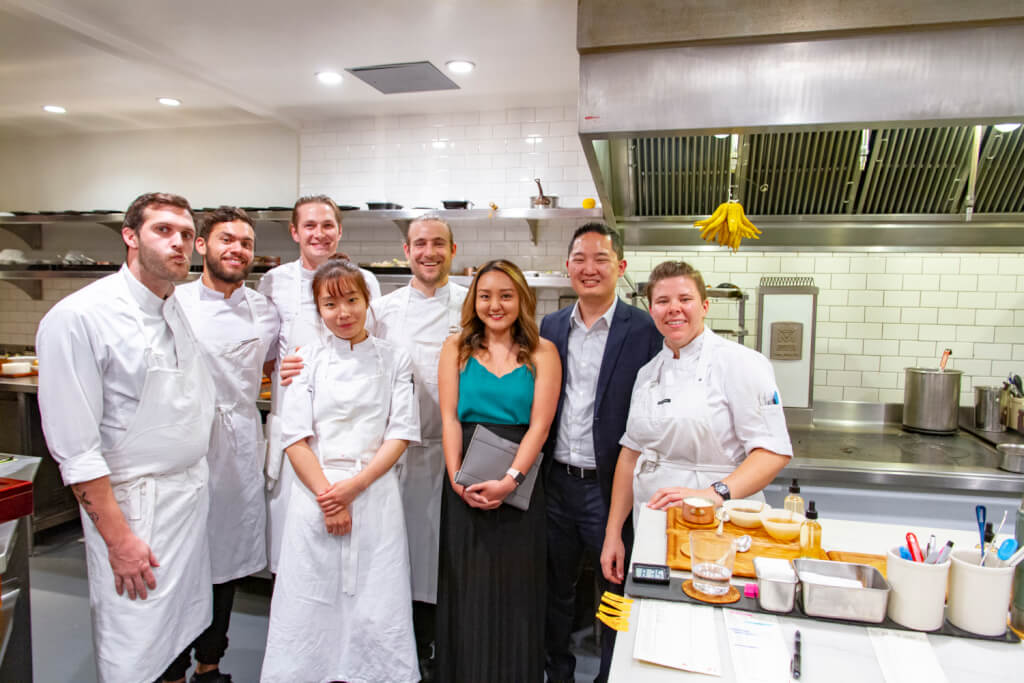 Booking Chez Noir Carmel
Like many high-end restaurants these days, Chez Noir Carmel uses Tock to book reservations. And like so many others, they do charge a non-refundable fee to make your reservation. Here, it's $25 per person, which is applied to your final bill. Speaking of, the restaurant applies a 20% service fee to all bills, and a two-hour time limit does apply to all tables.
Chez Noir Carmel Service + Atmosphere
Given the stipulations above, one can imagine that Chez Noir Carmel is a small restaurant, and it is. It is rather tight inside, though we never felt claustraphobic. However, the lighting is DIM, even for a restaurant like this, and it was very loud. For a place saying that it is an elegant bistro, it was a bit surprising to find an atmosphere that was loud enough that we frequently had issues communicating with our server.
Speaking of our server, our first interactions with the staff at Chez Noir Carmel were great! The matrie d'hotel and others that greeted us and took us to our table were absolutely fantastic! Our server? Not so much. She was cold, disengaged, and kind of just ignored us a lot of the time. In fact, it was common for my water glass to go empty.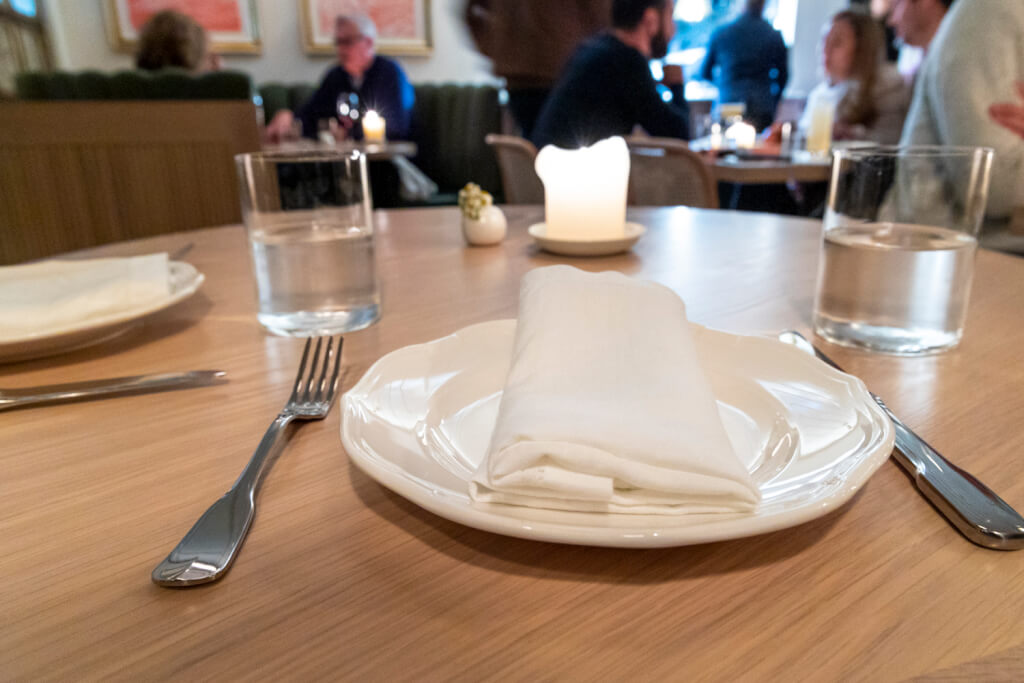 Chez Noir Carmel Menu
As is common at these types of restaurants, the menu at Chez Noir Carmel is seasonal, seafood-centric, and hyper-local. Sort of. There were Kauai prawns on the menu during our visit, which, don't get me wrong, that's great, but that's far from being local.
What We Ordered
Before we get into it, I don't know what happened, but half my notes for this experience vanished. So, while we ordered drinks, I can't tell you what they were. I do remember that these were good, though!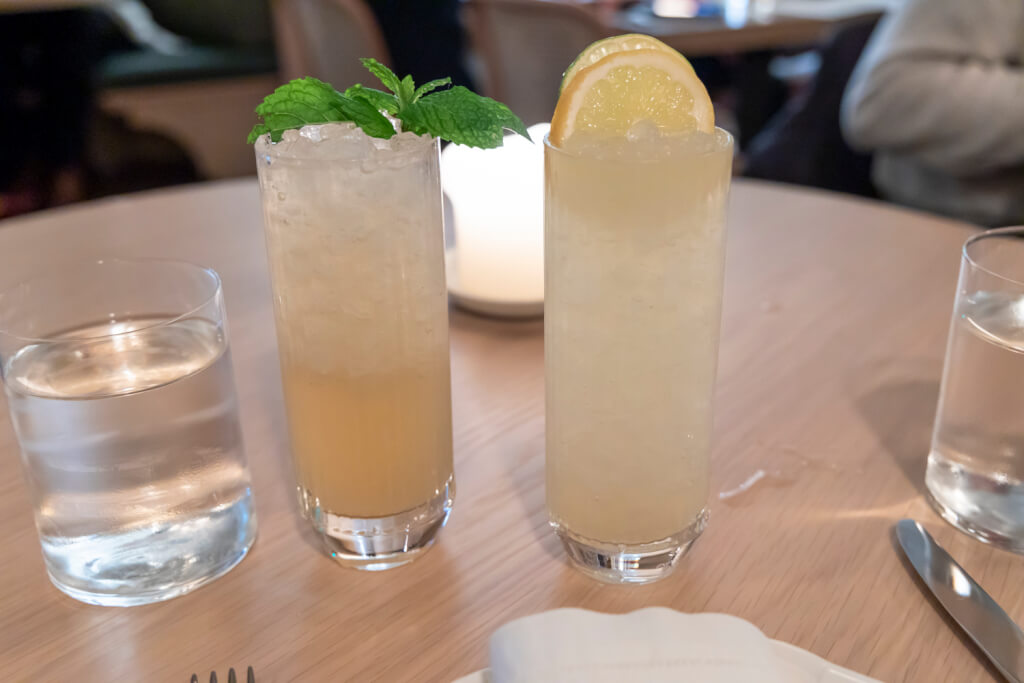 To start, we went with the Yellowtail Rockfish Crudo ($22) featuring Corno di Toro pepper, fresh wasabi, and sorrel. This dish looks like it could be spicy, but it's not. It has a very clean oceanic flavor with a meaty, toothsome texture. The sauce is predominantly sweet/sour, with a nice hit of lime. There is a slight peppery note to it, and is rounded out by fried onions, which also lends a great crispy note to it. That said, I didn't quite get this dish. It was strange.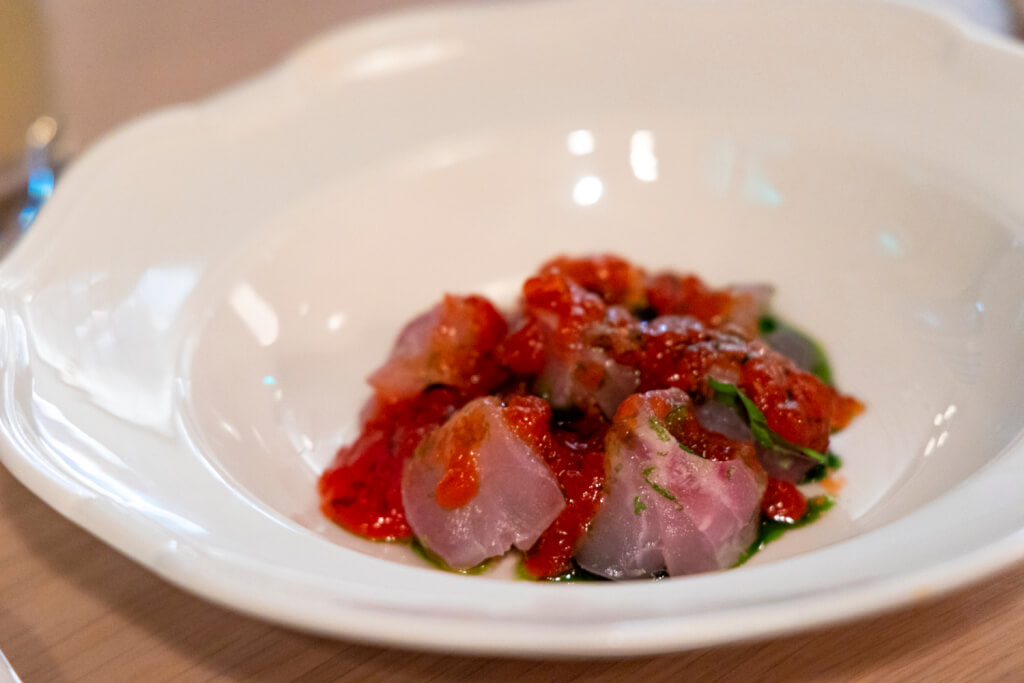 Next up, we had an order of Rock Crab & Jamon Croquettes ($20). There's no description provided on the menu. But what I can tell you is that we got two pieces, which came topped with a dab of crab aioli and a piece of crab meat, and they were served atop a crab shell. As you'd expect, there was crispy on the outside and a luscious, creamy interior. I will say they were served a little lukewarm for my liking. Don't get me wrong, I appreciate that they weren't blazing hot, but it was a bit too cold.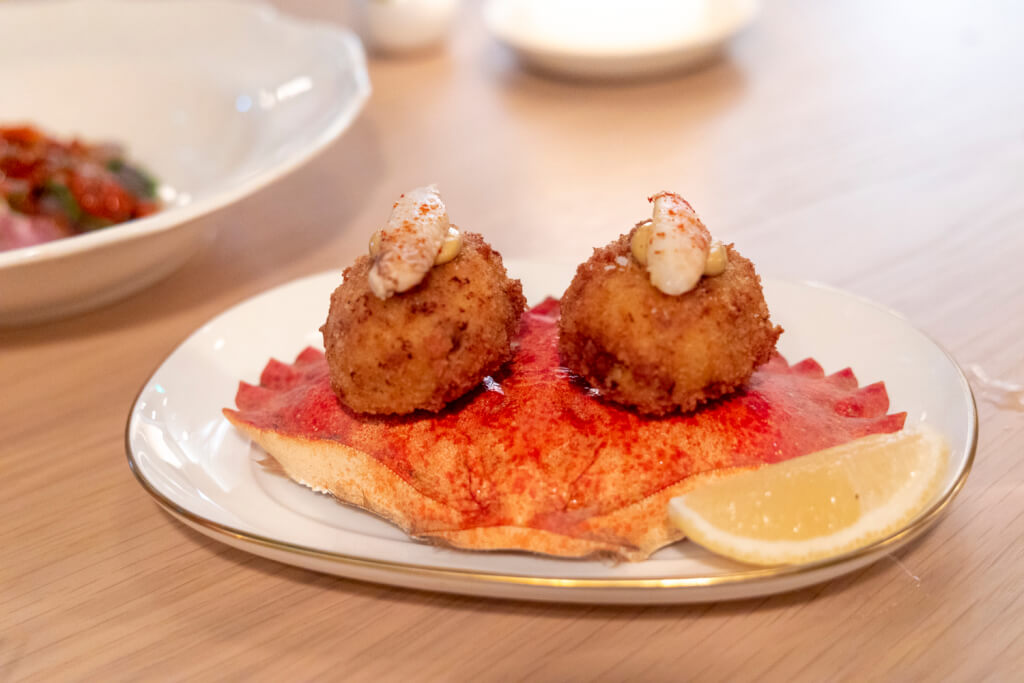 For her entree, Mrs. Island Miler went with the Spaghetti Alla Chitarra ($48). On that night, the pasta came dressed in Santa Barbara sea urchin, Espelette pepper, and toasted nori. Unsurprisingly, this was a rich dish with an assertive uni flavor cut with lemon. You really couldn't taste the nori or the Espelette – at least I couldn't – but I thought the lemon wasn't the best thing to combine with uni. The noodles had a nice texture to them.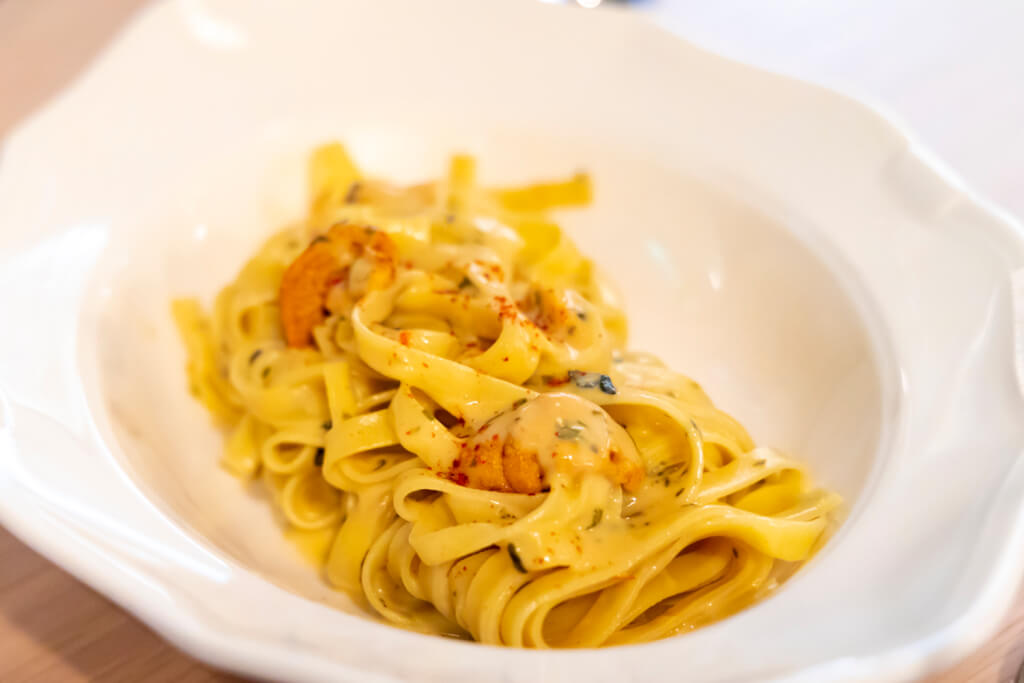 For my entree, I went with the Monterey Abalone ($54). This sea steak comes with La Ratte potato, chanterelles, and liver Grenobloise. It did also comes covered in a layer of gently cooked fresh spinach. Overall, the dish was good! The abalone was among the most tender I've ever had, yet it still had a wonderful meaty texture. The sauce was strongly oceanic and deeply savory. In that regard, it was a very satisfying dish. However, this wasn't a satiating dish. The piece of abalone hidden under the spinach was TINY – I don't know how this could count as an entree. And while good, it wasn't unique, different, or exciting.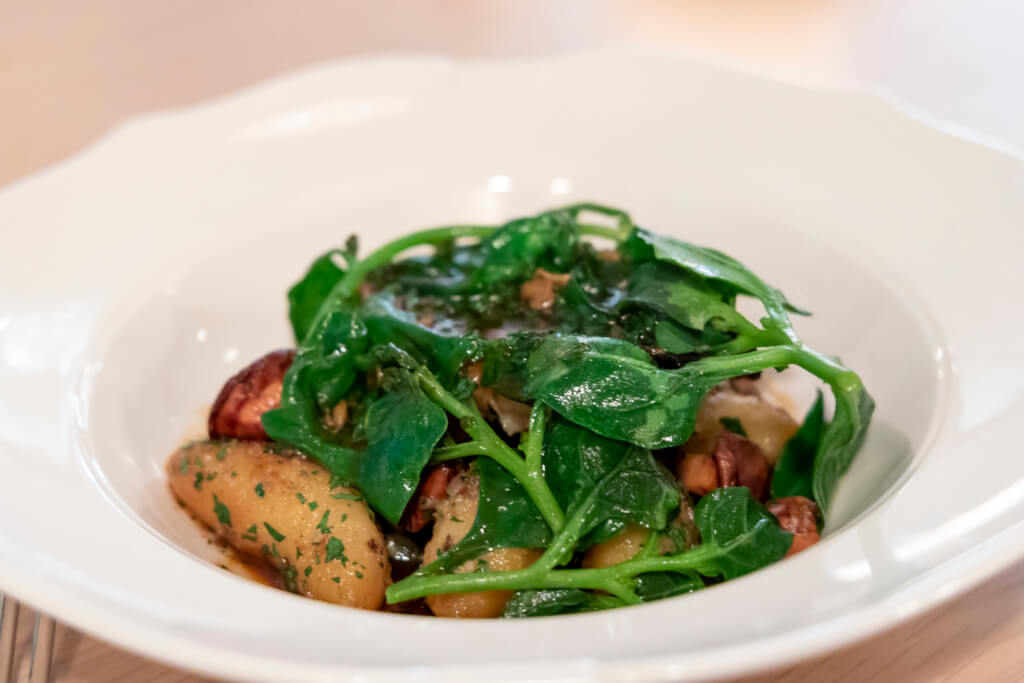 For dessert, we ended up with three of the five available selections. Mrs. Island Miler went with the Pineapple Guava ($16), which was actually a dish of champagne gratine and fig leaf with some fruit that tastes like pineapple and guava. It's an interesting and refreshing dis, though I felt the champagne was a little too assertive.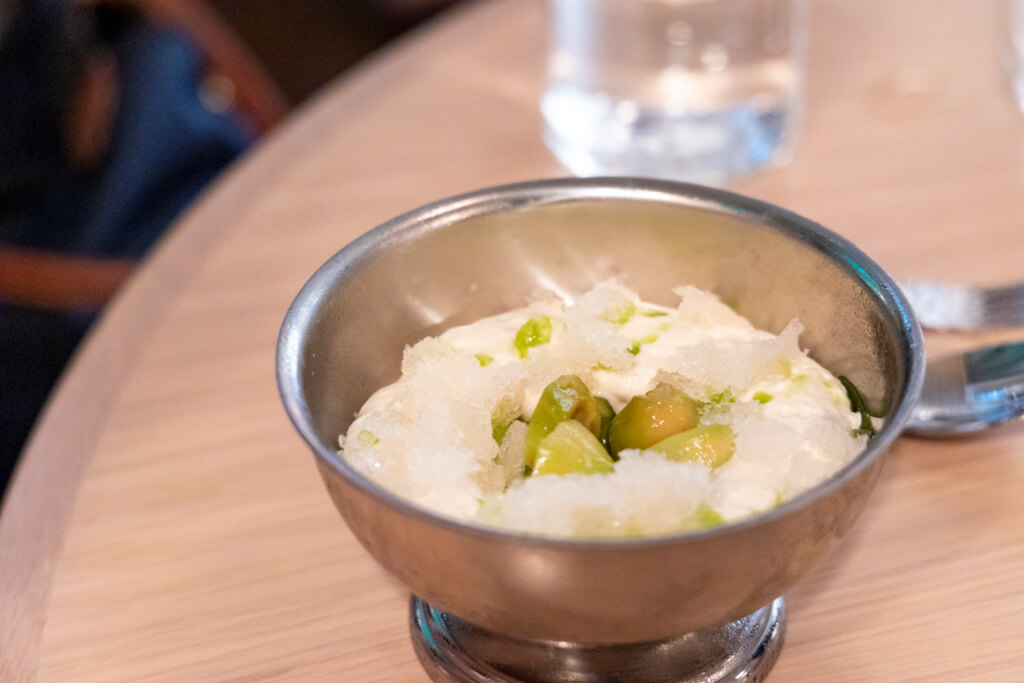 Naturally, I went with the Chocolate Sabayon Tart ($18). Featuring Tahitian vanilla bean & whiskey ice cream, this was a deeply chocolatey dessert. The vanilla and whiskey played really well with each other, with both enhancing each other's flavors, while the tart itself was rich and dark.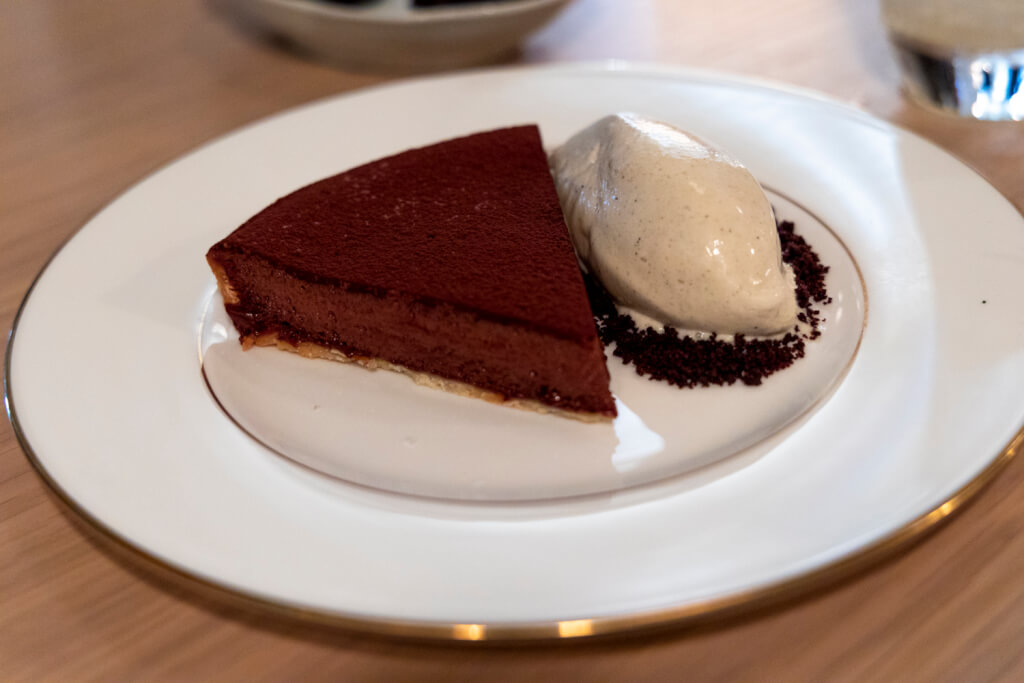 The final dish we ordered was the Canales de Bordeaux ($10). This is something I always have to try whenever I see it, as so few places do it correctly. You see, Canales should be firm, crisp, and deeply caramelized on the outside yet tender and chewy on the inside. This one hit the mark perfectly!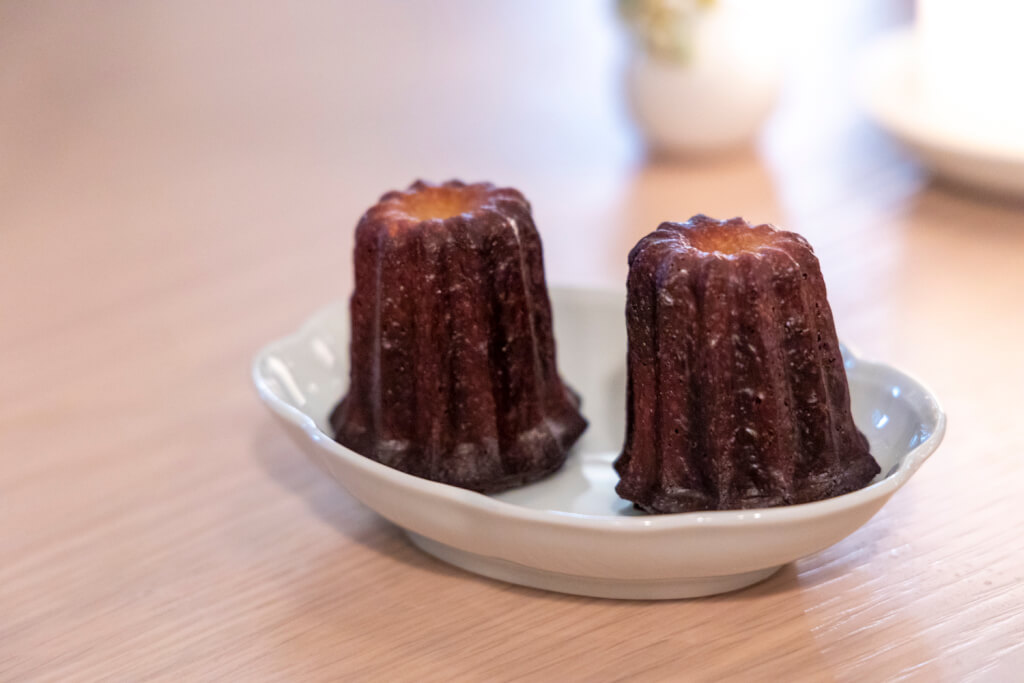 Chez Noir Carmel, Final Thoughts
Our meal with tax and tip came out to $249.68, which isn't bad for a fine dining experience in somewhere like Carmel. However, even accounting for inflation, I don't feel like the value is there. $54 for what amounts to a large appetizer is a little ridiculous. Mind you, I actually got hungry not long after – thank goodness I still had snacks from our Alaska Air flight!
I also take issue with being charged an automatic 20% service fee, especially since our server was BAD. Add to that the hit-or-miss nature of the cuisine and the inconveniences of having to find parking in an area that is notoriously short on parking, and Chez Noir Carmel isn't someplace I'd prioritize returning to.
Yes, the restaurant had recently opened when we visited, but I'm sure than a month is enough time to work most of your kinks out. They opened on October 7, and our visit was on November 12. Of course, maybe the restaurant's cuisine just isn't my style? But I'm not the only one who felt this way. A ceramic artist that has a strong culinary background and often has good, level-headed takes came away with the same sentiment as I.
Living It Up in California