I haven't been able to use my Marriott Visa free night in years.  However, finally, a Marriott Visa certificate reservation has become possible for me!  But…
Disclaimer:  I booked this award a few weeks before the announcement.
I've been a Marriott Rewards Premier Visa Signature cardholder for seven years now.  That's as long as I've been a Marriott Rewards member.  And as we know, the $85 annual fee credit card comes with an annual Category 1-5 free night certificate.  The certificate used to be useful, as Marriott had many Category 5 properties in desirable locales.  However, that quickly changed.  As a result, I haven't used my Marriott Rewards Visa certificate in YEARS.  But that's changing this year.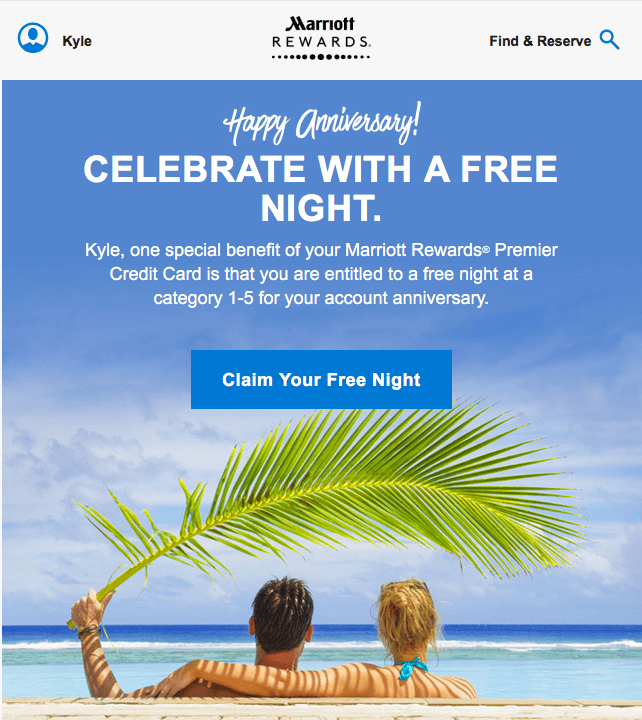 Marriott Visa Certificate Usefulness
Marriott Rewards category 5 used to have many properties in large cities.  This included the Courtyard Waikiki Beach, which is where I often used the certificate at.  However, that property has since become a category 7, with award nights costing 35,000 points per night.  Insane.  But that's beside the point.
Marriott does still have 804 category 5 hotels in the United States.  However, none of these are in major cities or popular destinations.  That's not to say they're in places people don't want to go to, nor does that mean these properties are bad.  But, as far as my travels go, they're not in places that are often on my radar, so the certificate has little use to me.
Outside of the U.S., you can still find some Category 5 and hotels in major cities and destinations, but it's becoming harder.  And, unfortunately, the certificates are non-transferable.  Further, you can't buy-up to a higher category with cash or points, which is disappointing and frustrating.
Finally Using My Certificate
With all that said, I feel like being able to use the certificate is a major victory.  And, this year I will be able to use the certificate!  But that's because my travels are taking me outside of major cities for the first time in a while.
The reason for this need to travel is to attend a friends wedding.  It just so happens, though, that this friend lives in Merced, California, which is where the wedding is.  So, I have a three-night stay booked at the Courtyard Merced to attend the wedding.  We'll probably try to squeeze in a day at Yosemite National Park too since we're right there.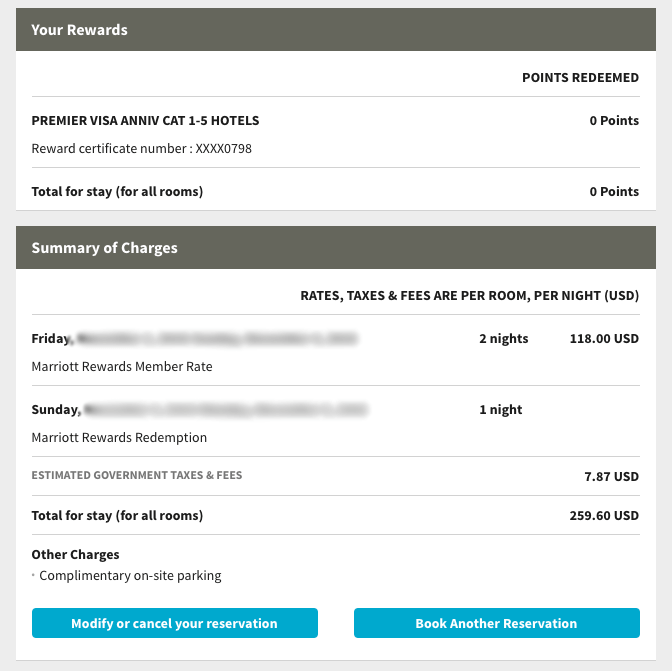 And while I'm happy I'm finally able to use my certificate again, the value of the redemption kind of sucks.  My two paid nights are coming in at $118 each, while the certificate night is about $125.  That's more than $85, which means I'm at least getting more value than the annual fee, but it's still not that great.  I used to be able to extract over $200 in value from the certificate, but with these changes, that's gotten more difficult to do.
Changes in Booking
Something that threw me off when I made the reservation is the way the award reservation now shows up in your account.  Unlike in the past, your Visa Certificate stay won't show up as such.  Instead, it'll show up as a points redemption.  I called Marriott about this, and after being on the phone for about half an hour (and after the associate spoke to 3 different superiors) they figured out that the system processes these stays differently now.  And what will happen is that when the certificate redeems, the system will automatically deposit points to my account to cover just that stay, which will immediately be taken out for the certificate.  Will it work this way?  We'll find out in November.
Caveat
Of course, after I made this reservation, Marriott said they'd be making an announcement.  And, we now know this announcement was regarding their new loyalty program.  Oh, and that the credit card certificates would now be valid for stays up to 35,000 points.  However, with a new award chart and no hotels matched to it yet, we won't know how things will play out.  So, for now, anyway, I'm keeping this reservation as is.  Or, I don't know, maybe I'll just convert the night back to a cash stay.  We'll see.
Finally a Marriott Visa Certificate Reservation, Final Thoughts
Again, I'm happy I finally get to use my Marriott Visa Certificate this year.  That being said, I'd be traveling to Merced regardless if I could use the certificate.  After all, I booked my reservation a while back without even thinking twice about the hotel's category.  But when I did remember to check, I was happy to see that the Courtyard Merced is (for now) a Category 5 property.
However, a lot of unanswered questions remain about Marriott's new program.  So now I have to decide whether or not to keep this award stay as-is, or convert it back to cash.  And will the Courtyard Merced remain a Category 5?  Or will it decrease (or increase) a Category level?  Only time will tell.