When the Chase Sapphire cards came out, they were revolutionary products. But, in the years since, other products have launched, while others got refreshes that gave the Sapphire duo a run for their money. Sadly, Chase hasn't done much to keep them competitive. In fact, half-hearted Sapphire enhancements are on the way soon.
It's been five years now since the Chase Sapphire Reserve launched, and since then, not a lot has changed with the card. However, the rest of the industry has been changing. For example, the Amex Gold earns 4x points on dining and groceries. The Citi Premier, with just a $95 annual fee, earns 3x points on dining, groceries, air travel, hotels, and gas stations. Then, of course, you have the Capital One that earns double points on everything. These are just a few of the cards floating around out there that bests the Sapphire Reserve's earning power – especially since most of these cards have similar transfer partners and transfer ratios too. So, many have been hoping that the Sapphire Reserve would get a big makeover – not so.
Half-Hearted Sapphire Enhancements On the Way
Now, the Sapphire Reserve isn't the only Sapphire card Chase offers – there's the much forgotten Sapphire Preferred two. And while the title of this post suggests all of the coming enhancements are mediocre, that's more targeted at the Reserve. In fact, I think the Preferred's coming changes are actually pretty damn good.
Sapphire Preferred Enhancements
According to Chase's press release, the Sapphire Preferred is getting a pretty significant bump in earning power. Changes include:
5x points on all travel purchased through Chase Ultimate Rewards
3x points on all dining – including eligible delivery and takeout services – and is up from 2x points
3x points on select streaming services and at grocery stores (excluding Walmart, Target, and wholesale clubs) – these are new benefits
$50 annual credit for hotel stays booked through Chase Ultimate Rewards
10% Anniversary Bonus Points on purchases made the previous year – so if you made $10,000 in purchases, you'd earn an extra 1,000 points regardless of the purchase categories and actual points earned
Another change that's on the way that doesn't impact useability is card design. Gone is the faceted design that's been with the card since launch, being replaced with a design featuring glowing lines.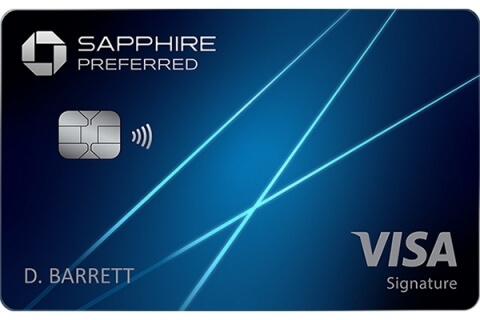 What's not changing with the card are its 2x points earnings on travel not booked through Chase Ultimate Rewards and the card's $99 annual fee. Fantastic! Also worth noting, by the way, is an incredible 100,000 points bonus for new cardholders that spend $4,000 within the first 90 days after account opening.
Sapphire Reserve Enhancements
Compared to the Sapphire Preferred, the Reserve's "enhancement" are a major snooze fest. This is especially true when you consider other factors that impact how you actually use the enhanced benefits. But, anyway, the Sapphire Reserve's enhanced benefits include:
10x total points on purchases made through Chase Dining made through Ultimate Rewards
10x total points on hotel and rental car purchases made through Ultimate Rewards
5x total points on airfare purchased through Ultimate Rewards
Reserved by Sapphire – an exclusive new featuring giving cardholders opportunities to book tables at some of the most sought-after restaurants across the country
Much like the Sapphire Preferred, all other earning rates are remaining the same, as is the $550 annual fee. That said, new cardholders can earn 60,000 bonus points when spending $4,000 within the first 90 days after account opening.
Now, why are these new enhancements so hohum? Well, let's take a look at Chase Dining – it's Tock. What's more, you have to log in to your Chase and access Tock via Ultimate Rewards to count. That's a huge pain, especially since it doesn't always work so well. What's more, Tock – at least here in Hawaii – has extremely limited coverage. Just look at the options we have here on Oahu.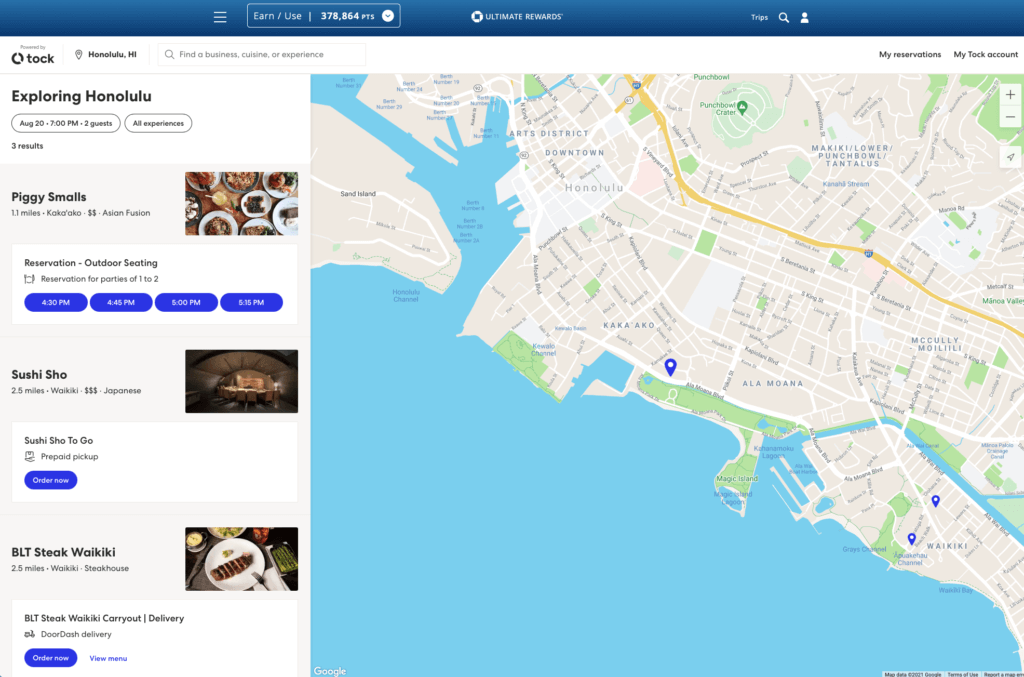 As far as booking travel through Ultimate Rewards goes, it's important to note that hotels view these reservations as OTA bookings. That means you won't earn elite credits and won't even get elite recognition in many cases. If you're going to book via a card portal, the only one worth booking through is Amex LHR. But, you also have to have a Platinum card to do that, and that card ain't worth keeping anymore. At any rate, I'd only book a hotel through Ultimate Rewards if I stayed at somewhere like the Alohilani Resort again.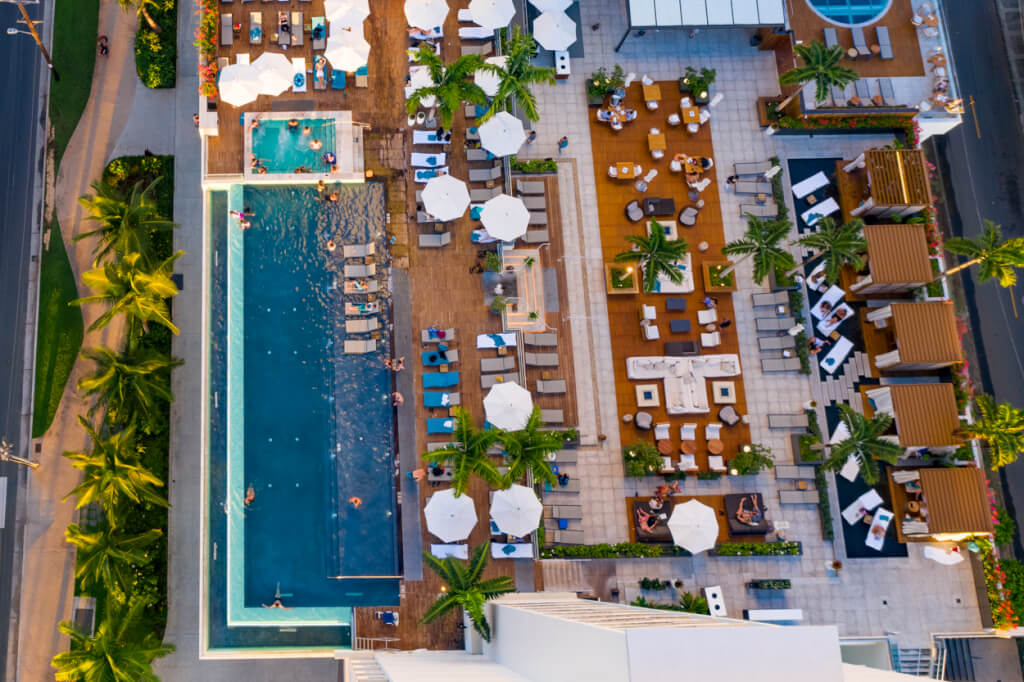 Final Thoughts
Clearly, the Sapphire Preferred is a much more compelling card for those looking to maximize their points earning. While that sucks for Sapphire Reserve cardholders, this is likely an intentional move on Chase. You see, the Sapphire Reserve isn't really a moneymaker for the bank. If I recall correctly, I think the Preferred has a better profit margin on it. So, making the changes they did will likely entice some to downgrade their card – especially if the $550 annual fee didn't already chase them away. And, to me, this is a much better strategy than what Amex is doing right now. Granted, the Gold card was made to be a much better earner than the Platinum, and that still didn't deter enough people for them.
As for me, I'm fairly certain I'll keep my Sapphire Reserve going forward – and especially through the end of the year since I already paid my annual fee. What do you guys think of these changes? Do you plan on downgrading?