Southwest began selling tickets for its hotly anticipated Hawaii service yesterday.  So, today, I'm doing an analysis of the Southwest Airlines Hawaii launch, fares, award prices, competitive response, and more.  
Boy, Southwest broke into the Hawaii market yesterday with guns blazing. Promotional fares for flights between California and Hawaii came in at an eye-popping $49 each-way! That's $98 roundtrip if you're too shocked to do the math! But those fares are just that, a promotion. What'll be interesting to see is how things balance out down the road.
Surprise! Inter-Island Flights Begin Soon
That $49 fare was certainly a shock to me. I expected Southwest to be competitive with its initial fare special, but I didn't expect them to be that generous. What surprised me more, though, is how quickly they're jumping into the inter-island market. Oh, and the $29 one-way fare special they were offering on those routes too.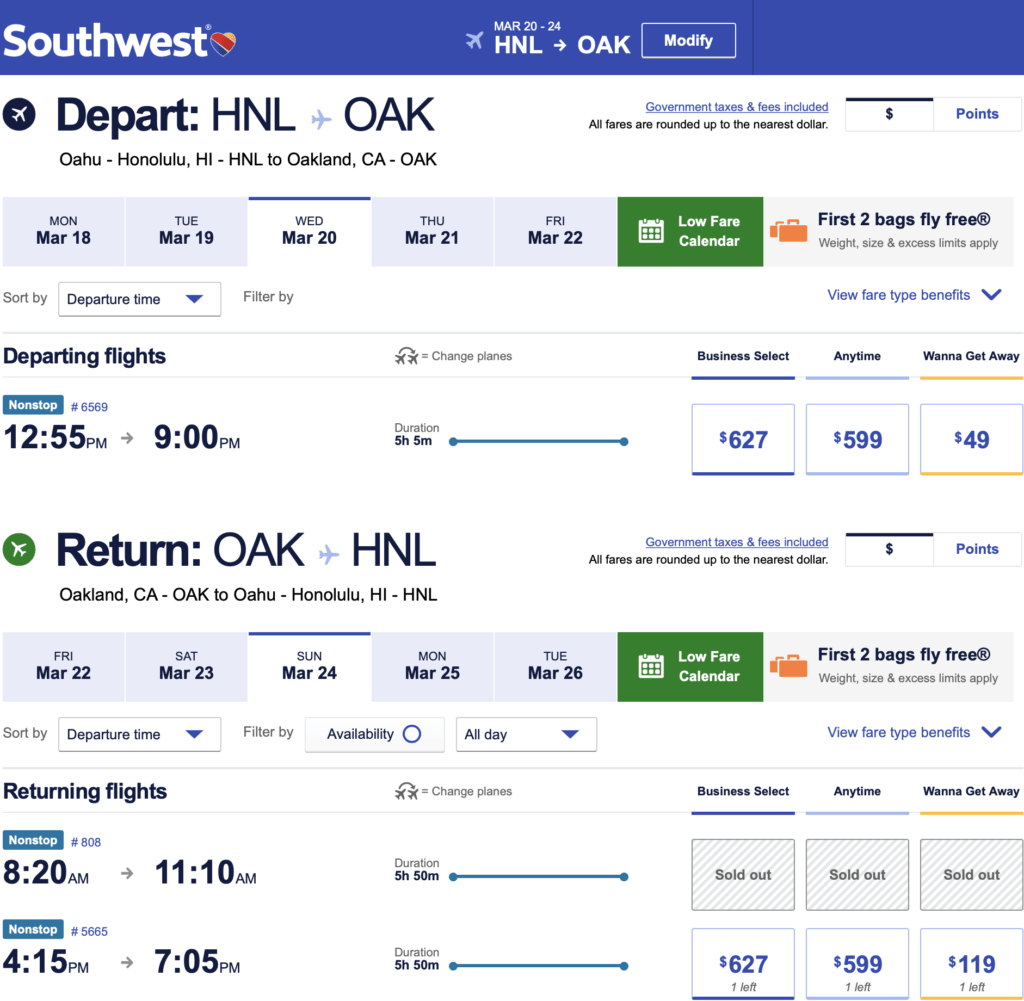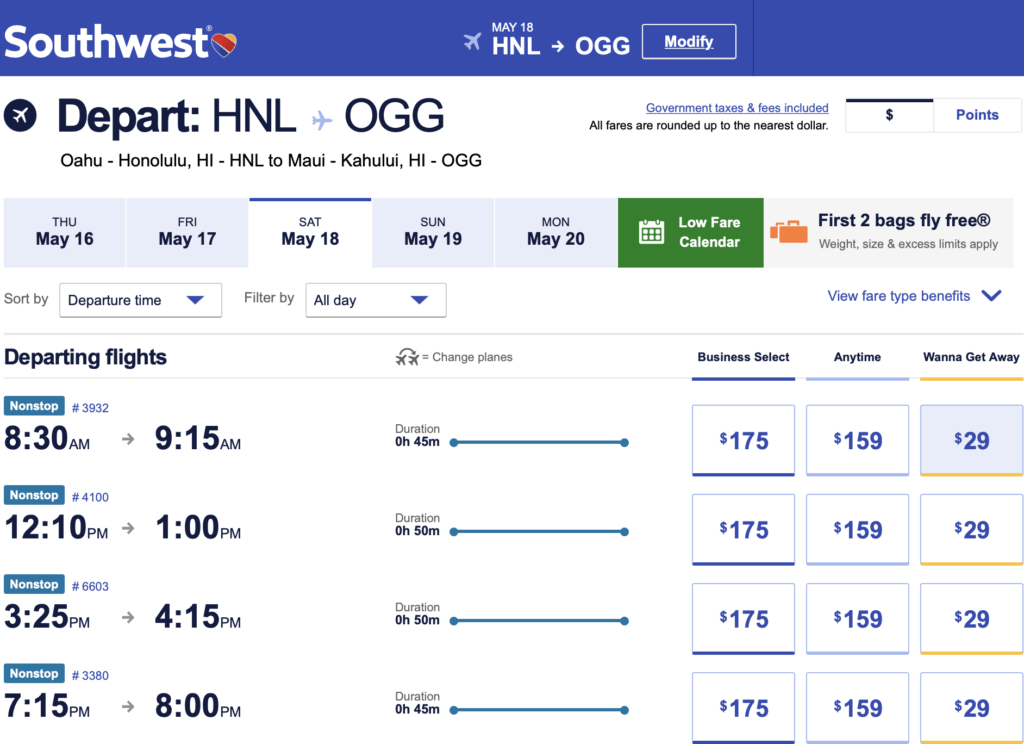 Initially, Southwest said they'd begin inter-island flying once they ramped up their Hawaii-California Service.  However, they're jumping in sooner with flights between Honolulu and Kahului starting on April 28.  Kona service from Honolulu will follow soon after on May 12.  What perplexes me about the early start of inter-island service, though, is the fact that Southwest will be in the very early stages of their rollout plan when this happens. 
Rollout Schedule
For now, Southwest isn't flying a wide variety of routes to Hawaii. That's why the start of inter-island service has me so confused! Take a look:
Oakland – Honolulu: March 17
Oakland – Kahului: April 7
Honolulu – Kahului: April 28
San Jose – Honolulu: May 5
Honolulu – Kona: May 12
San Jose – Kahului: May 26
Routes yet to be announced include flights to Lihue and Kona, as well as flights to all of Hawaii from Los Angeles and Sacramento.  Plus, we can look forward to possible flights from Vegas in 2020.  Imagine being able to fly direct between Kahului and Las Vegas?  Won't that be something?
Fare Special Availability
If you're just learning about Southwest's Hawaii tickets going on sale, you're late to the party.  All of the cheap Oakland – Honolulu flights are already gone.  However, if you want a $29 inter-island fare, those are still abundantly available.  
Tirky, Tricky!
Now, Southwest is advertising Oakland – Kona service, but don't be fooled.  They're not flying directly to Kona, at least not yet.  Instead, you'll need to make a stop in Honolulu, and these flights are significantly more expensive than the Oakland to Honolulu or Kahului ones.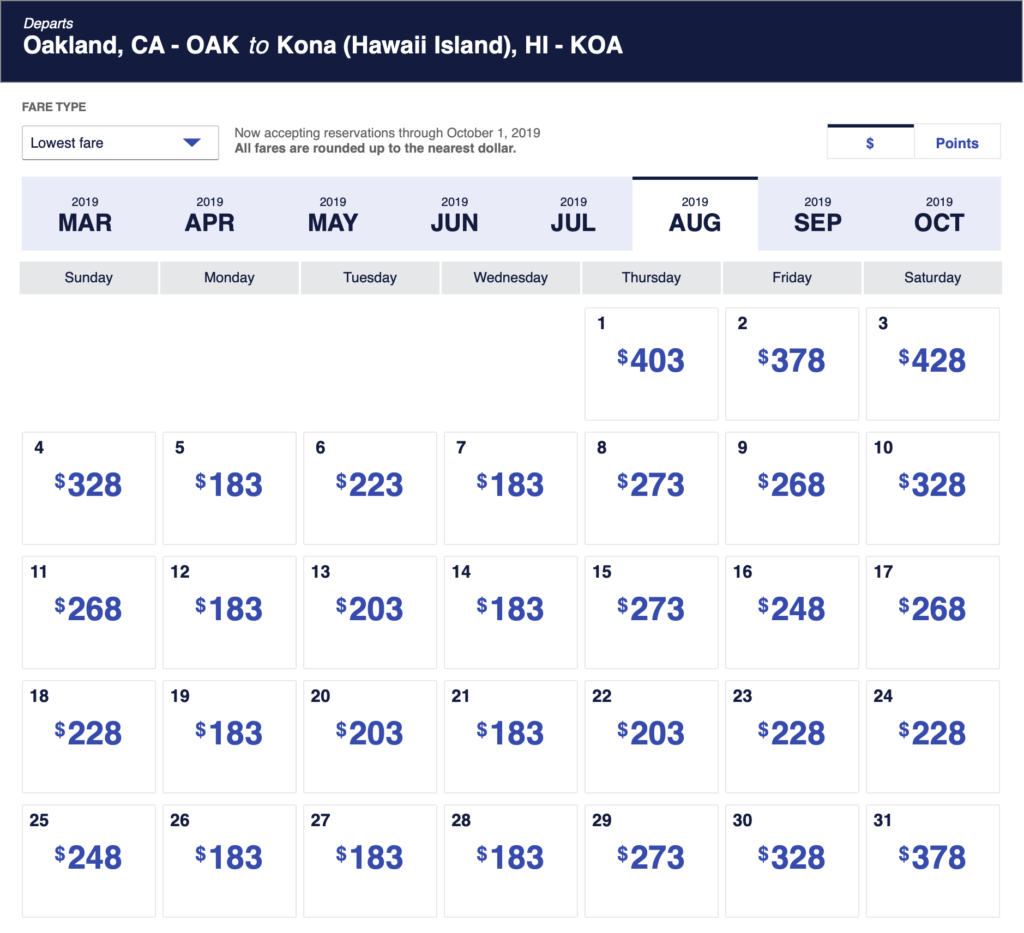 Competitive Response
Airlines like Alaska and American are responding to Southwest's introductory offer, though, they aren't matching their insane fares.  Instead, Alaska is offering $197 roundtrip fares between Southwest's Hawaii launch cities in Basic Economy and $237 in Main Cabin.  American, on the other hand, is offering $257 roundtrip Basic Economy fares ($317 in Main Cabin) between Honolulu or Maui and a number of their West Coast gateways. 
Hawaiian Airlines didn't really respond to Southwest's introductory fares to California.  They did, however, react to the inter-island offer, sort of.  Hawaiian does have a $29 inter-island fare special, but it's offered only on one flight per day to Kahului, their 7-something pm one.  I guess its something, but not a flight I'd take ??‍♂️.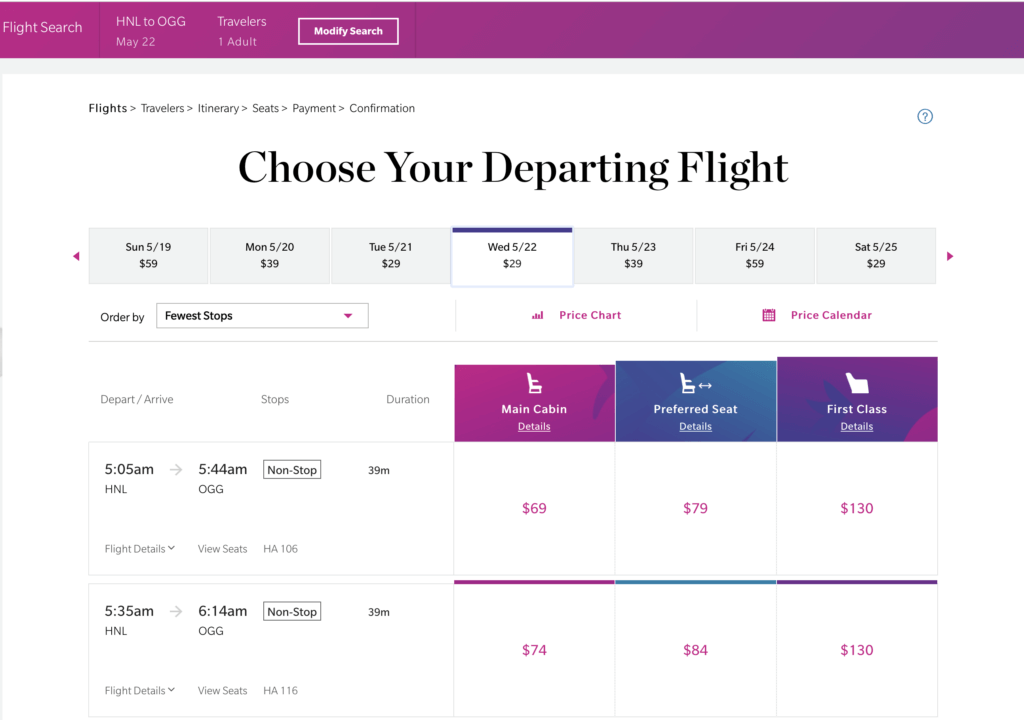 Rapid Rewards Fares
Now, the thing I know many of you have been waiting for is what the award prices would look like.  And, it turns out, for regularly priced tickets, we're looking at 5,848 to 25,340 points each way.  That's CHEAP.  But, remember, Southwest award flights are revenue based, so as ticket prices go up, so do award costs.  As a result, it's best to book as EARLY as possible.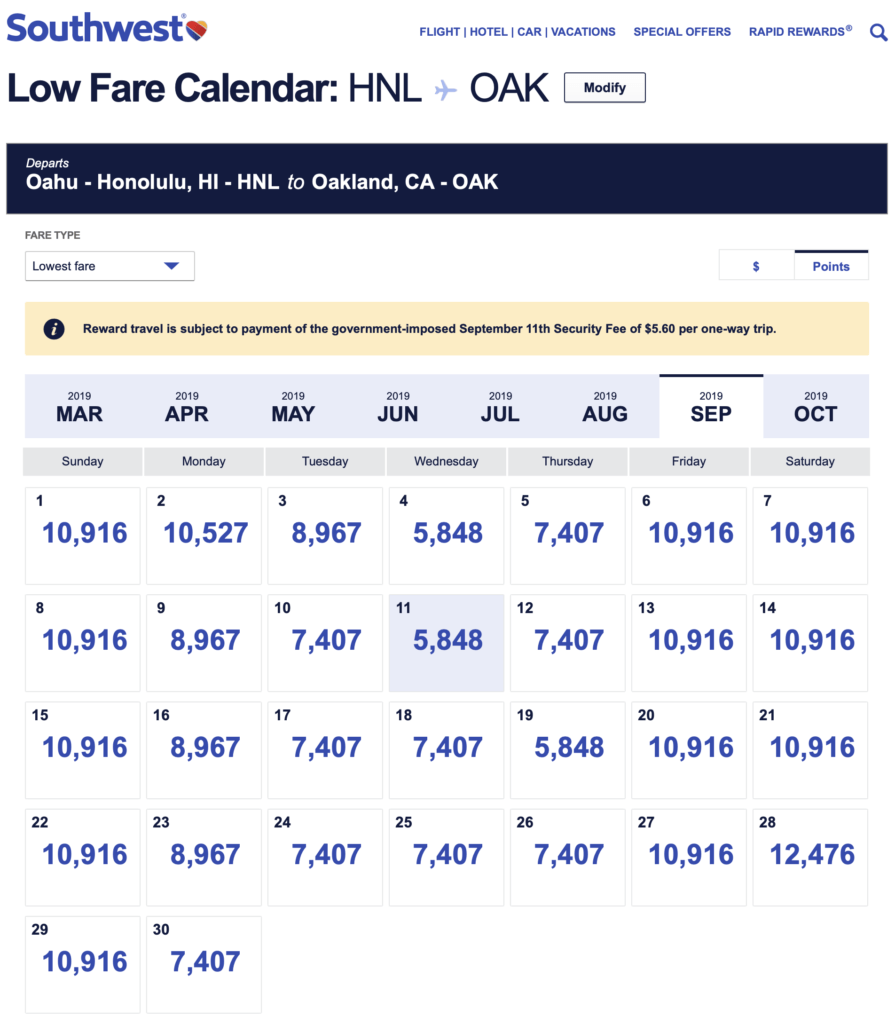 What does it take to earn 5,848 points?  Well, that depends on your fare class.  Wanna Get Away fares earn 6 points/$, Anytime earns 10, and Business Select earns 12.  Check out my previous post for a more comprehensive explanation of Rapid Rewards.  
It's also worth reminding that Chase Ultimate Rewards points transfer 1:1 to Southwest Rapid Rewards.  Plus, you can earn anywhere from 1 to 5 Ultimate Rewards points per dollar spent, depending on which card you have.  
The Southwest Experience
If you've never flown Southwest, here's what you need to know.  All passengers receive two complimentary checked bags, no co-brand credit card required.  Southwest even allows you to change your reservation free of charge (though you need to pay for the difference in fare).  And remember, assigned seating is not available, though you can pay more to board earlier.  Your ground experience in Honolulu is going to be quite different than other Airlines too, as you may recall.  
Onboard, Southwest doesn't serve free meals (or meals at all).  But they do have complimentary snack bags and will have Hawaii-specific offerings like Pineapple Orange juice (free) or Kona Longboard and Spiced Coconut Rum (for purchase).  Oh, and unlike Hawaiian, in-flight entertainment is complimentary, including free On-Demand TV and free Live TV (streamed to your device).  Southwest does also offer WiFi priced at $8 per day, so if you jump on a flight to Honolulu and then to Kona, it's $8 for both trips.  Unfortunately, Southwest doesn't have USB outlets or standard AC power outlets available onboard.  So be sure to bring a battery pack to keep your device charged!    
Analysis of the Southwest Airlines Hawaii Launch, Final Thoughts
So how many of you jumped on the $49 Southwest fares to Hawaii?  Or, how about the $29 inter-island fare special?  Congrats if you scored a great deal!  Just remember how the Southwest experience differs from that of other airlines.  And, please do let me know how your experience is flying Southwest to and from Hawaii!