Last updated on January 17th, 2016 at 03:24 pm
Jeffsetter Log: Oneway Never Ending date VII.VIII.MMXV
After the staying at the Hampton Inn in Bend we pushed west on the Oregon Trail over to the Willamette Valley, aka Oregon wine country.
Picture this: You are driving hundreds of miles with your boo. It has been a long drive. One of you is injured and cranky; the other is hot and cranky.
An incident occurs. The level of crankiness is building like a hurricane reaching cat 5 status.  An iced McCafe coffee from a trendy little fast food joint makes things a little better. Not great, only better.
But then, you arrive at your lodging.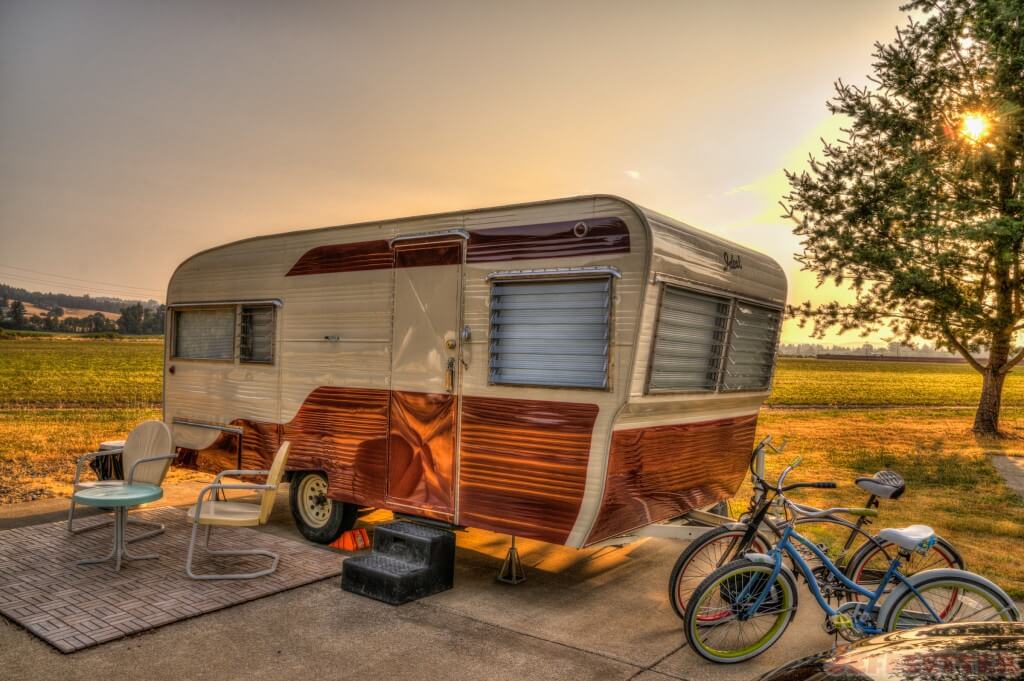 The cutest lodging you have ever seen. EVER!!
All crankiness melts away while basking in the "retro shabby chic" adorableness of where you are going to sleep. (Ok, maybe this was more me, but Jeff was happy to be out of the car. No offense Baby B. We miss you. Ok again, probably just me.)
On to the review…in the format I was instructed to use (but slightly modified because I am a wild card. Uh ya, "hold onto your butts"). Name the movie and actor of the quote for Meow Meow Beenz.
More MeowMeowBeenz for you if you can name the tv show that introduced MeowMeowBeenz. Ok, I really don't have any MeowMeowBeenz. Ok, ok, seriously here is the review.
Note from Jeff: I am really sorry for giving my wife access to the blog. 
The Vintages Trailer Resort
On a hot July afternoon, the Jeffsetters arrived at The Vintages Trailer Resort in Dayton, OR for a one night stay. We booked the 1958 Ideal trailer through hotels.com for $108 + tax. Note, there is an additional cleaning fee of $25.
Note from Jeff: This place was heavily overpriced by about 50%, but I acquiesced because love. 
Jeff was very annoyed by this cleaning fee because I need to pay more attention to booking rooms and our budget. All I knew was I in needed to sleep in a cute non-standard hotel room trailer.
Seriously, what do you do when the opportunity arises to spend a night in a vintage trailer?
YOU GET IN THAT TRAILER!
Exterior Courtyard
The Vintages is part of an RV park, but situated off to the side next to a farm. I can only assume this is so we tourist do not annoy the true RVers.
Our trailer had a parking spot for Baby B and a social patio with propane grill.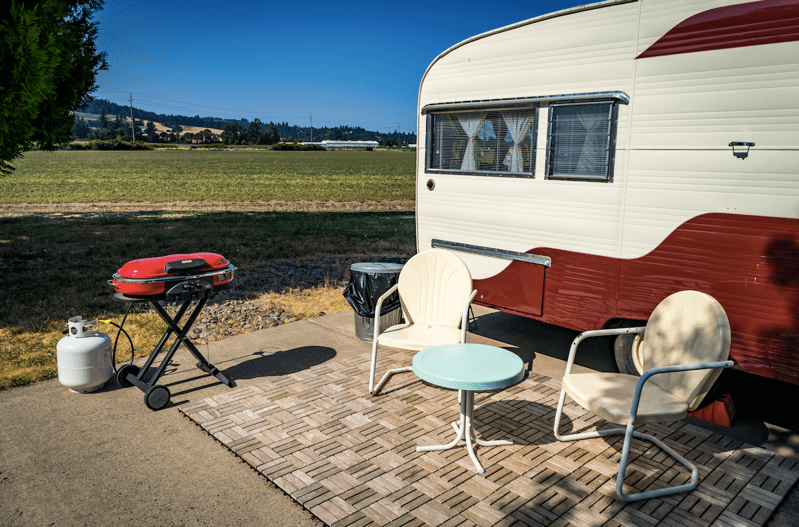 And the best part, the trailer included 2 cruiser bikes! I wished we stayed longer to cruise the highway stopping for wine tastings and chilling with the locals.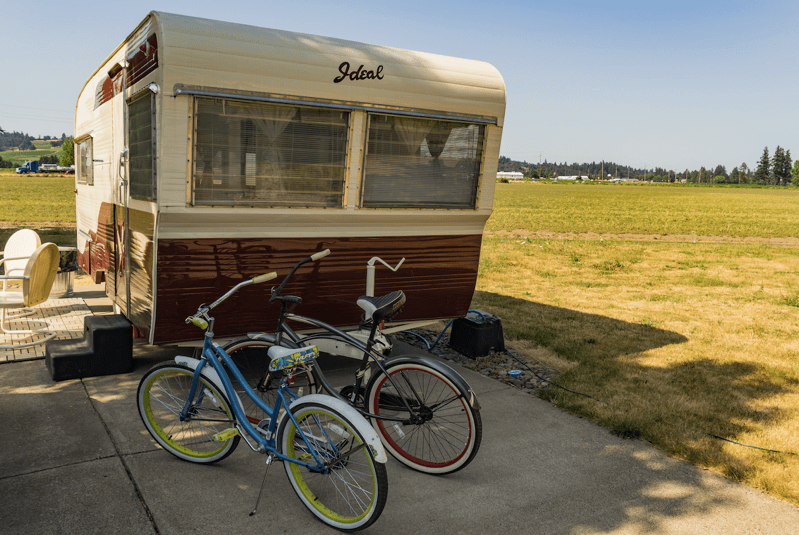 In the morning, we rode the bikes to breakfast at the Block House Cafe. Jeff left me in the dust.
A gentleman noted that I could not keep up with him given the little wheels on my bike. Yep, that's definitely it, since my athletic prowess is on par with Jeff.
Jeff broke out the drone after I briefly read about Oregon state drone laws. Overhead wine footage to come.
I think our neighbors Tweeted about their love of the drone.
Ok, they were in their 70's, so I don't think they can tweet. But they did see something on TV about 'dem drones' and thought it was cool seeing it in person.
The rest of the conversation went something like this:
"Are you creeped out by the drone?"

"No, you guys are super amazing!"
(paraphrased).
Yes, the trailer courtyard is great, but what about the inside?! – Did we sleep in a tin can?
Only the most epicly retro, clean and in perfect condition tin can. (Well, maybe the bathroom door wasn't perfect.)
Just check out the original warranty.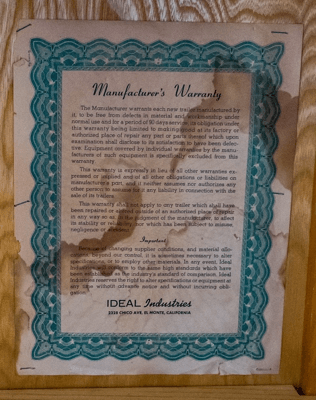 The Interior Palace
It's PINK!!! But not too pink, I would say JEP (just enough pink). I am not sure I can articulate the cuteness level in words.
Just look at this dinette!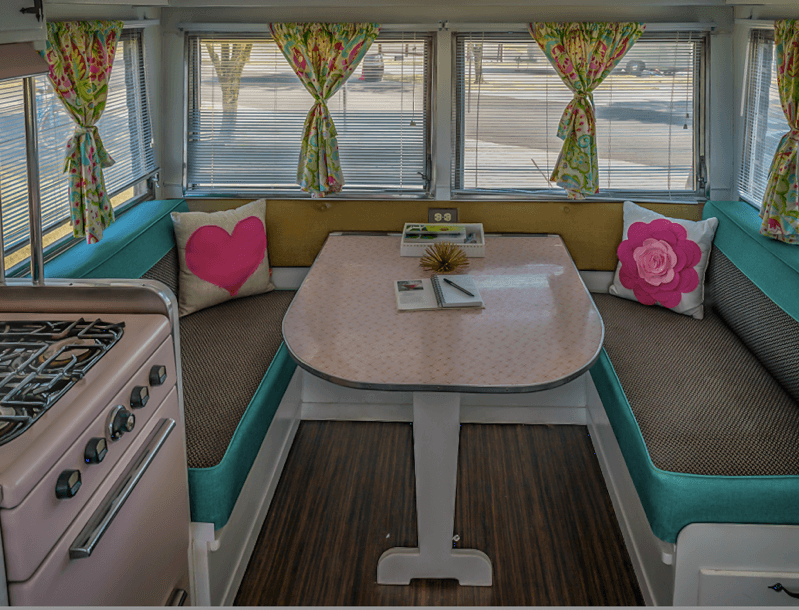 A kitchen (stocked with dishes) including good coffee with a drip pot. The left coast loves its coffee and crazy brewing methods.
What else? How about a pink mini-stove!!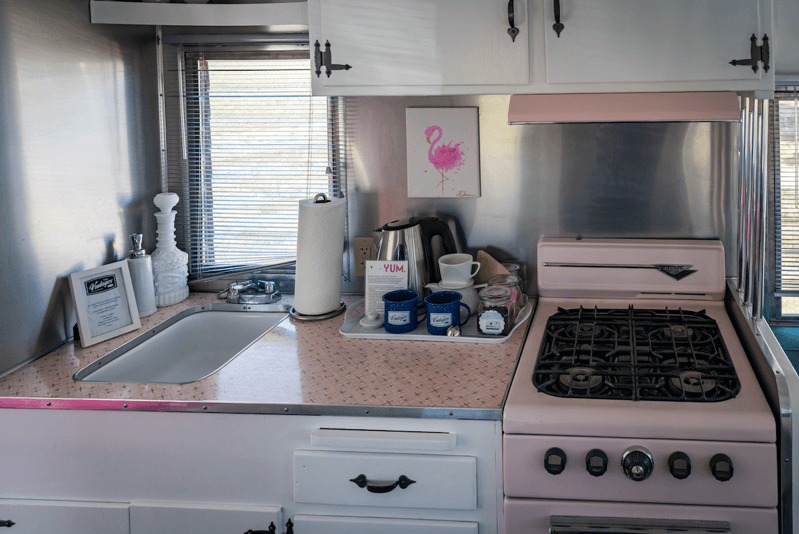 We can only assume the stove worked, but we did not try.
The bathroom again cute, but tiny. You better have a good solid relationship with the person staying in the trailer as the door only kind of "closed".
Jeff was too big for the bathroom i.e., he had to crouch and the shower head came to about his rib cage. Jeff was not amused, nor excited to use the shower. The pool area had showers, so Jeff ended up showing there in spacious comfort.
I used the trailer shower because it is adorable, Jeff. All towels, robes, slippers, and life vessel cleaning products were provided. A hair dryer was also available, but it was too warm to use it that day use.
Note from Jeff: It was so friggin hot in that tin can death trap that I had to use the towels under my shirt to dry off. Had to look presentable for the Zenith Vineyard tour. 
Even if I hated the bathroom, I would never admit that to Jeff. Ok, it was kind of awkward and tiny (the depth of the counter).
Bonus: I did not get water all over the main room as I thought I would. The door actually served its purpose; victory is mine.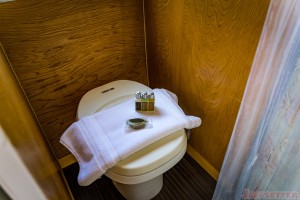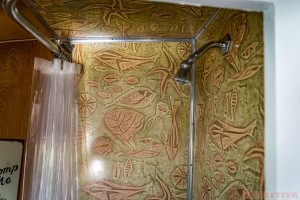 Note, the bathroom pictures are to "scale."
The queen bed was comfortable, high quality sheets and had plenty of pillows. Jeff, again, said he is too big and felt like he was going to fall off the bed the entire night.
The "room" included a flat screen tv, but we did not turn it on. The fridge and freezer worked great to refreeze cooler packs, and to keep our bubbles chilled.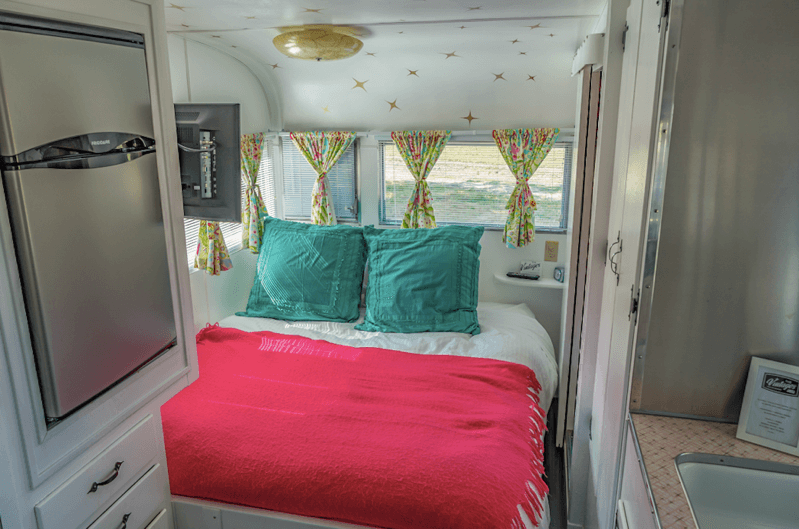 As a reader, you are probably wondering… Did we have air conditioning? Yes, but I think that it is the original unit from the 1950s.
97 was the temp in the valley that day. I would describe the trailer as mildly hot, but that is why it has a patio (and wine glasses for cold bubbly).
Note from Jeff: It was unbearable.
Solution: We turned off the air, opened all the windows, and headed out to dinner at Recipe with my parents and friends. The valley cools off at night (upper 50s/low 60s). By the time we returned, the trailer was perfect with a cool breeze for the night.
There was no noise at night on the farm, so it was easy to sleep with the windows open.
Happily Ever After
As you can tell, I am more excited to write about the Vintages than I was writing about the Holiday Inn (Express). I enjoyed doing something new, and out of the ordinary. I have never seen a hotel review of a camper before, have you?
I would stay here again, anytime, and Jeff… probably, maybe, probably when it is a cooler time of year and we are not on a budget so we can get the trailer with the king size bed.
While were were there, two other couples on their honeymoons were staying at the vintages (One we met at breakfast. She had on a Mrs. shirt so I assumed it was a honeymoon. The other texted pictures of her stay to our mutual friend back in MN who confirmed they were honeymooners.)
It would be interesting to hear their perspective.
Note from Jeff: Great way to start a marriage, sweating in an overpriced tin-can from the 1950's. Tiny bathroom with no privacy. No better way to rip the band-aid off any pretenses you may have in your relationship. 
Also, I think the Vintages would be perfect for a ladies/BFF trip to Oregon wine country. Or great for anyone looking for a unique stay! So to my wine country ladies, let's plan another trip to drink wine.