No, Hilton isn't developing a new hotel, nor is it rebranding an existing property. Instead, an existing luxury condo-hotel is rebranding, which is how the Hilton LXR brand is coming to Hawaii. But what property is rebranding? Read on to find out.
Hilton is on a roll. They already have an enormous footprint in the beating heart of Hawaii's visitor industry – Waikiki – and recently got even bigger after The Modern Honolulu came under their ownership via their acquisition of Diamond Resorts. Of course, Hilton is on its way to picking up another property in bustling Waikiki.
Hilton LXR Brand is Coming to Hawaii
The hotel set to rebrand as a Hilton is the Trump Waikiki. Owner Irongate LLC states that the decision to rebrand isn't politically driven but results from a business decision. However, it's been reported that Irongate and Trump Org have come to a mutual agreement for a buyout, allowing Irongate to terminate its management and licensing agreement with Trump early. Exact details weren't made available, but we know the hotel has been in operation for 14 years, and typical franchise agreements last about 20 years.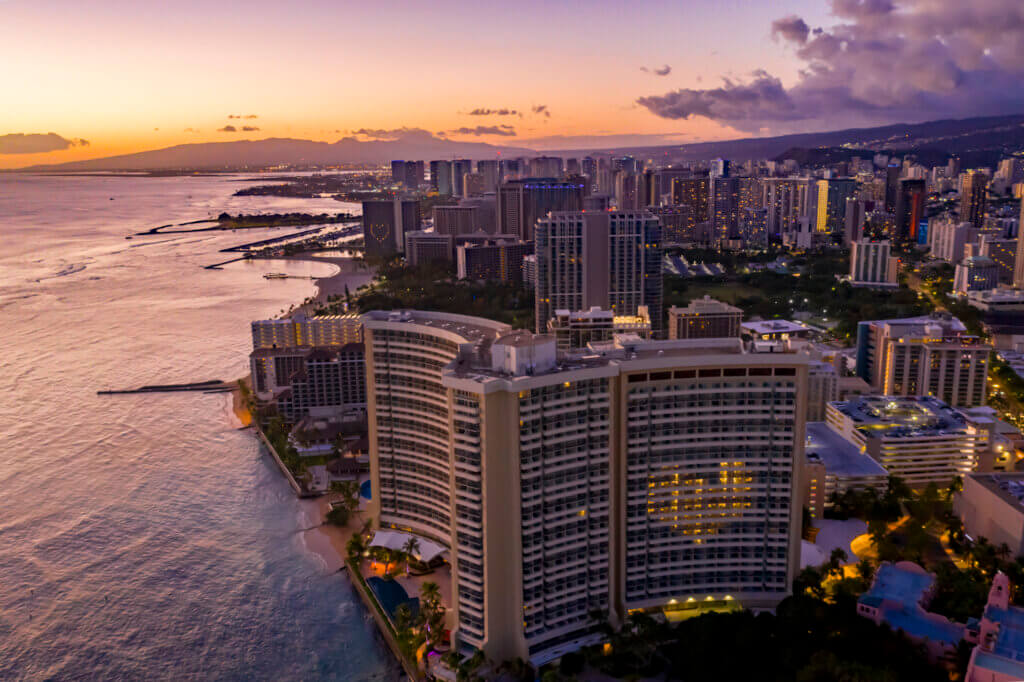 Following the rebrand, Trump Waikiki will be known as Wakea Waikiki Beach. Irongate states that the name was selected with the assistance of cultural advisors and stakeholders. According to their press release, "[t]he name "Wākea" draws inspiration from the Hawaiian story of Wākea, the Sky Father. In Hawaiian mythology, Wākea and Papahānaumoku, the Earth Mother, collaborated to create the Hawaiian Islands, forming a timeless connection between the Earth and the sky. The iconic tower now carries this significant name, reflecting its mission to rejuvenate homeowners, guests, and visitors with the spirit of aloha and ho'okipa, embodying the warmth and hospitality of the islands."
I'm sure you're all wondering when the Hilton LXR brand is coming to Hawaii. And the answer is soon. Specifically, the rebrand is scheduled to take place on February 7, 2024.
Other Changes
It isn't just the name that's changing as the Trump Waikiki becomes the Wakea Waikiki Beach; Irongate is also planning a major overhaul of the property. No specifics were given, but Irongate says they plan to renovate the lobby area, residence corridors, residences, pool areas, spa, fitness center, and landscaping. Further, they're going to re-imagine the two on-site restaurants, Wai`olu and In-Yō Café, while a "destination restaurant" will be added to the ground level of the property. If I recall correctly, this ground-level restaurant spot was previously occupied by BLT Steakhouse.
Work will begin sometime in 2025 and will take "several months" to complete in phases.
Hilton LXR Brand is Coming to Hawaii, Final Thoughts
If you didn't know, Irongate also owns the Ritz-Carlton Residence Waikiki Beach, which is a fantastic hotel with great restaurants. After all, aside from the excellent La Vie Waikiki, Quiora, and Dean and Deluca, the Ritz-Carlton is also home to the outstanding Sushi Sho Waikiki. That's why, as interesting as the renovation work is, what's most exciting to me is what that new destination restaurant is going to be. Will it be on the same level as Sushi Sho? Or will it be a little more humble and be on the same level as La Vie?