After hitting all our major sites in Seattle, we headed for Oregon, which is someplace my grandparents had never been to. And, for our base of operations while there, I chose the Residence Inn Portland Downtown Pearl District.
Much like our first hotel in Seattle, I chose the Residence Inn Portland Downtown Pearl District because 1) we needed as much space as we could get, 2) the location is decently convenient, and 3) the price was right. Personally, I would've preferred to give the Hi-Lo a try or return to the Portland Marriott City Center, but neither would've worked well in this situation.
Location
The Residence Inn Portland Downtown Pearl District, as its name suggests, is in Portland's shopping and dining district, The Pearl. However, it's on the very edge of the district near the Willamette River.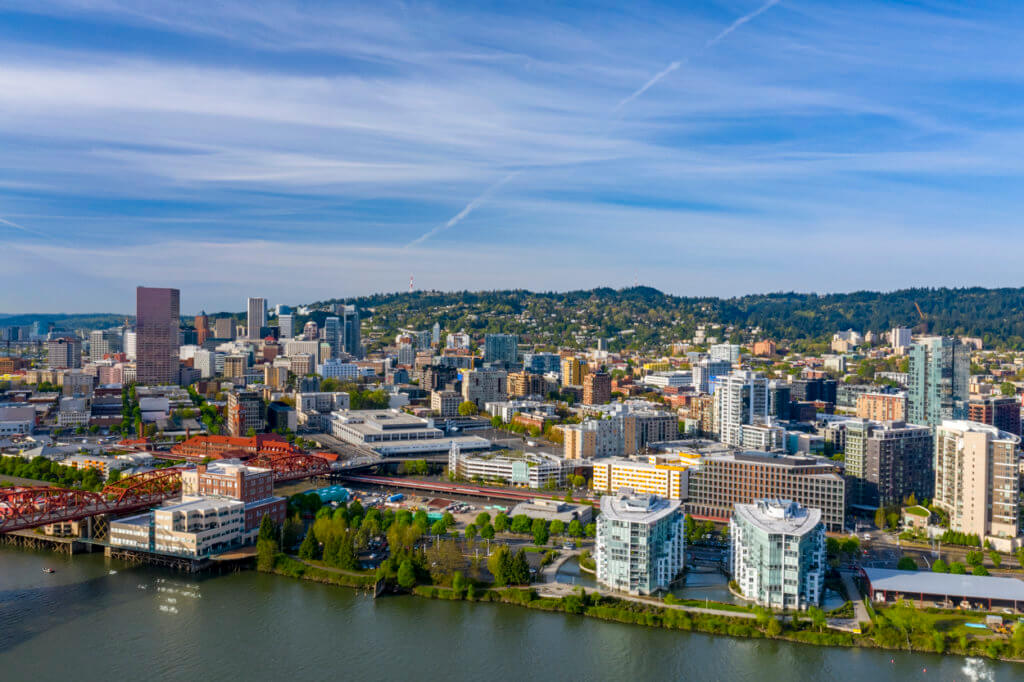 See that yellow and white building in the above photo? That's it. In fact, as you'll notice, it's right across the street from Union Station.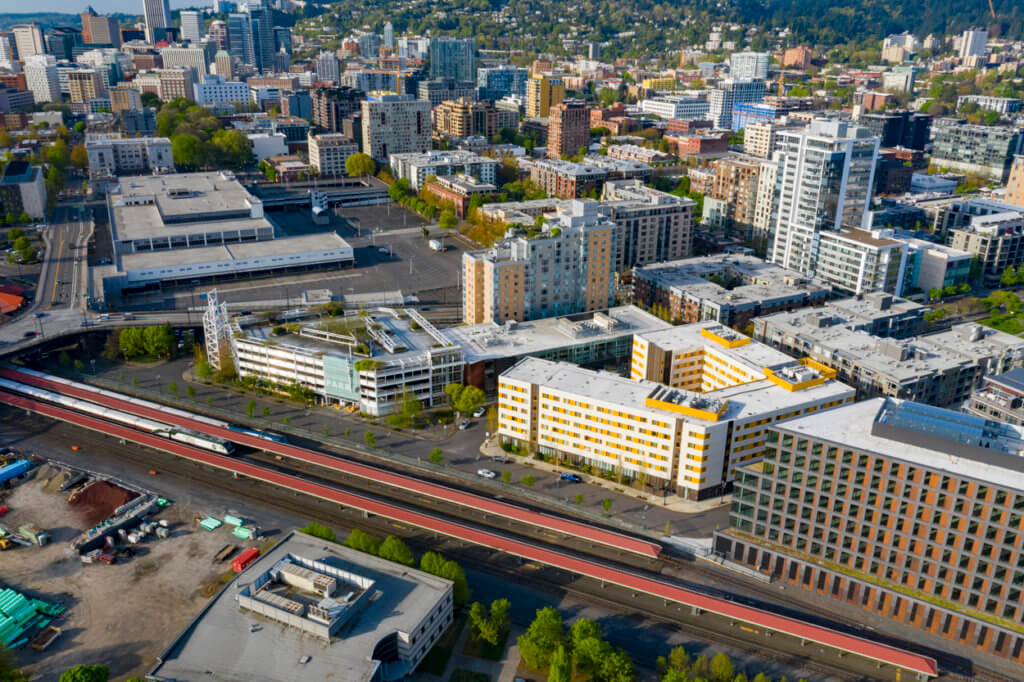 That makes the hotel super convenient if you're arriving or departing Portland by rail. But, it also means that, at least with rooms facing the Willamette River, you'll receive a considerable amount of rail noise.
Access + Parking
The Residence Inn Portland Downtown Pearl District sits on NW 9th Avenue, which is also where the hotel's valet stand is. Yup, the hotel is valet only, and it isn't cheap. You're looking at rates of $44/night! Luckily, guests can park across the street at the Station Place Parking Garage for considerably less.
Public Areas
Since the Residence Inn Portland Downtown Pearl District is a relatively new hotel, it feels fresh and modern on the inside. The front desk area is bright, if not a little small. However, they have water, coffee, and fresh fruit available for guests throughout the day.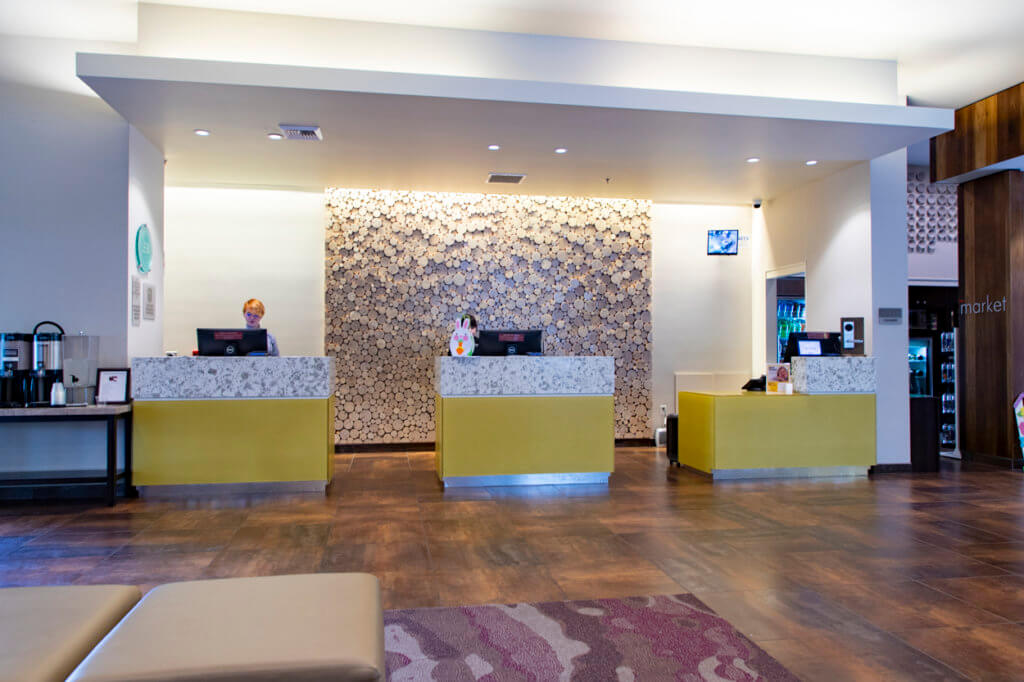 There's also a market and business center adjacent to the main entrance.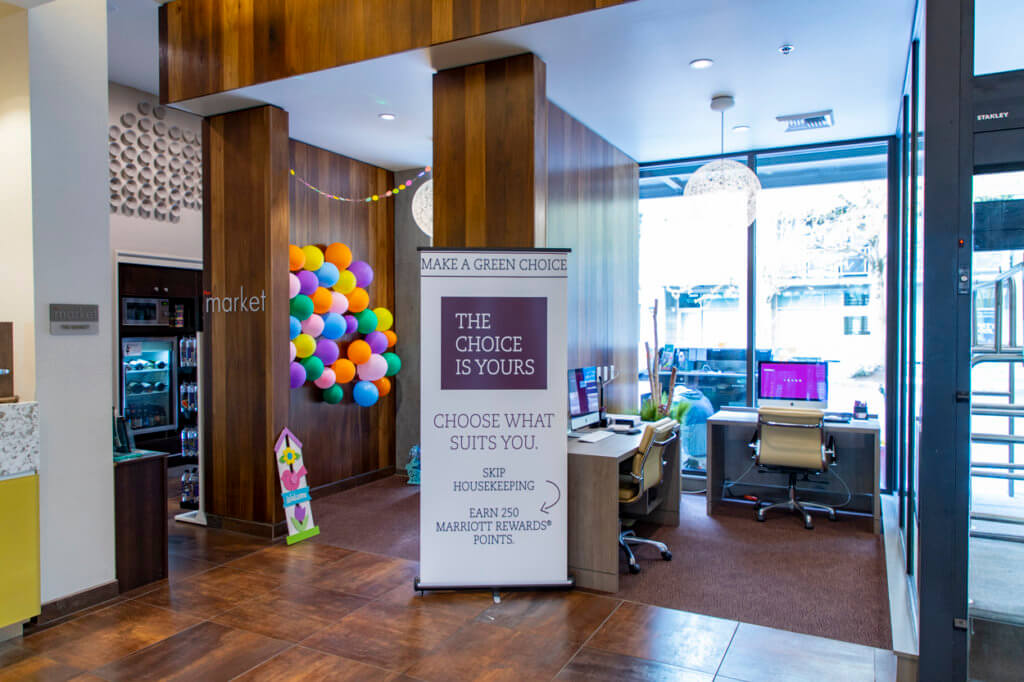 Plus, some cozy seating with a fire place opposite the business center and market.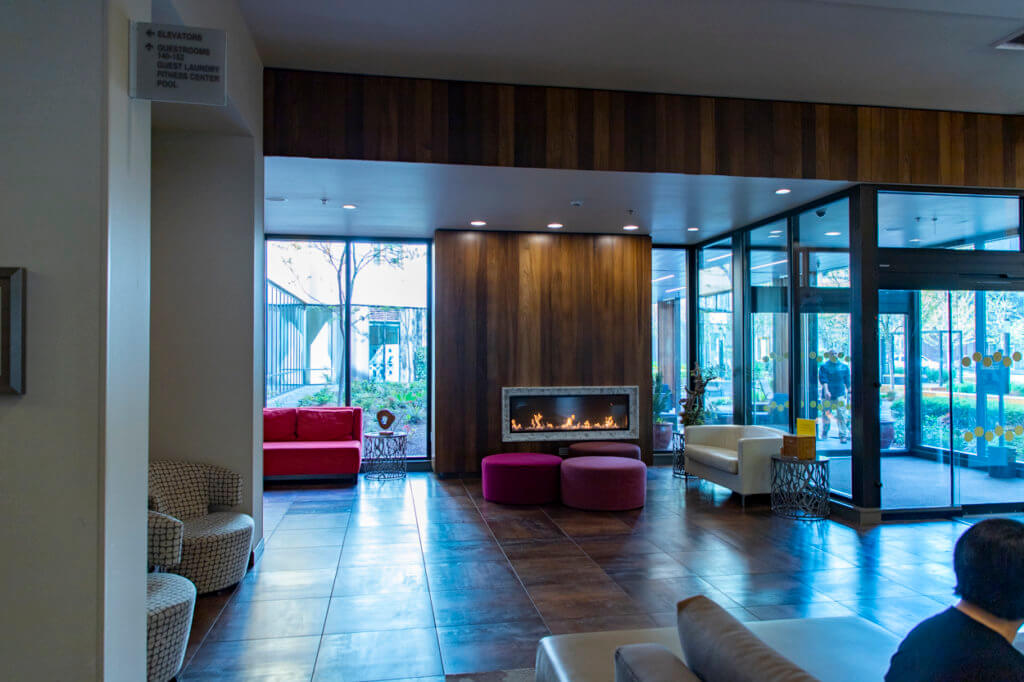 Outside, the hotel has a grilling area, outdoor dining area, and more casual seating with a fire pit.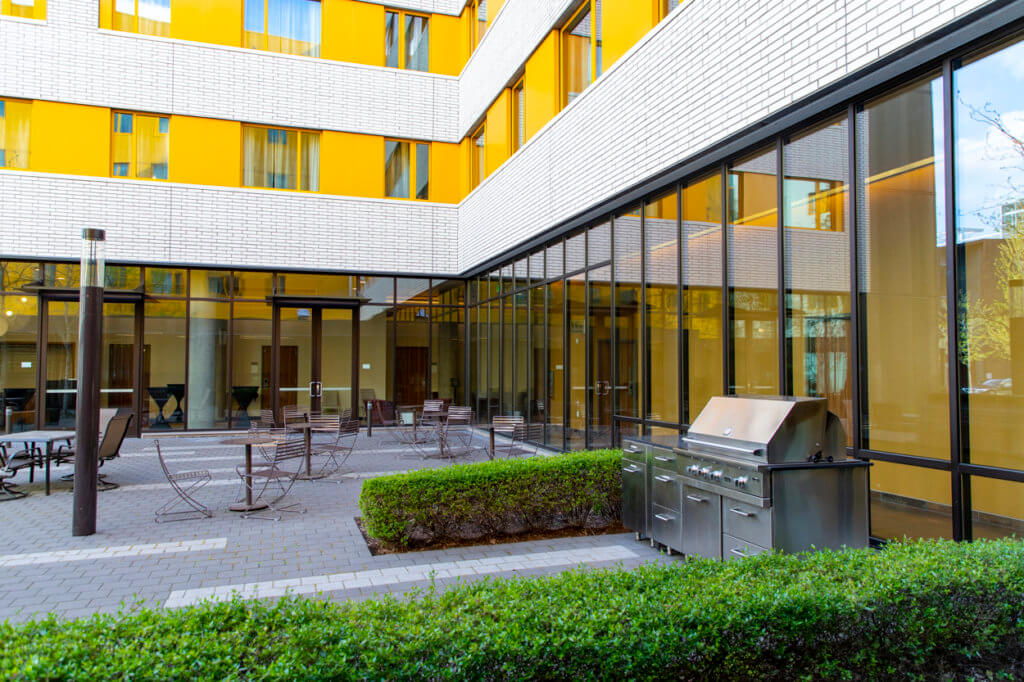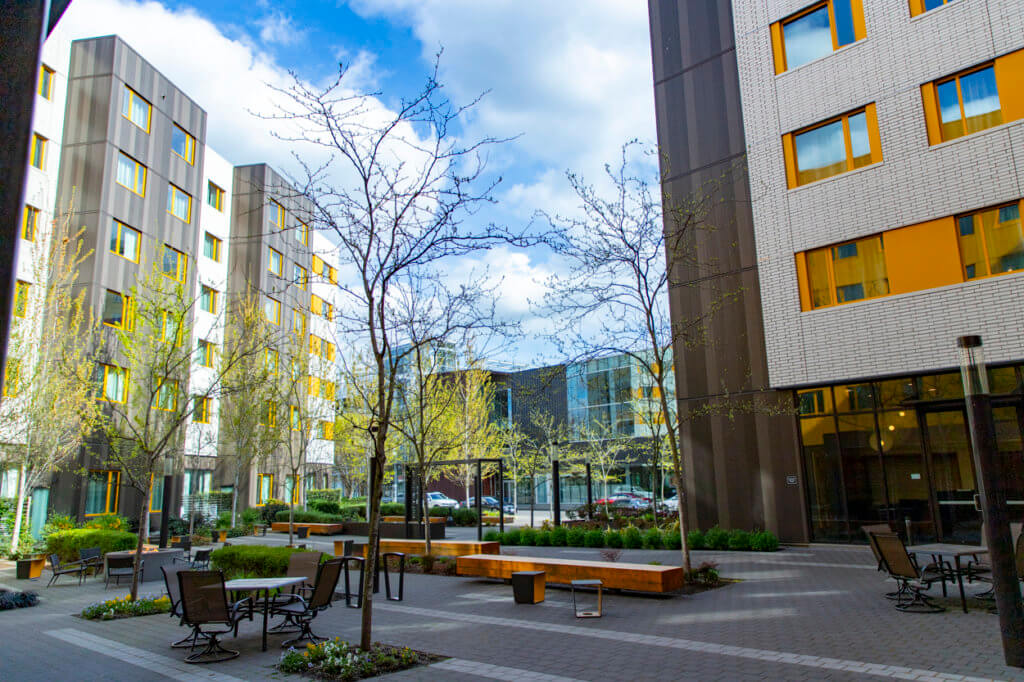 There's even a nice property entrance facing NW Marshall Street, which is the street the station parking garage is on.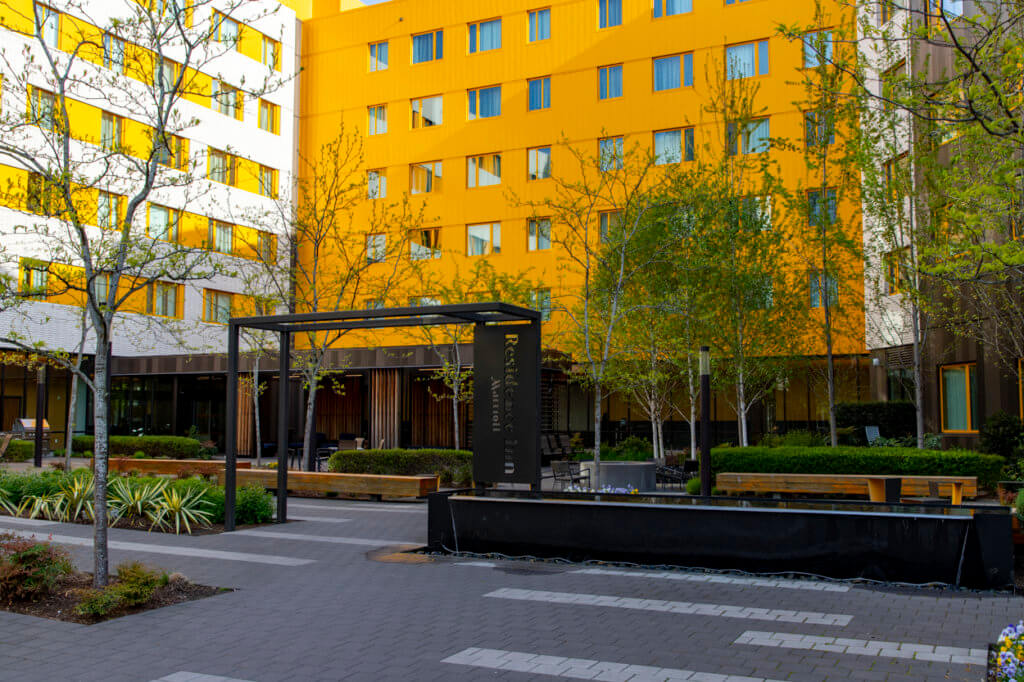 Back inside, there's a single bank of elevators across from the front desk that serves the entire property. Now, normally this doesn't bother me. But, given the fact that the place is shaped like the number 9, this proved to be somewhat problematic.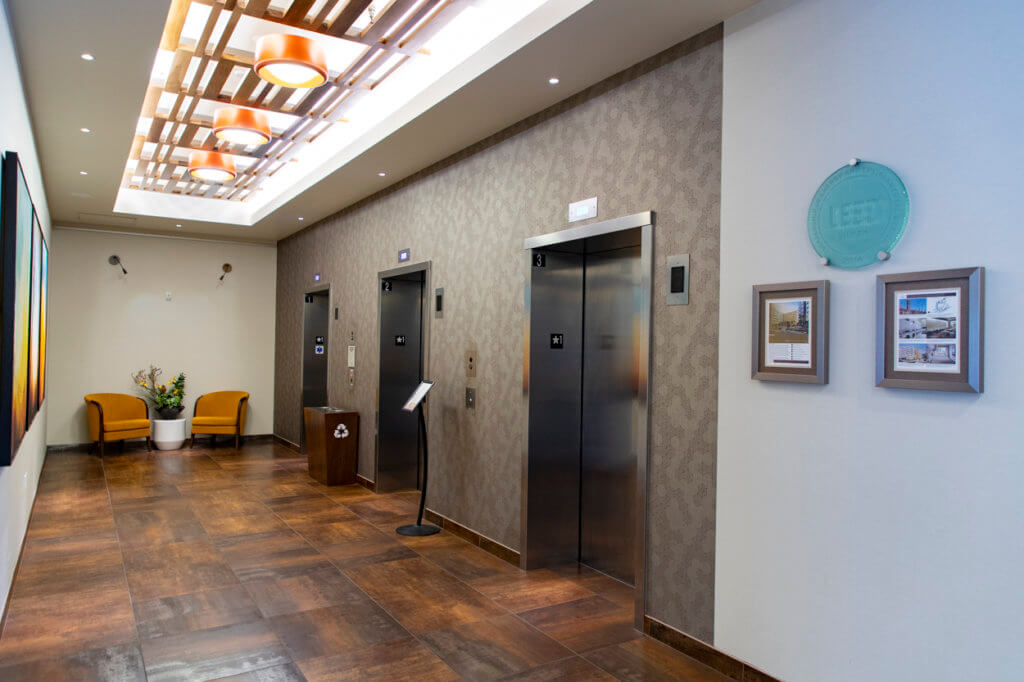 It's worth noting that the Residence Inn Portland Downtown Pearl District does also have a guest laundry room, an indoor pool, and a fitness center.
Room
For this stay, I booked a two-bedroom room, which was available at the time of our check-in (before normal time). What's more, I believe we got an upgraded room, as ours was located on a mid-level floor facing the Willamette. However, thanks to its location, it was a long haul from the elevators, which was an issue for my grandparents.
As is usually the case with these types of rooms at Residence Inn properties, the first thing you see when you walk in is the kitchen and living room areas.
To the right as you enter the room is bedroom two and the main bathroom for the room. The main bathroom has a single vanity, toilet, and shower/tub combo.
Opposite the main bathroom and bedroom two is the master bedroom. This bedroom is, understandably, larger than the other bedroom. It not only has a larger master bathroom with walk-in shower, but also has a dresser.
Of course, it is here that I had my first encounter with Marriott's new toiletries, and it was also here where I learned that they replace the bottles when empty. Originally, I had assumed that they'd refill empty bottles to be more environmentally responsible, but I guess not.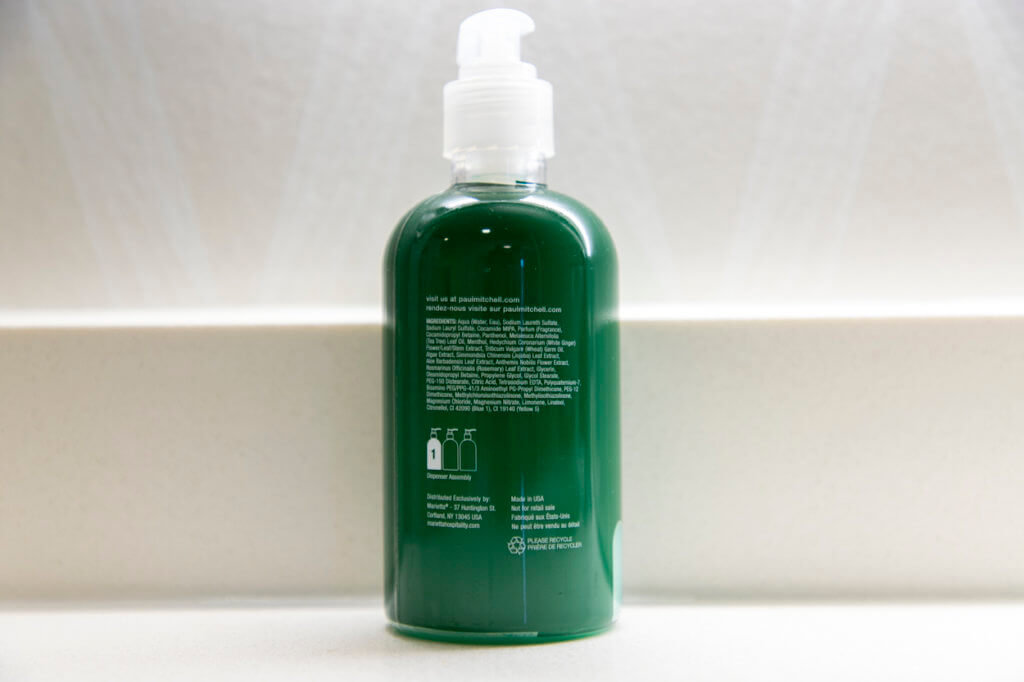 The kitchen, by the way, came relatively well-stocked. In addition to the usual coffee maker, there is a toaster, a small collection of cookware, some drinkware, and flatware. Plus, the kitchen features a full-size range, a fridge, a microwave, a small dishwasher, and a garbage disposal.
As far as HVAC goes, the Mitsubishi system the Residence Inn Portland Downtown Pearl District has installed works well without being intrusive. Water temperature was also good, though the pressure was mediocre at best.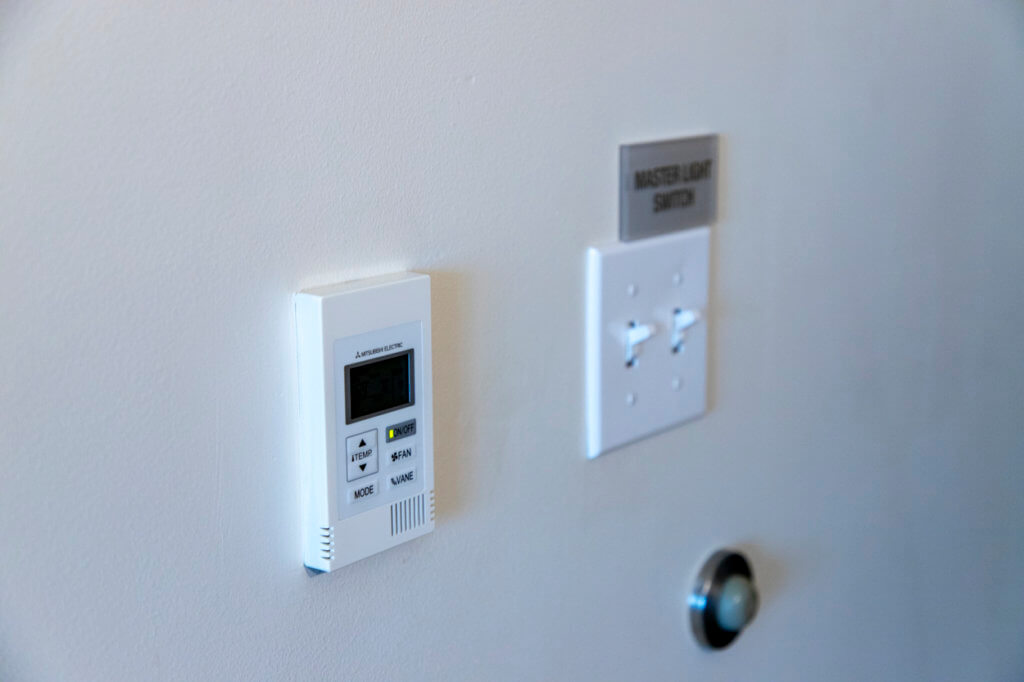 The living room, by the way, features a desk with a chair, a TV, a sofa bed, a little TV dinner table thingy, an ottoman, and end tables. I found it interesting how both an end table and the desk had a divet in them to place your electronic devices. The sofa bed, though, was utter crap.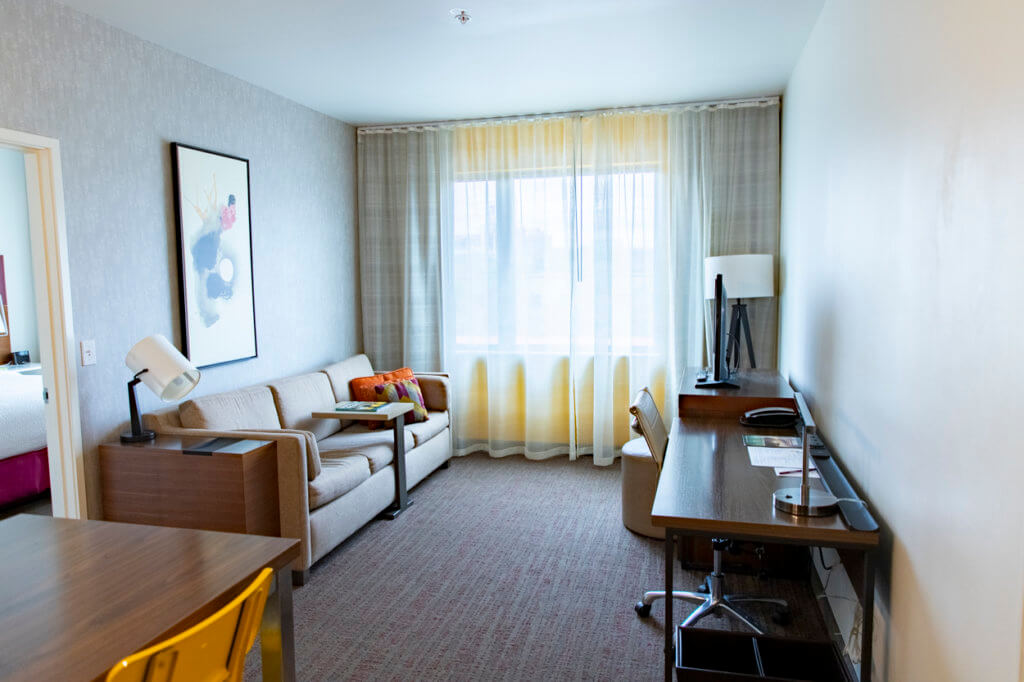 View
Though our room faced the Willamette River, we were too low to actually see it. Instead, our view was primarily of the construction yard and Union Station.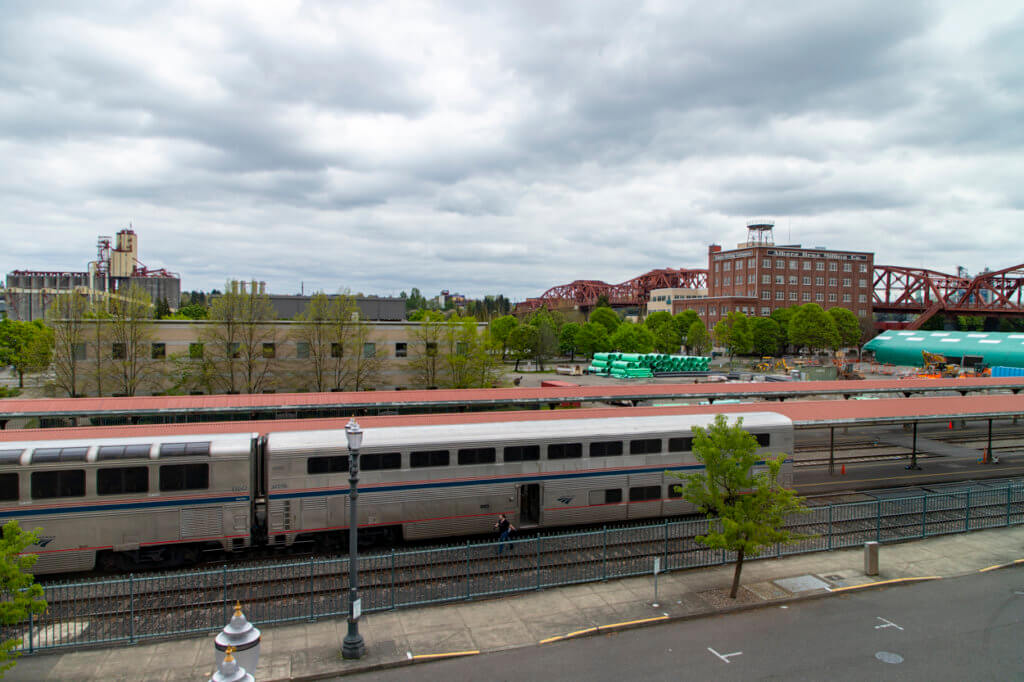 Unfortunately, this also meant that we heard every single train that went by during our stay. This included some rather length freight trains too. Needless to say, I sometimes had difficulties sleeping thanks to the noise. I must say, though, that it could've been worse. At least it seems as if some effort was put into providing soundproofing.
Breakfast
Of course, one of the key benefits at Residence Inn properties is the free breakfast. The one at the Residence Inn Portland Downtown Pearl District, unsurprisingly, was similar to the one at the Residence Inn we stayed at in Seattle.
Here, we again find a waffle station, fresh fruit, boiled eggs, scrambled eggs, veggie crumble, and a meat option. The main differentiation point, then, appeared to be the lack of oatmeal. Not that it matters to me, as I don't eat the stuff, but my mom was bummed.
Breakfast, by the way, is served in the hotel's restaurant, Lot Four. At night, the area turns into a bar and traditional sitdown restaurant. But, given Portland's huge collection of great restaurants, we chose not to have dinner on property.
Residence Inn Portland Downtown Pearl District, Final Thoughts
The Residence Inn Portland Downtown Pearl District is a very decent place to rest your head. It's a clean, modern, comfortable place to stay, though I wish they'd use better sofa beds and soundproofed the track-facing rooms a little more. But, the service throughout our stay was good and we really didn't have any issues, except for the convoluted in-app item request system.
At any rate, if you need lots of space at a decent price in Portland, I wouldn't hesitate to recommend the Residence Inn Portland Downtown Pearl District.
Touring the PNW with My Grandparents
Residence Inn Portland Downtown Pearl District