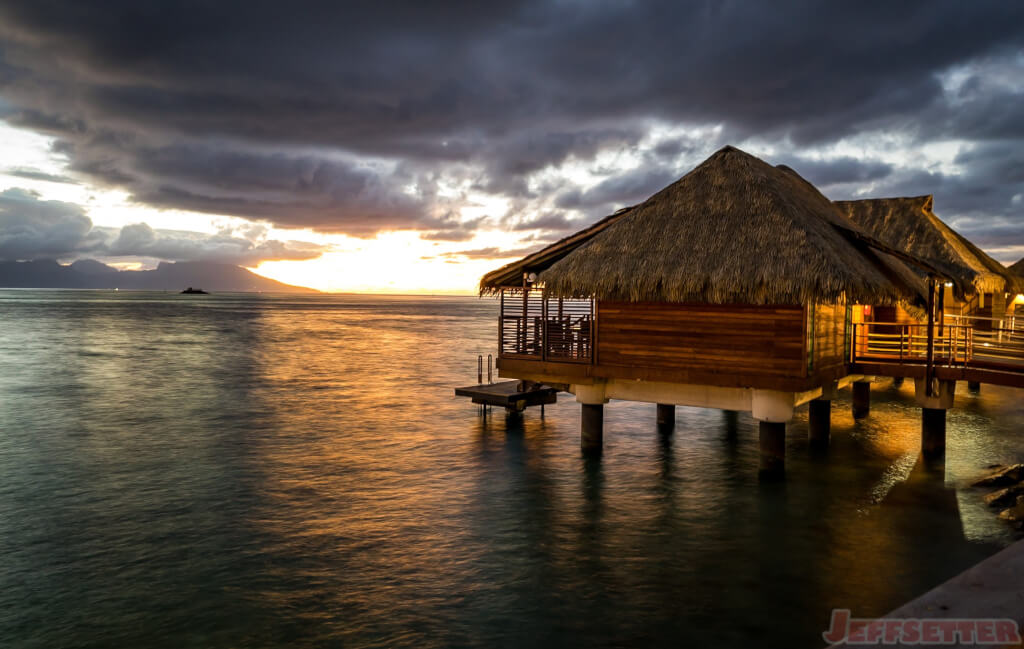 In August of 2015 we were very excited to stay at the Intercontinental Thalasso hotel in Bora Bora using free nights we obtained from the Into the Nights promotion in late 2014. The Jeffsetters earned 6 nights as part of the promotion, as well as hundreds of thousands of points from IHG.
The goal was to use these free nights at the most expensive hotel in the Intercontinental chain, and that brought us to Bora Bora. I wrote about the booking of this trip several times in the past, but Bora Bora is not the purpose of our review today.
Today I wanted to share what might be the best hotel room in all of French Polynesia. At least it was the nicest hotel we have visited of 7 hotels in French Polynesia.
Now I know what you are saying: how could you make that claim? What about the Four Seasons and St Regis? The truth is that I have not stayed there, so I can't compare these hotels.
But what I can say is that of the Intercontinental Thalasso, Intercontinental Le Moana, Le Meridien Tahiti, Hilton Moorea and Intercontinental Moorea, this was hands down the best hotel room available.
Bold claim, yes, but as you'll soon see, the room hit the mark in every single way.
Simply put, we LOVED this place.
Why did we love this hotel room so much?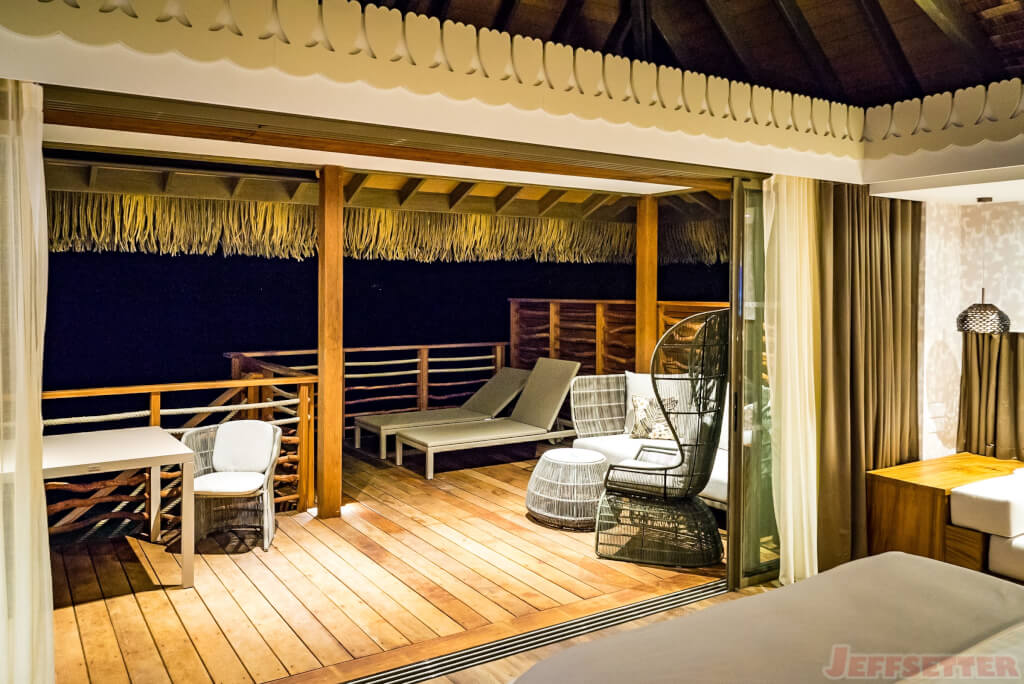 First of all, let's talk expectations. I spent months organizing and stressing about a trip to Bora Bora, and booking a room in Tahiti was an afterthought.
It was a formality.
A necessity due to terrible flight schedules to French Polynesia, and terrible linking between international arrivals and domestic departures.
Anyone who has been to French Polynesia knows that you pretty much need to stay on the island of Tahiti before you can go anywhere else, because of flight schedules. For example, an international flight might land in Tahiti at 10 PM. The next domestic flight leaves early the next morning. Same with departures.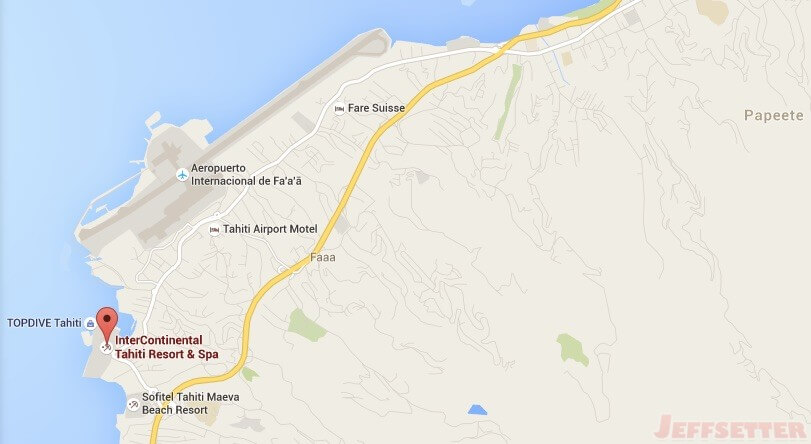 So both times we have been to French Polynesia, we had to bookend our trip with stays on the main island. This time we decided to stay close to the airport with IHG.
That essentially made staying here a formality. There was nothing we could do, so I didn't really put much thought into the hotel stay.
I booked two nights at this hotel using a 2 for 1 Ambassador weekend certificate. This brought the cost down to $176/night.
Our unexpectedly awesome arrival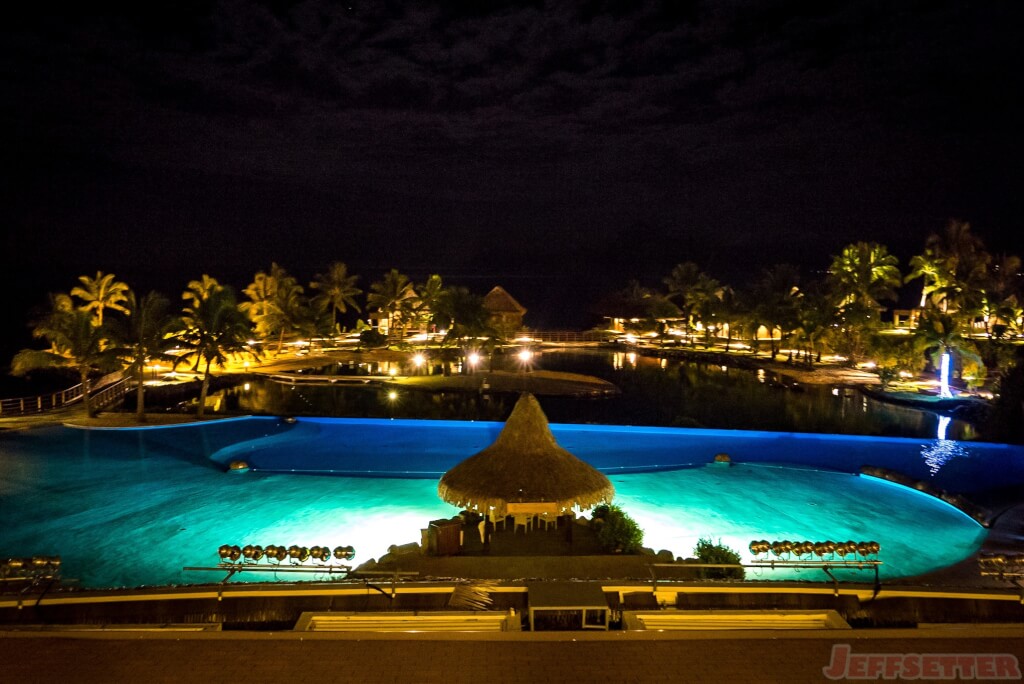 Ok, so this is all pretty standard. But what happened when we arrived was that the manager of the hotel personally greeted us at the entry and gave us a private check-in experience.
A moment later he returned with cold towels, vanilla tea and our check in portfolio. While we were checking in, he informed us that we had been upgraded to a brand new overwater bungalow called the Motu.
These rooms usually retail for $726 a night, and we were getting two nights for nearly half of that talk about an awesome upgrade.
Note: It has been in our experience that in French Polynesia, you get much better upgrade opportunities on paid stays than award stays. Not only that, but they LOVE ambassadors. You should definitely purchase Ambassador status before any French Polynesia visit if you are staying with Intercontinental.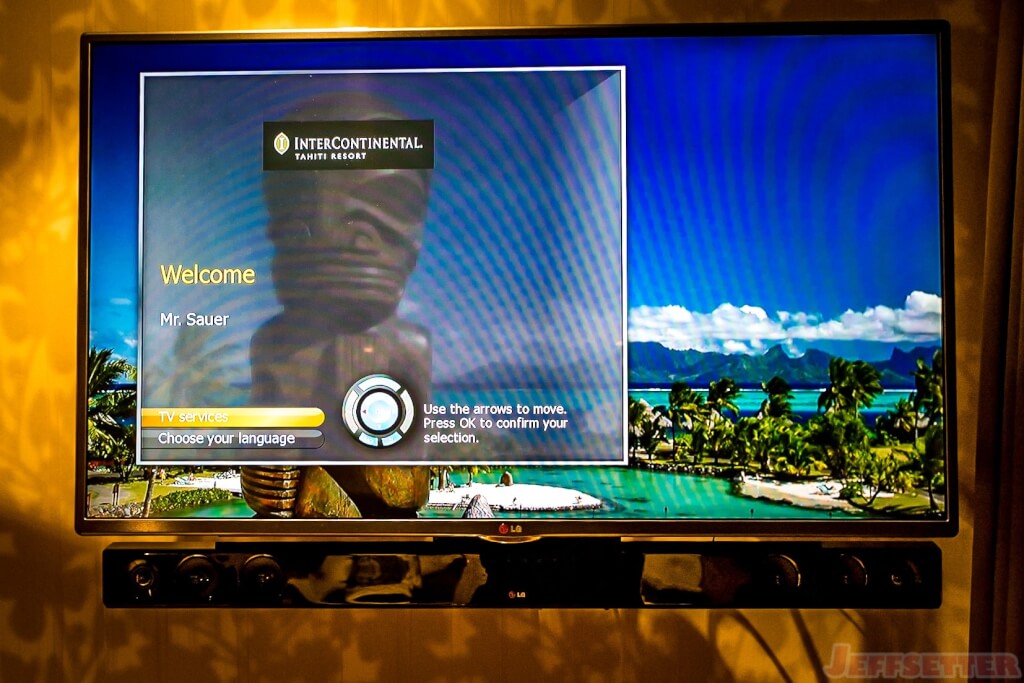 Now that we have that out of the way, check out this Bedroom!
The bedroom was amazing. Seriously, the place smelled brand new, like new construction smell, but not in a bad way. We could definitely tell we were one of first to stay in this unit.
The bungalow has a king size bed with a seating area and desk area.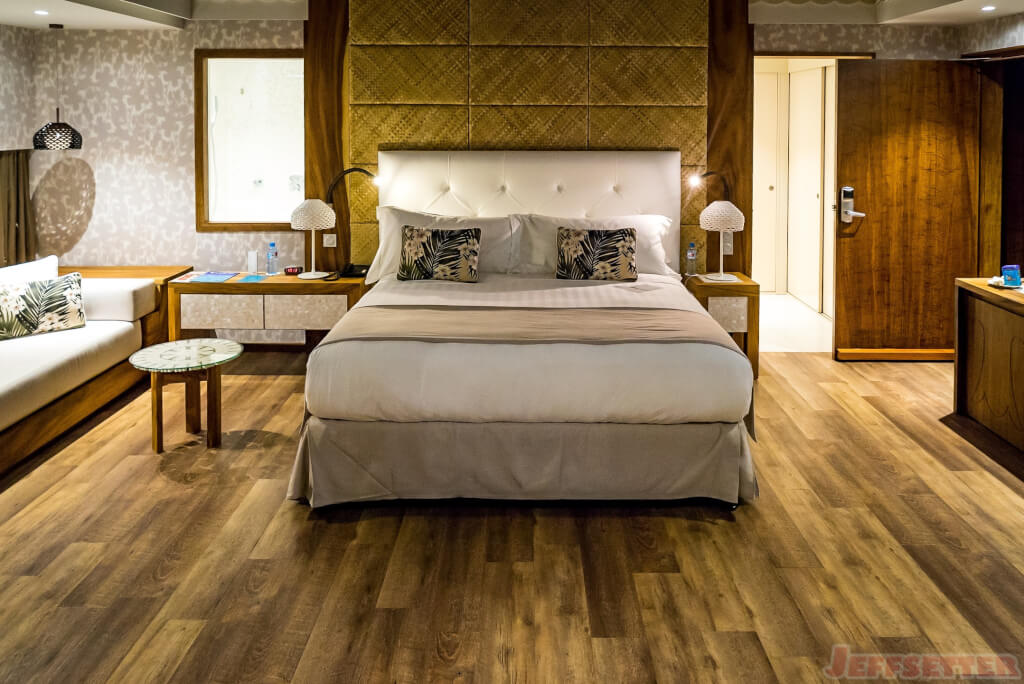 The desk had our welcome gift of fruit and nuts. We also had my favorite a Nespresso machine.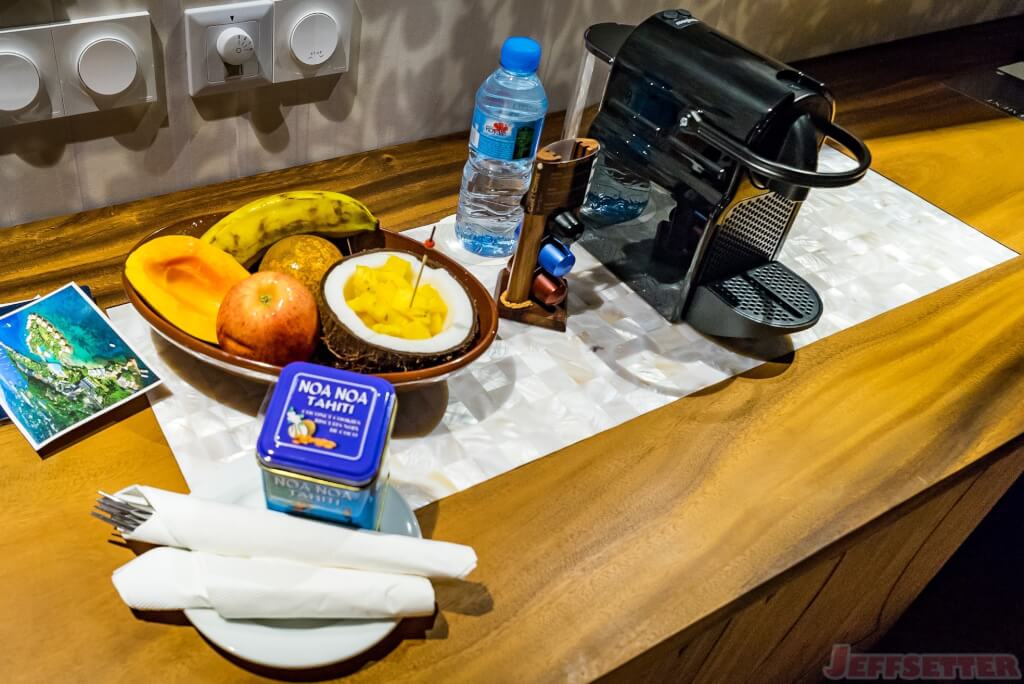 The desks was good size with multiple outlets including USB, North American and European plug-ins.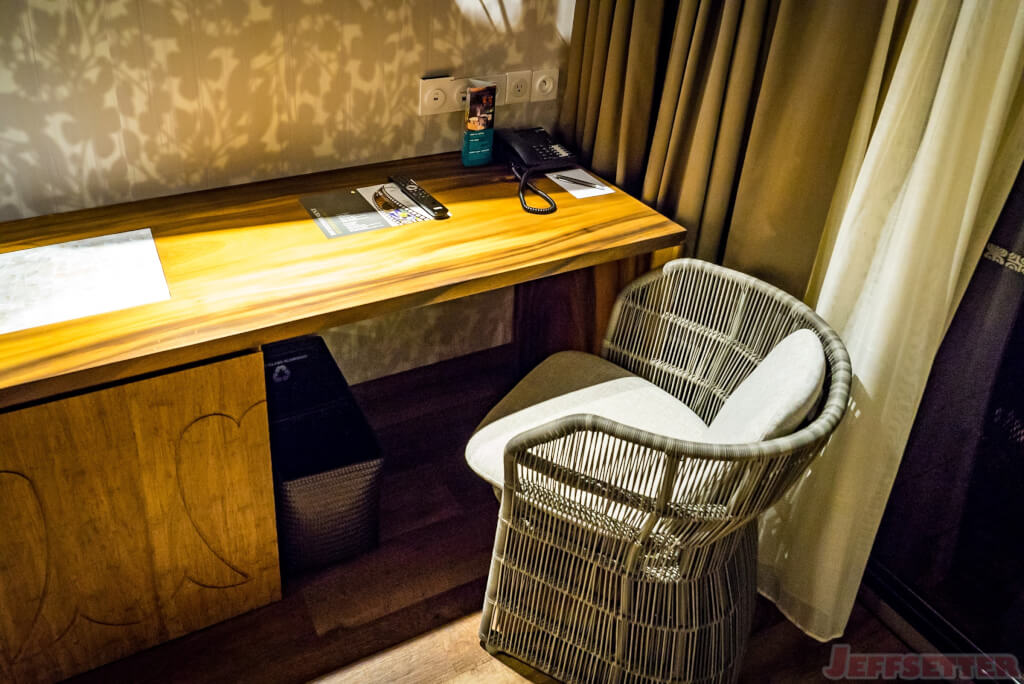 Opposite to the desk is the seating area.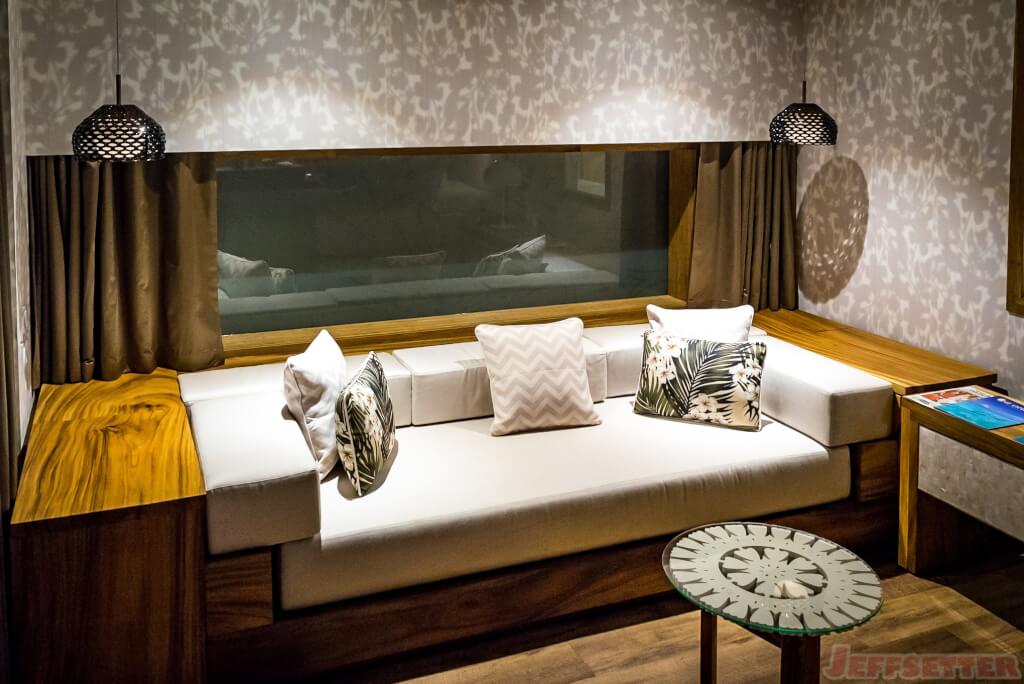 I Love, Love, Love the design, the  space and being on the water.
BUT OMG THAT BATHROOM
The bathroom is behind the bedroom, and is nearly the same size. I mean look at this. I would happily have this bathroom in my home, if I had a home.
Double sinks, tub and shower….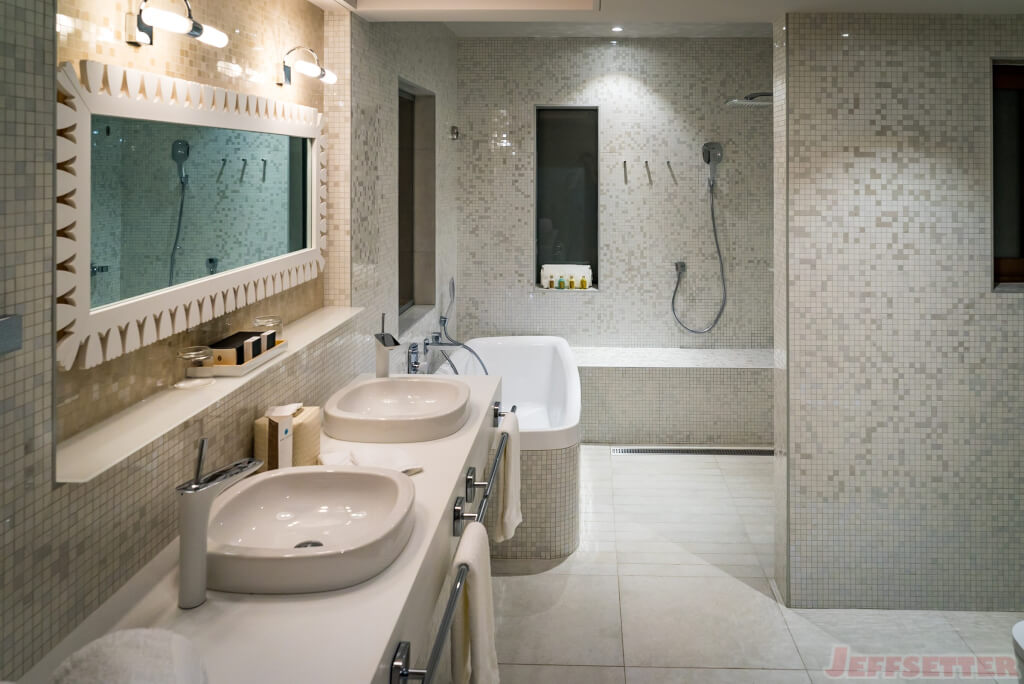 His and hers closets in the bathroom. I am not sure why we only stayed for two nights…… :(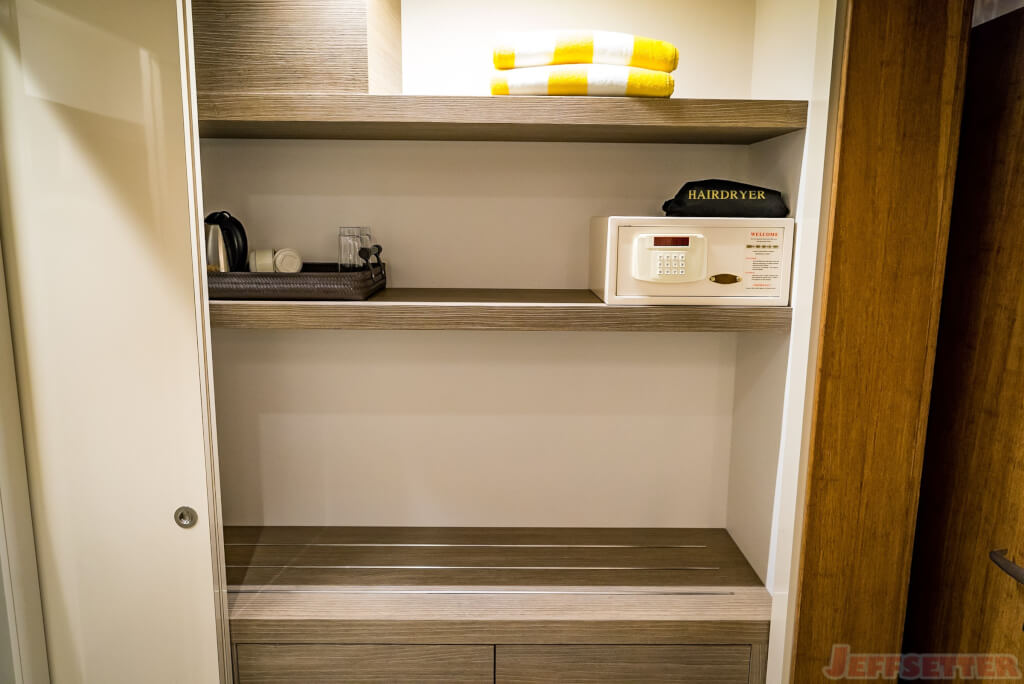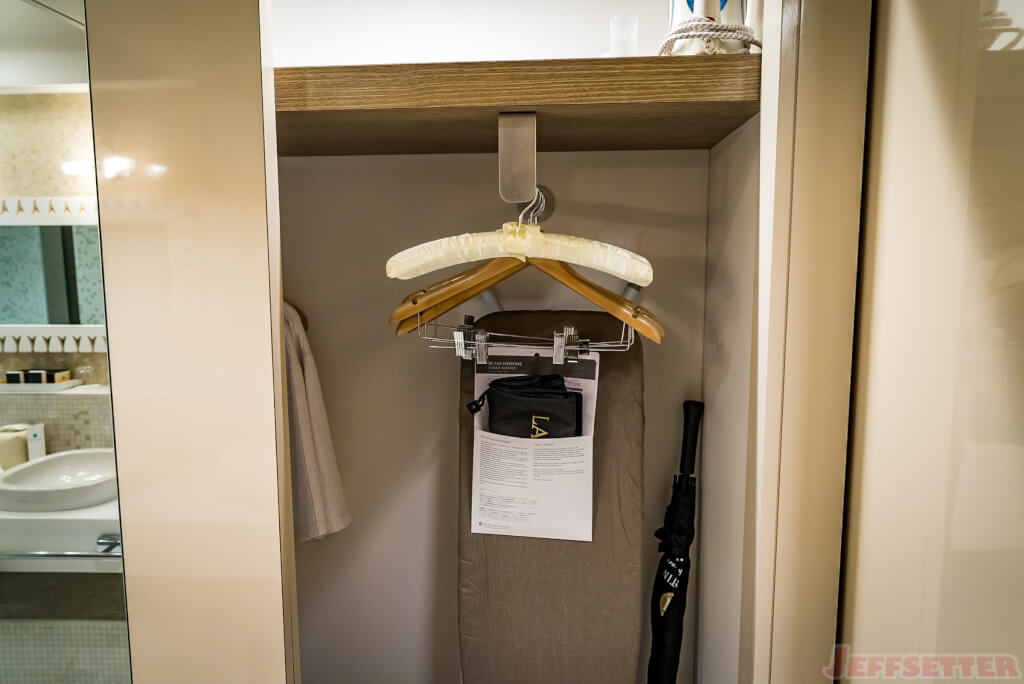 The products were nice, tropical and fruit. I also really like that they gave us aloe. I still have a bottle that is traveling with us. The bottle was recently rename to be called "fairy kisses" to help out a 3 year old's sunburn shoulders. Just a little tidbit to humanize us.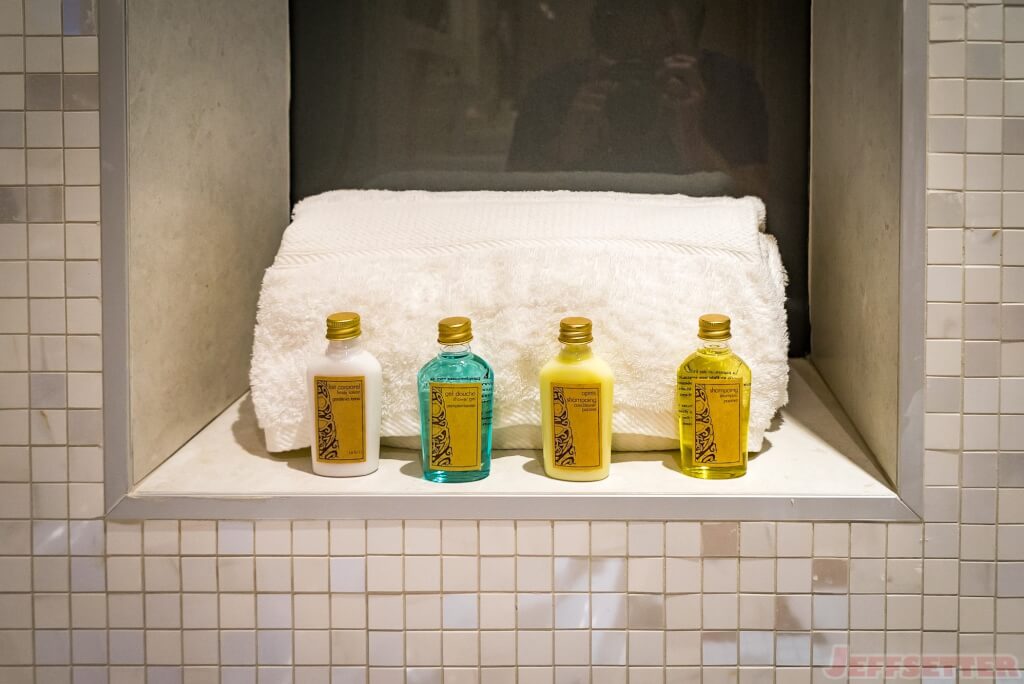 Here is the signature mirror portrait. Mrs. Jeffsetter did not do any fun pictures (I was probably still annoyed about her global entry interview experience).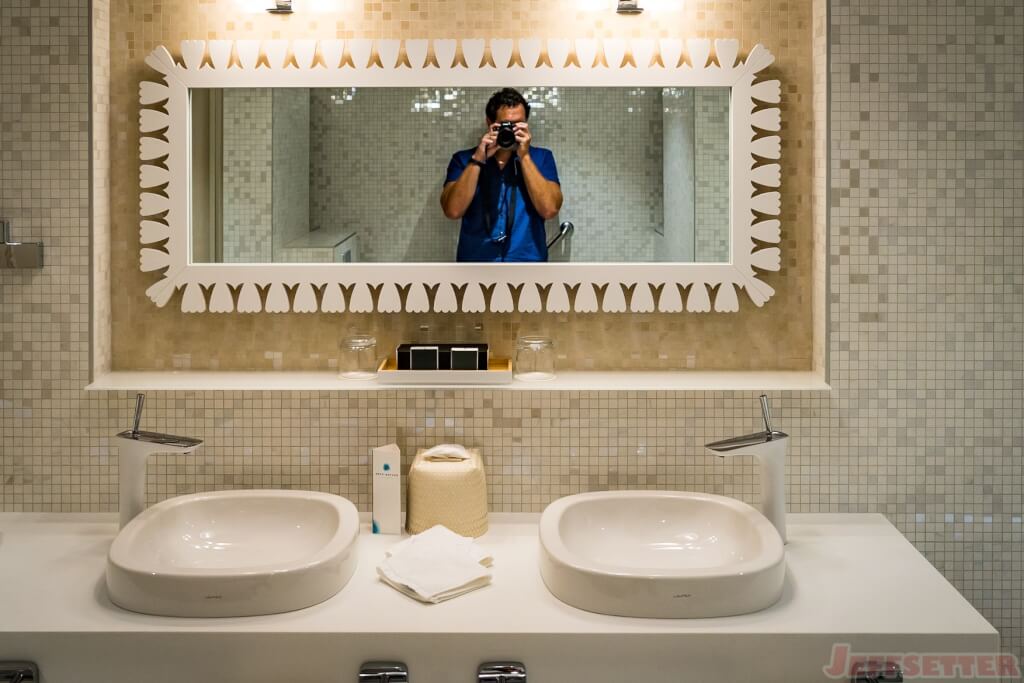 The Deck (OMG its a DOUBLE DECKER!!)
The floor to ceiling window doors in the bedroom full open to the deck. This deck is like an additional room with a dining table, additional lounge seating and sun lounge chairs.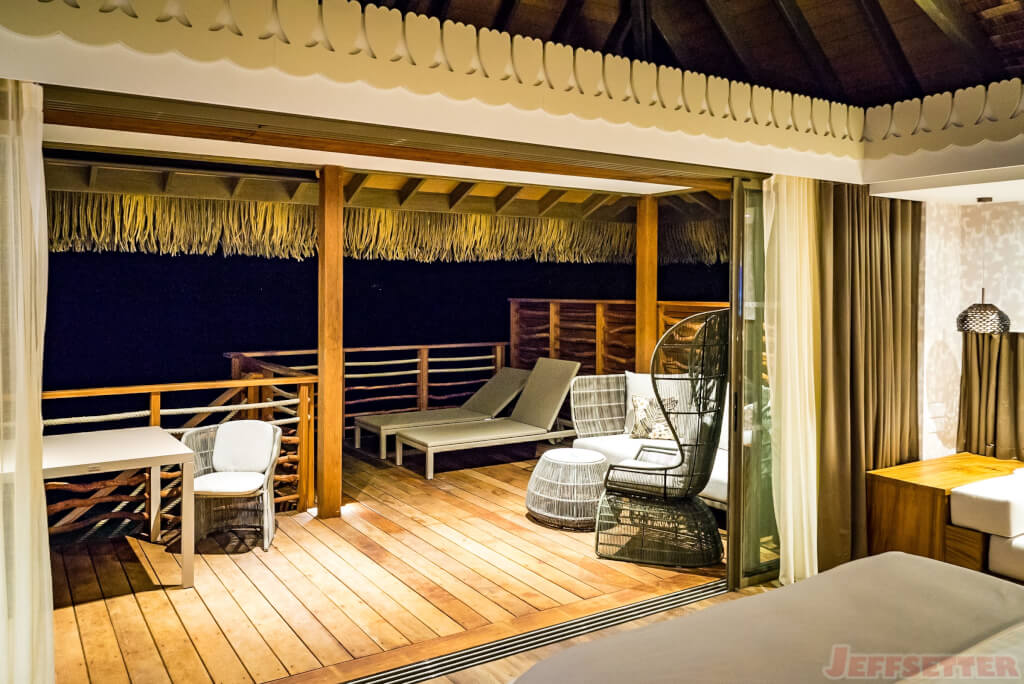 But wait, there is more… Yes, a second deck to get in the water. There is also a shower there to wash off after your swim.
Note: someone was snorkeling and bumped into our ladder. The ladder fell off onto their head. After Mrs. Jeffsetter saw that she was alright, she was all "this is my bungalow @#$!" It's boobie trapped.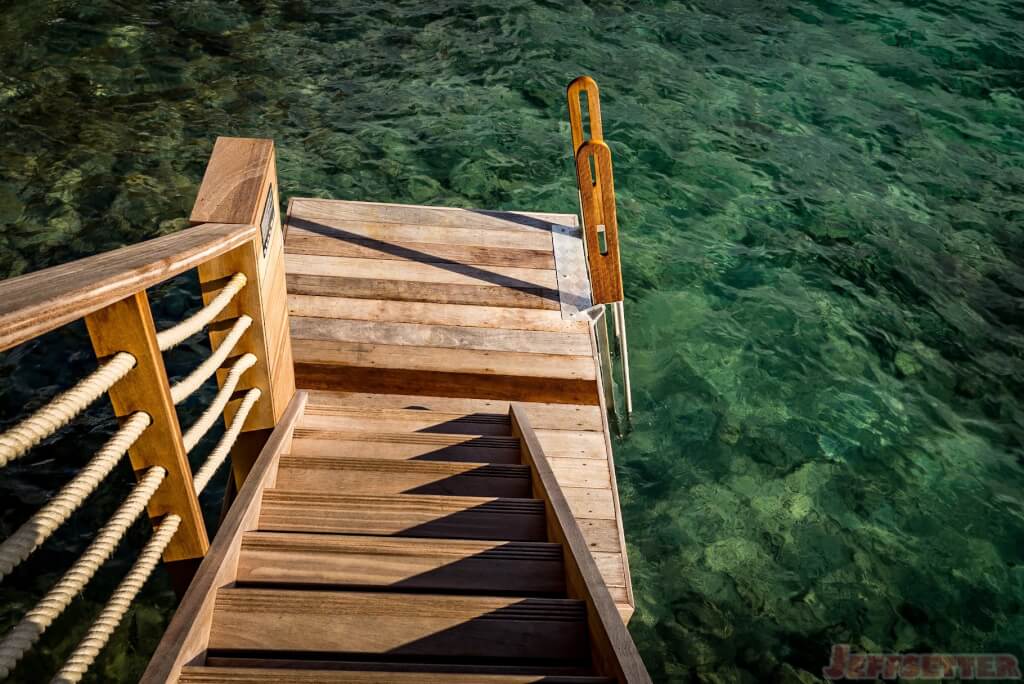 We loved our bungalow and in retrospect 10 days here might have topped our experience in Bora Bora.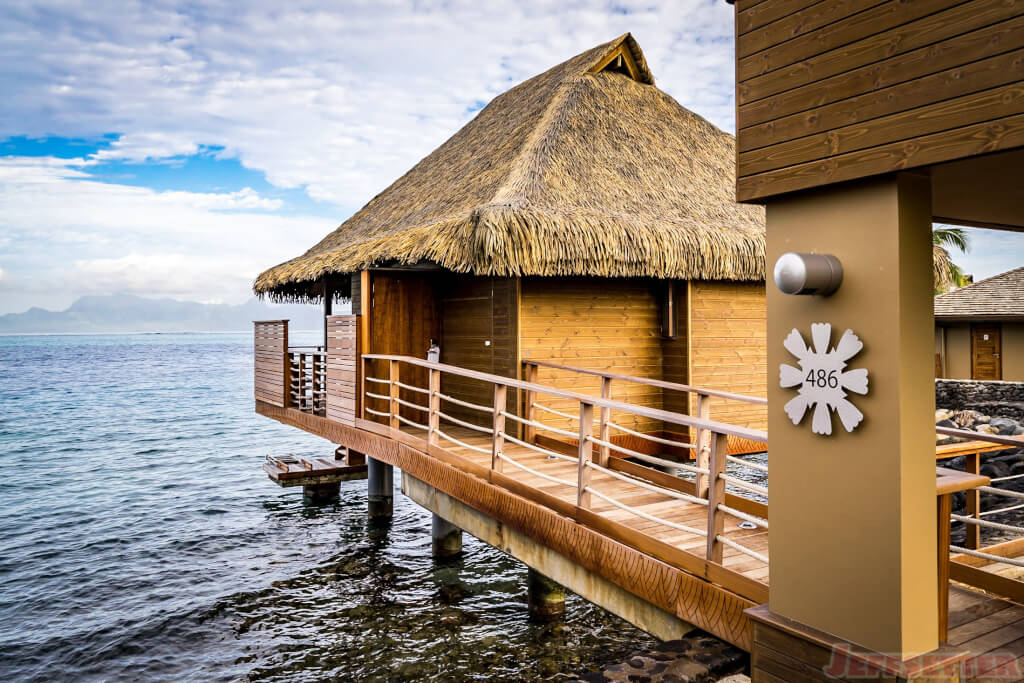 The Grounds
Que hermoso! (Mrs. Jeffsetter is taking Spanish classes right now).
There is an infinity pool.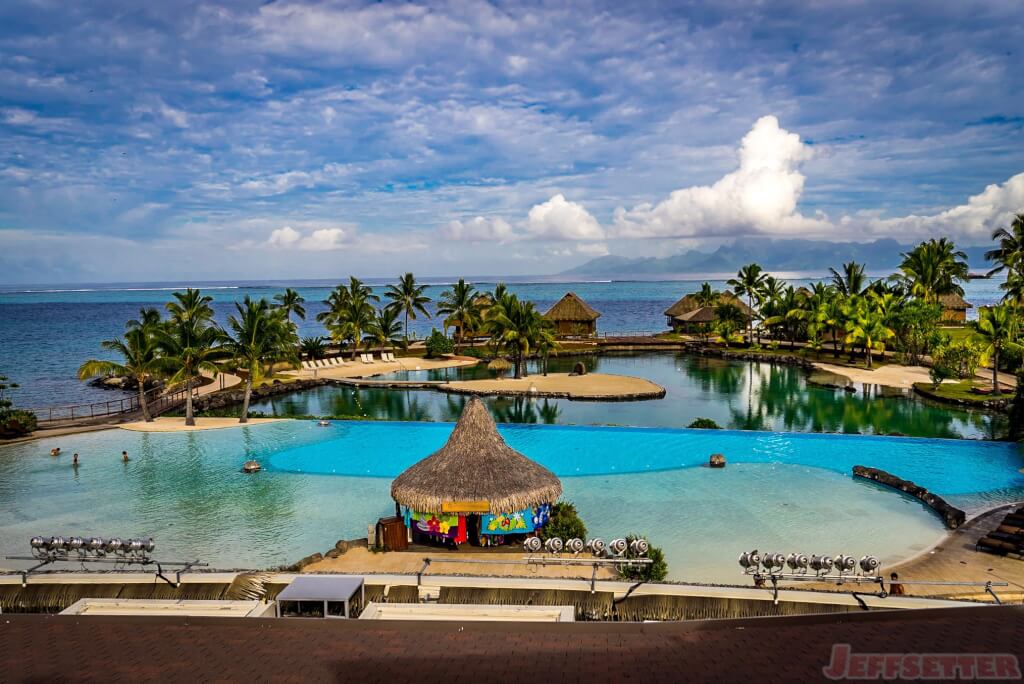 And a lagoon.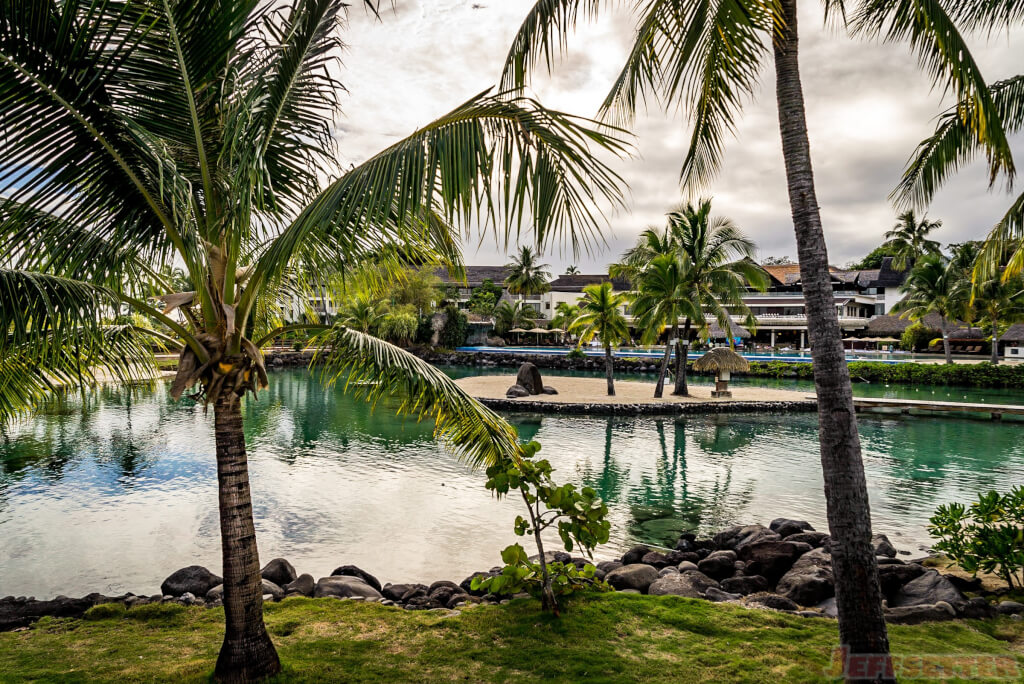 The lagoon is salt water and has coral, fish and other sea life in it.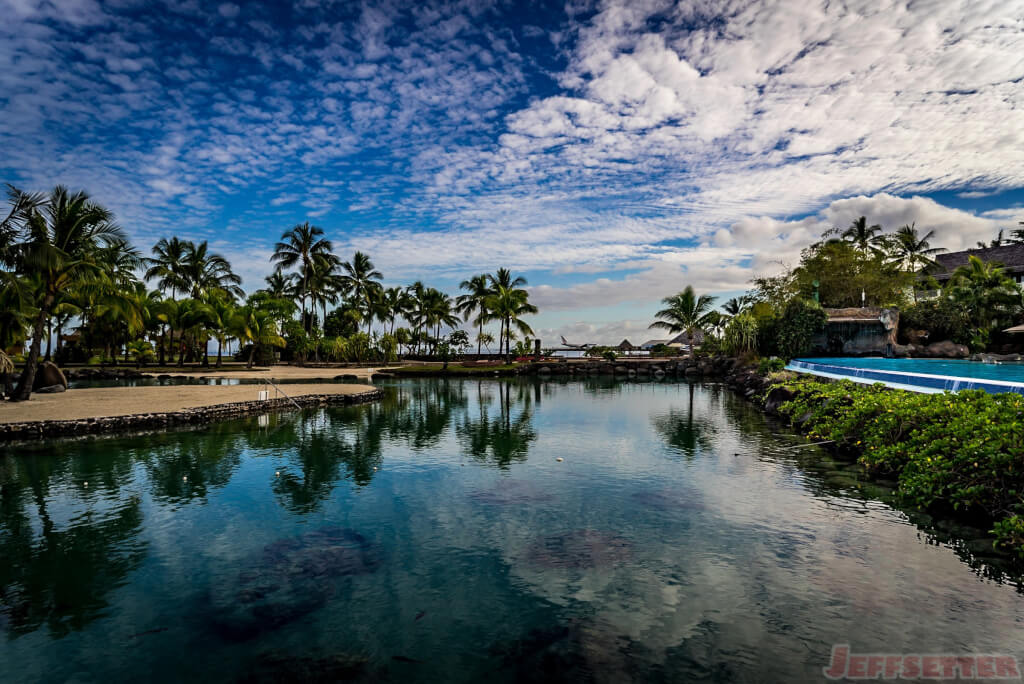 This is really a great feature, especially if you are afraid to try snorkeling in the ocean or have small children and want a controlled environment.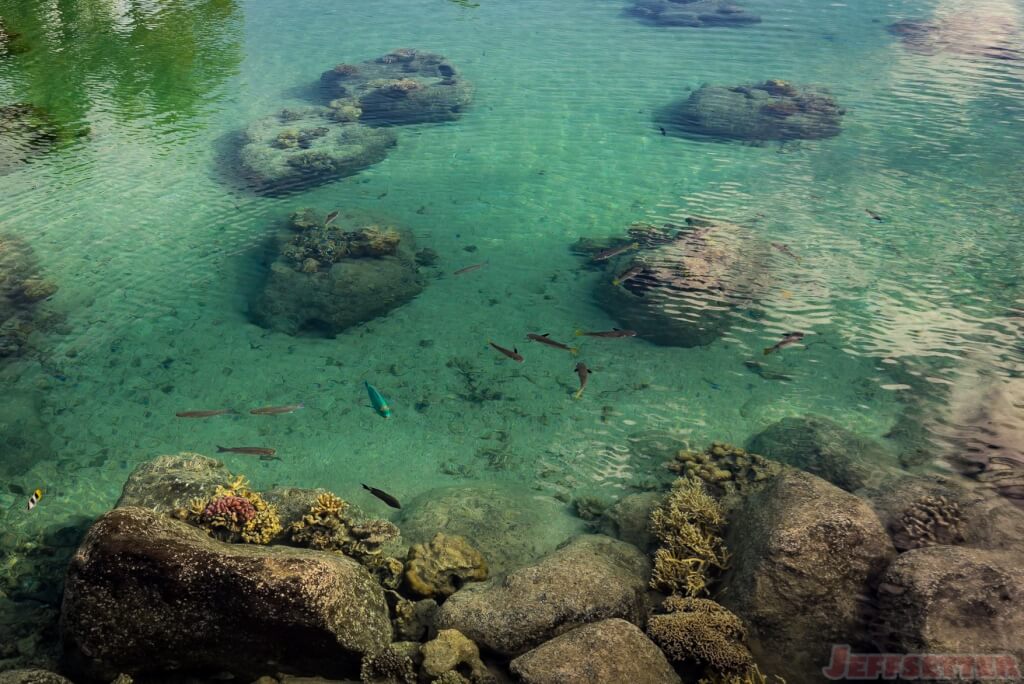 The Breakfast Buffet
As Ambassadors, they gave us two 50% off breakfast coupons, which Mr. Jeffsetter used both days.
Good thing we had those coupons, because I walked into a Polynesian Sunday brunch feast, which would have set me back $60.
Some more sights from the hotel
Here are some more sights and photos we took around the hotel. Not sure they need much explanation.
The Sunsets
Sunsets in French Polynesia are legendary, but this trip they weren't as good as what we saw in 2013. Those were even better.
But we still did manage to get quite a few shots.
Light Painting
On our last night, I tried to do some light painting. Here is how it works:
Put camera on the tripod and set exposure to 30 seconds. Push down shutter and then run into the frame and use the flashlight on the iphone to add light to the photos.
Mrs. Jeffsetter and I did this about 15 times and it was awesome!
We loved this place and I would go back in a heartbeat. This is a funny contrast with how we felt about Bora Bora – I wouldn't go there unless someone paid me for all expenses.
This hotel was a pleasant surprise, and was definitely the nicest room we had in 2015. Not bad after 200+ days living in hotels and AirBNBs.
If you do make it to French Polynesia, do give this place a shot!