Welcome to this week in travel, where we talk about all of our hotel and flight bookings for the past week. When applicable, we also talk about mileage earning and other items pertinent to our upcoming full time travel.
This past week was all about booking hotels. Then again, most weeks will be this way, since we are going to need a place to stay 365 days a year moving forward.
On to the good stuff.
Hotel Bookings
This week I made a few changes to our bookings on Bora Bora and booked a brand new stay in Tahiti, all at InterContinental. After that, we finalized our bookings in Hawaii with some help from Hyatt.
InterContinentals in Bora Bora
First the fun one: I have been watching space at both Intercontinental Hotels in Bora Bora like a hawk for a solid 6 months, trying to get the perfect combination of nights for our stay. The problem is that these hotels have nearly 0 award availability for the 300+ days.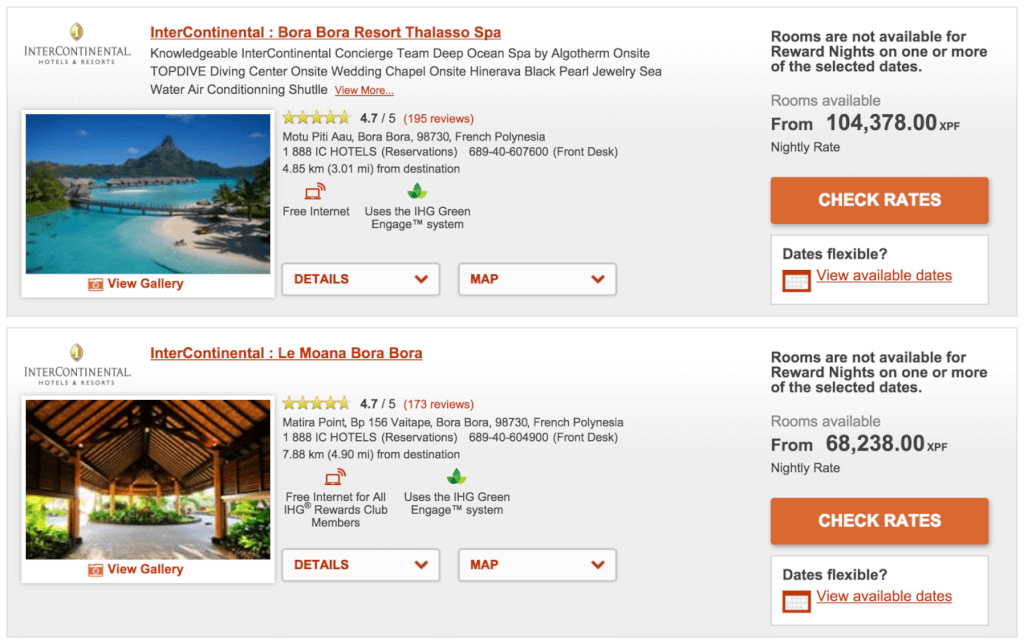 We want to spend 7 nights on Bora Bora (using 4 free nights from last winters Into the Nights promotion and 3 nights on points). While we would prefer to spend all nights at the Intercontinental Bora Bora Resort and Thalasso spa, availability is severely limited for awards.
That's why I was so excited on Wednesday when I finally saw a night open up during our target dates. I jumped on it quickly scooped up this night.
Right after that booking, I saw a new night open at the InterContinental Le Moana, which I scooped up as well. Only two more nights to go for a continuous stay on this island! If I keep checking the IHG website every day, things should work out.
Booking the Thalasso meant canceling the free night I booked at Le Moana. At first I was concerned that the free night would be lost per IHGs terms and conditions, but to my delight it was promptly returned back into our account.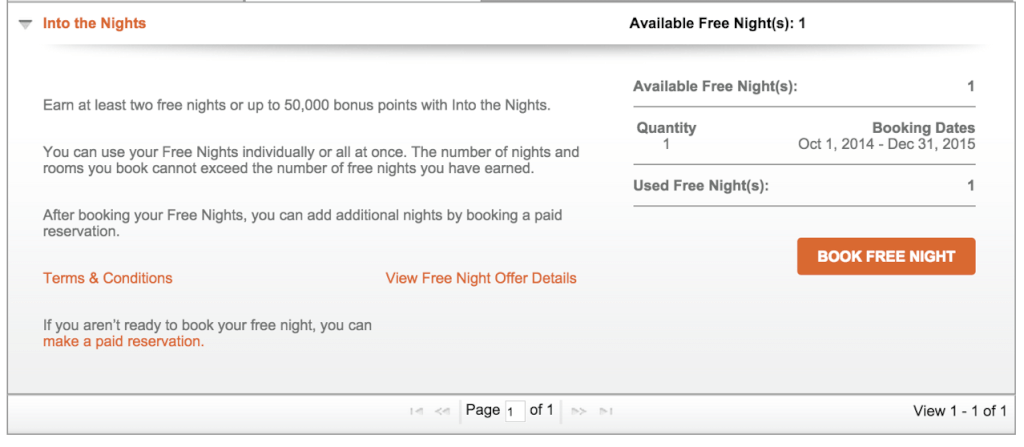 I'm feeling pretty confident now that things will work as planned for Bora Bora. It might not be 7 nights at the Thalasso, but it will be pure enjoyment and relaxation.
Booked Intercontinental Tahiti
Because our flight from Hawaii to Tahiti gets in late in the evening, we have decided to stay on Tahiti two nights before heading to Bora Bora. We will be staying at the Intercontinental Tahiti Resort & Spa, which is very close to the airport.
I made this booking using the buy one night, get one free ambassador weekend stay certificate I received for holding the IHG credit card. This saved us $353.96 (since Bora Bora will be free, I am splurging here in hopes that we get upgraded to an overwater bungalow). I booked a room class one below the overwater bungalow, hoping that my guaranteed room upgrade from platinum ambassador status will work in my favor.
If all goes to plan, we will have 9 nights in Intercontinental resorts in French Polynesia and only end up paying for one night at $353.96. The cash value of those stays would be $4,923.44 (or more if we end up at the Thalasso for more nights).
Of course, the overwater bungalow upgrade for Tahiti is just blind speculation right now. I will be doing more research on all of this as the dates get closer to see what our actual upgrade chances are. If there is no chance for upgrade, we will use the certificate for a cheaper hotel room.
Hyatt Place Waikiki Beach
It's hard to top our hotel bookings in French Polynesia for excitement, but I also had a breakthrough with our need for a place to stay on Oahu. We started our search not wanting to stay on Waikiki beach. Mainly to avoid tourists.
But as we looked at hotels + AirBNB + VRBO, we resigned ourselves to the fact that we wouldn't be able to stay for our $100 or less desired stay price.
So it was back to Waikiki beach. My preference now became getting the best overall value and keeping nights under $100. I was also looking to redeem a free night certificate from either Marriott or Hyatt for one of the nights.
My eyes zeroed in on the Hyatt Place Waikiki beach. It fit all of our criteria – it qualified for one free night because of my Hyatt credit card. It is only a category 3 Hyatt, which meant only 12,000 points were required per night. Or with cash and points we could get 6,000 points + $75. This is for a hotel room that costs $249.58 per night when taxes are included. Reviews on TripAdvisor are stronger than the more pricey Hyatt Regency.
When I called the Hyatt Diamond line, the agent couldn't have been more helpful. Seriously, Hyatt has amazing phone agents. Just amazing.
First she booked the Hyatt card free night, which actually booked into an upgraded room class (Ocean view King). Then she added two award nights on the same itinerary. She said that by doing this, we could have an upgraded room the whole stay. She also left notes to the hotel to explain what was happening.
Cash and points were not available for those dates, so we ended up using 24,000 Hyatt points (transferred from Ultimate Rewards) and a free night certificate to save $748.74.
I have to say that cash stays in Hawaii and Bora Bora are super expensive. If we can emerge from that leg of our trip staying under $100/night total, then the rest of this trip will be gravy.
For those keeping track at home, we have figured out accommodations for 78 nights of our trip at an average cost of $88.44 per night. If you take out stays with friends and family, we get to $97.16/night for 70 nights.
Hotel Research
Still looking for hotels on Moorea and then Auckland and the North Island of New Zealand. Let me know if you have any recommendations!
Hotel Stays
We did not stay in hotels this past week. Won't have any stays next week either. Week after that it's 3 brand new hotels for me in Minneapolis. Then it's hotels for the rest of our lives ;).
Destination Research
Received some awesome recommendations for Hawaii from readers Aarash, Kory and Kyle. Thank you so much for your help! While I want Maui to be a relaxing month, I now am excited about all of the cool things we can do.
Points Earning
No major points earning this week.
Flight Bookings
I added my name to Amanda's flight on Southwest to Phoenix. Last week the companion pass functionality on Southwest was acting crazy. This week I was able to add myself in about 2 seconds.
Flight Research
Looking at Southwest flights from Phoenix to either Aruba or Belize. Southwest is not pricing this on a single itinerary. It allows PHX-HOU flights and HOU-AUA or HOU-BZE, but not the complete trip. Since I am new to Southwest, I am still getting the hang of how everything works. Regardless, we should be able to make it to either destination for less than 20,000 RapidRewards points.
Blog Posts
Here are our blog posts for the past week. We have really enjoyed our time as featured bloggers on BoardingArea, and hope that you have enjoyed the shift in content to talking about our big trip!