Last updated on February 9th, 2023 at 09:06 am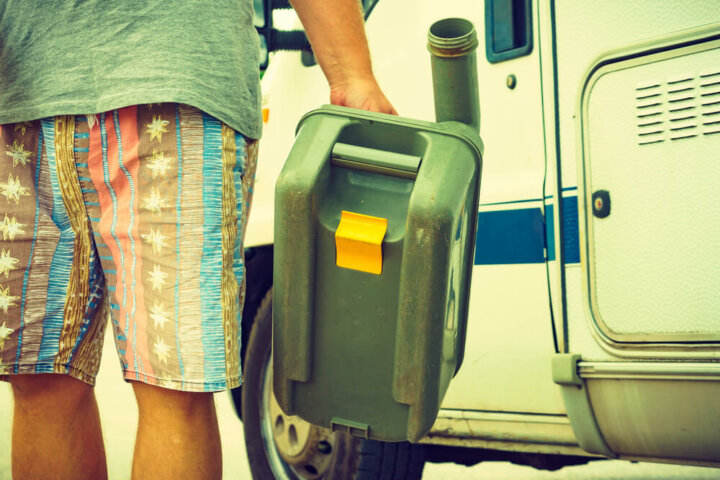 All of our reviews are based on exhaustive research, industry experience and whenever possible, hands-on testing. When you make a purchase using one of our chosen links we'll get a small percentage of the proceeds. This supports the site and keeps Jeffsetter running. You can read more here.
When you head out on the open road in your RV in search of an epic adventure, your black water vent is probably the last thing on your mind. To maintain a comfortable living space and limit bad odors, it's worth keeping on top of your black water tank, knowing when it's filling up and if the black water vent is becoming clogged.
If you've been noticing some sewage smells in your RV toilet and gurgling sounds when you flush it, a clogged black water vent might be the culprit, or it may be because of an internal blockage in the tank.
So, how do you unclog an RV black water vent?
Unclogging an RV black water vent can be done by using specific RV toilet chemicals to break down any solid matter, using pressurized water, pouring boiling water into the toilet, or using a toilet snake to manually remove clogs. RV black tanks need to be maintained correctly to avoid a solid build-up.
Try not to panic if you have a clogged black water vent or tank as there are plenty of different unclogging methods for unclogging to get your RV functioning back at its best! It can be hard to know exactly what to do when you realize your black water vent has become clogged, so we've put together a comprehensive guide to help you solve the problem.
How Do You Unclog RV Black Water Vent?
When you begin to notice slow drainage, gurgling sounds, and sewage smells in your RV toilet, it's time to consider if the black water vent is clogged. Having a blocked RV black water vent or tank is a relatively common problem, and the key to dealing with it is knowing what to do when your vent becomes clogged.
1. Empty The Black Water Tank
The first step is to empty the black water tank as much as possible, this will help make things a lot more pleasant moving forward. Make sure your RV is connected to sewerage before going ahead with this step. It may be useful to unclog your RV black water vent at a campground where facilities such as sewerage and water are readily available.
2. Remove Black Water Vent Cap and Test Pipes
You'll then need to find the black water vent cap and remove it before testing the vent pipes. It's wise to grab a flashlight for this step as you'll need to check if wastewater is flowing properly through the pipe. If you can't see anything flowing through the vent pipe, pop on some sturdy gloves and see if you can feel any blockages such as toilet paper or wipes.
3. Check The Tank Valve
It's also worth checking the tank valve to see if opening it helps any wastewater to flow. Once the water starts to drain out, make sure you close the tank valve.
4. Use RV Toilet Chemicals
If the RV black water still won't drain properly, using RV-specific toilet chemicals and black tank treatments can help solve the problem by breaking down any solid matter that might be clogging the tank. Check the manufacturer's instructions for how long you have to leave the chemical in the tank before flushing it through.
Feeling overwhelmed when you realize your black water tank has become blocked is completely normal, but with some simple methods available to remove blockages, it can be unclogged in next to no time. The video below shows a great breakdown of how to correctly maintain an RV toilet system to avoid clogs in the future.
As you can see in the video, simple maintenance like cleaning your tank and using a substantial amount of water when you flush, are simple things you can do to help keep your RV toilet and black tank in the best condition possible.
How Do You Unclog RV Black Water Vent Without Using Chemicals?
Many people are turning to alternative, chemical-free methods when it comes to their RV. There are a few ways of unclogging an RV black water vent without using chemicals, but if none of these methods work, it might be worthwhile to use some black water tank enzymes to prevent the problem from getting worse.
Pressurized Water
Using pressurized water to help dislodge any blockages is an accessible, quick method for unclogging an RV black water vent. Purchasing a wand attachment that can be inserted into your black tank can be useful as it sprays water all around the inside of the tank, helping to loosen any build-ups.
1. Connect Your Sewer Hose
The first step of the process is to connect your RV to a sewage point at a dump station or campground. It's important to dispose of RV waste safely to avoid any harm to the environment and keep the outdoors a clean place for everyone to explore. Once your RV is connected, the black water valve can be opened.
2. Use Pressurized Water
If you're using a pressure washer, you can go ahead and start blasting away the inside of the tank. If you have a wand attachment, it can be connected to a hose and the water supply. You can then begin to clean the black water tank by holding open the toilet flap and inserting it in.
It's important to remember to clean any hoses or attachments well to get rid of any harmful bacteria. I also prefer to use gloves and protective goggles when completing the unclogging process as it can be a bit of a messy job! At least if you complete the process at a campground, you can have a nice, hot shower once you've cleared the blockage.
3. Turn On The Valve
Once the wand has been inserted into the black tank, the valve can be turned on and the wand sprayed all around the inside of the tank to remove any clogs. Once the blockage has been removed, the valve can be turned off again and the wand removed from the tank.
To help prevent the black water tank and vent from clogging up again, it's wise to repeat this process after every few trips you take to the RV dump station. Maintaining your black tank and toilet system is essential, and takes away a big stress on your RV trip.
Boiling Water
A free and simple way to unclog an RV black water vent is to pour boiling water into the black tank. The heat of the water helps soften any clogs to make it drain easier from the tank. This is an old-school method for unclogging an RV black water tank and has been used by RVers for many years.
If you have a large blockage, however, boiling water may not be enough to help clear out the clog. Turning to RV septic-safe chemicals may be needed if there is a solid mass that needs to be broken down a lot to drain out of the tank.
1. Turn Off Water Supply
Turning off the fresh water supply to the toilet will allow the toilet flap to be open without causing water to enter the tank, making the boiling water cooler and less effective. Once the water has been turned off, the flap needs to be kept open to allow boiling water to be poured into the tank.
2. Pour Boiling Water Into The Black Tank
Pour a few kettles or pots worth of boiling water down the toilet and into the black tank. The temperature of the water will help to soften and dislodge the clog. Completing this process overnight can be helpful to give the hot water a good chance to break down the clogged matter.
3. Repeat if Necessary
If the RV black water tank is still clogged, you may need to repeat the process a couple more times until the clog has broken down and can be cleared out of the black tank. Pouring boiling water down the toilet every once in a while, even if you don't have a blocked tank is a great precautionary measure to take to stop solid waste from building up into a big pile and causing the vent to clog.
Toilet Snake
A low-cost way of unclogging an RV black water vent is to use a toilet snake to manually dislodge any clogs in the pipe. Having an extra pair of hands for this process can be useful as you'll need someone to flush the toilet later on in the process.
1. Insert The Snake Into The Black Water Vent
The first step is to get the snake inside the black water pipe, so it needs to be inserted into the black water vent until you can feel the blockage. It's essential to not be too rough against pipes or connections when using a toilet snake, as the last thing you want to do is cause any damage to seals or piping. Being too rough with the snake can damage seals and cause leaks, opening up a lot of other problems!
2. Dislodge The Clog
Once you feel resistance, it means you've reached the point in the pipe that's blocked, so you'll need to start turning the snake's handle a few times until it goes inside. I always say slow and steady wins the race, and it's best to take your time when turning the snake and attempting to dislodge the clog to avoid causing any damage to the pipes.
3. Flush The Black Tank
To see if the method is successful, you'll need to flush the toilet into the black tank and see if there is resistance during the flush. The process may need to be repeated until the toilet snake moves freely in the pipe, or you may need to look to a different method if the blockage is too big for a toilet snake to handle.
Why Is My Black Water Tank Not Draining Properly?
There are a few different things that can cause an RV black water tank to not drain properly, and they can be dealt with easily once you've identified the problem.
1. Clogged Pipe
The pipe connected to the toilet takes waste down into the black tank, and sometimes these pipes have twists and bends in them that waste can get stuck in over time. If your black tank system has bends in the pipe, you'll be more prone to clogs that will stop black water from draining correctly.
2. Solid Waste Pile
Another common cause of a black tank not draining properly is a solid waste pile that's blocking up your tank. This often happens when an RV is connected to sewerage such as at a campground, and the black tank valve is left open.
This allows any liquid to immediately be drained from the tank but means waste will build up, creating a solid pile in your tank. The pile will continuously grow bigger with each toilet use and as the solid waste will land at the same point every time, a large pyramid will be created in the black tank.
3. Compacted Black Water Tank
Similar to creating a solid waste pile, not using enough liquids in your toilet system can result in compacted waste getting stuck at the bottom of the black tank. If the pile is left alone and not dealt with, it can dry out and become hard, making it more difficult to remove.
Chemicals may then need to be poured into the toilet to break down and digest the waste, allowing it to flow freely from the black tank without getting stuck.
How To Avoid Getting A Clogged RV Toilet?
Although unclogging an RV toilet isn't a tricky job, it isn't a particularly pleasant one to have to do. So, it's best to take precautionary measures and try to keep your RV toilet from getting clogged.
1. Don't Flush Wipes
When using items such as baby wipes and sanitary products, it can be tempting to flush them down the toilet, however, they can cause clogs and blockages. It's better to only flush biodegradable or RV toilet paper down into the black tank that will break down and be drained out easily at the dump station.
2. Avoid Too Much Toilet Paper
Using too much toilet paper can clog up the black water tank and be a pain to get rid of from your RV septic system. If you find you are regularly having issues with toilet paper blockages, it might be worth refraining from flushing toilet paper and instead, have a small trashcan in the bathroom.
This isn't an option that will suit everybody, but it can help prevent future toilet blockages in your RV. It also means less space in the tank will be used for toilet paper, meaning you can visit the dump station less and camp out in your RV for longer!
3. Empty The Tank Regularly
Emptying your RV black tank regularly is a surefire way of preventing blockages, but it's worth letting the tank build up some waste, as the liquid contents will help to evacuate the solids. It can be tempting to empty your black tank after just a few uses, but waiting until there is a substantial amount of liquid in the tank can help save you from getting a clogged black water vent.
4. Don't Leave Black Tank Valve Open
Leaving your RV black tank valve open is one of the most common causes of a clogged RV toilet. When you're hooked up at a campground and your RV is connected to the sewer system, it can cause a pile-up of solid waste.
The liquid drains out from the tank immediately, whereas any solid matter creates a pyramid in the one spot under the toilet where it lands. If the pile isn't dealt with as soon as possible, it will continue to increase in size and can be a nightmare to try and get rid of.
Closing Thoughts
If you notice sewer smells in your RV, the likely cause is a clogged black water vent or a black tank that is completely clogged. When you discover the type of clog you're dealing with, it's important to get to work on the problem as quickly as possible to avoid it getting any worse and becoming harder to deal with.
RV maintenance isn't always fun, and at times, you have to get down to business and face the toilet and black tank in your RV. Unclogging your black tank isn't the nicest job, but it's best to have to remove a small clog than deal with a completely blocked tank thanks to a large waste pile. With some rubber gloves and goggles in hand, you'll be ready to conquer an RV black water clog once and for all!