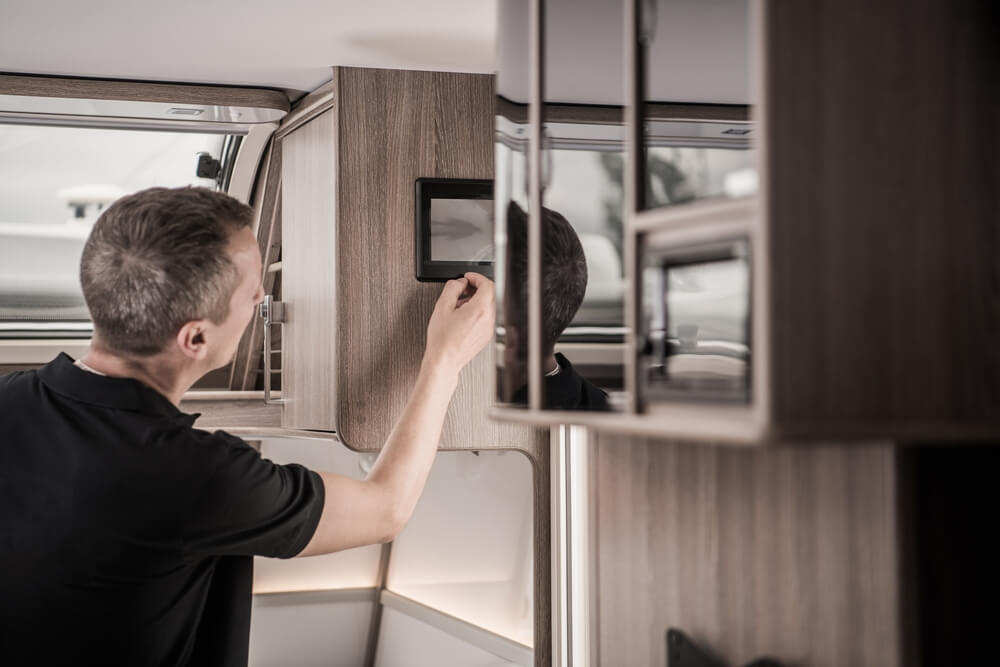 RV winter travel has its own unique steps for preparation. The cold weather can pose a whole new set of problems for you and your rig if you're unprepared. Winterizing your rig (which includes everything from winter covers to increased insulation and preparing your pipes) is the process of making sure your RV is well suited for the demands of cold weather.
The steps taken work to prevent so many issues, and among the most important of them all is blowing out your water lines. The intense cold can pose lots of problems to your rig, with a super common one being your pipes freezing. Anywhere water travels in your rig, be it your pipes, water lines, or tanks, become susceptible to issues when the weather becomes very cold.
Blowing out your water lines with a strong air compressor is a great step to keep water from sitting in them and potentially freezing.
However, it is important to now just what PSI is safe for blowing out your water lines.
An air pressure PSI (Pound Per Square Inch) of around 30-40 is all you need to safely blow out your RV's water lines. Any less and you may be unable to completely remove water from the lines, any more and you risk damaging them.
Let's dive deeper into why PSI is so important and how to use it when blowing out your RV's water lines.
What is PSI?
PSI or Pound Per Square Inch is a unit that reflects the pressure on a given surface. It is most commonly used to measure the air pressure within a tire. Because PSI is simply an indication of pressure, it is very easy to understand but also important to get right. Wether you are looking at the PSI of your tires, water pressure, or for blowing out RV water lines, ensuring you use the correct PSI is crucial. The tool that you would use for your RV's water lines is an air compressor. Each will feature their own PSI requirements that you must be aware of.
How Do Air Compressors Work?
Air compressors are motorized tools powered either by electricity, gas or propane. They use a lengthy hose to blast high pressure air to wherever it is needed. Luckily, their fairly simple purpose makes them reliable for many different tasks. Winterization of your RV is what they are best at, but if you need to inflate your tires a bit or even do some cleaning, they can help. When looking to blow out your rig's water lines, they are the tool for the job. However, Its important to know what to look for when choosing one.
What to Look for in An Air Compressor?
There are a few important factors to consider when looking for an air compressor.
PSI
The first and most obvious is the PSI. Remember, the best for your RV's water lines is 30-40. Some compressors may go way above this as they are designed for heavy duty tires. It is important to pick a compressor with a PSI that matches up with your needs so you're not stuck with something too weak or too powerful.
Power
Most portable air compressors need to be plugged into a 12 volt plug or adapter. This should be easy to manage as most rigs will either feature a power source that the compressor can plug into or be camped at a site with electrical hookups. It is important though to always double check the power demands of your rig and ensure any new appliance you purchase doesn't exceed them.
Duty Cycle
Speaking of power, a stronger air compressor will often have a higher duty cycle. The duty cycle is the time needed for the compressor to cool down after its has been used. It is listed as a percentage relative to the hour. For example, an air compressor with a 50% duty cycle can run for 30 straight minutes before needing to cool down. While one with a 100% duty cycle can run for a full hour before cooling down. The duty cycle becomes important when considering how long it may take to complete the tasks you need the compressor for.
Now that you know what to look for in an air compressor, its time to look at how to use it for your RV's water lines.
How to Blow Out RV Water Lines?
The first thing you'll need to do before blowing out your RV's water lines is to remove any water filters that you may have installed for your rig. The next is to empty your holding tanks, grey, black and even the freshwater tank. Additionally, you'll want to run your faucets and shower to remove as much water as possible. This is because blowing out your RV water lines is to remove any leftover water in your rig. It is not the main process for water removal, that all comes first.
Once this has been completed you need to use a blowout plug. They are small plastic plugs that connect your RV's water intake system to your air compressor. One you have them in place, you can hook up the air compressor's hose to the blowout plug to send air into the water lines. Now, before using the air compressor be sure to set the PSI somewhere between 30 and 40. You are free to adjust within that range to give it any extra kick needed to clear water from your lines, but any more than 40 and you may damage them.
After setting the PSI, simply turn on the air compressor to begin clearing your rig's water lines. Once one line has been cleared, simply connect the blowout plug to the next and repeat the process until all of them are finished.
Closing Thoughts
Knowing how PSI relates to an air compressor is crucial for safely blowing out your water lines. When looking at all the steps to follow when doing so, checking the PSI becomes easy to overlook. However, out of them all, it is easily the most important. Choosing an air compressor with a low duty cycle or forgetting to purchase blowout caps can be frustrating. Failing to use the correct PSI on the other hand can be incredibly damaging. Luckily, now that you know what to look for, you can be well on your way towards keeping your RV's water lines ready for winter travel!