Last updated on September 16th, 2023 at 10:11 am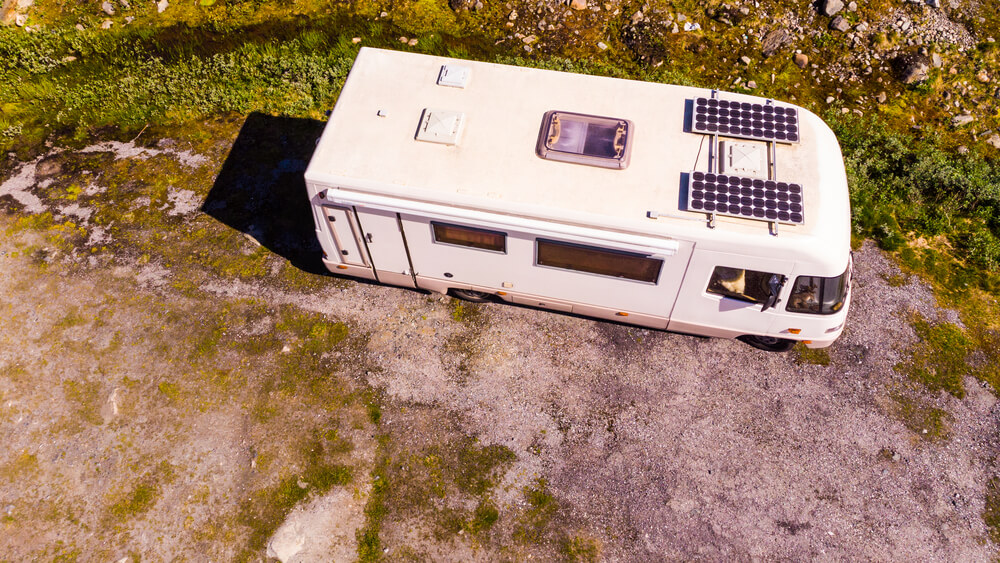 All of our reviews are based on exhaustive research, industry experience and whenever possible, hands-on testing. When you make a purchase using one of our chosen links we'll receive a small percentage of the proceeds. This supports the site and keeps Jeffsetter running. You can read more here.
Resealing your roof is one of the best things you can do or have done to maintain the integrity and strength of your RV's roof. However, just as with any other part of RV maintenance, resealing the roof doesn't come without a cost.
So, how much does it cost to reseal an RV's roof?
The cost of resealing an RV roof depends on whether you do it yourself or have it done for you. Resealing your own roof typically costs a minimum of $500, while having it done professionally costs $1000+. These figures are affected by both the materials and size of your RV roof.
Maintaining your RV is essential for peace of mind when traveling or living full-time on the road. RVers know to check their engine, tires, and appliances, but a huge part of maintaining your rig is the roof! While it's still worth routinely checking the AC and vents, the actual structure of an RV roof needs its own maintenance. Let's dive further into the details of RV roof resealing and how you can even do it yourself!
How Much Does It Cost To Reseal An RV Roof?
Resealing an RV roof can be a substantial investment, especially if you're paying a professional rather than doing it yourself. If you feel confident in the task at hand and want to give resealing your RV roof a try, go for it! With some gentle research, the correct tools, and plenty of patience, you should be able to reseal your RV roof and save some money.
Typically, with the materials and tools involved, a DIY RV roof sealing will cost anywhere from $500. This may seem quite expensive, but since paying a professional to reseal an RV roof can cost thousands, it's definitely the more budget-friendly option. The overall cost of resealing your RV roof will also depend on the materials involved and the size of your roof.
What Is RV Roof Resealing?
Resealing your RV's roof consists of inspecting your roof for any tears, cracks, or holes in the seams and patching them with sealant. This is important to keep your roof structurally sound. Cracks and dents in an RV roof can start small but quickly become a major problem, leaving you susceptible to leaks, water damage, and more.
Resealing is a great investment in your RV's future as it helps cut future maintenance and repair costs. It does a lot to prevent serious and expensive problems from developing, saving time and money in the future.
How To Reseal An RV Roof?
Before you get started on resealing your rig's roof, you need to be aware of what type of roof you have. The way you reseal your roof will depend on whether it's made from aluminum, fiberglass, or rubber.
Rubber Roof
Most RVs have a rubber roof, so chances are this is what you will be working with. Before resealing any roof, you need to remove any vent covers or extra appliance parts. This will make it easier to clean the roof and remove any dirt and grime that may have built up over time.
Remember to avoid using any products containing petroleum when cleaning a rubber roof, as this will impact both its quality and appearance. Once you've cleaned your roof, use a small brush to apply the sealant in any small crevices that need it.
Fiberglass Roof
The next most common roof type is fiberglass roofs. It's still wise to give the fiberglass a thorough clean before applying sealant. It's also essential to remember fiberglass roofs work best with a silicone sealant. Silicone is far more compatible with fiberglass than any other.
Once you have your sealant, apply it as you would on a rubber roof, taking care to find any and all cracks and crevices. Take a close look at the edges where the roof may have started to wear over time.
Aluminum Roof
Aluminum roofs are most typically found on Airstream RVs. Aluminum works well with most household roof sealants, so it's definitely worth checking if you have any lying around. If you don't have any household sealant, then you need to use a sealant designed for a metal roof. These sealants are far more resistant to rust and other environmental damage that affects metal than other kinds.
Before resealing an aluminum roof, once again make sure it's clean and free of any buildup. After cleaning, you can even use seam tape to cover the seams in the roof usually caused by metals like aluminum, although this is not needed. Once you're ready to apply sealant, use a caulking gun to inject it into the many rivets of the aluminum roof.
Now you've resealed your RV roof you can relax knowing you've just drastically increased its lifespan! Resealing a roof can take a bit of time, as shown in the video below, but it truly transforms an RV.
If you want to take it just that extra mile, recoating your rig's roof is a great next step and can also keep your RV in the best condition.
How Much Does It Cost To Recoat An RV Roof?
Recoating your own roof will cost around $500 while having it done for you will cost around $1500-$2000, but what is roof recoating?
As the name suggests, having your RV roof recoated simply means having an extra protective layer coated onto your entire roof. This is why it's recommended to have this done after resealing as it's a great finishing touch. Just like the sealants used for maintaining your roof, there are different types of coatings that can be used.
Silicone RV Roof Coating
Silicone coating is great for fiberglass roofs just like silicone sealant; however, it's usually more expensive than other coating materials as it's very durable. Silicone provides great weather protection including excessive wind and heavy rain.
Urethane RV Roof Coating
A slightly cheaper option is urethane coatings, which are durable but less compatible with fiberglass roofs. They are very useful, however, at protecting RV roofs from tree branches and other miscellaneous debris that may fall onto your roof. This is because urethane RV roof coatings are typically thicker than their counterparts.
Acrylic RV Roof Coating
The cheapest option is acrylic coatings, which are still effective at protecting your roof and are especially good against water damage. However, they don't last as long as silicone or urethane coatings, but this comes with their affordability.
Whether you choose a silicone, urethane, or acrylic RV roof coating, there are also many benefits of having your roof re-coated. Not only does it further protect your roof from damage caused by excessive sunlight, rain, or tree branches brushing up against it, but it also helps regulate your RV's temperature.
Fresh roof coating adds an extra layer of insulation, which makes it easier to keep your RV warm during cold weather, and cool during hot weather. This can help keep your AC and heating units more efficient by making their jobs easier.
What Are The Benefits Of Resealing An RV Roof?
RVing may be cheaper than renting, but that doesn't mean there aren't costs involved! Resealing an RV roof is an investment, but it's a worthwhile one for increasing the longevity of your camper van's roof. Taking the time to perform maintenance on your RV is essential, and there are a host of benefits for resealing your roof.
Helps Prevent Water Damage
Facing water damage is no stranger to RVers traveling throughout all four seasons. Endless heavy rain and stormy weather can take its toll on an RV, causing leaks, and a build-up of moisture inside. Resealing an RV roof and generally keeping it in good condition is a gateway for preventing water damage, and prolonging the life of the roof itself.
Extra Protection
Additional protection in an RV is not something to take lightly! All different types of RV get tried and tested when out on the road, and if you take regular trips in your wagon, it's worth adding some extra protection against the elements. Resealing your roof may seem like an unnecessary cost at first, however, it can help protect your roof from UV rays, snow, wind, and rain, keeping it in better condition for longer.
Keeps Drafts Away
It's not uncommon to find little holes and gaps in old sealant throughout an RV, especially on the roof. These drafts aren't too much of an issue in warm climates, however, when the weather turns, these gaps can be a cold, drafty nightmare! Getting your RV roof resealed means you can wave goodbye to drafty corners in your rig, and instead enjoy a space that stays warm and cozy, even in the depths of winter.
Reduces Wear And Tear
It may seem like RVs can do anything. Although they are impressive, these adventure vehicles show wear and tear with regular use. This isn't a bad thing as it shows your RV is being loved and used well rather than left to rot away on a driveway! Resealing your RV roof can reduce wear and tear thanks to adding an additional layer of protection against debris, branches, unpleasant weather conditions, and more.
Closing Thoughts
Whether you want to be a handyman and do it yourself, or spend the extra money to have it done for you, resealing and recoating your roof is not something to pass up. At a minimum, resealing annually can do so much to keep your roof in tip-top shape for a decade.
Even if you use a cover for your RV during the winter, you'll still need to keep up with regular roof maintenance, and resealing can save so much time and energy in the future!