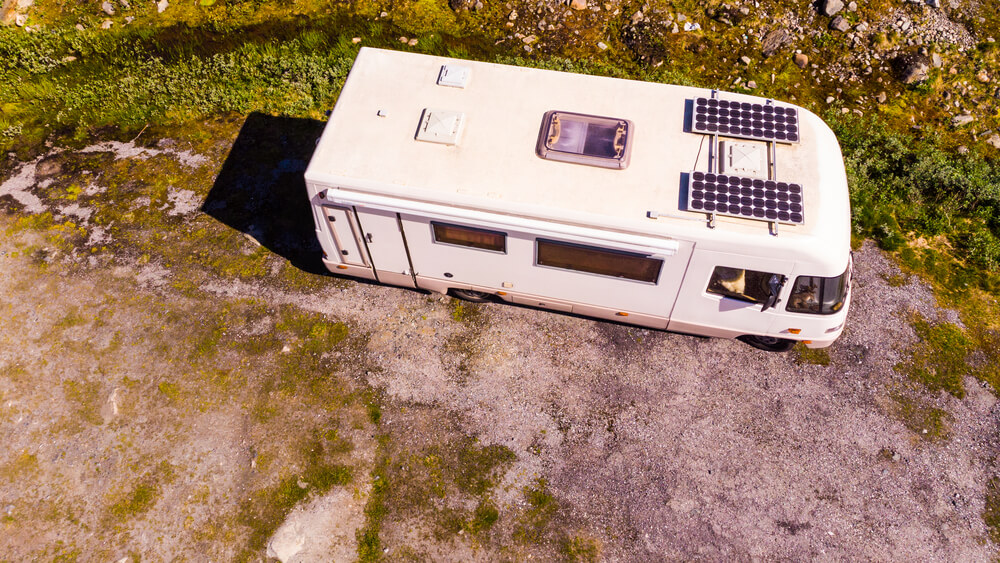 All of our reviews are based on exhaustive research, industry experience and whenever possible, hands-on testing. When you make a purchase using one of our chosen links we'll a small percentage of the proceeds. This supports the site and keeps Jeffsetter running. You can read more here.
Maintaining your RV is super important for peace of mind when traveling. Everyone knows to check their engine, tires, and appliances, but a huge part of maintaining your rig that often gets overlooked is the roof. While you should still routinely check the equipment on your roof such as the AC or the vents (just make sure it can hold your weight), it is not enough to only do this. The actual structure of the roof itself needs its own separate maintenance.
Resealing your roof is one of the best things you can do or have done to maintain the integrity and strength of your RV's roof. However, just as with maintaining any other part of your RV, resealing the roof won't come without a cost.
So, how much does it cost to reseal an RV's roof?
The cost of resealing a RV roof depends on if you do it yourself or if you have it done for you. Generally, resealing your own roof will cost between $200-500 while having it done professionally will cost around $800-1000. These costs are affected by both the materials and size of your roof.
Let's dive further into the details of RV roof resealing and how you can even do it yourself!
What is RV Roof Resealing?
Resealing your RV's roof consists of inspecting your roof for any tears, cracks or holes in the seams and patching them with sealant. This is super important in keeping your roof structurally sound. Cracks and dents in your roof can start small but quickly becomes a major problem, leaving you susceptible to leaks, water damage and more.
Resealing is a great investment in your RV's future as it will certainly help cut future maintenance and repair costs. It does so much to prevent more serious and expensive problems from developing.
If you want to save money and reseal your RV's roof yourself, there are a few things to consider before doing so.
How to Reseal an RV Roof?
Before you get started on resealing your rig's roof, you need to be aware of what type of roof you have. The way you reseal your roof will depend on if it is made from aluminum, fiberglass or rubber.
Rubber Roof
Most RV's will have a rubber roof so chances are that is what you will be working with. Before resealing any roof you will need to remove any vent covers or extra appliance parts. This will make it easier to then clean the roof and remove any dirt and grime that may have built up over time. Remember to never use any products that contain petroleum when cleaning a rubber roof as this will impact both its quality and appearance.
Once you've cleaned your roof, use a small brush to apply the sealant in any small crevices that need it.
Fiberglass Roof
The next most common roof type are fiberglass roofs. You will still want to clean a fiberglass roof thoroughly before applying sealant. The important detail however, is that fiberglass roofs work best with a silicone sealant. The silicone material is far more compatible with fiberglass than any other. Once you have your sealant, apply it as you would on a rubber roof, taking care to find any and all cracks and crevices.
Aluminum Roof
Aluminum roofs are most typically found on airstreams. Aluminum will work well with most household roof sealants, so it is definitely worth checking if you have any lying about in your house.
If you don't have any household sealant, then you will want to use a sealant designed for a metal roof. These sealants are far more resistant to rust and other environmental damage that affects metal than other kinds.
Before resealing an aluminum roof, once again make sure it is clean and free of any buildup. After cleaning, you can even use seam tape to cover the seams in the roof usually caused by metals like aluminum although this is not needed.
Once you're ready to apply sealant, use a caulking gun to inject it into the many rivets of the aluminum roof. It is nearly impossible to reach in there otherwise.
Now that you've resealed your RV's roof you can relax knowing that you've just drastically increased its lifespan! However, if you want to take it just that extra mile, then recoating your rig's roof is a great next step.
How Much Does It Cost to Recoat an RV Roof?
Recoating your own roof will cost you around $500 while having it done for you will cost around $1500-2000, but what is roof recoating?
As the name suggests, having your RV roof recoated simply means having an extra protective layer coated onto your entire roof. This is why it is recommended to have this done after resealing as it is a great finishing touch.
Just like the sealants used for maintaining your roof, there are different types of coatings that can be used. Silicone coating will be great for fiberglass roofs just like silicone sealant; however it is usually more expensive than other coating materials as it is very durable. Silicone is great if you want a coating that will protect against the weather, excessive wind and heavy rain.
A slightly cheaper option are urethane coatings, they are also very durable but are less compatible with fiberglass roofs. They are very useful, however, at protecting your roof from tree branches and any miscellaneous debris that may fall onto your roof as they are typically thicker than their counterparts.
The cheapest option are acrylic coatings, they are still very effective at protecting your roof, and are especially good against water damage. However, they don't last as long as silicone or urethane coatings, but that comes with their affordability.
Whether you choose silicone, urethane or acrylics, there are also a ton of benefits to having your roof recoated. Not only does it further protect your roof from damage caused by excessive sunlight, rain or tree branches brushing up against it, but it also helps regulate your RV's temperature.
Fresh roof coating adds an extra layer of insulation, which makes it easier to keep your RV warm during cold weather, and cool during hot weather. This can help keep your AC and heating units more efficient by making their jobs easier.
Closing Thoughts
Whether you want to be a handyman and do it yourself or spend the extra money to have it done for you, resealing and recoating your roof is not something you ever want to pass up. At a minimum, resealing annually can do so much towards keeping your roof in tip top shape for a decade. Even if you use a cover for your RV during the winter, you'll still need to keep up with regular roof maintainece.
It is easily one of the best recurring investments you can make in your rig. After all, it may not seem like a big deal now, but if you can't even sit on your couch without water dripping onto your head, you'll wish you had done it. If you're lucky, water leaks will be the worst of it. If not, you'll have extensive damages and will need to spend thousands of dollars towards roof repairs and even replacement. It never hurts to spend some time on maintenance, and the same goes for your roof!