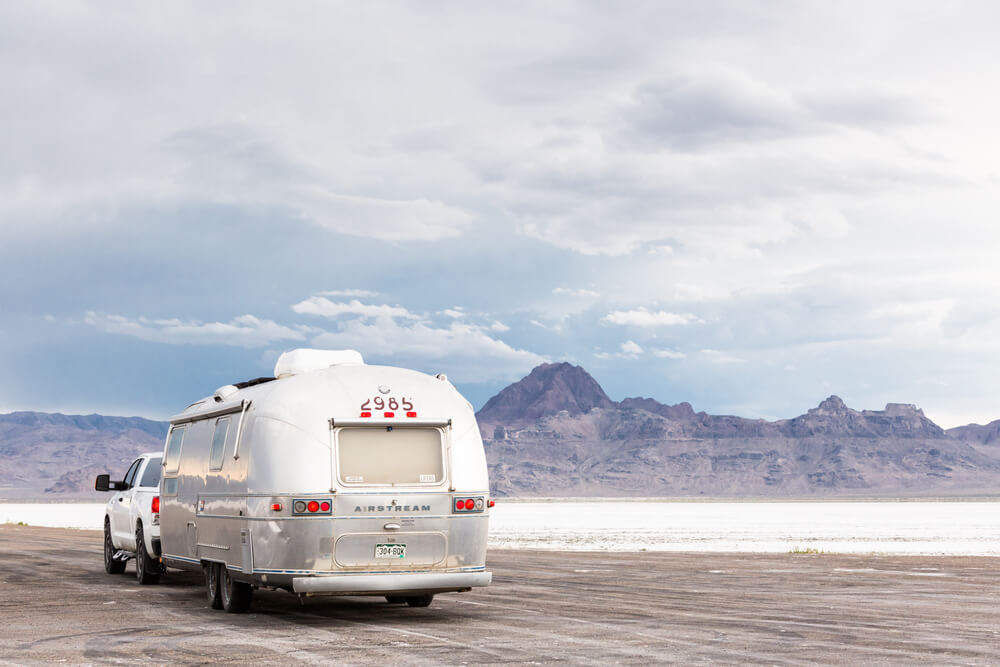 All of our reviews are based on exhaustive research, industry experience and whenever possible, hands-on testing. When you make a purchase using one of our chosen links we'll a small percentage of the proceeds. This supports the site and keeps Jeffsetter running. You can read more here.
Every RVer instantly recognizes the classic streamlined design of an Airstream and for many new RVeers, it is love at first sight. Sometimes the simplest designs can be the most striking and this certainly proves true for the Airstream's rounded edges and silver coloring.
After all, there is a reason the Airstream is nicknamed the silver bullet, and no it's not because it is made from real silver.
So what are Airstream travel trailers and RVs made from?
Airstreams are made from a lightweight yet durable aluminum alloy metal. Each sheet of metal is treated to resist mold and environmental damage while also protecting it from UV rays and intense heat. With the final touch being its signature shiny silver finish.
Aluminum is a staple of the Airstream, let's take a closer look at why this is.
Why Do Airstreams Use Aluminum?
Aluminum allows the Airstream to be very easy to tow and transport while maintaining strength. One might not expect a vehicle built from around 1,200 square feet of metal to be lightweight, but aluminum is unique in that it is both durable and malleable, giving Airstream the best of both worlds. Of course, Airstream does make other RVs but even their class B rigs are still silver!
The malleability of the aluminum allows it to be used in crafting the unique shape of an Airstream . The metal can be bent, curved and cut into different pieces that are then connected by rivets. Each airstream uses around 3000 rivets connecting the aluminum shell to the frame of the vehicle.
The frame is super important as it is the first part of the Airstream that is built during construction. Airstream are the only campers that have the holding tanks (Fresh water, gray, black) built into the frame itself. This helps with weight distribution by optimizing the position of the vehicle's center of gravity and also helps lower the overall weight which makes for easier transport.
Building the tanks into the frame also means that over half of the Airstream's entire weight load is carried below the floor. This greatly increases stability and balance when towing. The airstream's aluminum shell and frame go hand in hand in making it lightweight and easy to transport. However, aluminum doesn't just make for comfortable driving, it also serves as a great temperature regulator in keeping the vehicle cool during the summer heat which makes the Airstream travel trailer a popular choice for hot weather.
Aluminum does not hold heat as well as other metals, it naturally disperses the temperature which better regulates it when the sun is beating down on the Airstream. To further help against the sun, the roof also includes white enamel which helps reflect sunlight away and keep the inside cool. On top of that, the aluminum is treated to help battle harmful UV rays and Its silver finish helps expel the heat rather than absorb it like a black finish would.
Does this mean that in sweltering 90-degree weather you won't need an AC unit? Unfortunately, no, but Airstream will naturally be able to handle that heat far better than most other rigs, allowing for less work on your part in cooling it down.
The use of aluminum has a ton of benefits for Airstream owners from assured quality and ease of transport to natural cooling and environmental protection. Yet, all of this is also reflected in the market and buyers should be aware of how these unique features affect pricing for Airstream.
How Does the Use of Aluminum And Other Materials Affect Pricing?
While Airstream are known for their unique funky design and classic appearance, they are also known for being very expensive. The aluminum used to coat the outside is an expensive material, and the labor behind construction of an Airstream is very intensive. It takes around 350 hours of labor to build an Airstream compared to the 50 hours needed to construct most other trailers. While this is a huge factor, what goes into the interior space of an airstream is the biggest culprit.
Often, other trailers, which are the Airstream's competitors, have interiors made from pressboard and laminated paper. When they are constructed, the electrical system and water pipes are run through the frame, then the floor is installed alongside any tiling and carpeting.
Following this, the pressboard furniture is arranged within. With the walls then being mounted on the perimeters of the vehicle's frame enclosing the interior.
Contrasting this with an Airstream is night and day, pressboard and laminated paper are nowhere to be found. With a strong frame acting as a foundation being supported by aluminum struts. The furniture within is all hardwood, which has far more longevity and durability than pressboard. Ensuring that even if damage was sustained to a major piece of furniture, structurally the vehicle would be alright. The walls and roof are all made from treated aircraft-grade aluminum which complements the already durable frame.
This is why on the absolute lowest end, Airstream cost around $40,000 with the higher end being around $160,000. Even airstreams that are 30-40 years old can cost tens of thousands of dollars.
Where many trailers become shells of their former selves after 10-15 years, Airstream are known for their longevity. Around 75% of all Airstreams ever built are currently on the road today. Considering that airstreams have been around for nearly 100 years, that is an impressive achievement.
The quality of the materials that go into their construction may increase their price, but they also serve to reduce both maintenance costs and gas consumption. Airstream are less prone to wear and tear as their baseline quality is far higher than other trailers. Furthermore, the sleek aerodynamic design allows for around 20% better fuel economy over time.
Closing Thoughts
Think of Airstreams as immortal tin cans! Every material that goes into constructing one is geared towards ensuring that its lifespan is at least double if not triple that of the competition. Even though there are many travel trailers and other rigs that use aluminum, Airstream is definitely the most popular name.
Airstreams are some of the few rigs where its value seems to only increase with time. Often when people resell, they sell for a higher price than what they initially bought it for. Very few rigs can accomplish this after 5 years, let alone 30 or even 50.
While Airstreams may have a higher initial cost, their value is unique among all other campers in that it is essentially a guarantee of unmatched quality while also not relying on being the newest model or having the latest gadget. Airstreams might have a simple design but don't let that fool you as there is nothing simple about the care and quality put into constructing each and every one.