Last updated on August 24th, 2023 at 12:02 pm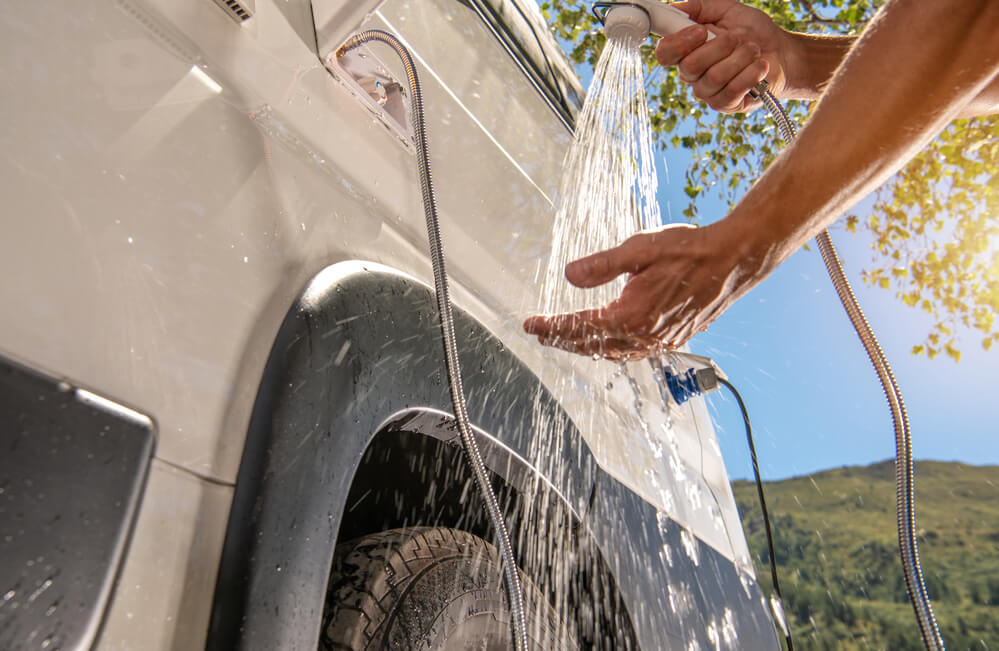 All of our reviews are based on exhaustive research, industry experience and whenever possible, hands-on testing. When you make a purchase using one of our chosen links we'll receive a small percentage of the proceeds. This supports the site and keeps Jeffsetter running. You can read more here.
One of the most vital pieces of your RV system has to be your water heater. But what can you do when your water heater malfunctions or isn't working properly? That's why we've created an RV water heater troubleshooting guide so you can tackle these issues.
In this article, we'll address the variety of water heaters that may or may not be installed in your RV, along with why your particular model might be malfunctioning. Most importantly, we'll address how you can fix some of these common problems. Let's get started!
Types Of RV Water Heaters
Two types of fuel can be used to power your RV water heater: electricity and propane gas. However, there are a few different types of water heaters that utilize either of these fuels if not both. Let's learn about them now.
Manual Propane Water Heater
While the majority of RV water heaters are propane-based, there are two different types of propane water heaters. The first one we are going to talk about is a manual propane water heater. But what is the manual portion of this particular option?
This essentially refers to the igniter with your propane gas. While this is a pretty old-school option in terms of our modern-day RV inventions, you may have a water heater that requires you to physically light your propane pilot light, either inside or outside your RV.
Most of the time, the pilot light is located on the exterior of your rig, usually behind a protective grate or covering. You simply light the pilot lights and turn the water heater to your desired temperature. However, given the age of most of these types of water heaters, there tend to be different things that need troubleshooting.
Direct Spark Ignition Water Heater
The alternative to a manual propane water heater is a direct spark ignition water heater. This is still propane-based in terms of its fuel type, but you have the convenience of turning on the pilot light with the click of a button or flip of a switch, typically from the inside of your RV.
The majority of modern-day RVs have a direct spark ignition water heater or a DSI. These are commonly used at a wide variety of price points, and these igniters require both electricity and propane to operate properly. They are also far more convenient to start up when compared to a manual propane water heater.
Electric Water Heater
If you have a particularly modern RV or one that you have renovated yourself (like me), you may indeed have an electric water heater installed in your rig. These are typically difficult to work with in an RV setting given the amount of amps that they need to work.
However, they are useful if you do not want to worry about propane, including pilot lights and other maintenance issues. There is usually a submerged electric component that heats your hot water, but there are still items that need replacing on it as well and you need to pay special attention to the amount of pressure that can potentially build up in your water heater.
Tankless Water Heater (Electric Or Propane)
The final style of RV water heater that we'll be troubleshooting is a tankless water heater. These are the peak of RV technology these days, and they are available in either electric or propane. However, given the amperage needed for an electric tankless water heater, propane tankless heaters are typically used instead.
These water heaters are designed to give you on-demand hot water quickly and easily. These types of water heaters are ideal for large groups traveling, as they will never run out of hot water. However, they are technologically advanced and may struggle in some situations, especially if you're experiencing low water pressure.
RV Water Heater Not Working
Are you curious to learn about the different ways your RV water heater may malfunction? Let's take a look at some of these common issues based on fuel type as well as potential other reasons an RV water heater may be malfunctioning.
Propane Issues
While propane is one of the most convenient fuel sources for an RV water heater, it tends to come with its fair share of issues. Propane is notorious for not working properly when your RV isn't level, as well as needing consistent maintenance in other ways.
Your propane regulator is something that regularly needs maintaining and replacing to keep your propane system working properly. You may also experience issues with the lines and propane leaks. This is an extremely serious issue that should be addressed if you think you may have leaks, as propane can be dangerous. this particular problem.
One of the main troubles with propane and RV water heaters comes in the form of your pilot lights or burners malfunctioning. They need cleaning regularly, as soot and debris can build up and cause problems. You may also have trouble with your igniter or pilot light staying lit.
Electricity Issues
Your electric water heater may need troubleshooting if you aren't getting any hot water from it. This is likely due to an amperage issue. You'll need to test your electric lines with a multimeter to fully assess the problem. An electric water heater also needs its anode replaced regularly. But what exactly is this, and is this an issue with both propane and electric water heaters?
The short answer is yes, both types of fuel water heaters need anodes replaced regularly. These rods are designed to prevent your hot water tank from corrosion and damage, but they do need replacing regularly to keep your tank protected.
The power cord of an electric water heater should also be maintained as many issues can arise from a damaged cord. The pressure on your electric water heater should also be monitored, but most modern electric water heaters have pressure relief valves to help assist with this.
Water Pressure Issues
One of the most common issues with RV water heaters of any fuel type or style is the overall water pressure coming into the heater. While this isn't necessarily something you can control, it's something to keep in mind if you're experiencing difficulties getting hot water. Let's talk more about this issue now.
You should always take care to protect your RV plumbing system from high-pressure water when you camp at campsites or RV rental locations. However, your water heater may also struggle to work optimally if it's not getting enough pressure. This leads to a delicate dance of protecting your pipes from too much pressure, but ensuring your water heater is getting enough pressure to function!
The main issue when camping and attempting to get your hot water heater to work is when you don't have enough pressure. If you are boondocking or camping with your freshwater tank, you should have an air compressor or other piece of technology to help get water through the hot water heater and pipes.
However, if you're hooked up to city water using a hose connection, your hot water heater may struggle if not enough pressure is coming through. Many tankless water heaters struggle the most in this scenario, as they will not register water in their systems if it's not at a certain level of pressure.
Common RV Water Heater Troubleshooting
Curious to know how you can fix some common RV water heater troubleshooting issues? We've compiled a list of some of the most annoying as well as typical issues that you may be facing. Read on to check them out now!
RV Water Heater Not Lighting
One of the most common and frustrating issues when it comes to RV water heater troubleshooting is the propane pilot light not lighting. However, there are many different ways you can test this issue. Let's go over it step by step.
Identify whether or not your propane pilot light is malfunctioning due to your propane tanks or lines. You may have a leak or the propane tanks or regulators might be malfunctioning. You can do a simple test using your other propane appliances in the RV. Make sure your propane tanks are fully open and your regulator is facing the tank you wish to use, and light your RV stove.

If your propane is working in another appliance, you can proceed with a propane line test. This involves applying soapy water onto your propane lines and, depending on whether or not the soap bubbles, you may have a leak. This could be one of the issues as to why your propane pilot light isn't lighting.

Check out the video below for more information regarding what a soap test looks like with RV propane lines

.
Finally, you should ensure the pilot light fixture is tightened and completely secure, as a small propane leak could prevent you from lighting a pilot light. If everything seems secure, you may simply be experiencing an issue with too much air in the propane lines. Allow the propane time to make its way through all the lines and to your RV water heater too. Chances are, you'll be able to light your pilot light in no time!
RV Water Heater Not Igniting
If you are having issues with your direct spark ignition or DSI not working, these are some of the most common issues you can troubleshoot in order to fix it.
Your direct spark ignition typically runs off battery or DC power on board your RV. Your DSI won't work if it isn't receiving an adequate amount of DC power to it. You may need to check your power levels using a multimeter or similar tool made for testing electricity. Once you know there's enough electricity going to the igniter, you should have fewer problems!

The direct spark ignition may also struggle if your travel trailer isn't level and your propane is having difficulties reaching your water heater. This is a common RV issue, so just make sure your RV is completely level before fully testing your propane system for issues.

Similarly to ensuring your DSI has enough power, you should make sure your switch or button hasn't come unhooked from its electrical cord or housing. You may have experienced an interior wiring issue or malfunction, but this is typically something that should be handled by an RV professional.

Finally, if your RV water heater isn't igniting, the lines could be dirty, or they may have a leak, so it's important to troubleshoot a wide variety of issues before jumping to conclusions. You may wish to do the soap test on your lines as well as on the fixtures and fittings where your direct spark ignition is.
Sooty Propane Housing And Irregular Flames
Let's say you're able to get your propane water heater to light, but you're having issues with keeping the flames regular. Maybe the propane housing is also sooty and a bit dirty too. Let's discuss what you can do to fix this issue.
One of the main issues with propane water heaters is that they simply get dirty. While there is a protective grate covering the exterior of your hot water heater, this is still an area that is exposed to the elements as well as pests. You may be experiencing issues with irregular flame sizes and dirty propane housing because of spiders or other bugs. Simply cleaning and refinishing your propane lines and housing may be all you need to get your pilot lights and burners operating adequately again!

Typically, if you see any corrosion build-up on your propane housing or lines, it's a good idea to clean these locations. However, you should always do so with your propane gas off and only use recommended products to do so. You should also be careful when cleaning the igniter area as well as the pilot light, as fibers or other chemicals can get lodged into these delicate systems and cause you more problems in the long run.

Yellow flames or irregular flame levels may mean you need to adjust your air-to-propane ratio. This may be something you are unfamiliar with, and it may be a task you don't wish to tackle given how volatile propane can be. However, your propane regulator should be fairly simple to operate, and this is where you'll fix this issue. Adjust your air-to-propane ratio using your regulator, and test your propane flames until you see a blue flame again. This should help you maintain the same level of flame for your hot water heater, so you can get back to happy camping with the whole family.
RV Water Heater Not Getting Hot
Do you have an electric water heater that's struggling to heat the water in your RV? Check out some of these common solutions to your electric water heater issues.
If an adequate amount of electricity is failing to reach your electric water heater, it won't be able to work properly. The average electric water heater needs at least 12 amps to operate properly. If you only have a 30 amp service and plan on running the AC at the same time as your hot water heater, I recommend buying a heavy-duty extension cord for your hot water heater. This can be run to different ports rather than using your RV cord and RV power supply. It might be inconvenient, but this is one of the only ways to make an electric water heater work in a 30-amp RV setting with other appliances.

If you've recently installed an electric water heater for the first time in your RV, there's an extremely important step you need to take before turning on the machine. You can easily burn out an electric water heater's heating elements if you turn it on without filling the tank first. There needs to be water inside an electric water heater before using it. Lack of water can cause the heater to break or burn out and need replacing.

While this won't necessarily cause your electric water heater to not heat, you should take care to always maintain your water heater anode. These anodes prevent corrosion and damage to the interior tank of the water heater, so replacing them regularly is important.
RV Tankless Water Heater Not Working
If you have a modern tankless water heater, you may be experiencing issues despite its relative simplicity and operation. Let's talk about why some of these tankless water heaters are malfunctioning in RVs across the country.
Both propane and electric tankless water heaters can struggle with amperage issues. Electric tankless water heaters are often not used in an RV setting given the huge power draw they need. Propane tankless water heaters still have auto igniters and other components that require electricity, so it's worth testing any wires and amperage before proceeding with any other troubleshooting issues.

An RV tankless water heater is an intricate machine designed to provide hot water on demand. However, one of the main components needed for this is regular steady water pressure. For those who have camped in an RV setting many times, you know this is not always an option based on public water sources!

If you're experiencing issues with your tankless water heater heating your water as well as supplying you with water, you may need to increase your water pressure. Unfortunately, there isn't an easy way to do this unless you have a water pressure regulator installed on your water lines. Remove this component and see if it helps with your tankless water heater first!

Other than these two issues, if your tankless water heater is malfunctioning, you may need to seek help from an RV repair professional. These pieces of machinery are extremely complicated and delicate, with many components able to malfunction. I recommend checking out warranty options and seeing if you can replace anything through the company itself rather than attempting the repair on your own.
RV Propane Water Heater Not Working
When you've exhausted all options to try and get your RV propane water heater working again, it can seem like the end of the road. However, there are a few other issues that may be preventing your unit from operating properly. Let's take a look at some of these now.
An RV propane water heater might not be working properly for a few different reasons, but the main one is that the propane levels might be low. For a propane heater to work, the tanks on your RV need to be filled, and if these become empty, your heater won't have another to run off! Check the level in your tanks and if it's negligible, this is likely the cause of your unit not working properly.
Your propane supply valve will need to be turned on for the gas to reach the water heater. If your heater isn't working and you've got full tanks, check to see if the valve is switched on. If it isn't, switch it on and give your heater a whirl – you should have hot water in no time!
So, you've checked your propane levels, turned the valve on, fired up your RV water heater and there's no click. This can sometimes happen, and the likely culprit is a damaged coil. It's possible to replace the coils, and if it looks like there isn't any damage but there's no flame, you might just need to give the coil a scrub.
RV Water Heater Leaking
There's nothing more stressful or nerve-racking than knowing your RV water heater is leaking. So, what can you do in this particular situation?
Both propane and electric water heaters can leak if there's an unsafe amount of pressure built up inside your tank. Your hot water heater is designed to release some of this water and pressure, but it may cause leaking in an area you don't want to have water in. One of the best ways of preventing this issue is to make sure your hot water heater is receiving a regular amount of water, rather than a constant decrease and increase of water pressure.

Your water heater may leak due to an incorrectly installed line, or one of your pipes may have an issue or crack. You can easily fix the use in the short term using a variety of adhesives or plumbing tapes, but it's recommended to tighten the fixtures or take your RV to an RV professional for repair.

If you think your RV water heater is leaking from the tank itself, you need to replace the entire fixture. Your anode is likely old and malfunctioning, and corrosion or damage may have occurred within the walls of your tank. Unfortunately, nothing can be done if this occurs, and it's important to replace your hot water heater as soon as possible. However, this issue tends to happen with older RVs, so don't panic if you aren't sure how long it's been since your anode has been replaced!
No Hot Water At RV Faucet
Having no hot water at the faucet when you want to do the dishes and clean up after dinner can be frustrating! There are a few potential causes of having no hot water at the faucets throughout the RV.
The bypass valves could be key in causing a lack of water at faucets, so take a look and see if they are in the correct place and position. This is an easy place to initially check, and if the valves have moved into a different position, you should be able to fix the problem quickly and easily. A faulty check valve could also cause problems, reducing the pressure and flow from the heater to the faucet.
If there's a blockage in the RV faucet, this could be the cause of the problem and not the hot water heater. A clog can prevent water from successfully reaching the faucet, so take a look to see if there is anything potentially causing a jam in the system.
No matter your RV water heater issue, if you've reached the end of all of your troubleshooting and still have an issue with getting hot water, it might be time to refer to a professional. I highly recommend reaching out to local RV repair shops in your area, as RV water heater troubleshooting is something they commonly deal with.
RV Water Heater Troubleshooting FAQs
Do you still have questions regarding your RV water heater and how you can best repair it? Here are some frequently asked questions from other RV owners!
Why Is My RV Water Heater Not Heating The Water?
There are a wide variety of reasons why your RV water heater may not be heating the water. You may need to check all of your propane lines as well as your pilot lights if you have a propane-based water heater. It's worth also checking the electricity and amperage if you have an electric water heater or a push start ignition for your pilot light.
If you have a tankless water heater, you may be struggling to get hot water if there is an inadequate amount of water pressure in your tankless water heater system. This is the most difficult problem to fix, as it often relies on the water pressure coming from your campsite hookups.
Our troubleshooting steps will hopefully have your RV water heater problems solved in no time, but if this isn't the case, it might be time to call the RV repair professionals. Chances are, there might be a malfunctioned component within the heater that needs replacing.
Is There A Reset Button On My RV Hot Water Heater?
Yes, there is generally a reset button on RV hot water heaters. Some of these are commonly used with direct spark ignition water heaters or electric water heaters, and you may need to utilize the reset button if the electricity isn't reaching the water heater.
However, depending on your particular model, this button may be difficult to reach or repair. I recommend referring to your water heater user manual, which should have been given to you when you purchased your RV. You may also be able to find a copy of your specific model online for free download.
How Often Should I Replace My Hot Water Heater Anode?
You should plan on replacing your RV hot water heater anode every year or two. This is a necessary component of just about any water heater unless you have a tankless model. The anode is designed to prevent corrosion and decay of the hot water heater's interior wall.
This anode is fairly easy to replace, especially after doing it once! I highly recommend watching this video all about hot water heater anode replacement.
While this may seem like a daunting task at first, it's wise to do this regularly as part of your RV maintenance and repair process.
This is especially true if you've purchased a used RV. It is likely unclear what state your RV anode is in, so replacing it is a good idea. However, all anodes need replacing at different rates, based on how often your RV is used and how much water has run through the tank.
Final Thoughts
No matter what type of hot water heater you have, this guide should help you with many standard issues. As always, if there's something you don't feel comfortable fixing yourself, there's always an RV professional waiting to give a helping hand. You don't have to travel without hot water in your RV with this troubleshooting guide!