Last updated on November 27th, 2023 at 07:35 am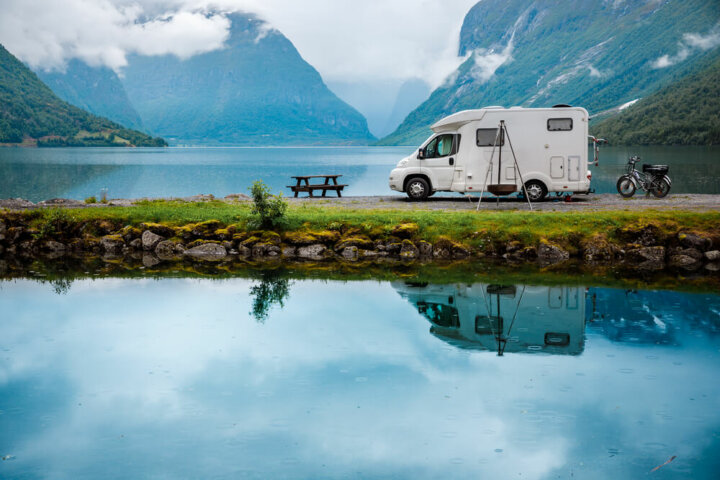 All of our reviews are based on exhaustive research, industry experience and whenever possible, hands-on testing. When you make a purchase using one of our chosen links we'll get a small percentage of the proceeds. This supports the site and keeps Jeffsetter running. You can read more here.
When choosing an RV to purchase or planning a road trip in your rig, knowing your water capacity is essential, as you'll need to use it for drinking, cooking, cleaning, and showering. Identifying how much water an RV can hold can be tricky as different types of RV may have different water capacities.
So, how much water does an RV hold?
The water an RV can hold depends on the size of the RV. Class A RVs usually have the largest water capacity between 75-100 gallons, whilst Class B RVs hold 20-40 gallons, and Class C RVs carry upwards of 60 gallons. Depending on the size, a travel trailer may hold around 80 gallons of water.
RVing seems to be endlessly growing in popularity with more people hitting the open road in anything from mighty Class A RVs to travel trailers each year.
The amount of water you'll need to carry onboard your rig will depend on the type of RV you are interested in, along with the type of travel you're looking to do. If spending considerable time off-grid in your RV is something you want to do, you'll likely want to have a larger water capacity in your rig.
So, let's see the water capacity of Class A, C, and B RVs, and travel trailers and how to know which one you're more likely to need!
How Much Water Does An RV Hold?
RVs are ideal choices for those seeking a home away from home, and although searching for a new adventure rig can be exciting, it's also important to consider essentials like water capacity.
Different types of RVs can carry varying amounts of water, and if you're traveling as a family, or hoping to have daily showers, you'll likely need a large water capacity.
The water capacity of your RV can significantly impact the duration of your stay and the activities you can do whilst away on vacation. A water capacity that doesn't support your needs will result in you needing to visit campgrounds and service areas more often to fill up with fresh water.
When purchasing an RV, you'll not only want to think about your water capacity but also the gray and black waste tanks that deal with wastewater from your rig.
Larger waste tanks mean you can stay out in the wilderness for longer between trips to the RV dump station, which can be particularly useful during peak season when stations and campgrounds get busy.
Finding out the capacity of your water tank can be done by reading the owner's manual, searching for your specific model of RV online, or checking the tanks themselves.
At a dealership, details such as the capacity of all the tanks on the RV should be displayed by the rig, but if not, asking a member of staff should help shed some light.
RVs are designed to hold a considerable amount of fresh water, along with gray water from things like the kitchen or shower, and a tank designated for black waste.
The video below is a great introduction if you are looking to get into the world of RVing and want to learn more about the tanks on an RV.
Having the ability to locate your tanks and know when they need filling or emptying will make things a lot easier further down the road when you'll be heading to a dump station or campground to replenish your rig.
Only using potable water in your fresh tank is crucial as this is the water you'll be cooking, drinking, cleaning, and washing with.
How Many Gallons In An RV?
When determining how much water you'll need in an RV, it's important to consider your specific water needs. Calculating how much water you ideally need to be carrying on board may take a little time, but it's worth the effort to make sure your RV has a suitable amount of water.
The number of gallons in an RV can vary drastically between models, but generally, it's safe to assume, the bigger the RV, the bigger the water capacity.
Traveling with more than one person onboard will require a greater water capacity as the water usage in the RV will naturally be higher through drinking, washing dishes, showering, and cleaning. Even if you have a large family, it's possible to still find an RV with suitable water capacity, it may just take a bit more time!
RV's come in all shapes and sizes, allowing you to choose the right one for accommodating your needs. Whether you are looking for a luxury motor, a family rig that can be stored on a driveway, or a vacation motor for trips throughout the year, there's an RV model to suit your needs.
1. Class A RVs
Class A RVs are a luxurious, high-end option for RVing, looking sleek and modern on the outside with elegant amenities within. Along with a large living area, full bathroom with shower, and access to all the amenities expected from an RV, Class As also have substantial water capacity.
These impressive rigs can usually carry anything from 75 to 100 gallons on board, plenty for several days of drinking, cooking, and washing.
2. Class B RVs
Class B RVs are perfect for those who are looking to explore the outdoors whilst still having access to creature comforts. Class B RVs are a more affordable option compared to Class A RVs and still manage to hold a considerable amount of water.
The average Class B RV can hold 20-40 gallons of water, but if you don't think this is enough for your needs, carrying additional water in a jerrycan is a good idea.
3. Class C RVs
Class C RVs are known for their affordability and for providing comfortable sleeping arrangements and living space for everyone onboard.
Along with being easy to drive and maintain, Class C RVs have a good amount of water storage, carrying 35-60 gallons of fresh water depending on the model of Class C you choose.
4. Travel Trailers
Great for families and traveling with multiple people, travel trailers are a versatile and fun way to hit the open road.
Fifth-wheel trailers are great for families looking for a towable option, and they come in various sizes, so you can pick the one that ticks the box. Usually, travel trailers such as fifth-wheels can hold between 35-60 gallons of fresh water.
What Uses Water In An RV?
When it comes to the water capacity of an RV, it's important to consider how much water you will need while traveling on the road.
The amount of water needed will depend on factors like your lifestyle, the number of people in the RV, and the length of your trip. It's hard to know the exact amount of water you'll need if you are new to RVing, but there are a few things to consider which will help point you in the right direction.
1. Showering
Arguably, showering and washing will be where most of the water onboard your RV will get used. If you like showering daily, you will use a significant amount of water in a short time, so it's worth investing in a rig with a big water capacity.
Running out of fresh water can cause a lot of problems, especially in locations where access to clean water is limited.
Additionally, wastewater tanks can fill up quickly if you get through your freshwater fast, leading to unpleasant smells and potentially costly repairs if any leaks take place.
To make the most of your RV's water capacity, it's important to conserve water whenever possible. Implementing simple changes like taking shorter showers and only running appliances requiring water when necessary can help your water stretch a few more days.
2. Drinking And Cooking
Water is one of the best things we can put into our bodies, so a hefty amount of the water in your rig will get used up through daily drinking. Water keeps our bodies running as they should, so drinking 4-6 cups a day is a good habit to adopt.
Using water to cook with will also eat into your water capacity, so if you enjoy whipping up feasts in your RV, you'll need substantial water storage.
Cooking is a huge passion of mine, but I've created some ways to cut back on the amount of water I use. During cooking, for example, I boil vegetables together in a pan so I don't need two separate pots of water.
I also try to reuse water in other aspects of meals such as cooking pasta or rice with previously used vegetable water. This helps conserve the amount of water being used and can provide a nutritional boost too.
3. Handwashing Clothes
With laundry facilities widely available, it has never been easier to wash clothes and get everything smelling fresh, but if you prefer to handwash certain items in your RV, it's worth considering an RV that can carry enough water to do so.
Handwashing small items can be helpful when you're looking to stay off-grid a little longer before going to a campground. Estimating your water needs by breaking down the activities you want to do in your rig will help you make the right choice when choosing your RV.
When I need to fill up my water tank, I also fill up any water bottles, flasks, and my kettle, as together, they give me plenty of water to drink and cook without having to make a dent in the water my tank is holding.
As the water in an RV is limited, it's wise to know how to monitor and manage your water usage so you don't have to head to a campground to fill up every couple of days.
Tracking the amount of water you're using daily is a great way to know how big your RV water capacity should be. RVs usually have a gauge indicating the level of fresh water and how full your gray and black tanks are.
Keeping an eye on your water usage can help indicate ways to cut down on the amount you use, creating longer periods between filling up your fresh water and emptying your waste tanks.
Although many RVs are equipped with enough water storage to last for days, it's important to practice water conservation to prevent possible shortages or the need to buy bottled water.
Closing Thoughts
The amount of water an RV can hold varies greatly depending on the size of the tank and the specific make and model of the vehicle. It's important to pay close attention to your water usage when on the road to ensure you don't run out of water or have to stop frequently for fill-ups.
While larger tanks can provide more convenience and freedom, they can also add extra weight to your RV. Smaller tanks may not last long enough, especially if there are several individuals on board, and you're hoping to have an abundance of showers.
Before choosing an RV, or setting off on your next adventure if you already own an adventure rig, it's worth taking a bit of time to familiarize yourself with your RV's water capacity and start implementing water-saving practices. This can help you avoid running out of water and means you can stay off the grid and hydrated for longer!