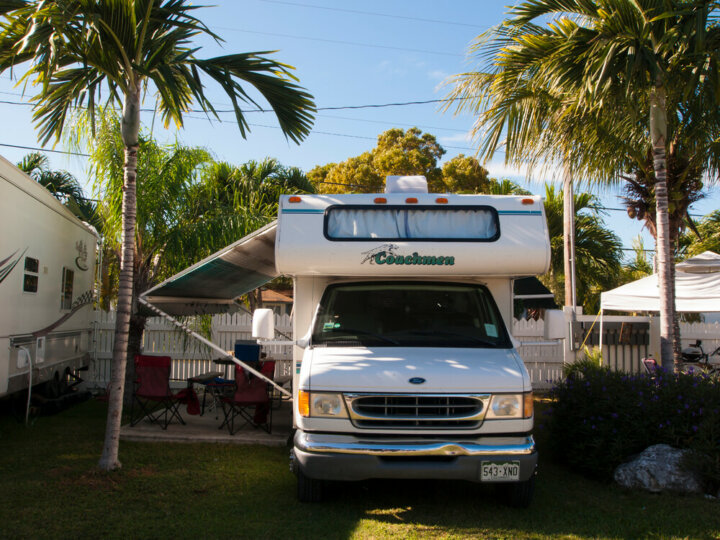 All of our reviews are based on exhaustive research, industry experience and whenever possible, hands-on testing. When you make a purchase using one of our chosen links we'll get a small percentage of the proceeds. This supports the site and keeps Jeffsetter running. You can read more here.
RV storage is something that's going to be a little different when you're in a hot, sunny, and humid climate like Florida as opposed to somewhere cold like Ohio.
That being said, being prepared for the climate and properly storing your RV will get you a long way as far as preventing damage during storage, including mold and mildew growth, dry rot in your tires, and more.
So, what is the best way to store an RV in Florida?
The best way to store an RV in Florida to protect it from the sun and humidity is undercover, whether you use a carport, RV storage facility, or garage. Cleaning and sealing the RV, removing excess water to prevent mold growth, and cutting off the propane supply are great ways to get started.
Below, I'll go into more detail about how you should store your RV in Florida, including how to get your RV storage-ready, where you can store your RV, and how much you can expect to spend on RV storage.
What is the Best Way to Store an RV in Florida?
When you're storing an RV in Florida, things like high humidity levels, sun exposure, and even salt in the air (that could cause rust) in the coastal cities all affect how you store your RV. To keep it safe in the offseason, you'll want to be sure it's protected from these three things.
For this reason, the best way to store an RV in Florida is to keep it covered, either using an RV cover that provides UV protection or storing it inside a garage or under a carport. You'll also want to be sure to wash it thoroughly before storage and remove any excess water that could cause damage or mold growth.
While those basics will go a long way in ensuring your RV doesn't suffer unnecessary damage in storage, there are a few other things you can do to help, too. And if you need help deciding where to store your RV, read a little further down in the article. Let's jump in.
1. Wash Your RV Before Storage to Remove Dust, Salt, and Other Build-Up
When you RV in Florida, something you'll want to do pretty regularly is wash your RV to remove any built-up salt. The air in Florida has high levels of salinity, especially as you get closer to the coast. While the damage doesn't usually happen as quickly as it would from the salt used when it snows up north, salt does cause rust over time.
Not only is washing your RV important in coastal areas, but it's generally good practice regardless of where your RV is parked at. Dirt and debris can get caught in small cracks on your RV and build up on the surface over time.
To start with, dirt and debris build-up isn't necessarily aesthetically pleasing to look at. Plus, having biological matter (like dirt and debris) gives mold and mildew something to feed on if it's introduced into the environment. This makes washing it a good way to prevent mold on your RV while it's in storage.
2. Be Sure to Protect Your RV (and Tires) from the Sun
It's no surprise that Florida gets an average of 237 hours of sunshine per month, especially with it being "The Sunshine State" and all. This is a little higher than the national average of 205 hours of sunshine per month.
That being said, protecting your RV from the sun while it's in storage goes a long way in preventing unnecessary damage to your RV. UV rays cause furniture to fade, dry out the seals around your windows, and weaken your RV roof, which could eventually result in leaks.
There are a lot of options for keeping your RV covered while not in use. For people who opt for an indoor RV storage facility or store their RV in their garage, the four walls of the building are going to provide that protection from the sun and the elements.
When indoor storage isn't an option, a high-quality RV cover is going to provide that protection instead. While you do want to prevent damage from the sun, rain, wind, snow, and everything in between, it's also important that the cover has ventilation so moisture isn't getting trapped since this contributes to mold growth.
Additionally, while you may not need a winter RV cover for a warm-weather state like Florida, winter covers are usually designed a little hardier and they work well all year round.
3. Be Wary of Moisture That Could Cause Mold Growth
When you're in a humid climate like Florida, any type of excess moisture should be dealt with as you notice it. This is especially important before storage when you'll want to wash your RV (and dry it) and clean your RV awnings to remove biological matter that mold spores can grow on.
In addition to looking for moisture on the RV itself, take the time to inspect for leaks in the water systems and look for signs of water damage through the RV. This is usually most apparent in the ceilings if you have a roof leak or around areas like the windows.
To be extra thorough, it's a good idea to run a dehumidifier inside your RV for a day or two before you officially take it to storage. This takes all the excess water out of the air so you can be sure that you're putting away a dry RV.
4. Consider Winterizing Your RV
So, do you need to winterize your RV in Florida? Not necessarily. However, if you are going to be away from your RV for an extended period of time and you don't live locally, then it really might be worth the time. Plus, antifreeze to flush out your RV isn't expensive and it doesn't take much to use an RV dump station and run antifreeze through your systems. Alternatively, you can use an air pressure hose to blow the water out of the line.
Even though some people see this as an unnecessary step because the temperatures aren't always cold enough to warrant winterizing your camper, it's definitely worth the little bit of time and money you put into it. If temps do dip below freezing for longer than a 24-hour period, there's a good chance that the expanding frozen water will damage your pipes and result in an expensive repair.
Another benefit of winterizing your RV is that it takes a lot of excess water out of the camper while it's being stored. Less moisture is always a good thing for preventing mold while your RV is in storage.
5. Always Inspect for Damage or Problems Before Storing Your RV
This is a good rule of thumb whether you're storing your RV in Florida or somewhere else on the map. Regular RV inspections give you the chance to see if there are any weak spots, water damage, broken seals, or other issues that might result in costly repairs farther down the road. It's always more affordable to fix your RV as issues arise, rather than letting the damage get worse.
In addition to checking the inside and outside of the RV itself, you should ensure your water and sewer systems are working as they should. You should also check your RV oven and stove to be sure it's working as they should and clean out the refrigerator at the end of the season. Be sure to dry it too when you bring your RV out of storage since any type of water or food left behind could result in a disastrous clean-up.
Finally, be sure your air conditioning unit is cleaned and functioning as it should. Wipe down any visible moisture and be prepared to replace the air filter in the new season, particularly if it still running as it should. Doing maintenance like this will ensure your RV AC lasts longer, which is something you need when you're RVing in the Florida heat.
6. Take Precautions So You Don't Attract Pests
Being a warmer climate, Florida is home to all types of wildlife- and that includes the smaller, flying kind. Insects like bees and flies are attracted to the smell of propane. In fact, the presence of a lot of insects around your camper could indicate that you have a propane leak somewhere.
Turning off your propane supply is also important because of the high temps in Florida. Pressurized, flammable gas like propane can be dangerous if it overheats or becomes ignited.
Additionally, you'll want to be sure that you've cleaned your RV as well as you can and removed any food that might attract insects or rodents. Some other steps you can take to reduce the chance of pests are using drain covers on sink openings and other sources of water and spraying around the outside of your RV with a pest repellent spray.
Where Can I Store an RV in Florida?
The decision of where to store your RV really comes down to factors like whether or not you live in Florida. For people that do have a home in Florida, storing your RV inside your garage is an option if you have the space. However, you'll want to be sure to store it away from oil and other chemicals that can cause your wheels to break down and cause dry rot in your RV tires.
Something else to consider is the overall length of your RV. While this might not be something you have to worry about if you drive a smaller RV under 20 feet, people with large, Class A RVs may not have a garage that's long enough.
If your garage isn't an option, then storing your RV in your driveway is also an option. However, you'll want to be sure that there aren't any rules in the city that prohibit you from storing your RV in the driveway. In addition to city regulations, some HOAs (Home Owner's Associations) do not allow RVs to be stored in your driveway either.
If your driveway is an option, then you will want to keep your RV covered for the winter. RV covers are an option, but you could also store your RV under a carport. This is especially true in Florida, where winters aren't really too cold, but you still have to worry about the sun causing damage to your roof that could result in a costly roof reseal down the road.
Of course, storing inside an RV storage facility is also an option. Some units are even climate-controlled, however, the extra cost might not be necessary in a state like Florida where it's generally warmed. Storing your RV at a campground year-round is also an option at RV campgrounds that permit it!
How Much is RV Storage in Florida?
The price of RV storage in Florida is going to depend on factors like where your RV is stored and the amenities that come along with it. For example, you can expect to pay more for a climate-controlled unit as opposed to a basic storage unit. There's also going to be a difference in total costs if you choose an RV storage facility instead of something like a campground.
Average Costs for an RV Storage Facility in Florida
For an RV storage facility in Florida, it's really hard to put a price on it because it varies wildly based on the amenities in the area. Some people pay just under $100 per month for outdoor RV storage, while indoor RV storage could be $400-500 or more if you want a climate-controlled unit. With so many varying prices, it's best to call around to a few different places and see what they have to offer before storing your RV.
Average Costs for Storing an RV at a Campground in Florida
While nightly/weekly rates really vary depending on the campground and the amenities offered, you'll find there's a significant discount for a yearly membership. Plus, if you pay for a full year, your RV is pretty much set up and ready to go once you're ready to come back to warmer weather.
Monthly rates for RV camps vary anywhere from $300-500 or more per month. This would come up to around $1,800-3,000 to store your RV for six months. However, a lot of places offer a greater discount if you pay for the whole year at once, so you might only end up paying around $3,000-5,000 for the entire year depending on the location.
Don't Forget to Factor in What You're Saving
When you're considering total storage costs, you'll also want to factor in what you're saving by storing your RV. This is especially beneficial for people who snowbird, which is basically traveling from a cold climate to a warmer one during the winter months.
Being such a warm state, Florida is home to a lot of snowbirds. For people that don't know, snowbirds are people who RV in a warm location during the cooler months and then come back home for summer. Some people park their travel trailers in one spot like an RV campground, while others travel to different spots across the country.
For people who park in one spot, you might find it's cheaper to pay for storage during the winter than to drive your RV all the way back home. Parking at a campground is also an option, as long as you keep your RV covered.
Another major advantage is that there isn't as much wear and tear on your RV from driving it back home. Plus, the weather is warmer so that means as long as your RV is properly stored, there's less chance of it being damaged while you're back home.
Final Word
Storing your RV in Florida is a great way to prevent wear and tear on your RV from making an unnecessary drive back home. Plus, when it's camping season again, it's already ready to go at your favorite vacation spot!
Hopefully, this article has been helpful for the best way to store an RV in Florida. There are definitely a lot of different options depending on your lifestyle and as long as it's protected from the sun, humidity, salt, and pests, you save a lot of money in the long run just storing your RV where it is.
Do you have any experience storing your RV in Florida? Feel free to leave some feedback if there's anything I've forgotten!