Last updated on May 29th, 2023 at 09:05 am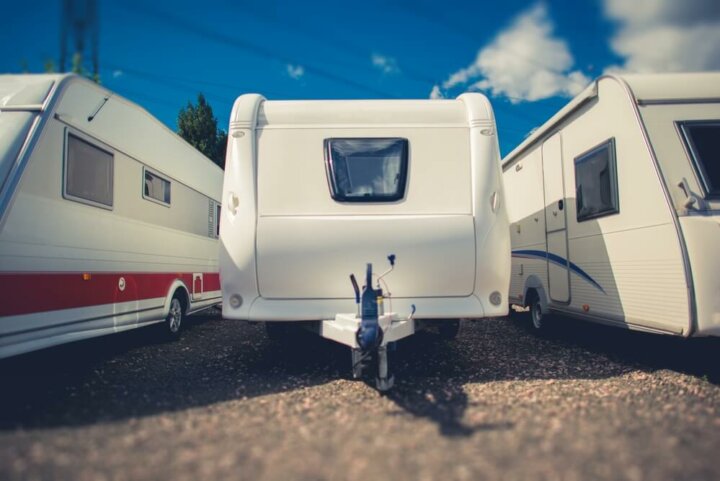 All of our reviews are based on exhaustive research, industry experience, and whenever possible, hands-on testing. When you make a purchase using one of our chosen links we'll get a small percentage of the proceeds. This supports the site and keeps Jeffsetter running. You can read more here.
As someone who lives full-time in a travel trailer, there are plenty of pros and cons of travel trailers and considerations you should think about before purchasing one.
But what might some of these considerations be, and how might you determine whether or not this type of RV is right for you and your lifestyle?
Among their numerous pros, travel trailers come in countless lengths and floor plans like separate bedrooms, plus they offer plenty of storage. Many trailers are relatively inexpensive with a reasonable insurance. However, weight limits must be considered, trailers are difficult to tow, and parking and backing up takes practice. Lastly, not all locations allow trailers.
In this article, we will go over everything you need to know in terms of the pros and cons of owning and camping in a travel trailer.
Not only will we address some considerations if you want to live in this type of RV full-time, but we will also discuss the practicalities of owning one that you only use on occasion.
Let's get started and talk all about the pros and cons of travel trailers now!
Interested in navigating to a particular section of our pros and cons list? Use the table of contents to find what you are looking for now!
The Pros and Cons of Travel Trailers: Everything You Should Know
Travel trailers are typically the very first type of RV that people choose to purchase, and studies suggest that travel trailers are owned by almost 40% of all RV owners.
There are a number of reasons for this, but does this mean that a travel trailer is the right option for you? Here are plenty of pros and cons of travel trailers for you to consider!
Pro: Travel Trailers Have Countless Lengths
If the idea of towing an incredibly long travel trailer is daunting to you, the good news is, you don't have to. There are countless different lengths and sizes of travel trailers to suit your lifestyle, with some options as small as 10 to 13 ft long.
You can also go as large as possible, with some travel trailers reaching up to 40 to 45 ft in length. The longer the travel trailer is, the more difficult it is to maneuver, both on highways and city streets.
If you know that you don't need a lot of square footage, there's definitely a more compact travel trailer available on the market for you. Likewise, if you know you need to sleep plenty of guests and are comfortable towing something long, there's also a travel trailer perfect for you.
Con: Towing a Travel Trailer Can Be Dangerous
Speaking of length, towing a travel trailer can be incredibly dangerous. There are many different factors at play when it comes to towing a travel trailer, and experience and practice are key to your own safety.
Weight distribution, aerodynamics, and the influence of other drivers while you travel are all factors to consider when it comes to your safety while towing a travel trailer.
Size also matters, as the larger the travel trailer, the more difficult it will be to control and the more influence it will have on your tow vehicle as you drive.
You need to be aware of a lot of things while towing a travel trailer, and many first-time RV owners find this process both stressful and daunting. Drivable RVs may be easier for you if you are particularly anxious about this process!
Pro: There Will Be a Travel Trailer Floor Plan for You
Just like you can find a travel trailer in any length, you can find a travel trailer in just about any floor plan or layout. This is likely one of the primary reasons why travel trailers are incredibly popular among RV owners, especially first-time RV owners who don't know the type of floor plan they need or want.
It is incredibly easy to find unique and flexible floor plans on board a travel trailer. This is especially true if you have a particular thing that you are looking for, such as multiple bathrooms, a bunkhouse sleeping suite for the kiddos, or even a master bedroom with an ensuite bathroom.
While your interior living space will be largely dictated by the overall length of your travel trailer, there are always slide-out options and unique sleeping arrangements to consider as well. This may help you maintain a larger interior living space without adding on additional feet to the overall length of your RV!
Given just how many different layouts and floor plans there are for the average travel trailer, I highly recommend touring options in your local area or investing some time into virtual tours on RV manufacturer websites. This will help you better determine what you are interested in when it comes to choosing a travel trailer floor plan!
Con: Parking and Backing Up a Travel Trailer Takes Practice
Not only can it be difficult to drive a travel trailer, but parking and backing up a towable rig takes a lot of time. This is definitely something that you should practice and get used to doing before you arrive at your very first campsite, especially because it can be a stressful situation, even for the most experienced travel trailer owner.
This video demonstrates how to back your travel trailer, and while the tips given are more than useful, you will still need to practice!

While you may be able to purchase a travel trailer with a backup camera, this is not always a guarantee. If you are traveling by yourself, it can be extremely difficult to know and adequately park your rig.
Even if you have plenty of practice, you never know what your campsite or parking spot will look like when you arrive, which may be a cause of anxiety for many travel trailer owners.
Pro: Travel Trailers Offer Plenty of Storage
Unless you choose an incredibly small travel trailer, most floor plans and models incorporate plenty of storage options and solutions. This is often accomplished using a combination of interior overhead cabinets as well as exterior storage compartments.
Unlike drivable RVs, travel trailers offer you plenty of storage solutions where an engine or other motorhome components would normally be. Plus, most travel trailers also have a bumper hitch option that allows you to add a bike or kayak rack to the rear of your RV.
In addition to this, you may also find a make and model that offers you roof rack storage capabilities so that you can further extend your options and bring even more things with you on your travels.
If this is still not enough space, you may want to consider a toy hauler travel trailer option. These travel trailers are unique in that their interiors allow you to both store and wheel out your motorized vehicles such as ATVs and motorcycles or scooters.
There are countless options for you when it comes to travel trailer storage solutions, so definitely keep this in mind!
Con: Annual Maintenance of a Travel Trailer
All RVs require a decent amount of annual maintenance in order to keep them running season after season. This is largely due to the fact that they are constantly exposed to the elements as well as road conditions and vibrations.
Travel trailers require a lot of annual maintenance to keep them performing at their best, especially when it comes to water damage!
You are likely already aware of the dangers of water when it comes to RV ownership, particularly in travel trailers. It is extremely easy for a travel trailer to suffer from water damage, especially if it has not been maintained regularly. These damages are often irreparable if left unnoticed and this is one of the first issues that people search for when shopping for a used travel trailer.
Many RV owners choose to tackle travel trailer maintenance requirements on their own, which often saves them money. However, if you don't trust your own abilities, seeking a professional to help you with your travel trailer maintenance is a good idea.
Keep in mind that these professionals are often booked far in advance and may have a wait list, which can spell disaster if you have a necessary repair that needs to happen before your next camping trip!
Pro: Many Travel Trailers Are Inexpensive
Besides all of the different floor plan options available, it is likely that the price tag of the average travel trailer makes it appealing to a large number of RV customers. The average travel trailer costs anywhere from $20k to $60k at the higher end.
This is extremely reasonable compared to drivable RVs as well as fifth wheels, as many travel trailers can be purchased with plenty of bells and whistles for around $30k to $40k.
This is also true when it comes to the resale of travel trailers, as many can be purchased used for an even smaller price tag. While doing a thorough inspection is a good idea to ensure that there are no huge repairs needed, purchasing a used travel trailer for under $10k is a great opportunity to try out the RV lifestyle without investing too much!
Even most luxury travel trailers are fairly affordable compared to other RV options. This gives you even more opportunities to try out RV technology and potential features that you will want moving forward in your additional RV purchases.
In many ways, a travel trailer is like a starter car or home, allowing you to see what you like and don't like without investing all of your savings.
Con: May Not Be Easy to Boondock in a Travel Trailer
Given the fact that you are towing and your overall vehicle length might be prohibitively long, boondocking in a travel trailer is not always easy. There are plenty of makes and models that offer boondocking features and capabilities, but the act of reaching your off-grid destination may be more difficult than you expected in a travel trailer.
While the average travel trailer will offer you plenty of room in your holding tanks for extended off-grid camping options, towing anything to a remote location can be daunting.
Plus, it is rare to find a travel trailer with an onboard generator included in the standard purchase price. While there are plenty of alternatives to generators when it comes to off-grid camping, this is definitely an expense to keep in mind.
Pro: Separate Bedrooms Are Common
If you want to live full-time in an RV with your family or partner, it can be difficult to find a floor plan that suits this. This is especially true if you need two separate bedrooms or the option to close off certain sections of your RV.
Thankfully, there are a number of travel trailers on the market currently that offer separate bedrooms or sleeping areas. This can be especially appealing for a number of reasons. For example, if you are traveling with a group of kiddos and need some time away from them, it's easy enough to send them outside so long as the weather is good.
When you are camping in potentially inclement weather conditions, having a separate room that they can hang out in may help you decompress and enjoy your vacation!
Separate bedrooms or rooms are also helpful for living in a travel trailer full-time if you and your partner have very different schedules. Noise is always a concern on board an RV, so having the option to enclose one area or another may appeal to you.
Con: Bunk Beds May Not Be What You're Looking for
If you plan on traveling and camping in your travel trailer with a large group of people, keep in mind that one of the best ways to sleep multiple people inside of an RV is by utilizing bunk beds.
While these bunk beds are designed to fit children or adults, this may not be what you are looking for, especially if you are traveling with a group of grown-ups!
You may be able to find a travel trailer with two master bedrooms, but bunk beds are typically the best way to sleep a large group without taking up too much space. This may not appeal to all of your guests and therefore may not be a good option for you, depending on your lifestyle and the people in your life.
Pro: Some Travel Trailers Are Just Plain Cool
While this may not be a primary perk of travel trailer ownership, there are plenty of travel trailers on the market today that are really cool and unique. If you aren't interested in a typical motorhome or camper van, travel trailers come in all shapes and sizes.
While Airstream manufactures some class B options, their travel trailers are where they truly shine in terms of their unique eye for design. And Airstream isn't the only travel trailer company doing something cool and different with RV aesthetics.
You can find unique fiberglass travel trailer options as well as teardrop travel trailers, pop-up travel trailers, and so much more. There are truly a lot of options on the market today, some of which will likely turn heads at whatever campground you choose to camp at!
Con: Hitches and Weight Limits Can Be Complicated
Just like towing and parking a travel trailer can be complicated, understanding how your hitch works can be equally complicated too. Likewise, weight limits and weight distribution are all factors to fully understand and consider before you purchase a travel trailer. This is especially true if you are also purchasing a tow vehicle alongside a travel trailer.
All tow vehicles have weight limits and capacities that you must adhere to in order to safely tow a travel trailer. This can get more complicated when you consider that all hitches also have weight limits and guidelines to follow. Matching a hitch to your tow vehicle can take some practice, and it is certainly not something you want to get wrong!
Likewise, all travel trailers have very specific weight limits and guidelines to follow as well. You will need to ensure that your travel trailer does not weigh more than what your tow vehicle can handle.
This number or weight limit should be the weight of your travel trailer when it is full of your belongings as well as full of water or anything else you can think of.
Finally, you need to pack your travel trailer properly in order to safely drive it down the road. If you pack too many of your belongings toward the rear of your travel trailer, it can be dangerous to tow.
The same can be said if you pack things too heavily toward the front or to one side. Weight distribution is a key component of safe travel trailer ownership, so make sure you know what you're doing!
Pro: You'll Have a Vehicle to Drive and a Home Base
The problem with most drivable RVs is the fact that you are driving both your vehicle and your home base. This means that you will either have to tow an additional car behind your drivable RV or pack up your entire RV in order to run into town or take a day trip anywhere that might interest you. With a travel trailer, you don't have to worry about that.
Even though parking and driving a travel trailer is difficult, you can set it and forget it once you reach your destination. This can be incredibly appealing to those of you who plan on camping in one location for a long period of time. It is easy to unhitch your tow vehicle and take it with you while leaving your travel trailer safe at your campsite or RV park!
Con: Some Locations Don't Allow Trailers
Depending on where your journeys take you, you may find that it is incredibly difficult to bring a travel trailer along. Many locations have vehicle length limits, weight limits, or other factors to consider.
You may find that certain roads, particularly in national parks, don't allow trailers to be towed at all. This may be disheartening for those of you hoping to see the sites with a travel trailer attached to your tow vehicle.
While you can always disconnect from your travel trailer and explore these locations in a tow vehicle, this isn't always an option. The last thing you want is to end up stuck somewhere because you didn't read a road sign properly and accidentally towed your travel trailer where it shouldn't be towed!
This can be an incredibly stressful thing that many travel trailer owners do not consider.
Pro: Travel Trailer Insurance Is Reasonable
Compared to drivable RVs or motorhomes, the average cost of travel trailer insurance is incredibly reasonable. While this may not be the first thing you are thinking of when shopping for an RV, it is especially something to consider down the line.
If you want to live in your travel trailer full-time, it may come as a blessing in disguise to know that travel trailer insurance is incredibly reasonable overall!
Con: Passengers Cannot Travel in Your Trailer
For the most part, most travel trailers are towed by pickup trucks or large SUVs. If you own a pickup truck, you likely don't have very many seating arrangements for your passengers.
This can be a huge downfall to travel trailer ownership, given the fact that your passengers cannot legally travel in your travel trailer while it is in motion.
If you know that you can't fit the entire family inside of your pickup truck while you tow your travel trailer, you'll need to figure out additional travel arrangements to get the entire family to your campsite. This can be incredibly inconvenient as well as expensive, and it may be a deal breaker for those of you hoping to all travel together as a family.
Final Thoughts
If you are just beginning your journey into RV ownership and are not worried about towing, choosing a travel trailer may be a great choice for you. However, if towing is something that is daunting to you and you have a more flexible budget, choosing a drivable RV may be a better fit. This is especially true if you are more interested in maneuverability rather than interior RV living space.
Regardless of what you choose, there are plenty of pros to owning a travel trailer. There are tons of floor plans at a fair price, and you can truly find something that is perfect for you and your lifestyle. However, towing is stressful and travel trailers require plenty of maintenance as well as planning, so weigh your pros and cons carefully!