Last updated on June 5th, 2023 at 11:29 am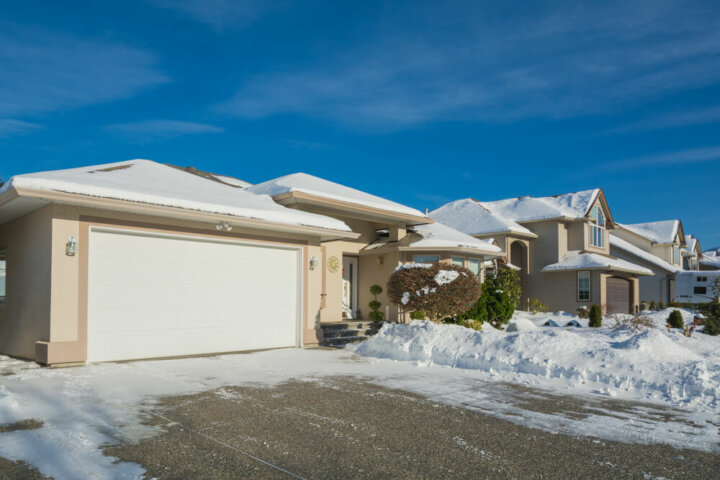 All of our reviews are based on exhaustive research, industry experience, and whenever possible, hands-on testing. When you make a purchase using one of our chosen links we'll get a small percentage of the proceeds. This supports the site and keeps Jeffsetter running. You can read more here.
Storing an RV is often one of the most challenging aspects of owning one, so you may be wondering if there are any travel trailers that fit in a garage. Knowing where you plan on keeping your RV before you purchase one is a good idea, especially when you consider the fact that winter storage of your RV is likely best for its overall maintenance and care.
Whether you plan on storing your RV in an attached residential garage, a carport, or on your street, there are a few things to consider before you purchase something. But what might those considerations be, and how can you find a travel trailer that fits in a garage without too much fuss?
In this article, we will go over everything you need to know about storing a travel trailer in a garage, including giving you some options that are compact and convenient enough to keep in the average garage or carport. Protecting your RV from the elements is important, especially when you aren't using your RV. Here's everything you need to know about travel trailer garage storage.
Only interested in checking out our list of some of the most compact and lightweight options for travel trailers that fit in a garage? Use our table of contents to navigate to that list of RVs now!
Types of Garages for Storing Your RV
If you don't currently have a garage you may be seeking some options for RV storage, including some potential carport or bay storage. While it will depend on your property and the potential alterations that you can do to it, there are many different ways to store an RV safely and efficiently.
Here are various types of garages for storing your new travel trailer.
Residential Attached Garage
If you're lucky enough to have a residential attached garage, this is a great location to store your RV if you don't keep a car or other vehicle in it. Depending on whether you have a single, double, or even larger type of attached garage, the average garage measurements begin at 12 by 20 ft.
Many residential garages vary in terms of their height, especially when you consider the fact that some garages have lofted or overhead storage options. However, the average residential garage is anywhere from 18 to 25 ft tall, so keep all of these measurements in mind as you shop. This is the first place to begin when it comes to finding a travel trailer that will fit in your residential attached garage!
Again, you may have a double or even triple-car garage, leading to a much larger interior space. This likely won't affect the overall height of your garage, but every residential attached garage is unique. I highly recommend measuring your own space so that you know your precise dimensions and can shop with this knowledge in mind.
Residential Detached Garage
Just like a residential attached garage, detached garages offer a safe and secure place to keep your RV, no matter the season. The dimensions of a residential detached garage are similar if not identical to the attached garage measurements. However, you may have a detached garage with a bit more height given that it isn't attached to your residential home and doesn't need to match that particular roofline.
You may find that your detached garage is more or less convenient when it comes to parking your RV, as the location of the storage area might be easier to back into. However, detached garages do not offer as much security as an attached garage, and they do not offer as much convenience.
Your detached garage may also be less protected from the elements compared to your attached garage, so keep this in mind if you live in an area that experiences freezing weather during the winter. Winterizing your travel trailer is a must, and this is especially true if your travel trailer storage area gets below freezing!
Carport
Typically simple in construction and attached in some way to a residential home, carports make excellent options for storing a travel trailer. However, these areas are typically open and unsecured, which is definitely something to keep in mind if you are worried about protecting your personal property.
Speaking of open, keeping a travel trailer in a carport likely means that it is visible at all times. If you are looking for an option that doesn't require you to stare down your travel trailer day in and day out, you may want to find a more enclosed option. This also speaks to security and keeping your personal possessions more private. You may want your RV to be less visible to avoid potential theft.
Carports are useful for keeping rain, snow, and debris off of your travel trailer. You may have a carport that is located behind a gate or a fence, likely giving you a bit more security than average. At the end of the day, a carport is simply a semi-enclosed area to keep your vehicles, and the average carport is likely large enough to keep most travel trailers in without much hassle.
Awning or Portable Garage
If you don't have anything but a driveway, you can always purchase an awning or a portable garage for your RV. These options are unique in that you can find just about any shape or size to fit your rig. It's also convenient that you can break them down and set them up when you need them, though most are designed to be a fairly permanent option for your home.
If you don't have any other storage options for your RV, purchasing an awning or portable garage is an ideal solution. However, it's important to note that these can cost a fair amount of money. If your main concern is protecting your RV from the elements, you may want to just purchase an RV cover instead of an entire awning or portable garage.
While RV covers have their own issues and need to be set up properly in order to work, they are significantly cheaper than an awning or a portable garage. This is especially true if you are shopping for a carport or driveway cover that is metal and more permanent, as these can often cost over $1,000.
Barn or Outbuilding
If you have a barn or a number of larger outbuildings on your property, you may consider simply storing your travel trailer or RV in one of those. While this is likely more complicated than you are hoping for, converting a barn or an outbuilding into an RV storage space can be one of the best options for storing a travel trailer.
Not only will you be able to store your travel trailer in a location that is secure and discreet, but you may also take advantage of the opportunity to convert the entire area into your travel trailer workshop. RVs need consistent maintenance and having a dry location to work in is a luxury most RV owners don't get.
Again, this may be outside your budget and not something you're interested in doing, but if you have any outbuildings you aren't using, why not store a travel trailer in one?
Storing Your Travel Trailer in a Driveway or on the Street
At the end of the day, you can only store your travel trailer in your own driveway or even on your residential street. Keep in mind that your travel trailer will be uncovered and left secure with either of these options. However, these options are also free! Your driveway is an especially good place to keep a travel trailer if you have one, as this is out of the way and on your own property.
Keeping your RV or travel trailer on the street outside of your house may seem like a good option at first, but it all depends on where you live. Security is very important to keep in mind for this option, as your travel trailer is out in the open, likely sitting for months at a time. Plus, keeping an RV on a public street isn't always legal, depending on where you live.
You may also run into the nosy neighbor that doesn't like that you're keeping your RV outside of your house, on the street where they might have a problem with it. Travel trailers can also get in the way of garbage and mail services. Unfortunately, given that it is technically public property, if you live in an area that doesn't appreciate where you are keeping your travel trailer, you will likely have to move it.
Types of Travel Trailers that Fit in a Garage
Not every type of RV will fit in a garage, especially travel trailers. Fifth wheels will not fit in the average storage area, given their height and overall size. However, there are some types of travel trailers that will indeed fit in a garage. Here are some options for you to consider.
Pop-Up Trailers
Relatively inexpensive and surprisingly large enough for the whole family, pop-up trailers are a great option for storing in a garage. Arguably, pop-up trailers were invented to assist RV owners in RV storage solutions, given the fact that these travel trailers collapse when not in use.
You can find many different types of pop-up trailers, but the main identifier is a trailer that has the ability to transform and get smaller when not in use. Pop-up trailers can be made from fiberglass, but they typically have tent or fabric materials involved to help keep them compact. Some pop-up trailers are simply tents on wheels, something that may interest you if you are seeking an extremely lightweight option as well.
The good news is, the average pop-up travel trailer is no more than 15 ft long and 5-6 ft tall when fully collapsed. You may even find shorter options, giving you more peace of mind when you park it in your garage. There's nothing more stressful than getting close to hitting the top of your garage door as your backing in!
A-Frame Trailers
Depending on the manufacturer, you may be able to find an A-frame travel trailer that fits in a garage or carport. Most of these unique trailers are designed to collapse when on the road, typically at a convenient height of 5-6 feet tall. This makes them aerodynamic as well as easy to store.
Once you reach camp or wherever you plan on setting up your travel trailer, it is designed to open up. This style of camper has a taller ceiling on average compared to other pop-up options, given the fact that the A-frame shape adds a bit of extra height. However, most of these travel trailers are fairly compact and small overall, likely not ideal for the average family.
Having a pop-up option with hard sides and a fiberglass roof may be appealing to those of you seeking a more durable pop-up option. While they may be more expensive, you'll have better insulation and long-term use from a travel trailer with hard sides than one with fabric sides.
Teardrop Trailers
While some teardrop travel trailers can get a little tall for the average garage, this may be a great option for a solo adventurer or couple. Teardrop travel trailers are unique in that they offer RV owners a comfortable sleeping area inside, with an outdoor kitchen typically located on the back of the rig.
There are also a number of teardrop travel trailer options that are lighter than two thousand pounds, making this an easy RV to tow as well as store. However, keep in mind that most teardrop trailers are too small to accommodate a bathroom or a proper dining or living area. Some options may convert to give you as many RV amenities as possible, but these rigs will not be as developed as a standard travel trailer.
The shape of the travel trailers can make some of them aerodynamic and easy to tow, something that may interest those of you worried about your gas mileage. Plus, many teardrop travel trailers offer pop-out elements or unique storage solutions, offering you much more space than you likely assumed!
Standard Travel Trailers
Depending on the size of your garage or RV storage area, you may be able to fit a standard-size travel trailer in your chosen location. However, it's important to know the measurements of your desired travel trailer as well as the location in which you plan on storing it. Some RV manufacturers are more efficient in their measurements than others, and you don't want to mix up an interior living length with an exterior length!
When it comes to standard travel trailer measurements, the average width of these RVs is anywhere from 7 to 8 ft across. Height also varies, but you are likely looking at an option that is over 10 ft tall, with roughly 6 ft of interior height. Finally, length is the most variable factor on a standard travel trailer, as this is where RV manufacturers add square footage.
Depending on what you are looking for, standard travel trailers range in length from 13 ft to well over 35 ft. Obviously, a 40 ft long travel trailer won't fit in the average garage or storage area, so make sure you know exactly what you are looking for and what you can feasibly fit before you fall in love!
8 Travel Trailers that Fit in a Garage
If you've taken your measurements for whatever you plan on storing your travel trailer, it's time to check out your possible options. While unique and unlikely to sleep more than 4 individuals, all of these travel trailers should fit in a garage, carport, or even your converted barn!
Let's take a closer look at these options now.
Teardrop shape is aerodynamic and unique
Lightweight model makes it easy to tow without sacrificing interior space
Unique in its design and offers interior design options
Fairly expensive for a travel trailer, especially one of this size
Teardrop-shaped and complete with a unique roof that allows more light into the space, the Alto by Safari Condo is a great choice for storing in your residential garage. The dimensions should fit in just about any standard attached or detached garage, depending on your home. Ranging anywhere from $50-55k, this option is a bit more expensive than average but has a lot to offer.
Safari Condo offers a few different options in terms of its convertible and collapsible travel trailer choices, but the smallest Alto option measures 83 inches when closed. When you reach camp, the unique roofline of this particular travel trailer extends to over 100 inches tall, giving you plenty of interior headroom and living space.
This is a fantastic teardrop travel trailer for those of you seeking room for up to four people. In addition, all amenities are located inside the travel trailer, which means you are protected from the elements when you want to cook breakfast or dinner. Plus, the retractable and extendable roof line of this RV adds more windows than any other option on this list.
Aerodynamics and lightweight, the Alto is just over 1800 lb dry. This means you can easily tow it using a variety of SUVs and small vehicles. The interior offers plenty of convertible furniture and seating arrangements, giving you enough space to sleep a small family, so long as you're comfortable being cozy!
With multiple sizes as well as interior design choices, this travel trailer is great for those of you seeking something that is more customizable than other options. Perhaps you want a bit more space in the dining area, or maybe you would like more length on this RV so that you can bring your pets.
Regardless of what you are looking for, Safari Condo likely has a travel trailer option for you. However, keep in mind that this option isn't exactly budget-friendly, especially when you consider the overall interior living space compared to the cost!
Very budget-friendly for all RV consumers
Compact frame expands to sleep up to 5 people
Optional tent additions so that you can bring even more people with you
Not very many bells and whistles, but you have the basics
If you're concerned that the last option wasn't exactly budget-friendly, The Coachmen Clipper is a compact travel trailer that can fit in most locations, including carports. Offering a traditional tent pop-up as well as a teardrop-shaped option with pop-up elements, the Clipper is unique and under $20k. Let's take a closer look.
Depending on the option you choose, the Clipper weighs anywhere from 1400 to 2500 lb. While the larger options are a bit heavier, this is a lightweight travel trailer and should be fairly aerodynamic when on the road. Plus, the dimensions are ideal for fitting into just about any garage, with their pop-up option under 5 ft tall when collapsed.
The Clipper also has pop-up elements on the sides of the rig, offering you more length depending on the model you choose. These elements are fabric or tent-based, but they offer RV customers large sleeping areas that are heated to keep you protected depending on the time of year. This means that you can also likely sleep up to 5 people in the Clipper, depending on which floor plan you go with.
All of the kitchens are indoors for this particular travel trailer, and some floor plans even offer a portable cassette toilet. There may be an outdoor shower option depending on which model speaks to you, but this is a more bare-bones approach to camping compared to the average, standard travel trailer.
Another potential benefit to owning a Clipper is the fact that you can purchase an additional tent attachment so that you can sleep more people on your camping trips. This option attaches to the outside of your RV and allows you a bit more protection should you want to enjoy the great outdoors or sleep anyone in a tent outside.
However, given the budget-friendly nature of this particular option, there aren't too many bells and whistles. The interior design is fairly blase, but this is a great choice for those of you to want to sleep more people and reconnect with nature!
Rugged and built to go anywhere you want
Comfortably sleeps two adults inside with two more people outside
Exterior kitchen and expandable elements make this one convenient
No bathroom amenities
If you have a particularly tight garage, you may want to check out the OPUS OP LITE for your space. Another pop-up style of a travel trailer, the OP LITE offers its customers a huge expandable tent space. Let's check this cool rig out!
Let's start with the measurements, as these are important if you want to store this travel trailer in a garage or other area of your home. This pop-up option measures under 6 ft across and 4.5 ft tall when collapsed. The overall length is 17 ft, making this a perfect option for the average residential storage space.
However, the expanding capabilities of this trailer are immense, with an interior height of 10 ft when opened. There are also expandable elements on the sides, giving you more interior living space. In fact, this travel trailer can sleep up to 2 people inside with an optional tent attachment to sleep a family of 4.
Speaking of expanding, OPUS has a particular design for their pop-up travel trailers. They use air inflation technology to expand the roof and sides of your RV so you don't have to. The entire setup ranges from 60-180 seconds long, depending on the size that you purchased. In fact, the OP LITE only needs 80 seconds to fully expand and get ready for camping!
Another huge benefit to purchasing this pop-up travel trailer is the fact that it is extremely rugged and built for off-grid camping. You have rock guards, a raised chassis, all-terrain tires, and much more. You can truly take this travel trailer anywhere that your all-wheel drive vehicle can go, which is a fairly rare occurrence in the RV world!
The queen size bed inside of the OP LITE converts into a seating area for the whole family. There's an exterior kitchen that gives you all the basics, and it should be covered by an awning or the optional tent addition should you choose to purchase it. However, keep in mind that there are no bathroom amenities on board this travel trailer, so be prepared to rough it!
Amazing and convertible design for any lifestyle
Under 1800 lb when unloaded, making it easy to tow
Plenty of amenities, including a kitchen and portable toilet
May be a bit tall for your garage
Arguably one of the more unique options on this list, the Cricket from TAXA Outdoors is a great choice for those of you seeking something exceedingly lightweight. In fact, this travel trailer weighs under 1800 lb dry, making it easy to tow by a number of different vehicles. Let's take a closer look at it now.
One of the best things about the Cricket is the fact that it has a flexible interior living space. You can add additional sleeping arrangements for the kiddos so that you can sleep up to four people inside of this compact RV. Plus, the primary sleeping area can be converted into a dining space, or a lounge area, or you can even leave it open for additional storage.
In terms of the measurements of this travel trailer, the cricket is 15 ft long and just over 6.5 ft wide. When closed, the Cricket is just under 7 ft tall, making it one of the taller options on this list. However, it should still fit in the average residential garage, carport, or protected storage area. Take your measurements carefully, just in case!
While rugged and unique, this pop-up travel trailer still offers you plenty of amenities. There's an indoor kitchen and a portable toilet as well as a shower option, depending on the floor plan you choose. Plus, having such a flexible interior likely appeals to a number of different campers, especially if you are seeking something unique.
There's plenty of storage, inside and out, including rooftop storage for your bicycles, kayaks, and more. Keep in mind that, the more weight you add, the more you will have to tow, so make sure your tow vehicle can still handle this option when fully loaded!
All in all, the Cricket is a cool travel trailer that will still fit in the average residential garage. It's lightweight enough to bring it wherever you want to take it, and it offers plenty of storage solutions with its convertible interior. However, it may be a bit outside your budget, especially if you are looking for something that is shorter in height.
Unique A-frame design gives you plenty of headroom when fully set up
Kitchen and wet bath on board, depending on the floor plan
Under six feet tall and collapsed, making it easy to store
Length may be too long for your garage, depending
Affordable and durable, the Rockwood from Forest River offers a hard-sided camper in an attractive A-frame shape. Some of these floor plans even include a wet bath on board, making it a more comfortable and compact camper for the whole family. Let's take a look at all of the amenities that it has to offer.
If you haven't heard of the Forest River brand name yet, I highly recommend checking out our complete review of this popular RV manufacturer. The Rockwood is available in a hard-sided pop-up travel trailer as well as a softer option if you need more living space overall. However, the hard-sided Rockwood offers more durability in the long run, particularly from rain or snow.
The length of this particular RV ranges from 18 to 21 ft long. The collapsed height is under 6 feet tall. If you have a longer garage than average, fitting this camper indoors is no problem, but you may have to park this one in your carport or driveway, depending on your specific situation.
With extra length comes extra interior living space, offering you a convertible queen or king-size bed as well as a convertible dinette area to sleep additional people. There's a kitchen inside as well as a comfortable interior design, complete with air conditioning if you need it. Many pop-up campers cannot offer air conditioning given their design, but the hard sides of the Rockwood make this possible.
Another benefit to the Rockwood is the fact that you can store bicycles and kayaks on the roof of this RV when it is fully collapsed. There isn't very much interior or exterior storage on this RV, but having the option to store things on top of your rig as you drive is a huge plus. Given the low profile of this travel trailer, storing things atop it while you drive shouldn't interfere with your gas mileage too much.
All in all, this is a great choice for the average family or adventurous couple seeking something that is lightweight and easy to store. Make sure your specific garage measurements can handle the length of this RV, but it has plenty to offer otherwise!
Highly customizable for a fair price
Fiberglass exterior makes this option more durable than others
Expandable elements gives you more interior living space
Taller than average and may not fit in your tiny garage
At 13 ft long, the Meerkat is shorter in length compared to the Rockwood. This makes it easier to store in the average garage, especially with its unique pop-up rooftop that earned this travel trailer its name. Starting at $25k, the Meerkat is a cute, customizable travel trailer that fits in the average garage and is perfect for couples.
Meerkat Trailers only manufactures two different types of travel trailers. This means that they are open and available for any questions as well as customizable amenities that you might be looking for. You can choose the interior and exterior colors as well as a number of different amenities such as larger awnings, refrigerators, expandable sides, and more.
When it comes to the rest of the dimensions for this travel trailer, the Meerkat is 6.5 ft tall and roughly 5 ft wide. The pop-up element of this travel trailer is located in the center of the RV and doesn't span the entire rooftop. While this may seem like a letdown, it likely enhances the overall stability of your RV roof, giving you less maintenance to consider in the long run.
The adorable fiberglass exterior and vintage interior make this option attractive as well as functional. There's plenty of storage, inside and out, and the kitchen comes fully loaded. There's an expansive seating area as well as a portable toilet on board, giving you plenty of amenities for an RV of this size.
However, given the height of this RV, you should make sure that it fits where you plan on storing it. Plus, this RV truly doesn't sleep more than two people comfortably, so it really is meant for couples at the end of the day. With plenty to customize, this travel trailer is lightweight, attractive, and fun to camp in!
Boondocking Travel Trailer:

OPUS OP 2
Compact for storage and spacious when set up
Plenty of amenities for four people
Air inflation technology makes setup easy
Tent materials may not last forever
Another option from OPUS has to be the OP 2. This pop-up travel trailer is larger than the LITE option previously discussed, sleeping up to four people inside. Plus, it's just as rugged as the LITE option, capable of going wherever your journeys take you. While it's more expensive than the previous OPUS travel trailer, it's well worth it when you see all of the additional amenities included!
Complete with all-terrain tires, a raised chassis, a rugged exterior design, as well as the air inflation technology that OPUS is known for, this travel trailer is great for boondocking. Not only does it have off-grid utility capabilities, but it also is designed to be used no matter the season and no matter the road conditions.
Let's talk about measurements first. When collapsed, the OP 2 is just over 18 ft long, 6 ft wide, and has a height of 4.5 ft. This makes it compact and easy to store in your garage, carport, and elsewhere. The weight on this particular pop-up travel trailer is far heavier than average, however, just over 3,000 lbs dry.
After the air inflation technology sets up your RV for you, the interior is spacious and expansive. You have a large sleeping area at one end and a convertible dinette space at the other. Plus, there is an exterior kitchen, a portable toilet and shower, and plenty of storage solutions, both when the RV is set up and when it is in motion.
Another great perk to this pop-up travel trailer is the fact that you can add additional tent annexes or living spaces. This gives you more space to spread out and you can sleep more people on your camping trips should you so desire. However, keep in mind that this RV is built primarily out of tent fabric and materials, likely making it less durable than other options.
Stunning design with large panoramic window
Plenty of amenities and luxurious touches
Aluminum design and construction make this one well-built
May be too large for your garage, depending on the floor plan
There have been plenty of unique travel trailers on this list so far, but the Airstream Basecamp is one of the most eye-catching RVs currently being manufactured. Available in two different sizes, this aluminum beauty may not fit in your attached garage, but it's certainly an option to consider if you want something durable and one-of-a-kind. Let's take a closer look now.
Starting at $46k, the Airstream Basecamp is available in either a 16 ft long or 20 ft long model. No matter which you choose, the height of this RV is just under 10 ft tall. This may not fit in the average garage or carport, so definitely get your measurements exact before you fall in love with this option.
The Basecamp may not be the most traditional of Airstream travel trailers, but it still offers everything that Airstream is known for. It is extremely well-built, full of luxurious amenities, and more convenient than just about any other option on this list. It has plenty of storage, solar panels, and a more traditional RV interior that offers you a bathroom and kitchen.
The primary difference between the two sizes is the sleeping arrangements. Both models have a large panoramic front window so that you can take in the views of the great outdoors, but the smaller model sleeps two people in the larger model sleeps four. This is an important distinction if you want to sleep the entire family or bring some friends along with you camping.
With durable materials and more amenities than we can list here, the Basecamp is truly a special travel trailer to consider, especially for resale value. However, it is arguably the largest option on this list, so make sure it fits in your garage or driveway before getting ahead of yourself!
Final Thoughts
Finding a travel trailer that fits in a garage isn't impossible, but it will take some research and searching. Knowing the measurements of the location where you are hoping to keep your RV is a good place to start, so get those numbers before you start shopping.
Garages are fantastic places to keep any RV, offering you peace of mind and security when your travel trailer isn't amused!