Last updated on November 27th, 2023 at 07:35 am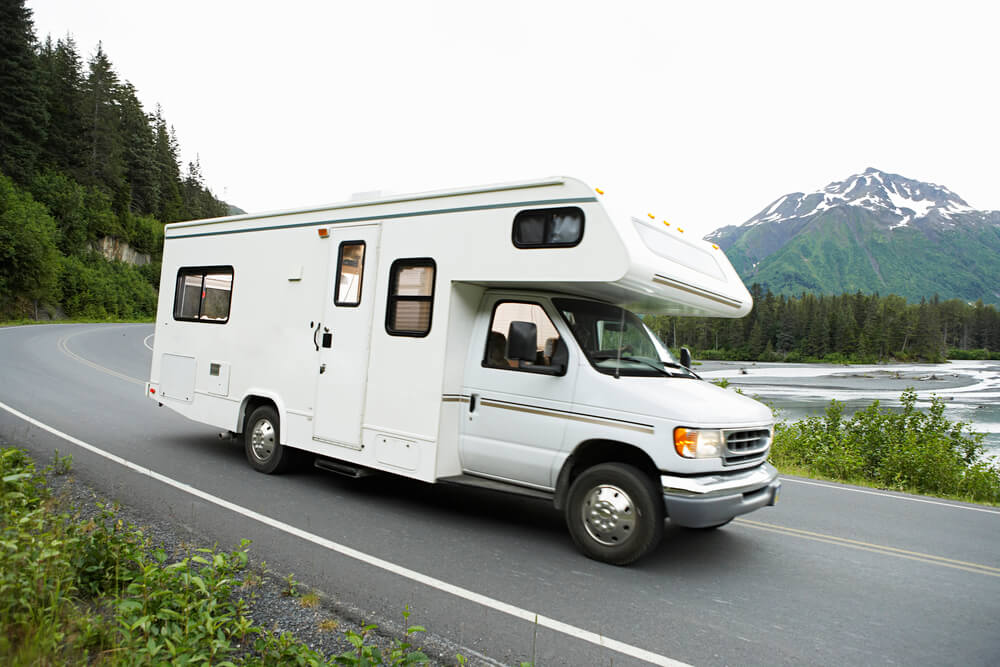 All of our reviews are based on exhaustive research, industry experience and whenever possible, hands-on testing. When you make a purchase using one of our chosen links we'll receive a small percentage of the proceeds. This supports the site and keeps Jeffsetter running. You can read more here.
Freedom is one of the best things about traveling in an RV, and since camper vans are effectively homes on wheels, they usually have their own water store. This is where the fresh water tank in your RV comes in! When boondocking or camping with very limited hookups, you can use your fresh water tank as an alternative. Filling an RV fresh water tank is easy, but what about draining it?
How do you drain an RV fresh water tank?
To drain an RV fresh water tank, you simply need to locate and open the drain valve underneath your RV to allow the water to escape from the tank. It's wise to empty an RV fresh water tank in a suitable area as it can make a bit of a mess!
Knowing how to correctly maintain and look after your RV is essential, and getting familiar with your holding tanks is part of the process. A fresh water tank is vital for successful RVing, as camping without water isn't an option. If you're new to RVing and are wondering how to drain your water tank, you're in the right place!
How To Drain An RV Fresh Water Tank?
There are a few considerations to think about before emptying your fresh water tank. Rushing into any RV maintenance task isn't ideal and could lead to mistakes. Take your time when draining your RV fresh tank and the entire operation should go smoothly. The fresh water tank on an RV is the easiest to drain, as black or grey tanks require being hooked up to a sewer or a portable tank to dispose of the waste.
Since the fresh water tank doesn't contain any waste, there are no rules and regulations for where or how it must be drained. However, it's important to exercise common sense when emptying your tank, and remain considerate of the environment, people, and other vehicles or campers nearby.
Turn Off Water Heater And Water Pump
One of the most important first steps is making sure both your water heater and water pump are turned off. Allow some time to pass for water to cool down if the heater has recently been in use. This will make things far safer, and dealing with boiling water isn't safe or necessary.
Run The Faucets
Run all of the faucets and shower at the same time. While leaving the faucets and shower to run should in theory empty everything, this isn't the case. It's an important step for removing the bulk of water in the tank before emptying, but there will always be a small amount left in the tank.
Running your faucets and shower beforehand is a good idea as an RV fresh water tank can hold anywhere from 20-80 gallons depending on its make, class, and size. No one wants that much water rushing out at them, so allowing the bulk of it to be used by amenities makes the whole process easier.
Locate And Open Drain Valve
To drain the tank, you need to find the drain valve underneath your RV. The fresh water tank is also located underneath RVs, so the drain valve should be close by. However, if you can't find it, your RV's owner's manual will help you. If you no longer have the manual, there's always an online version you can find specific to your rig.
Once you've located the drain valve, you also need to find the low-point drain valves. These are usually right beside the normal drain valve so they are hard to miss! Your rig's two low-point drain valves are for emptying hot and cold water respectively from your water lines. Opening both the drain valve and low-point valves is crucial in removing excess water from both the holding tank and pipes.
There's no need to connect a hose to any of the fresh water tank valves like you would for waste tanks. You can just release the valve and let the water flow out. Just do so slowly to prevent water from rushing out fast. It's not dangerous, just messy!
Can Water Be Left In An RV Fresh Water Tank?
Generally, the maximum amount of time you'll want to leave water in an RV tank is about 2 weeks. This is only if you aren't driving your rig. Avoid driving with a lot of water in your fresh water tanks, or any tanks for that matter. All this will do is weigh down your RV, which taxes the engine and forces your rig to use more fuel.
If you're not driving, don't exceed the 2-week limit, as any longer just promotes stagnant water. Mold, bacteria, and even algae can grow in the tanks. All of which can cause a persistent bad smell in your RV. You definitely don't want to be washing up or cooking with water that's not fresh.
When storing your RV, make sure the tanks are empty. This is particularly important for winter storage, as water sitting in your rig can end up freezing and causing damage. The general rule of thumb is if you aren't going to immediately use water, don't leave it in your tank. Luckily, if you've made the mistake of leaving water in your tanks, the cleaning process is very simple.
How To Clean An RV Fresh Water Tank?
The fresh water tank on an RV is arguably the most important to keep clean since it'll be used for drinking, along with washing and cooking. After draining an RV fresh water tank, it's a good idea to flush it out with a mixture of bleach and water. To figure out how much bleach to use, simply use one ounce for every 8 gallons of water.
For an in-depth walk-through of sanitizing an RV water system, the video below is a worthwhile watch:
Fill your fresh water tank around halfway with the mixture, and the remaining half with water. Allow this to sit in your tank for around 10-12 hours before draining it out. To clean the plumbing pipes in your RV, you can run the faucets which will bring the mixture into the pipes. Flushing your tank with just a little bleach can go a long way in keeping the tank clean and the water in your RV fresh.
How Often Should You Drain Your RV Fresh Water Tank?
It's important to point out that maintaining the freshness and cleanliness of your RV's water system is essential for your health and the longevity of the system itself. But you might be wondering how often you should do it.
Well, that will depend on whether you're actively using your RV. As we've mentioned before it's advisable to drain and refill the fresh water tank at least every two weeks to ensure the water remains fresh.
So, if you're planning on putting your RV in storage or won't be using it for a while, it's best to completely drain the tank to prevent any stagnant water from sitting, which could lead to bacterial growth or algae.
Then again if you believe your water might be contaminated, or if it has an unusual taste or odor, you need to drain the tank immediately. You should also sanitize the system using specific RV water system sanitizers before refilling.
For those of you who use your RV sporadically, it's a good practice to drain the tank after every trip, especially if there will be a gap before the next use. At a minimum, drain and sanitize the tank at the beginning and end of the camping season.
Can I Drive An RV With A Full Tank Of Water?
Driving an RV with a holding tank full of water isn't the wisest idea, as it will add substantial weight to your RV. It's essential to not overfill your camper as it may be overweight on the road which can be dangerous and unsafe for those on board. A full fresh water tank can reduce fuel efficiency, vehicle maneuverability, and overall speed.
Therefore, carrying the extra weight of a full fresh water tank is far from optimal and something worth avoiding. Draining your fresh water tank before journeys is a good idea, and to make things easier, the closer you are to heading home from the campground, start to use more water so there's less to drain!
Closing Thoughts
An RV fresh water tank makes camping trips easier, but especially remote ones in the depths of nature. Knowing how to keep water in your tank, as well as drain it out when needed will help keep the fresh water tank in the best condition possible.
Emptying the grey and black tanks is easy enough, but an RV fresh water tank is even easier to manage! Just remember to prepare beforehand and drain it slowly and often to keep your fresh water tank as clean as it can be!