Last updated on March 25th, 2023 at 08:24 am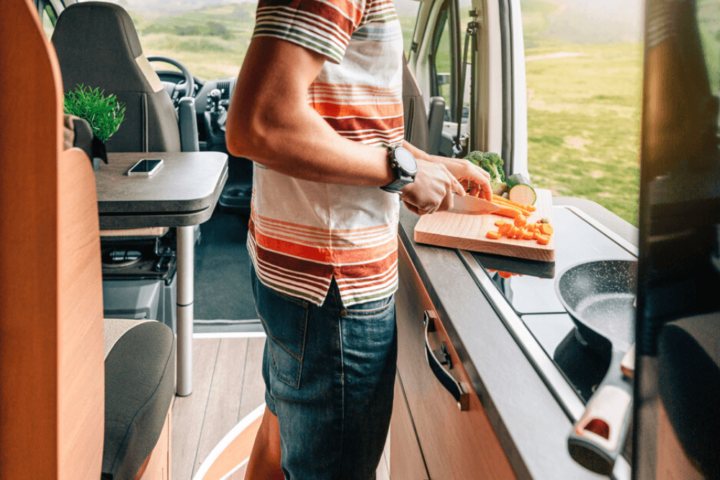 All of our reviews are based on exhaustive research, industry experience, and whenever possible, hands-on testing. When you make a purchase using one of our chosen links we'll get a small percentage of the proceeds. This supports the site and keeps Jeffsetter running. You can read more here.
Whether you're a weekend warrior or a full-time RVer, learning how to cook in an RV can be tricky. Not only do you have to get used to a limited amount of space (both in your fridge and on your countertops), but there are a number of things to consider when it comes to your RV appliances and accessories.
So, what's the most efficient way to cook in an RV?
First, you need to know how many people you're cooking for, how many meals and for how long. Planning your meals beforehand, and shopping locally and more frequently will help greatly. Among other things, try limiting your condiments and find containers that fit your fridge and pantry, use simple recipes, and clean as you go.
In this article, we'll address everything you need to know about cooking in an RV, especially those of you hoping to live in your RV full time. As an avid chef living full-time in a 19-foot-long vintage travel trailer, I know the ins and outs of RV cooking.
Here's how to cook like a professional in a small space without too much stress. Let's get started!
Also, if you are only looking for certain tips and tricks for your RV kitchen, use our table of contents to navigate to the section that speaks to you most!
How to Cook in an RV: 15+ Tips and Tricks
There are a number of factors at play when it comes to cooking in an RV. If you are brand new to RV living and cooking in a small space, there are a number of things for you to think about before you hit the road. One of the most important things to think about first is how many people you plan on cooking for while you are camping.
Given that space will be at a premium, especially in an RV kitchen, it's a good idea to know how many meals you expect to cook as well as how much you need to cook. But this is just one tip among many to consider.
Let's take a closer look at some helpful tips and tricks when it comes to cooking in a tiny kitchen like an RV!
1. Plan Meals Before You Leave (Or Before You Shop!)
Whether you are taking a short and sweet camping trip overnight or planning on living full-time in your RV, planning your meals is paramount to cooking things successfully and without stress. If you don't live full-time in your RV, you may want to consider preparing some of your meals in advance, in your spacious residential kitchen.
This could include something as simple as chopping all of your vegetables before you hit the road, or it could be as advanced as preparing your top-secret barbeque chicken recipe in a marinade.
Those of you who plan on cooking in your RV for a vacation rather than a living are at a better advantage than those of us who live full-time in a rig!
If you're simply preparing for a few days on the road, do as much work as you can in your home kitchen. keep in mind that you don't want to pack in large Tupperware or containers, given that most RV refrigerators are much smaller than residential fridges.
However, it should be fairly easy to determine what you can fit in your RV fridge, especially since you won't be bringing more food than you need for a short trip.
If you live full-time in an RV, planning meals gets a bit more complicated. Planning a grocery list will be key to keeping a happy kitchen.
You should have a good idea as to how much you can keep inside of your RV fridge as well as your pantry, and purchasing only what you need for a short amount of time is better than buying things in large quantities.
2. Plan to Shop More Frequently Rather Than All at Once
Speaking of buying things in large quantities, this is a huge no-no for those of you that want to cook full-time in your RV kitchen.
While this won't be an issue for those of you who are only camping for a few days out of the month, someone who needs to pack for a longer trip or full-time should plan on grocery shopping more frequently rather than purchasing everything all at once.
My RV fridge is roughly the size of the average mini fridge, so I cannot shop for more than a week's worth of groceries at a time. Plus, I am only feeding myself and my partner, which means that you will need to plan your grocery list carefully if you need to feed more than two people.
It's also a good idea to understand how much storage space you have for both fresh and pantry goods. If you have enough space to keep dry goods rather than fresh, refrigerated goods, you should shop with this in mind.
By buying an extra bag of rice rather than a gallon of milk that must be refrigerated, you have the option to make more meals given your storage capacities. However, it will ultimately depend on your own individual RV and storage options.
3. How Many People Do You Need to Feed?
As we've already mentioned, knowing how many people you need to feed is paramount for cooking in an RV setting. While shelf-stable snacks kept in your car come in handy, preparing full meals for a large group can be daunting when you don't have very much storage.
It may be wise of you to cook meals with no leftovers in mind so that you don't have to worry about storing excess food while you travel. For example, serving everyone a hot dog dinner rather than a large pasta dinner may help you, both in terms of storage before and after you eat.
Considering the amount of space that food takes up is a good idea, as a pack of hot dogs and buns can be eaten in a single setting. However, something like pasta may not factor into your calculations, given the fact that it begins as a shelf-stable pantry good, but will likely need to be refrigerated at the end of the night, should there be leftovers!
4. Limit Your Condiments
Going from a residential kitchen into an RV means that you may have to make some sacrifices in terms of your condiments. For the most part, all condiments need to be refrigerated after opening, which may take up valuable refrigerator space that you don't have.
This was one of the biggest issues for me when it came to transitioning into full-time RV living. I discovered that condiments often make a meal, but an RV fridge simply doesn't have space for 12 different types of salad dressing!
While you may have a larger fridge in your RV, limiting your condiments may be a smart way to save space. This is especially true if you are only planning a short trip rather than full-time cooking.
For example, you don't need to pack your huge mayonnaise jar if you only plan on camping for a weekend. Utilize a smaller Tupperware of mayonnaise and pack that instead, which should leave you plenty of room in your RV fridge for cold cuts and other toppings!
Besides drinks, condiments are one of the most frustrating components of an RV refrigerator.
5. Bulk & Local Shopping Are Your Friends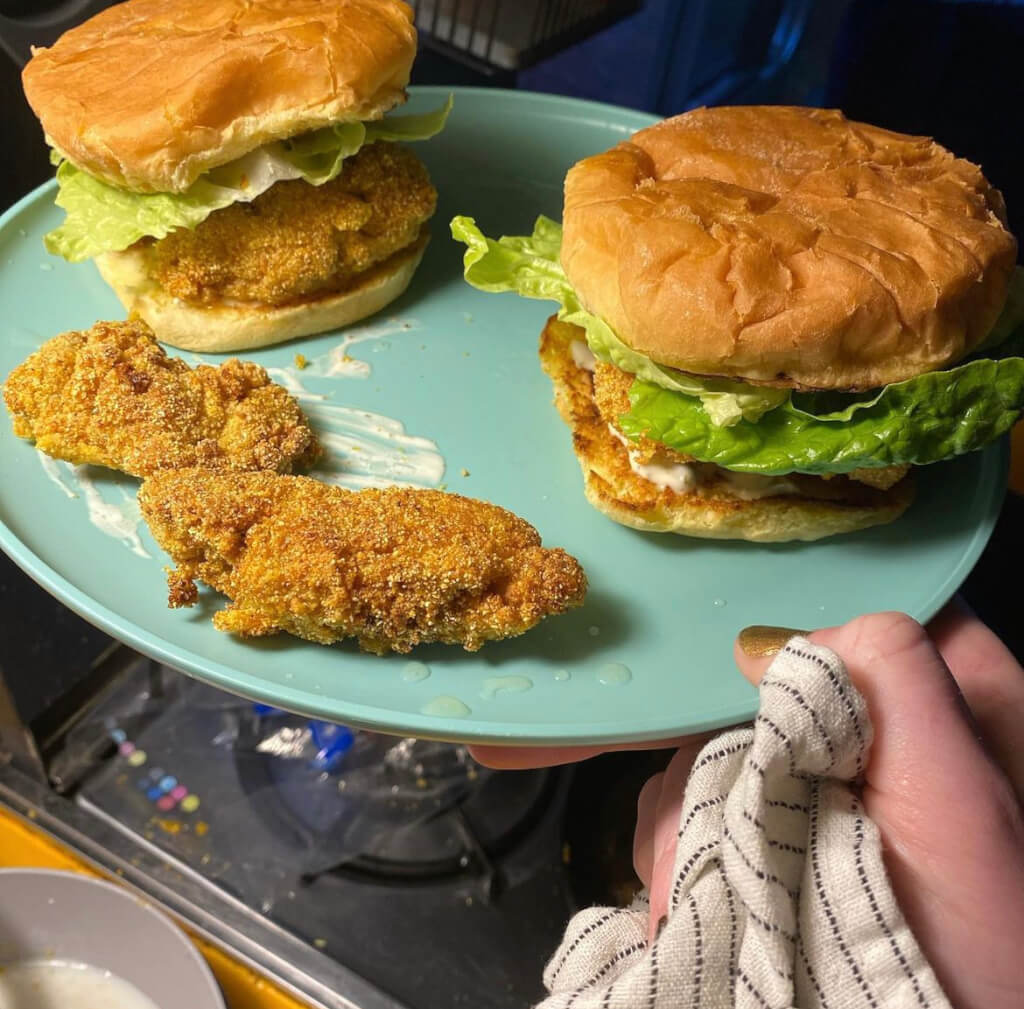 When I say bulk shopping, it's important to distinguish big-box bulk shopping versus shopping in bulk sections of your local grocery store.
Most of my pantry goods are purchased from bulk bins at my grocery store so I can get extremely specific amounts that suit my living space. I can't keep a huge bag of flour in my RV pantry, especially since that amount of flour will take me months to get through in the first place.
While you may not have a grocery store in town that offers you a bulk shopping option, I highly encourage you to consider this, especially if you want to live full-time in your RV.
Having the option to purchase a smaller amount of whatever it is that you are shopping for, particularly dry goods, is key to maintaining an organized kitchen pantry.
In addition to bulk food shopping, you may also consider shopping locally at markets, or simply investing in the local cuisine of the area. By only purchasing enough food for a single meal, you won't have to worry about storing your leftovers.
Plus, aren't you traveling to experience other places? Sampling local cuisines may not be a priority for you yet, but to me, eating fresh food that is from a specific place is such a luxury!
For example, I spent much of last year living and working on the Oregon coast. I found myself inspired to cook with some local oysters, and it was easy for me to go down to the fish market and purchase some.
I cooked them that evening and, not only did this give me a fresh and delicious meal, but it also meant that I didn't have to store any excess food!
6. Get Specific About Your Containers and Storage
Speaking of storage, choosing specific containers for your RV kitchen may help you feel more in control of such a small space. The items that you purchase in an average grocery store are not built for an RV kitchen, particularly if you have a fridge as small as mine!
You may want to purchase jars, Tupperware, and other storage solutions to help you fit all of your food.
For example, I knew that shopping in bulk sections was going to be necessary for all of my kitchen spices given the fact that I purchased magnetic spice jars for my RV. By installing a simple metal plate into the wall next to my RV stove, I freed up plenty of pantry space and simply keep my spices close at hand, in specific containers.
No matter the space you are in, residential or RV-sized, storage solutions are detrimental to feeling comfortable and capable. While it will depend on the type of storage in your RV kitchen, finding containers that fit your fridge and pantry items without leaving excess or empty space will help you feel more organized overall!
7. Cook Your Most Complicated Recipes First
I hit up the grocery store once a week for my full-time RV lifestyle. Given the fact that I've already planned out my meals for the week, I know the things that are going to take up the most space, whether it be in my RV fridge or in my pantry.
Plus, there may be a recipe I want to make that has a specific component that might be difficult to store. How can I justify getting a bottle of red wine for a roast or pasta if I need to figure out a way to store it for a week?
This is why it might be beneficial to always cook your most complicated recipes first. Whether you are taking a week-long camping trip or living full-time in your RV, you can always prepare a recipe that has ingredients that take up a lot of space first so that you don't have to worry about leaving room for those ingredients.
Not only does this give you more freedom to cook more involved recipes while on the road, but it also feels more rewarding and a lot of ways.
I live a fairly simple life in my RV, but I always feel like royalty when I come home from a grocery shopping trip and have a special meal to make, with a number of ingredients that I wouldn't normally keep around!
8. Consider Your RV Appliances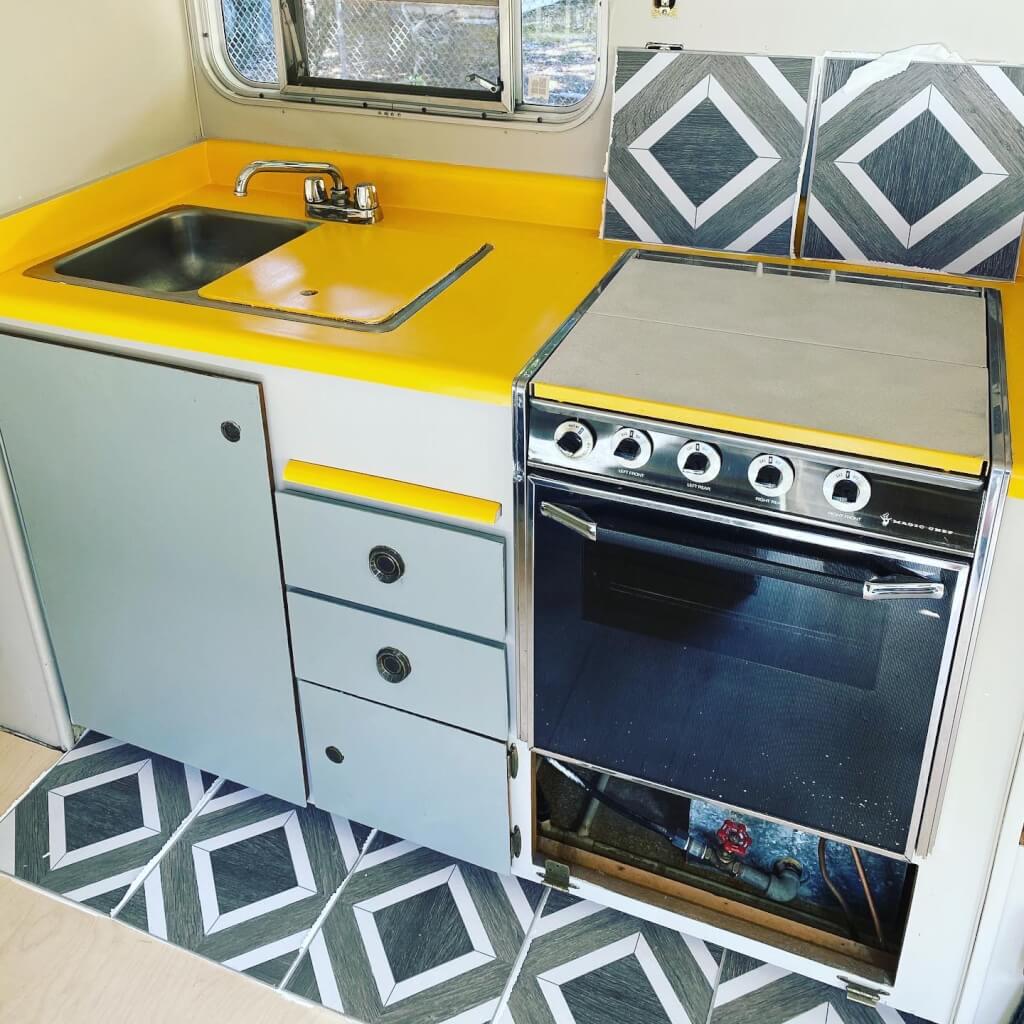 It's important to keep in mind that your RV kitchen will likely not have space for all of the appliances that you have at home. This is especially true if you own an RV that only has a hot plate or convection microwave rather than a full-size oven with a stovetop.
Many modern RVs do not have a traditional kitchen setup, so it's important to keep this in mind before you hit the road.
I knew before beginning my full-time journey that I wanted a more traditional kitchen or at least as close as I could get in a 19 ft long travel trailer! That's why my vintage kitchen has a miniature oven with multiple burners, but no microwave. So, I cater my recipes to stovetop and oven preparation rather than reheating items in the microwave.
Depending on your own specific RV, understanding the size and limits of your appliances is key to cooking while on the road. You need to make sure that your food will fit in your microwave oven, and you should consider how many burners you need to cook a meal before diving in.
While it may take some practice, less is often more when it comes to cooking in an RV.
If you know you need a blender or a food processor to make your famous pasta dish, you may want to consider prepping it in your home kitchen and bringing it with you. While there are plenty of kitchen gadgets to consider bringing with you, it's always better to work with your RV kitchen rather than against it.
9. Do You Have Enough Power for an Instant Pot?
Speaking of kitchen gadgets, many full-time RVers use slow cookers or Instant Pots to help them cook delicious meals in small spaces. I myself utilize one of the smallest Instant Pots in my own RV kitchen, but it came with plenty of caveats.
My vintage travel trailer only has a 30 amp service, and I knew when purchasing my Instant Pot that it needs a dedicated 12 to 20 amps in order to work. While Instant Pots are indeed magical and may help you cook in an RV, you need to make sure you have enough power for one in the first place.
My partner and I had to rig up a heavy-duty extension cord into our RV, plugging it in separately, in order to run our general RV electricity as well as an Instant Pot at the same time.
If you have a 50 amp service for your RV, it is unlikely that you will need to worry about this as much. However, if it's a hot day and you have both air conditioners running as well as the television and lights on inside your RV, your Instant Pot may trip your breaker!
This is also an important thing to keep in mind when running your microwave as well.
10. Stovetop Coffee Methods Rule
Have you heard of a Moka pot or percolator? If you know you need your morning cup of coffee (like me!), investing in an alternative coffee machine may help you while on the road.
Espresso or drip coffee machines are next to impossible to keep in an RV setting, given both their size on your countertops and their electricity demands. So what can you do to get your daily dose of caffeine?
Depending on the type of stove you have, you may want to consider a Moka pot or a percolator, or perhaps even a kettle for a pour-over setup.
There are plenty of alternative coffee-making methods besides the classic drip coffee machine, and these typically take up less space overall while still giving you a delicious cup! My Moka pot works perfectly with my propane stovetop.
11. Cook Outdoors (Weather Permitting)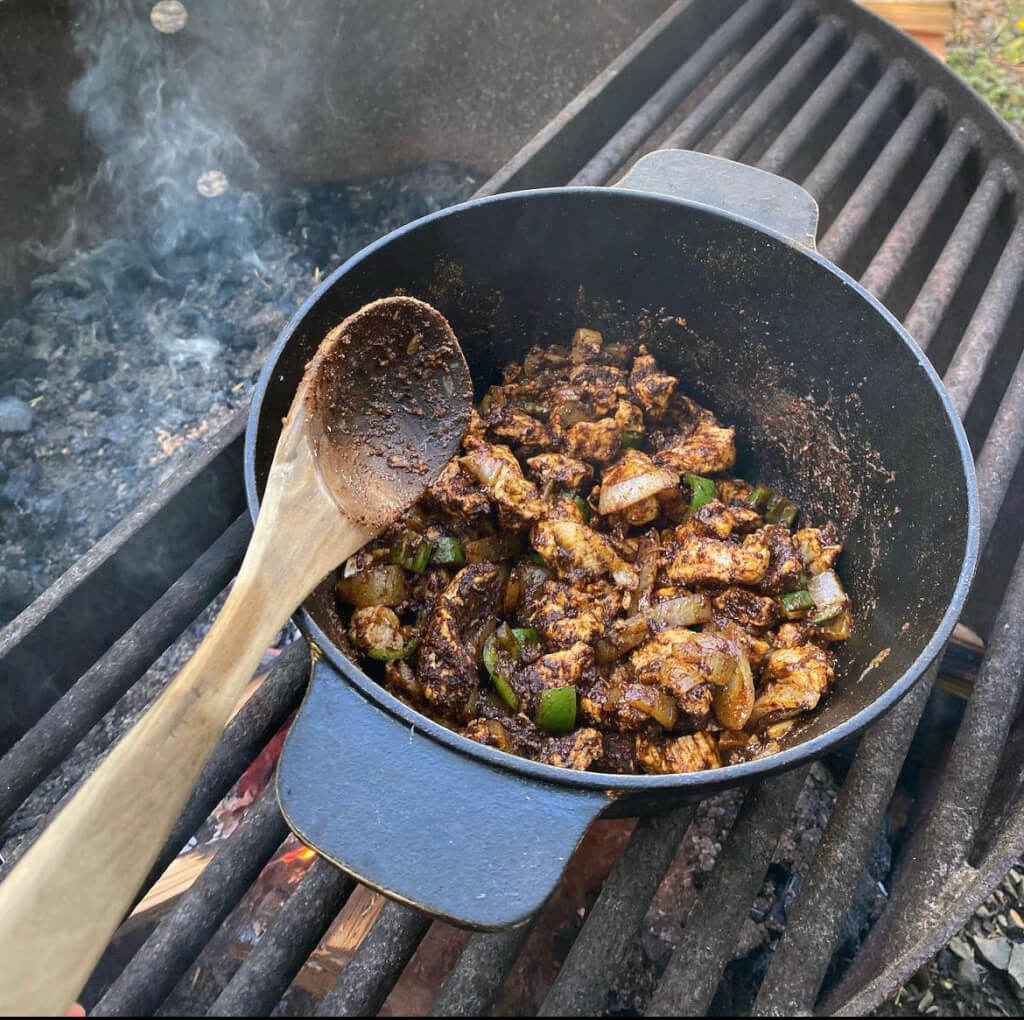 Whether you have an outdoor kitchen or not, cooking outdoors when the weather's good can help you feel special and like you are truly camping.
So much of RV living has become about replicating a residential home inside of your home on wheels. But cooking outdoors is definitely something to consider, whether you live full-time in your RV or not.
You can always pack a portable stove or RV grill and cook up something wonderful outside during your camping trip. I am a huge advocate for cooking over a campfire, as this is a truly special experience that is difficult to replicate in the average home backyard.
Not only does this make for a special meal to share with the entire family, but it also keeps you out of the RV.
Cooking outside helps free up space inside, and it helps you enjoy the great outdoors while you camp. You may have to get a bit creative with your recipes, but there are tons of things that you can cook over a campfire.
Take it from me and my 5-hour-long campfire chili recipe – there's very little way for me to make this in a traditional residential environment, and that's what makes it special!
12. Utilize the FIFO Method
As someone who has worked in many professional kitchens, I utilize the FIFO method in my day-to-day life. This is especially true when it comes to an RV kitchen, as wasting food is probably easier than you think. Given the complications of RV storage and the limited availability of space, knowing what needs to be eaten first is key.
FIFO stands for first in, first out, and it is a great way to organize not only your RV kitchen but your home kitchen as well. By keeping things that need to be eaten right away up front and center in both your pantry and refrigerator, it may help you plan your recipes and weekly meals better.
Eating things in a timely fashion also helps clear up space, something that everyone needs in an RV!
13. Keep Drinks and Snacks Elsewhere
As a full-time RVer, I meet many other full-timers that keep their dried pantry goods in the most unique spaces, both onboard and outside of their RV.
I once met a couple who kept bottles of wine in literally every crevice of their RV that they could! While you don't need to go to this extreme, you may want to consider keeping your drinks and snacks elsewhere rather than in your RV fridge and cupboard.
This is because most drinks and snacks are shelf stable and easy to store elsewhere, whether it be in the trunk of your car or in your exterior RV storage compartments.
While you may need this storage for something else, these items are easy to keep in other locations rather than crowding up the valuable real estate inside your RV kitchen. Simply pop a beer into your RV fridge when you want one, rather than keeping them in there all of the time!
You can also bring along an additional cooler for your drinks so that they are cold at all times, but not crowding up your day-to-day fridge.
Snacks are also easy to keep in a separate bin, but just make sure to follow the rules and regulations of the location where you are staying in. You don't want to keep snacks out on your camp picnic table if there are plenty of raccoons or bears nearby!
14. Make Meals That Support Other Recipes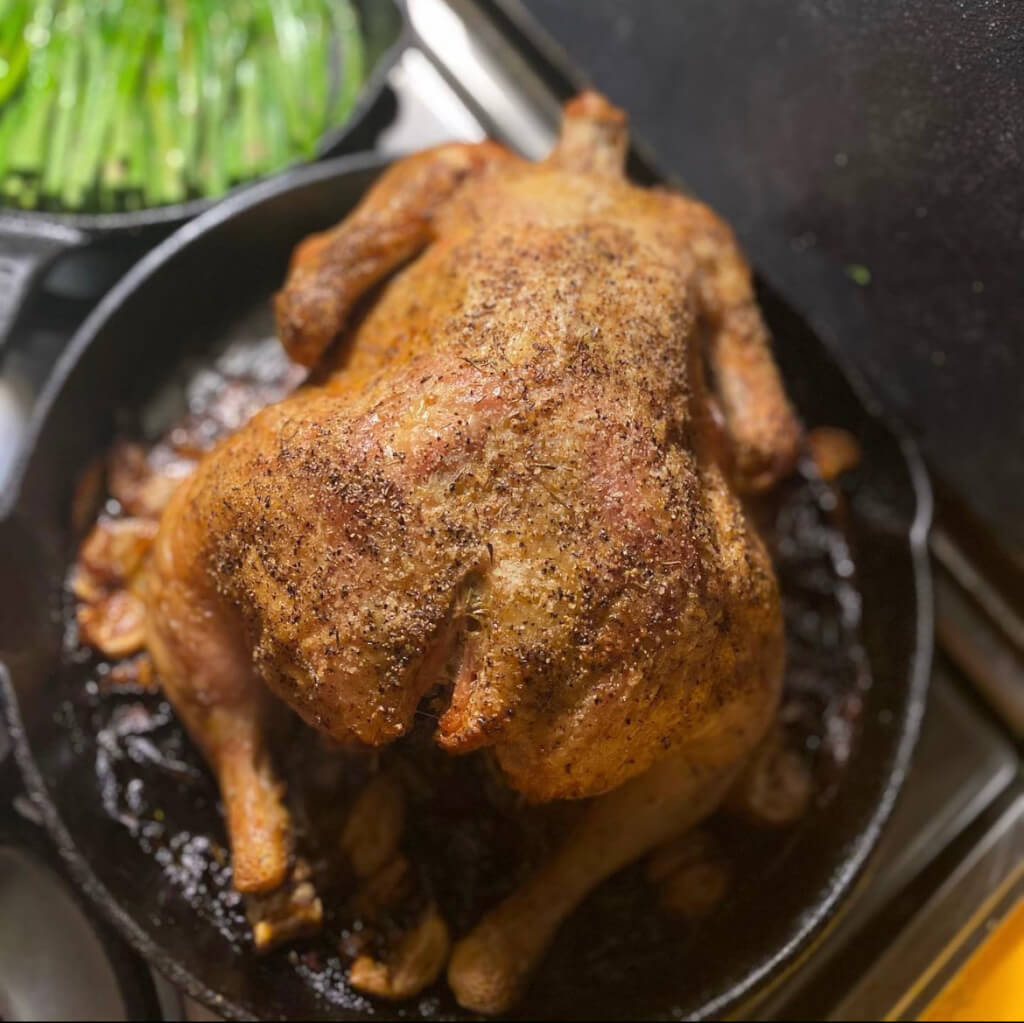 Going hand in hand with making your most complicated recipes first, you may want to consider planning your meals so that they support future recipes.
For example, one of my favorite things to cook is a whole roasted chicken. I am grateful that I have an RV oven that can fit a chicken inside of it, and a whole chicken is enough to feed my partner and me for the rest of the week.
I personally go grocery shopping, cook a whole chicken so that I don't have to worry about keeping it in the fridge, and then I break down the chicken and utilize the meat for other recipes such as sandwiches and pasta.
While a whole chicken is only one example of this method of cooking, it may take a bit of thinking and creativity to find foods that support other recipes easily.
While you don't want to have too many leftovers crowding up an RV fridge, cooking items that work well in multiple recipes may suit you when it comes to keeping food in an RV kitchen.
It all depends on what you enjoy eating, but having a symbiotic RV fridge helps me feel as though I am consuming all available food as well as maintaining an organized space!
15. Keep Your Countertops Clear
While counter space is always at a premium, both in an RV and in a residential home, your RV counter will fill up much faster than you think. I personally don't keep anything on my countertops save for some cutting boards kept behind my RV stove. This is mostly because I don't have any countertop space, but it also helps keep things organized while I am cooking.
For example, I've cooked many involved meals in my RV and have set bowls of food on my bookshelf, dining table, and more. Surface space is necessary for an RV, and keeping this space clear when it matters most is key to successfully cooking in an RV setting.
If you don't have room to chop an onion, it's only going to make cooking that much harder in your RV!
16. Simple Recipes May Be Better
As someone who cooks recipes of questionable complications, you may want to consider preparing simple recipes while on the road. This is especially true if you are planning on cooking with ingredients that support multiple recipes.
A simple head of cabbage can be used as a side dish for a delicious dinner as well as a topping on a sandwich, or even a slaw.
RV living is all about keeping things simple, and simple ingredients will likely help you cook your RV meals without much stress. Pre-made and processed foods often take up a lot of space, especially in an RV freezer. By keeping things simple and fresh, you will likely have more space to cook up a delicious dinner for the entire family!
17. Purchase Versatile Kitchen Gadgets
Speaking of simplicity, you may not want to bring along very many kitchen gadgets in your RV kitchen. However, some objects truly do come in handy, especially for full-time living. Besides an Instant Pot or a slow cooker, you may want to consider the following kitchen gadgets to help make your time on the road easier:
Cast iron pots and pans for campfire cooking

Collapsable kitchen equipment such as colanders or utensils

Metal or wooden utensils for grilling and general durability
Again, prioritizing storage as well as versatility are both key things to keep in mind when shopping for your RV kitchen. There's no right way to cook in an RV kitchen, but certain gadgets and dishes may help you cook with more success!
18. Clean as You Cook
While I am blessed enough to have a two-compartment sink onboard my travel trailer, I still spend so much time doing dishes in my RV. This is why it is so important to get into the habit of cleaning as you cook, a habit that will also serve you in your own residential home.
Simply put: there's no space for dirty dishes in an RV setting, especially if you are cooking for a large group of people.
If you get into the habit of cleaning while you are cooking, you'll be left with a smaller mess once the meal is all said and done.
My advice would be that while your pot of water is boiling, you can prepare your other food or make sure that there are no dishes awaiting you in the sink. Keeping things clean and clear is my number one recommendation for those of you brand new to cooking in an RV kitchen!
This is especially true if you have a limited number of pots, pans, and dishes in general. I am constantly using one type of pot and then washing it in order to use it for something else, in the same meal.
No matter how silly it may feel, a little bit of constant cleaning helps make an RV kitchen feel sane rather than leaving all of your cleaning to the very end!
Final Thoughts
Cooking in an RV kitchen doesn't have to be complicated or difficult. While it may take some time to learn how to cook in an RV properly, there's no right way to do it.
By keeping things clean and organized, most of the work is done for you. There's no reason why you can't wow people with your recipes on the road versus your recipes in your home kitchen!