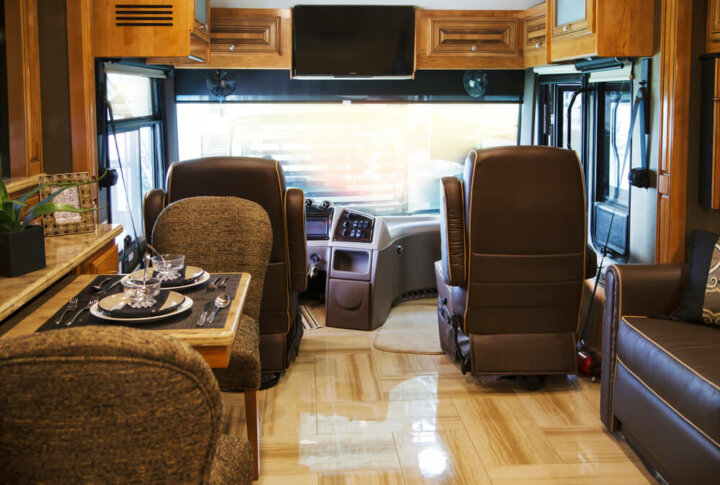 All of our reviews are based on exhaustive research, industry experience and whenever possible, hands-on testing. When you make a purchase using one of our chosen links we'll get a small percentage of the proceeds. This supports the site and keeps Jeffsetter running. You can read more here.
When you're walking through your RV and suddenly hit a soft spot on the floor, you might begin to panic. Although finding a soft spot in your RV floor isn't the best news, it's a common problem that can be fixed. It's vital to deal with a spongy RV floor as soon as possible and find the cause of the problem.
So, why do RVs get soft spots in the floor?
The leading causes of soft and spongy spots in an RV floor are water damage, breakdown in the flooring, manufacturing problems such as structural issues, poor insulation, and faulty seals. These problems create a moisture-rich environment that can lead to a spongy RV floor if left.
If you notice a soft spot in the floor of your RV, it's important to look into what's causing the problem and fix it as quickly as possible. A spongy RV floor can continue to get worse if left alone, so let's figure out the possible cause of the damage and find the appropriate solution together.
Why Do RVs Get Soft Spots in the Floor?
Coming across a soft spot on the floor of your RV doesn't necessarily mean you need to replace the whole floor. It does mean that moisture is getting in from somewhere and is building up, creating a soft spot in the floor of your camper.
There are several reasons why the floor of your RV maybe be getting damaged, and finding the culprit is the first step in fixing the problem. It's important to winterize your RV and help prevent leaks that can be caused by components such as water lines freezing and bursting. The leaks created by not winterizing effectively can puddle on the floor, creating a soft spot.
Reason 1: Water Damage
Arguably the leading cause of soft spots in an RV floor is water damage. It's common to stumble across water damage at some point in your RV adventures as campers spend a lot of time in the wilderness, exposed to all different kinds of weather conditions. RVs and camper shells are watertight but moisture can make its way in over time.
During heavy rain or snowfall, water can slowly begin making its way inside the RV, but you might not notice any damage until you smell a damp odor caused by mold or mildew growth. Water damage can also be a result of an internal problem in your RV.
Areas like the kitchen and bathroom are high leak risk as water is regularly used in these parts of an RV. Simple things such as a sink or toilet leaking, humidity from cooking and poor ventilation can all cause issues with the floor if they are left to worsen.
Reason 2: Breakdown in the Flooring
A common way for RV floors to be manufactured is by using a sandwich method where foam and plywood are layered together. Over time, if your RV is in regular use, the foam can begin to break down and make the floor feel soft to walk on.
In the areas of your RV with high foot traffic, the foam in the floor can break down and may not be able to hold the weight of a person, therefore creating a floor that feels soft underfoot. Although this type of problem isn't caused by water damage, it still needs to be sorted quickly to make the floor structurally safe again.
Reason 3: Manufacturing Problems
Although a less common cause of a spongy RV floor, manufacturing problems can be a culprit. If the floor of your RV isn't made of one solid piece and instead contains a subfloor and seams, it's possible over time that adhesive can break down and allow sections of the floor to move.
If the subfloor isn't supported with cross beams and joists, it can also lead to areas of the floor becoming unsupported and soft to walk on. The only way to figure out if manufacturing problems are the cause of soft spots in the floor of your RV is to pull up any flooring and look at the subfloor underneath.
Reason 4: Poor Insulation
Insulation is the key to regulating the temperature inside an RV, but poor insulation can allow condensation to build up and create moisture in the RV floor and walls. If you have an older camper and notice some soft areas in the floor, it may be worth taking a look at the insulation behind it and seeing what condition it is in.
Along with potentially causing a soft spot in the floor, poor insulation can also lead to rotten wood and mold growth – two things you want to avoid in your RV! Creating plenty of airflow and replacing insulation if it's insufficient will help keep moisture at bay.
Reason 5: Faulty Seals
Common areas for water to creep into your RV are faulty seals on windows, doors, and vents. If seals have worn away over time and have begun to crack and split, they can let water inside your RV.
Depending on the location of the window or door, water may be able to enter through the seal and drip down onto the floor. If this happens and goes unnoticed for some time, you could end up with a spongy area on the floor that will need replacing.
Should You Worry About Soft Spots in RV Floor?
Soft spots in an RV floor are a problem best looked at sooner rather than later as the soft patch can get considerably bigger if moisture continues to build up in the same area. It's important to find the cause of the excess moisture and get to work on a fix as soon as you can.
Mold and mildew can start to grow in areas where moisture is trapped, and if left for long enough, any wood that's repeatedly in contact with water or moisture can start to rot away. If spongy areas are left unnoticed for an extended period of time, you may need big repairs such as replacing the entire RV floor. This can be expensive and time-consuming, so it's best to keep an eye on the floor of your RV and fix any leaks quickly.
How to Fix Soft Spots in RV Floor
The key to fixing soft spots in the floor of your RV is to get to the source of the problem as quickly as possible before the damage spreads and becomes even harder to deal with. Removing the damaged area of flooring and replacing it can be a time-consuming job, but taking things one step at a time will make the task far less intimidating!
1. Figure Out What Type of RV Floor You Have
The first step in fixing your RV floor is to figure out what type of flooring you have and how it is constructed. Most of the time, RVs have subfloors that are constructed from particleboard, plywood or through a sandwich flooring method. If the particle board gets wet repeatedly, it can start to break down and become a mess to deal with.
Plywood on the other hand is far more solid in its construction and should be easier to remove and replace. Both plywood and particleboard sit on cross beams and joists that help make the floor weight-bearing and solid.
Sandwich flooring in an RV involves two layers of plywood with a layer of foam in the middle to create a 'sandwich' construction. Over time this type of flooring can create a saggy floor as the foam can deteriorate and become useless.
2. Locate the Damaged Areas
Unfortunately, water damage can spread quickly so you might find other damaged areas of flooring when you start to uncover the soft spot. It may be useful to take up the flooring that's next to the soft area to check if it has any early signs of water damage.
Laminate and carpet flooring may be easier to remove than other types of RV flooring, but stay persistent as the goal is to get down to the subfloor! If any staples were used to hold down your RV flooring, be sure to not leave them lying around for people or pets to accidentally stand on.
3. Remove the Soft Floor
You'll then have to start removing the old, damaged floor to get ready for fresh new flooring in your RV. When cutting out the damaged section of flooring, it's best to cut a bit bigger around the perimeter to ensure you're getting all the rotten wood out.
If you leave behind wood that has rotten away or that's growing mold or mildew, it can continue to spread to other areas, so it's best to be safe and cut some extra flooring away.
It can be helpful to cut the damaged piece of flooring out so that it exposes the stud underneath. This will be useful later on in the process as you'll have something to screw into when it comes to replacing the flooring.
Once you've cut out the damaged part of the floor, you may need a nail puller to help take out any nails holding the flooring to the stud. Keep hold of the piece of flooring you cut out as it can be used as a template when you cut out a section of new flooring.
4. Create a New Base
If the floor of your RV is constructed with particleboard, you may need to cut a bit deeper to reach wood that hasn't been damaged. When water comes into contact with particle board it can cause it to turn into a dusty mess. If it's not possible to cut near cross beams or joists, you may need to create a new base of joists before you can install a new area of the subfloor.
It's best to use replacement wood that is the same thickness as the old, damaged wood. This will keep the floor level when the job is complete, otherwise, you could end up with a very uneven floor in your RV that may need to be leveled at the end of the process.
Once you've taken out all the nails and screws and drawn a line to follow when you're cutting, it's time to set up a saw to the correct thickness of the floor and cut along the drawn line. It shouldn't be too hard to pull out the old flooring, but you may need to exert a bit more force if your RV has sandwich flooring.
5. Install Cleats and Replace Insulation
Cleats will be needed if there aren't any supportive structures in the floor to attach the new flooring to. A cleat is a small piece of wood attached to the bottom side of the old subfloor. Creating cleats around the hole in the floor that you've cut can create a sturdy shelf for the replacement floor to sit on.
Replacing the insulation may also be needed if it has become wet and moldy due to water damage. This may be the case if your RV has sandwich flooring and the foam has deteriorated away.
6. Replace Flooring
When it comes to replacing the flooring, it may be wise to use treated plywood or marine-grade plywood to help lower the risk of water damage in the future. The ultimate way to prevent water damage though is to keep vigilant and stop any leaks as soon as you come across them.
The new flooring should fit perfectly into the hole you cut to remove the old flooring. There shouldn't be any gaps around the edges, but if there are, they'll need to be filled later on with a suitable bonding agent.
Use screws to attach the new subfloor to the cross beams, joists, or cleats, and be sure to place the screws close together for maximum strength. Once everything is in place and has been secured well, you can go ahead and lay new carpet, flooring, or vinyl on top.
The video below is a great example of how to successfully remove old flooring in an RV that has become spongy through water damage. As you can see, the process isn't too tricky but can take a bit of time to complete.
If you don't find the root of the problem and figure out what's causing water to seep into the flooring in your RV, the new flooring will end up having soft spots and you'll have to repeat the process.
How to Prevent Soft Spots in RV Floors
If leaks or condensation problems aren't fixed quickly, these issues can develop and eventually lead to a spongy section in the flooring of your RV. Therefore, it's important to take the necessary precautions to avoid the problem in the first place.
1. Repair Any Leaks
Arguably the best way to prevent soft spots in your RV flooring is to repair leaks as soon as possible. This can be difficult if your RV isn't in use, but having a good look inside even when you're not out on the road is a good idea. It can be useful to cover your RV during summer months to help prevent leaks from forming due to prolonged exposure to the sun's rays.
It's vital to check areas like windows and vents as water can sometimes make its way in through a faulty seal or window that might have accidentally been left open. The bathroom is a high-risk area for leaks, so it's a good idea to check around the sink, shower, and toilet to make sure they are all still watertight and not allowing water to seep onto the floor.
The seals on the roof of RVs that are regularly used can weaken over time and allow water to enter the camper. Pressure testing your RV can be useful to help identify if any leaks are coming in from the outside. If you locate a leak on the roof that is causing water to gather on the floor, creating that soft spot, you may need to reseal the roof to fix the problem.
2. Keep Good Ventilation
Having good ventilation throughout your RV is essential to keep condensation at bay and help prevent moisture from building up in certain areas. In areas like the kitchen that can often get stuffy and humid, it can be useful to open a vent or window to help the humid air escape.
3. Avoid too Much Impact
In an RV, it's common for certain areas to be high-impact zones, such as areas where children may jump up and down, or in the kitchen where there is often a lot of foot traffic. If your RV is a little older and is showing signs of weakened flooring, it may be wise to try and avoid too much impact in those areas, or it could cause the floor to cave in which can be dangerous.
Closing Thoughts
Finding a spongy spot in your RV flooring isn't good news, but it's important to remember there are fixes available, so try not to get too stressed! It's important to get to the root cause of why your RV floor is getting damaged and fix any leaks or problems before replacing the floor.
Once you've resolved the issue of how water is making its way into the RV floor, you can remove and replace the old flooring. Although this isn't the most fun task in your RV, it's crucial in preventing the damage from spreading further throughout the RV floor.