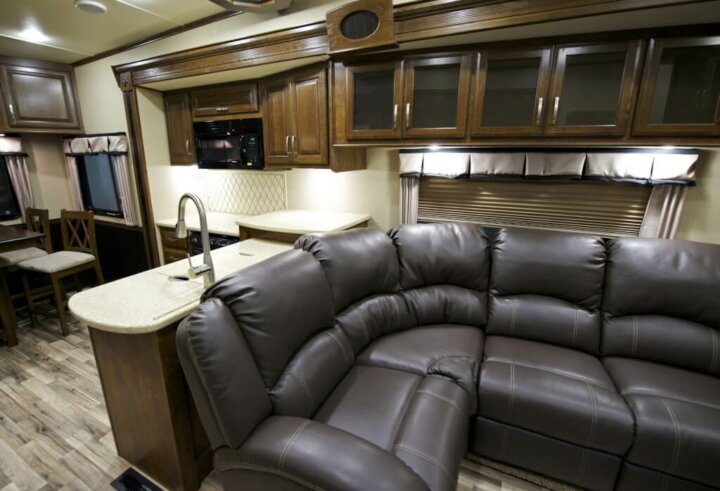 All of our reviews are based on exhaustive research, industry experience and whenever possible, hands-on testing. When you make a purchase using one of our chosen links we'll get a small percentage of the proceeds. This supports the site and keeps Jeffsetter running. You can read more here.
Sometimes the furniture in your rig just isn't the most comfortable. Your rig is a home on wheels so it is designed to prioritize comfort in a lot of different ways. However, it is still a home on wheels and there are going to be some natural limitations as to how comfortable everything can be.
This is especially true for the sofas in your rig. Chances are, your RV's sofas are nothing close to the large multi-cushioned sofas you'd find at a place like Ikea. If you're used to larger more traditional sofas, RV ones may seem really uncomfortable.
With that in mind, how can someone make an RV sofa more comfortable?
You can make an RV sofa more comfortable by using items that are designed to increase comfort. Pillows, mattress toppers, foam pads, and air mattresses are all among the additions that can help with this.
Let's discuss all the different options available for making an RV sofa more comfortable.
How To Make An RV Sofa More Comfortable?
There are two distinct types of sofas that can be found in an RV. Regular sofas, and jackknife sofas. Jackknife sofas are the type that can fold out into a bed. If you have two sofas in your rig, chances are the larger of the two is the jack knife one.
The options before you to make them more comfortable are essentially the same, but it is important to know if you are looking for more comfort specifically while sleeping or just comfort in general.
Pillows
Pillows are a great way to increase comfort while sitting and watching TV or while sleeping as well. A set of soft, comfortable pillows can make up for a general lack of support provided by a jackknife sofa while sleeping, and can also make sitting on a sofa just that much more enjoyable.
Pillows are also great because where RV sofas are concerned, there aren't too many soft surfaces. RV sofas are typically made from leather which increases their longevity during travel but takes away from comfort. Pillows are a great way to restore some of that lost comfort.
Mattress Toppers
Another great way to restore some lost comfort is to cover the sofa's leather surface with a mattress topper. As the name suggests, mattress toppers are typically used to give more support on top of an existing mattress.
This works great for a jackknife sofa that is usually already lacking some support. Just be sure to choose a mattress topper that fits your sofa as the dimensions of a sofa bed are usually different from those of a traditional mattress.
Foam Pads
Foam pads are actually quite similar to mattress toppers as they can also be placed above the sofa's leather surface to provide more comfort.
However, foam pads usually provide more versatility, you can even use egg crate foam pads that have egg-shaped bumps that make them more breathable.
Either way, whether you go with a mattress topper or a foam pad, both are great options for extra support when sleeping on a sofa.
Air Mattress
An alternative to mattress toppers and foam pads is an air mattress. You can of course sleep on a jackknife sofa as it is, but it's not going to compare to an actual mattress. Placing an air mattress on top of the sofa and sleeping on that instead is usually going to be way more comfortable and will make you or your guests happier.
An air mattress is also a good idea if you have a small rig that doesn't have much available storage for mattress toppers or foam pads. Air mattresses can easily be rolled up when not in use and blown up again when needed.
Comforter
As the name suggests, a comforter is kind of built for comfort. While maybe not the most ideal for hot weather, a nice thick comforter is a great way to make your rig's sofa cozier. Not when used as a blanket though, but simply laying it over the sofa is all you need.
The thickness of the comforter's material will act similarly to placing a foam pad or mattress topper on the sofa. Except, a comforter is usually even softer. It often won't provide as much support, but if your sofa already has decent support then a comforter can usually be comfier than the aforementioned options.
Extra Support
Whether you're looking to sleep on a jackknife sofa or you just want to make sitting on it more comfortable, then providing extra support for your rig's sofa will help with this.
Your RV's sofa comes equipped with many springs that help keep it fairly stable when you're on the road. Otherwise, you'd feel every bounce and bump when driving or even when camped on a slightly uneven surface, and who wants that?
It's important to check on these springs every now and then to ensure they are working correctly and are not worn out as it can happen when your RV is hosting a large family or group of people.
However, if all the springs are working as they should but you still feel your sofa could be more stable, you can use some extra support. Installing some wood planks or metal plating near the springs and along the base of the sofa can help stabilize it even more.
Pool Noodles
When you convert a jackknife sofa into a bed, it creates a gap between the seat cushion and the back cushion. This is simply a natural and unavoidable result of how the sofa has to fold to become a bed, however, this gap can be really annoying to lay on.
If you place pool noodles in this gap, it fills it up really nicely and creates a more even surface for you to sleep on. Doing so will also increase the effectiveness of anything you place on the sofa to sleep on, be it a foam pad or air mattress.
Closing Thoughts
Making your RV sofa more comfortable is one of the easiest ways to make traveling in your RV that much more enjoyable.
Whether you are using a jackknife sofa to sleep on or a traditional one to relax in, there are a ton of options that you can use to increase comfort.
Often times though, a combination of a few different options like the ones we talked about above, is the best way to go. After all, why not try and maximize your RV sofa's comfort.